The 2021 Australian Football League Women's (AFLW) season is now in its penultimate stage with round eight of nine due to take place this weekend. There is plenty of Irish interest spread throughout the competition, which is largely thanks to pioneering sports agency CrossCoders.
For the 14 Irish players involved, what is already a massive personal move has been made even more difficult this season. Most spent part of the Christmas period in mandatory quarantine, having been granted a government travel exemption just to get into the country.
For many though, this move to Australia has been guided and facilitated by accredited AFL agent Jason Hill and his company CrossCoders.
Having met his co-founder Lauren Spark while playing AFL in the UK, the rise of the AFLW at home made them aware of the potential help by talented players in the international AFLW network. However, digging and research led them to realise there was a shocking lack of professional or semi-professional leagues outside of Australia for women.
"[CrossCoders] was born out of the desire to link women together with professional opportunities in sport, because there didn't seem to be too many of them," explains Hill, speaking to OTB Sports from a sunny Melbourne.
"Most of these girls have had a lifelong desire to play sport, they have put in copious amounts of unpaid hours, so a lot of them see this as almost a reward for all their hard work."
With such a short season and such a long way to travel, the value gained from six months in Australia could be questioned, but for Hill it comes down to so much more than just playing sport.
"There's a lot [of value held] around the equality they receive," he explains.
With use of the same facilities as their male counterparts, every single game on TV and a huge media focus, it's far from just about the money. "All of these little things that make it up to be an experience, how often would a round one inter-county game in the LGFA attract a crowd of 12,000 people?" Hill questions.
While each player comes with their own personal set of concerns, this opportunity to experience a fully rounded professional lifestyle is a hard one to pass.
"[It's] that opportunity to see how some of their male compatriots live and see what life could be like if they get to just focus on sport, rather than having to focus on sport, work, study and all of their other commitments back at home just to try and make ends meet to play at that level.
"Because the levels are very comparable but the reward for playing them is the big difference."
Initially, the recruitment process required a lot of reaching out, but now with the ever-growing brand of CrossCoders, Hill and his colleagues are able to run recruitment camps where players are the ones applying to them.
Having seen the success of players like Aisling McCarthy (West Coast Eagles/Tipperary) and Ailish Considine (Adelaide Crows/Clare), this pathway now gives other high-level Irish players the opportunity to stick their hand up and show interest. And work it has, with Mayo's Niamh and Grace Kelly amongst the first cohort to come through this way in 2019, signing with the West Coast Eagles.
"That's the core role we play, facilitating the awareness in Ireland of the sport: what's possible, what it looks like, this is how to play it, these are the skills you need to learn.
"How can we help you develop that side of things? Is this the right opportunity for you? And then showcasing that back to the clubs, so they can see what talent there is."
While there is no restriction on the number of international recruits allowed on each team's list of players, there is a limitation on the number of rookie players each year; that being those who haven't come through the official AFLW draft.
These three players can be signed at any point provided they haven't played in an AFL league in the last three years or they are brand new to the sport.
Hill admits it is getting harder every year to get these international players signed on, "the talent coming through the underage pathways is getting better every year, so there's less of a need to supplement that with international talent."
The fact that for the most part, these Irish players have never played the game can't be ignored either says Hill.
"All these players start at a disadvantage from the skill and game knowledge perspective, which can be learned, but it takes about a year. The players do improve dramatically, but the club has to be willing to persevere that first year. Some clubs are willing to be that patient, some clubs aren't; there's definitely not the desire from every club to do that."
With such a big leap to make in their lives, naturally questions and concerns arise from the players.
Off the field, Hill explains, it's mostly financial as their visas don't allow for any other work outside of playing. However, the majority of conversations that arise on the field for CrossCoders centre around the mental aspects of playing a new and entirely professional game.
"They're used to being the number one player on the team, everything comes second nature to them and that's not the place they are when they turn up here. It's starting from the beginning, learning a new skill, learning about the game and their teammates and that is not an easy ride.
"The expectation is very different as well because there is an anonymity within the LGFA where maybe you don't get the same level of scrutiny that you do here in the AFLW," he explains.
"There's not men's football happening at the same time, so you've casual observers who will be interested in what's happening in the AFLW and that comes with a level of scrutiny, a level of bigotry, a level of conversation that maybe not everyone is ready for."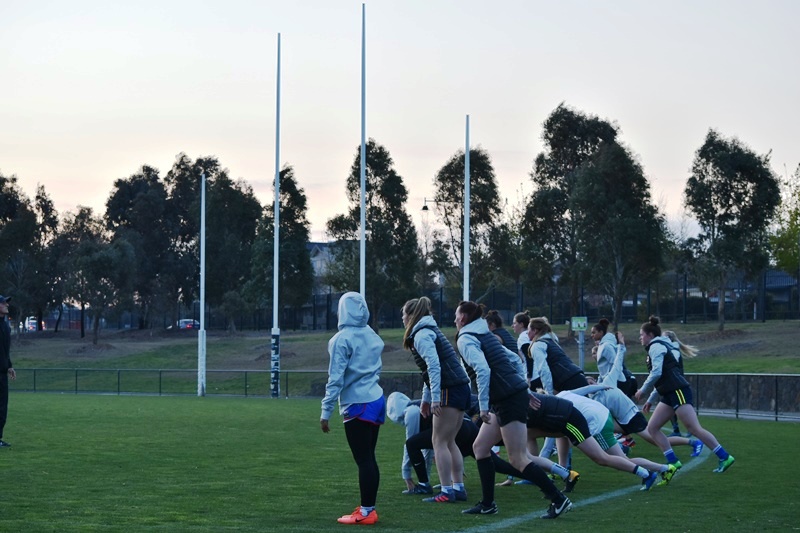 When it comes to the selling point of the Irish, Hill has no hesitations, "the athleticism is far and beyond what would normally come through the draft!"
"Most of the players that come over from Ireland would be early to mid-twenties, so they have an extra five years of development on an 18-year-old being drafted.
"They didn't stop playing sport from the ages of 14 to 18 either, where there wasn't girls or women's sport; you can almost tell by some of the body shapes and muscle definition that you have players that are more ready for elite sport in Ireland."
Aside from physicality, there is a unique perception of the game brought by the Irish players too according to Hill.
"They bring a different view to the game as well, Gaelic football is obviously much more free-flowing, so you would expect them to bring different ideas, different attitudes, different ways of playing the game which is exciting because it's unpredictable."
Download the brand new OffTheBall App in the Play Store & App Store right now! We've got you covered!
Subscribe to OffTheBall's YouTube channel for more videos, like us on Facebook or follow us on Twitter for the latest sporting news and content.