"What do they know of cricket who only cricket know?" Well, Off The Ball's Ciaran Bradley knows little, and what little he knows, he is ready to share. In the same fashion that a captive shares their story with the world, still blinking in the cold light of day.
The opening line is from 'Beyond a Boundary' by the Trinidadian intellectual and cricketer, L C R James. Stay with me, here.
I know you are at best skimming this piece - along with an understanding that there will be braying England cricket fans - but the following is an explanation of my complicated relationship with cricket, and how you can enjoy it, too.
("For only $9.95, this awful English fair-weather shows you, the apathetic Irishman, how YOU too can enjoy a sport!")
*CUE: Wavy lines indicating time passing, like something out of Harry Potter when he sticks his head in that big bowl*
My relationship with cricket began at the age of 12, when I was called up to the side at school. This remains one of the most utterly baffling memories of my childhood. I had shown no interest in the sport in secondary school - I preferred being awful at football - but walked in one day to find myself up on the board as in the cricket squad.
In primary school, we had played cricket at breaktime regularly. There was a tree stump that we would use as - well - stumps. I remember pretending to be Dominic Cork after he'd got a hat-trick against the West Indies, without knowing who were either (a) Dominic Cork or (b) the West Indies.
But my relations with the high school P.E. staff had been frosty at best. Not unathletic, but uninterested, and to this day I can't help feel that call-up was some sort of prank. I was in that haze of youth that still felt like adults knew what they were doing. Having spent much of my sixth form drinking with said staff, I can confirm they did not.
Even the captain of the team - a Kiwi lad - found it amusing.
Well, WHO'S LAUGHING NOW?
Adding to the parental tab once again, I asked my mum for us to go and get some cricket whites. They were probably about £60 and worn once. In fact, my heroic debut was not so heroic at all, as I barely registered a touch in the outfield. I don't think there's such a thing as a 'clean shorts fielder'. Still, Lord's wasn't built in a day, and this prepared me for the way that you have to enjoy cricket. Patience.
And booze. But it's not one of those stories yet. Mum didn't put her cigarettes out on me or anything.
*WAVY LINES/DOCTOR WHO/TIME PASSING*
It's 2013, and I'm in Australia. Fifteen years hence from my debut, I'm ready to kick into the next phase of my cricket career. The Ashes™.
This should by no means give you the impression that I have spent the intervening decade-and-a-half following England in any sense. I am on a working holiday visa - scamming Australian housewives through trials of beauty products - and the Gabba is about five miles from my uncle and aunt's house in Brisbane.
With my friend Jonny in tow, we trek up to Brissie from Syddie (and you wonder why England fans hate Australians - it's the interminable slang). We arrive at the Gabba for the first test of The Ashes™, in which England would go on to receive a bigger thrashing than an Off The Ball intern when Nathan's tea is cold.
Still, the day begins well. We are closing-one-eye-to-get-the-game-in-focus drunk by 11am, which is a win in anyone's books. The atmosphere is great, and Kevin Pietersen is continuing to wind up Aussie bowler Mitchell Johnson. Johnson was born, and remains to this day, the most punchable man in the Antipodes.
He is, however, responsible for one of the best videos I've seen.
Unfortunately for England, he was also responsible for a bowling decimation that would end in a 5-0 series loss.
On the day, Kevin Pietersen was getting absolute dog's abuse from the Aussie crowd, culminating in this beaut.
Still, being intrepid travellers, Jonny and I decided to help out KP. We walked towards the pitch where he was stood, and started singing the tuneful strains of 'Free Nelson Mandela'. With his eyes adew from the anthem of his motherland, KP recognised us as an island in this sea of Aussie reprobates, who were singing 'KP's a wanker'.
He didn't need to know that we were singing the very same to keep our arses unkicked, just seconds before .
And so: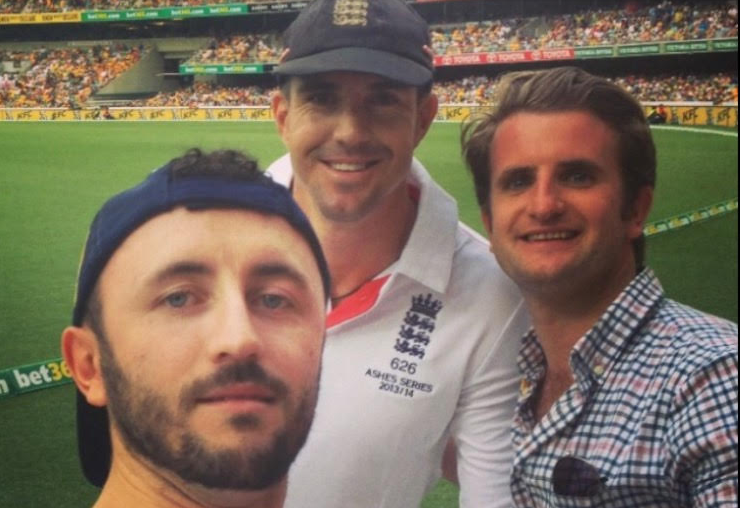 We walked back to our seats, giving it the WWE heel hand gestures to the baying mob - who were not baying at all, and great craic - off out into the Brissie night, merry as you like.
Lesson two: the interesting accelerant of alcohol into the cricketing mix.
*Time passing*
Back on home turf after a couple of years away, myself and three far more cricketing-wise heads (Tom, Adam & Pete) went to Lord's to watch England v Sri Lanka.
Joe Root put in one of the best English batting performances I've seen, putting up a double century, and cementing his place as one of the foremost in the game, to the strains of 'Hey Jude'.
Yorkshireman through-and-through, this was a delight in particular to arch-Yorkshireman Pete Cavanagh, who was in need of cheering up following a drunken lost £200 (!) bet, where he gambled that Roberto Soldado was not within four inches of height to Diego Costa. He is exactly four inches shorter.
But, we didn't see all that much of it as we were playing endless games of rock-paper-scissors to see who would sit in the free steward's chair in front of us*. We were also quite drunk, which is thematic if nothing else.
*WAVES* - is this boring yet?
World Cup 2019 has been an incredible tournament, with England being led by an Irishman in Eoin Morgan who left Ireland only in search of Test cricket, before Ireland's award of the same.
Yesterday was the most nail-biting end to a sporting event that I can ever remember. The final overs contained nerves of steel, farce and total heartbreak. Only sport can do that in such a short space of time.
Off The Ball staff were asking me the mechanics of a super-over (cue some unconvincing bluffing) while split between the Wimbledon final, Kerry-Mayo and more. It has been a delight to see that Ireland can feel some part of this victory, at a time of political and social upheaval, and reinforce the feeling that sport knows no boundary, bar the one that Root, Morgan and Stokes tickle on a regular basis.
And, with the influence of booze, patience and unregulated gambling, it is open to all that want to watch.
After all, what do I vaguely know of cricket who only cricket vaguely know?
*It is to Tom's eternal shame that he lost, and didn't sit in said chair. I will never forget.
Subscribe to Off The Ball's YouTube channel for more videos, like us on Facebook or follow us on Twitter for the latest sporting news and content.