Gina Akpe Moses was born in Lagos, raised in Louth and is now living in London. An accomplished Irish athlete on the world stage, she has consistently faced the following question: 'Why is there a black girl on the Irish team?' A pernicious attempt to ostracise Moses and query her Irish identity, it was only when she left Ireland that blackness became something she knew to celebrate. In conversation with Off The Ball, here's the story of how this change occurred. 
***** 
Though it might sound peculiar and it certainly felt strange to me: I felt intuitively that I had a working relationship with the past and with my forbears. It was as though the past happened to be particularly foregrounded in my present. Of course, I couldn't articulate this, even to myself, and had I been able to, I would most likely have elected not to. As a child, I was considered strange enough. No need for further ammunition. It was only when, years later, I went to university and studied African cultures that I learned about the centrality of ancestral veneration, that ancestral spirits were intentionally invoked.
- Emma Dabiri, Don't Touch My Hair
Gina Akpe Moses hasn't been back to Ireland for a while. Truthfully, unless there is a race to be run, she has no idea when she will return again.
Six years after she and her family departed Dundalk for Birmingham, the 21-year-old sprinter, speaking to Off The Ball from her current home in London, won't be surprised if her absence serves only to make some hearts grow more agitated and weary.
"I still get asked why I don't go and run for the UK," a bemused Moses admits, "I mean, I lived in Ireland for years and it isn't like I just got a passport through some random family member. I've medaled for Ireland on the world stage. I get it. I am a part of Ireland.
Born in Nigeria, Moses arrived in Ireland as a young child. After watching her sister perform, she developed an interest in athletics that eventually led to her becoming the champion sprinter she is today.
"Even since I was 15 or 16 running in international competitions though," she explains, "I've often had to deal with being the only black person on the team. 'Why is there a black girl on the Irish team?' I got that all the time."
Although it may mistakenly pass for harmless inquiry, such questions are pernicious at their core. Like, 'No, but where are you really from?', or, as the title of Emma Dabiri's recent book serves to refute, 'Can I touch your hair?', Moses has been consistently forced to explain herself.
For an athlete of even her proven ability and acclaim, the colour of Moses' skin remains a barrier to acceptance. "I am a part of Ireland," she says, proud to be wearing green on international stages. As she has come to realise since leaving this country, however, Ireland is only one small part of Gina Akpe Moses.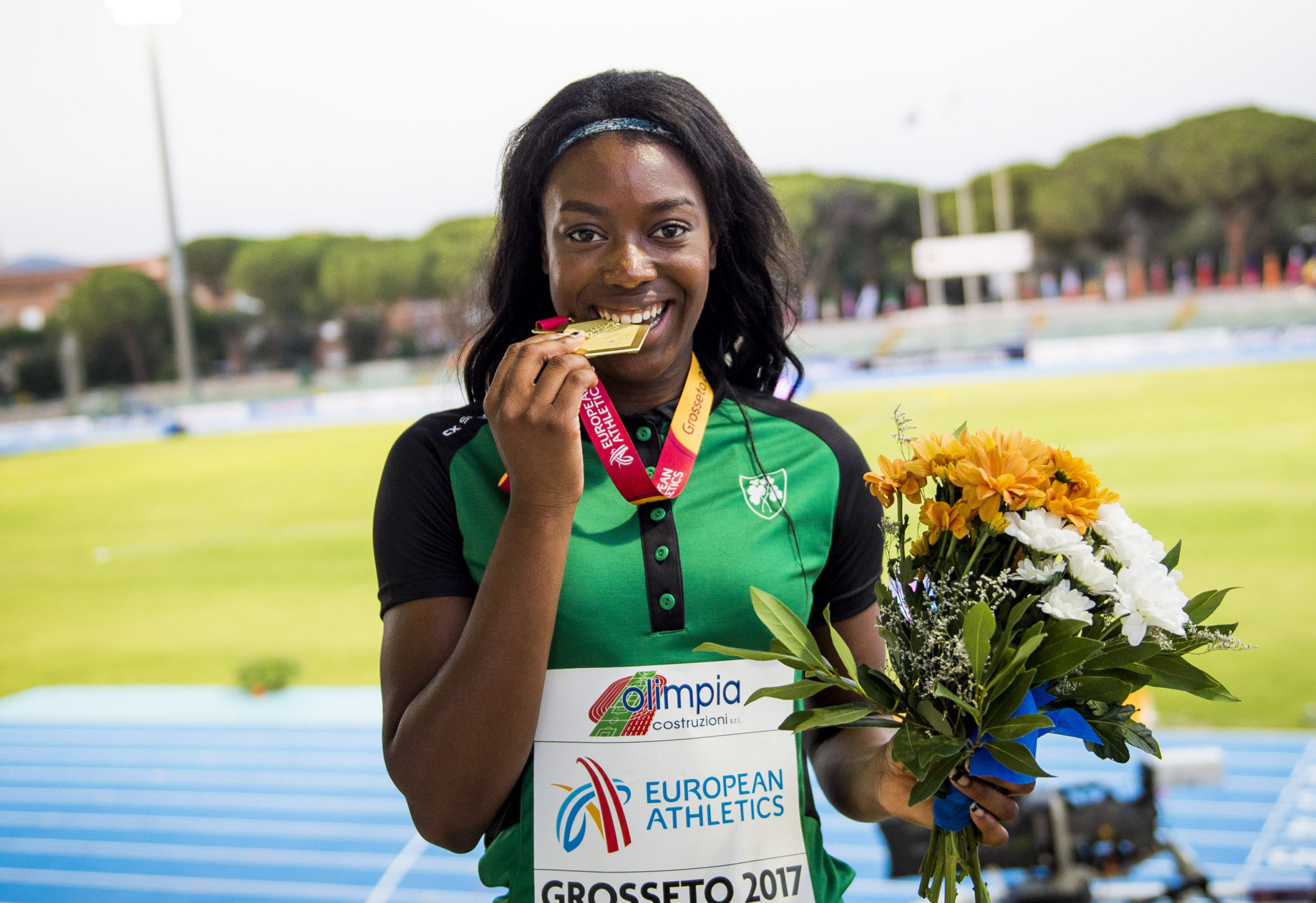 There can be no discussion of race in Ireland that does not acknowledge racism.
Cyrus Christie, an Irish international subjected to numerous racially motivated attacks online, recently surmised of his efforts to raise the issue with the Gardaí: "When you are being sent an image of four black people hanging from a tree - representing my family - and nothing gets done, how do you feel?"
This place is not necessarily a haven for the optimistic outsider.
"Race wasn't something I took much notice of in terms of prejudice when I was growing up," explains Moses, "but I was naïve. In Ireland, racism is hidden away just a little bit. It isn't as blatant as in the UK, or nearly as bad as it is in America, but in Ireland, people just try to present themselves as nice and hide those opinions away. They don't want to be thought of as bad people."
Throughout her childhood in Ireland, Moses considers herself fortunate to have never been the target of an overt racial attack. Nevertheless, while the colour of her skin may not have been weaponised in this way, there was hardly much call to celebrate blackness either.
Despite growing up in a household that actively retained its links to the family's Nigerian roots, most of Moses' friends were white and Irish. At best, the colour of her skin was ignored. Utopian in theory, she was ultimately denied the opportunity to discover aspects of a culture and heritage that were locked away in this arrangement.
"Living in Ireland, I never really got to embrace who I was," she accepts now. "Until I actually came to the UK where I was around more black people and saw how proud of it they were, I had never thought to think like that too.
"It is hard though and I could easily have opted never to embrace this, but it is a part of me. When I met other Nigerian girls in school and they just were everything I wanted to embody in terms of accepting myself and who I am, that was such a turning point for me."
*****
It's easy for people just slightly younger than myself, and born into a relative degree of multiculturalism, to forget just how recently basic public decency towards black folks was won in this country, but I was born in the 80s so I remember only too well. I was five years old when the infamous picture was taken of footballer John Barnes, kicking away a banana that had been thrown at him from the stands. I grew up routinely watching some of England's greatest ever football players suffer this type of humiliation in their workplace, in front of tens of thousands of people, who for the most part seemed to find it entirely acceptable, funny even. I knew Cyril Regis personally (rest in power, sir), I know about the bullets in the post and the death threats received by black players from the 'own' supporters and apparent countrymen because they wanted to play for England. I was not born with an opinion of the world, but it clearly seemed that the world had an opinion of people like me.
- Akala, Natives
Athletically, Gina Akpe Moses' achievements as a young sprinter for Ireland have entitled fans to dream of what she may go on to do in the years ahead.
Alongside the likes of Rhasidat Adeleke and Patience Jumbo-Gula, however, two more exciting Irish track stars with Nigerian roots, Moses' progress in the public eye will come under an additional scrutiny directly linked to the colour of her skin.
"Ah, it was just embarrassing for them," she recalls of the scorn certain Irish spectators heaped on her for mistakenly holding a flag held upside down moments after winning gold in the European U20s. "It was all, 'Oh, that's the Ivory Coast, not Ireland.' Now, these people know I'm Irish, so why make the fuss?
"For people to focus on a mistake with a flag in that moment, when I've just medaled for Ireland, these kinds of troll are embarrassing. 'She's not Irish, look at her skin.' Why should skin tone determine nationality?"
A teenager on the receiving end of racial slurs bound by an ignorant idea of nationalism, through almost inadvertent means, Moses has been primed to deal with a gnawing sense of isolation that may have caused others to bite back.
"To stand up alone, it is hard," she admits, "but you come into this world basically alone, and when you die, you're going to be alone again so you need to look after yourself."
Only, Gina Akpe Moses is never really alone. Through it all, her faith has been an unshakeable source of comfort.
"The talent I have is God-given," she explains with absolute certainty. "People don't always like that but look, if it is coming out of my mouth it doesn't mean that I'm  attacking you. If I'm asked me to speak after a race and they don't like what I've to say, that is really their problem, not mine to deal with.
"I shouldn't have to change for the sake of what make others uncomfortable. I don't feel that that is necessary when we're talking about my faith."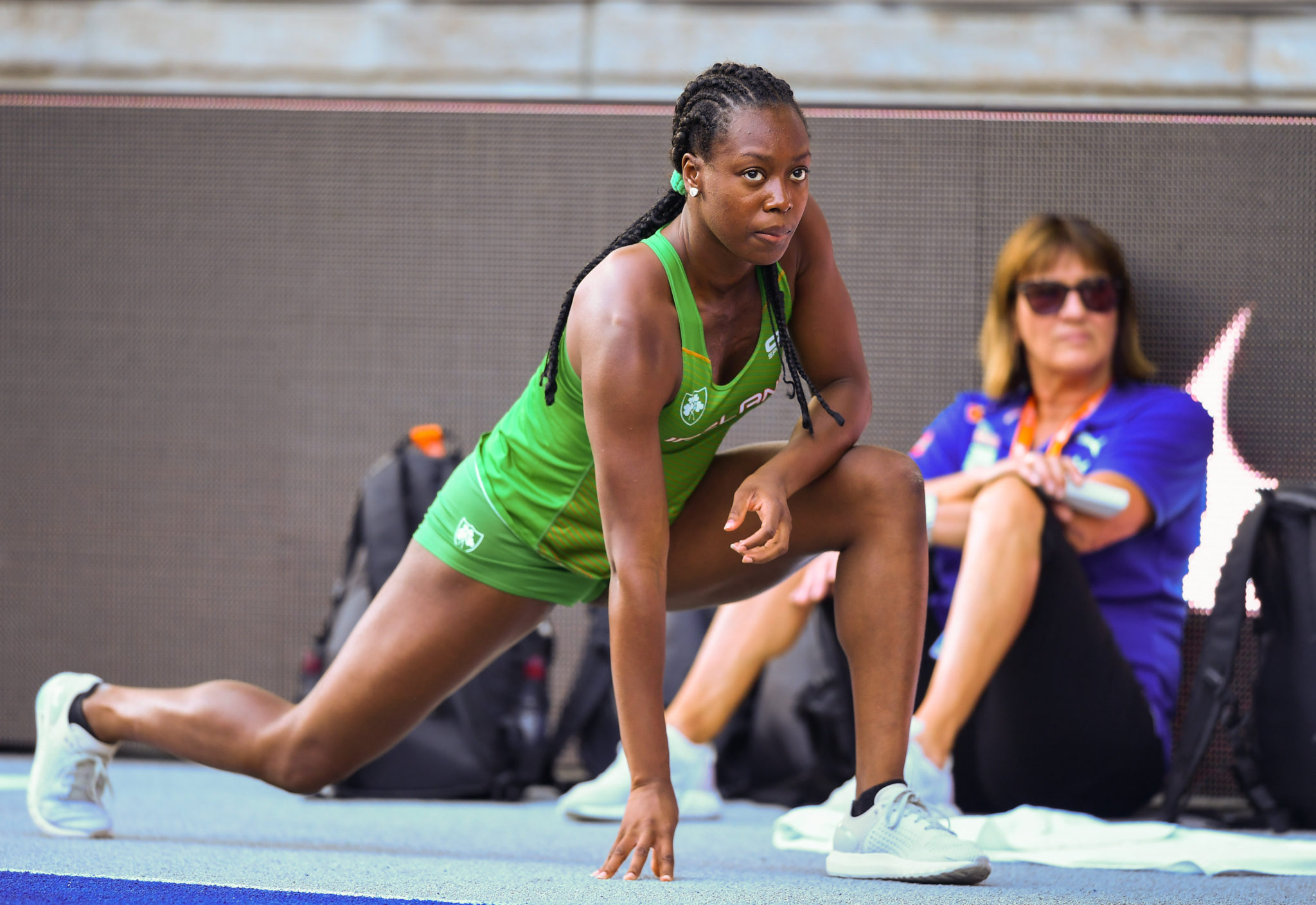 Everything has skin
Everyone tells me sorry
I know the world is dangerous
Everyone tells me sorry
- Morgan Parker, "Preface to a Twenty Volume Joke Book"
The next time you see Gina Akpe Moses, it will as likely be in a green Ireland vest.
Between Ireland, England and Nigeria, elements of each have shaped the person she has become and will keep on becoming as the years progress. It was in Ireland that she was  introduced to athletics, while England opened the door to greater self-awareness and acceptance.
Nevertheless, it is Nigeria that remains her home in the truest sense of the word.
"I went there in 2018 for the first time as an adult," she recalled of a journey she had only once before made as a child with her parents, "and I absolutely loved it. I had never wanted to go back after that first time, but I finally took the plunge.
"It was just so comfortable because, you know, these are my people. Nigeria wasn't there for me at the beginning, but now it is definitely something that is very, very necessary and important to me. Ireland is also my home, but in terms of my culture, heritage and roots, Nigeria is home."
She knows what your next question might be, but to appropriate a phrase from Herman Melville's Bartleby, this sprinter would prefer not to.
Gina Akpe Moses has made her decision for Ireland, and that's all there is to it.
Download the brand new OffTheBall App in the Play Store & App Store right now! We've got you covered!
Subscribe to OffTheBall's YouTube channel for more videos, like us on Facebook or follow us on Twitter for the latest sporting news and content.