Jason Quigley joined OTB AM after his impressive win over Shane Mosley Jr in Las Vegas on Saturday night.
The result was the Ballybofey boxer's first win since his unexpected defeat to Tureano Johnson in 2019, and it has relaunched his world title hopes.
On OTB AM, Quigley spoke of his emotions on the night in Las Vegas, his growing maturity as a boxer and the magic of his Donegal homecoming.
"Boxing is probably one of the most unpredictable sports out there, there's so many highs and lows," Quigley explained when asked about his emotions after the win.
"Obviously with the year and a half that we have had, not just in sport but life in general. 
"For me, I've had five fights that were supposedly meant to happen but have then fallen through. 
"Finally, when I got to Vegas for this fight, everything started to just fall into place for me.
"It was a crossroads fight for both of us as well. The winner is obviously talking about a world championship fight and the loser is thinking where they go next.
"There was a lot going on and when my name was called out, I just dropped to my knees and everything took over me to be honest."
Perhaps showing his growing maturity, Quigley joined the show from his home in Donegal after he caught the first plane back to Ireland from Las Vegas.
"Any of my other fights in the states, I've always stayed a week or two after but this time I wanted the first flight home," he said.
"I was delighted to be back home early and be with the people I want to celebrate with.
"A younger Jason Quigley would still be in Vegas, I wouldn't be here chatting to you now but I've kind of got to that stage in my career where I have blinkers on. 
"I have a structured vision of what I want and how I'm going to get there."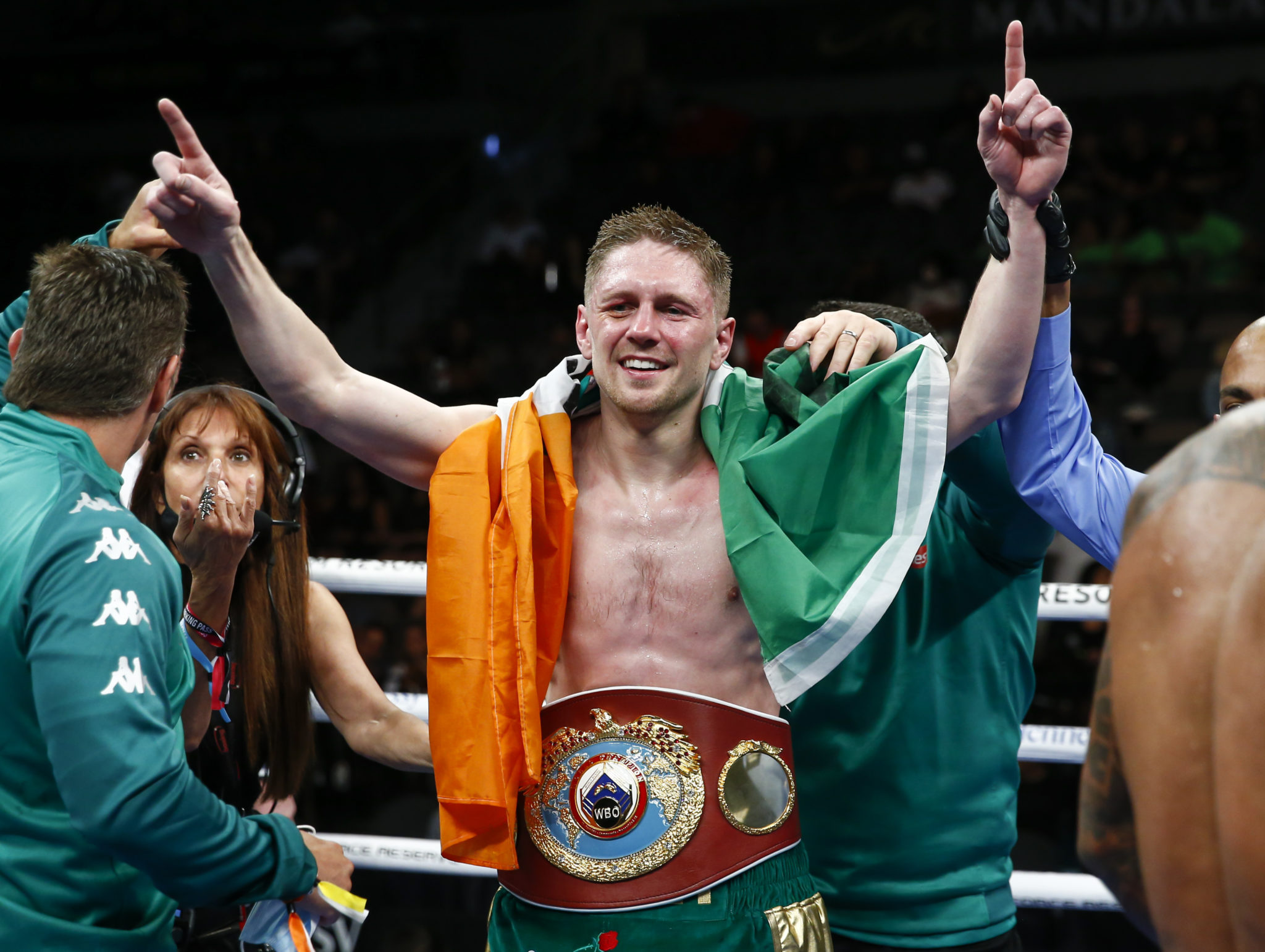 The 30-year-old also described magic of the scenes and celebrations that greeted him when he reached Donegal.
"That homecoming was such a special moment," Quigley said.
"Over the last year and a half, every town around Ireland has been dead, nobody has been out and about, nothing to celebrate, nothing to get happy about. 
"There was so many people came up to me saying that they got emotional driving through the town. 
"I'm just a fella getting into the ring and doing what I have to do but if that's going to spread this kind of joy back home, it's a blessing.
"Fair play to everyone came out and made it such a special moment."
😃 'There's been nothing to get excited about.'

🥊 'If my boxing spreads this joy back home, it is a blessing.' @jay_quigley spoke to #OTBAM about an emotional homecoming to Donegal 🟡🟢@GilletteUK #MadeOfWhatMatters

FULL VIDEO ➡️ https://t.co/5DAFnRtItR pic.twitter.com/u3Mbd1xNmY

— Off The Ball (@offtheball) June 2, 2021