Written by Iarla Muldoon. 
Julian Edelman was named Super Bowl LIII MVP last night. Eight months ago he was suspended by the NFL for recording a positive drug test.
The prestigious Super Bowl MVP award was given to the 32 year-old Californian who went 141 yards in 10 receptions. He was visibly the most influential player on the pitch last night.
Yet his story is not one you would expect of a man being touted as one of the best wide-receivers in the game. His rise from average draft prospect to NFL fame is much like that of Tom Brady, except for the sour turn Edelman's fairy-tale story has taken this year.
Julian Edelman was drafted in the 7th round of the 2009 NFL draft, the 232nd pick overall. He was not a hotly anticipated draft prospect and was originally a QB, but much like Brady, the Patriots saw something special in him and gave him a chance. The Kent State alumni has been at the Patriots ever since, and just like Brady, enjoyed yet another Super Bowl win in Atlanta last night.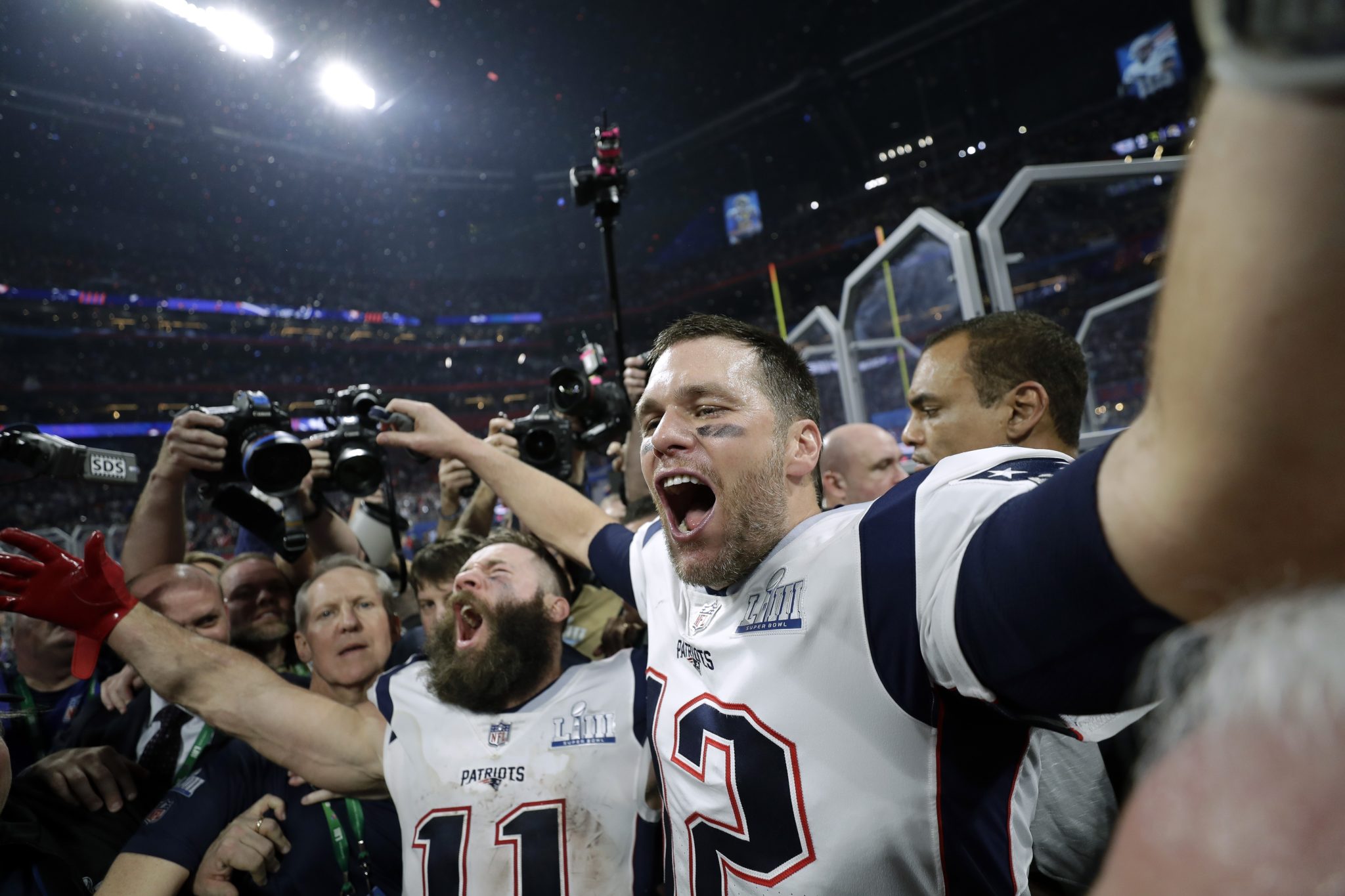 In the 2017 pre-season, Edelman suffered a career-threatening injury; a devastating ACL tear ruling him out of the Patriots' unsuccessful run to Super Bowl success last year. 
Reclaiming his physical fitness for a 2018 redemption run, Julian Edelman was suspended by the NFL for the first 4 games of his comeback season. A violation of the NFL's PED (Performance-enhancing Drugs) policy sufficient cause for his absence. 
All this was forgotten last night, however, as Edelman was praised for being the best player on the field in the NFL's 53rd Super Bowl.
There are some blatant faults in this strange run of events as Mike Carlson pointed out on Off The Ball AM this morning.
"Well if that's what Edelman can do, well then everyone else ought to go out and do some steroids in the Summer and take the first four weeks off," Carlson stated half-jokingly. 
"You come back fresher and play better in the second half of the season.
"The contrary argument would be what you hear a lot in other sports, 'He's just trying to get better and made a little mistake and went too far.'"
Carlson was also suspicious of the media attention that would be given to the issue, saying, "I would be surprised if anyone puts it to him. It's not so much the country accepts it, but it's that the league doesn't want to talk about it"
Julian Edelmen is now 32 years old. This season recorded his career best receiving yards avg. in seasons where he has started more than 3 games.
He has made more rushing yards than any other season.
He made more postseason yards and receptions than any other season.
He is in the best form of his career, as last night showed.
Download the brand new OffTheBall App in the Play Store & App Store right now! We've got you covered!
Subscribe to OffTheBall's YouTube channel for more videos, like us on Facebook or follow us on Twitter for the latest sporting news and content.