"The game was sold-out in 24-hours and the shop was closed for 12 of those," Kieran Donaghy revealed by way of magnifying the importance of this weekend's Super League clash between Garvey's Tralee Warriors and Dublin's Templeogue.
Sitting third in the table with two fewer games played than the table-topping Templeogue, basketball fans in Kerry are nevertheless aware that if the gap separating them from the Dublin club stretches to nine-points this weekend, hopes of ending over a decade's worth of waiting for a national title may be put on ice for another year.
As Donaghy surmised on this week's Shot Clock: "It is do or die." With that in mind, fans are coming out in force.
Offering an intriguing narrative to the weekend's clash, Donaghy was joined on the line by Templeogue's own Jason Killeen; Kieran Donaghy's direct counterpart on Saturday night.
"Over the last couple of years we've had a couple of match-ups with Templeogue and Tralee so the lads are well aware of what to expect when we get down there," Kileen surmised ahead of the potentially decisive clash.
"People talk about the glory days of the '80s and '90s with basketball in Ireland, but for me, now in 2019 is the best it has been.
"The standard of the league has been getting better, and I think it's not just the standard of the imports who are coming in, but the standard of the Irish players is making the league better."
Jason is a 6ft 10in Michael Quirke and I'm not looking forward to marking him on Saturday night. I wish we'd had our 7ft Dusan Bogdanovic to hop off him.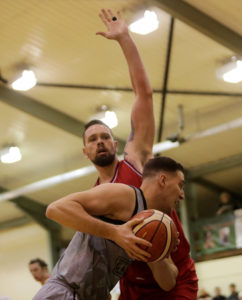 Looking ahead to his battle with Killeen on Saturday night, Kieran Donaghy wasn't shy about demonstrating the Limerick man's prowess on the court.
"He's been a huge player for Ireland over the course of his career," Donaghy noted.
"He's a big man, a 6ft 10in Michael Quirke and I'm not looking forward to marking him on Saturday night.
"I wish we'd had our 7ft Dusan Bogdanovic to hop off him."
Having spent time playing professionally abroad before returning to Ireland, Killeen is expecting a ferocious battle with Donaghy & co. this weekend. However, having beaten Templeogue in Dublin in a National Cup clash earlier this year, Tralee are hoping to make great use of home advantage this time out.
"We're going to have smoke machines," Donaghy revealed, "we're going to have lasers, we're going to have lights, a fan-zone, face-painting, we have as much fun as you could hope to have."
As for what he expects of dealing with the former inter-county footballer on the basketball court, past experience tells Killeen that it's going to be eventful, at the very least: "Oh Kieran definitely talks, that's why they bring in the big crowds so they camera's can't pick up what he's saying on the court."
In the likely event you haven't gotten a ticket to Saturday's match-up, Basketball Ireland will be streaming the match live. Details of that will be available here.
To watch back previous episodes of Kieran Donaghy's Shot Clock, visit out YouTube page here. 
Download the brand new OffTheBall App in the Play Store & App Store right now! We've got you covered!
Subscribe to OffTheBall's YouTube channel for more videos, like us on Facebook or follow us on Twitter for the latest sporting news and content.