In the immediate aftermath of Kobe Bryant's untimely death, American journalist Kavitha A. Davidson discussed troubling elements of the NBA star's personal life and how this has influenced the grieving process on Monday's OTB AM. 
After the hurried uncertainty of Sunday evening, it has now been confirmed that basketball legend Kobe Bryant and his daughter Gianna were among those killed in a helicopter crash in California.
One of basketball's most high-profile figures, Bryant's NBA tenure was carried out exclusively in Los Angeles; a 20-year career occurring entirely with the LA Lakers.
As many of the city's inhabitants began the grieving process last night, Kavitha A. Davidson, a journalist speaking to Monday's OTB AM life from LA, described the scene.
"It was surreal, hard to believe," she explained of the atmosphere surrounding the Staples Centre in LA. "It was really, really silent which was something that really struck me.
"When they put this In Memorium photo up on a screen, the crowd broke out into applause, people started an 'MVP' chant, they started a 'Kobe' chant and there was just sobbing everywhere.
"It was really hard to witness and be a part of."
The scene outside Staples is surreal. People in Kobe jersey mixed with people in sequined ballgowns for the Grammys. Amid the tears, the crowd breaks into somber applause when this comes on the screen pic.twitter.com/CUMwFmYVF5

— Kavitha A. Davidson (@kavithadavidson) January 26, 2020
Although there has been a huge swell of support and positivity surrounding Kobe Bryant's contribution to basketball and more besides, the American athlete's legacy is likely to come under closer scrutiny in the coming days.
In 2003, the former LA Laker was charged with sexual assault stemming from an incident in which Bryant was accused of raping a 19-year-old woman.
The case brought against him was eventually dropped when the woman refused to testify. Bryant later issued an apology in which he stated that he understood that the woman, unlike himself, did not view their sexual encounter as consensual.
A subsequent lawsuit brought against Kobe Bryant by the woman in question was settled out of court.
"I think in the immediate aftermath of trying to figure out what was true and what wasn't, separating the facts from the rumour, it felt like not the right time to bring something up like that," explained Davidson of the feeling on the ground in LA.
"But I think when you are talking about Kobe Bryant's legacy, it is impossible to ignore what he was accused of and what there is tangible evidence of and for how a lot of fans, myself included, who loved Kobe Bryant on the court and how much he brought to this game, it is a very difficult and complicated legacy to contend with."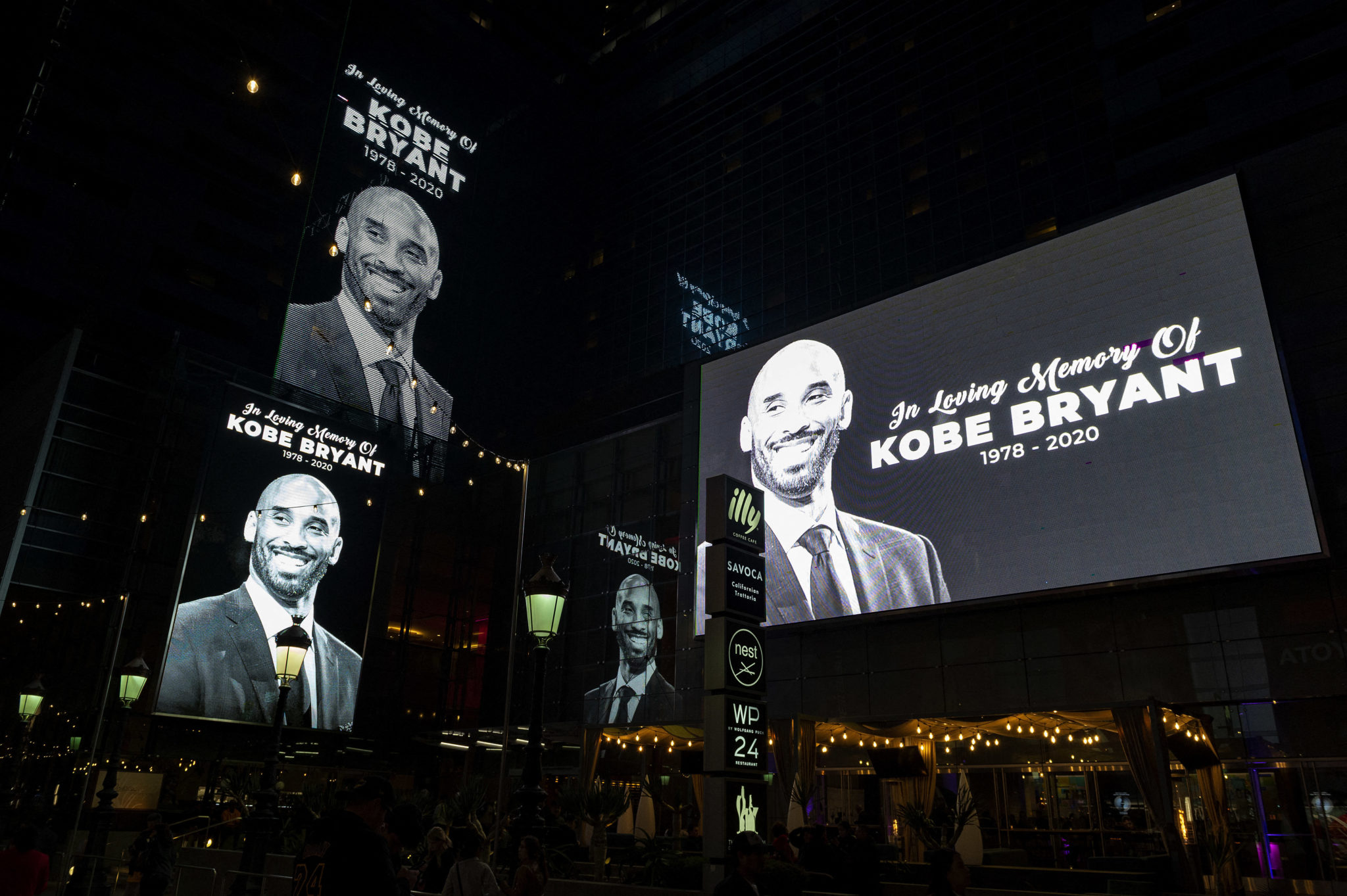 The inescapable nature of Kobe Bryant's past reminded Davidson of how the complicated passing of American singer Michael Jackson was treated.
"When I first heard of Kobe Bryant's death today, and I don't say this lightly," she began, "it reminded me a lot of the day that Michael Jackson died.
"I remember exactly where I was, the minute-by-minute breakdown of how I found out, initially not believing it and then going throughout the course of the day as you heard and see people get the phone call or text message with the news.
"I talked to more than one fan today who unprompted made that comparison as well.
"Similarly, we struggle with how much we love these two people and how big of fans we are of their work with what we know of them as people and what they may have done off the court and outside of the recording studio."
Unlike Jackson, however, Kobe Bryant's alleged misdemeanours appeared to offer very little resistance as his career and worldwide reputation soared thereafter.
Priding himself on the nickname 'Black Mamba', Bryant aligned his on-court performances and effectiveness with that of the deadly snake.
"When you're considering Kobe's legacy," outlined Davidson, "that 'Black Mamba' mentality that so many of us respected on the court, the idea that that would be applied off the court [is troubling.]
"That something like a rape allegation would be seen as something that you not only have to recover from but is something that happened to you, that this is adversity for the accused, that is very difficult for people to reconcile with.
"We saw all of this come up again a little bit in 2016 when he retired but, to be honest, a lot of the people who wanted to talk about this part of his legacy were being shouted down by people who wanted to celebrate his career.
"But you can't ignore the complicated parts of someone's legacy when considering the parts that are easy.
"The five championships, the two NBA Finals MVPs, the 18 All-Star games, those are easy things to consider and we are lucky to have seen them.
"But all of these other things also need to be a part of the conversation."
Kobe Bryant was 41-years-old and his daughter Gianna was 13-years-old. They are survived by Bryant's wife Vanessa and their three children.
You can watch Kavitha A. Davidson discuss the death of Kobe Bryant on OTB AM in full here. 
Download the brand new OffTheBall App in the Play Store & App Store right now! We've got you covered!
Subscribe to OffTheBall's YouTube channel for more videos, like us on Facebook or follow us on Twitter for the latest sporting news and content.