On Sunday in his 30th Grand Slam final, Novak Djokovic won his 20th major title by winning his sixth Wimbledon and third in a row at the All England Club. Truthfully, he barely broke stride en route to equalling Roger Federer and Rafael Nadal's historic Slam record.
What do Jack Draper and Matteo Berrettini have in common? They were the only two men to take a set off Djokovic during the 2021 Wimbledon. Draper, 19 years old from London new to the ATP Tour, can be proud that he edged the first set of their first-round two weeks ago. But Djokovic, like Michael Jordan in The Last Dance, took that imposition personally and responded by dismantling young Draper over the following three sets.
In the final, Queen's champion Berrettini - positively relentless on the way to his maiden Slam decider - had the audacity to come from 2-5 and a set point down to clinch the opening set (For the contest's sake, it was just as well. Djokovic had a 269-5 victorious record at Grand Slams when winning the first set). Djokovic responded by going a double break and 4-0 up in the second set minutes later and would ultimately triumph 6-7 (4), 6-4, 6-4, 6-3.
Between the first and last match of this latest Slam victory, Djokovic eased past Kevin Anderson (just as he did in the 2018 final), Denis Kudla, Cristian Garin, and Marton Fuscovics.
Andy Murray's conqueror Denis Shapovalov enjoyed his best Slam performance to date and provided a sterner test in the semi-final. He should have grabbed at least a set from Djokovic. But he didn't, because most don't. Especially at majors where Djokovic's tunnel vision is at its sharpest.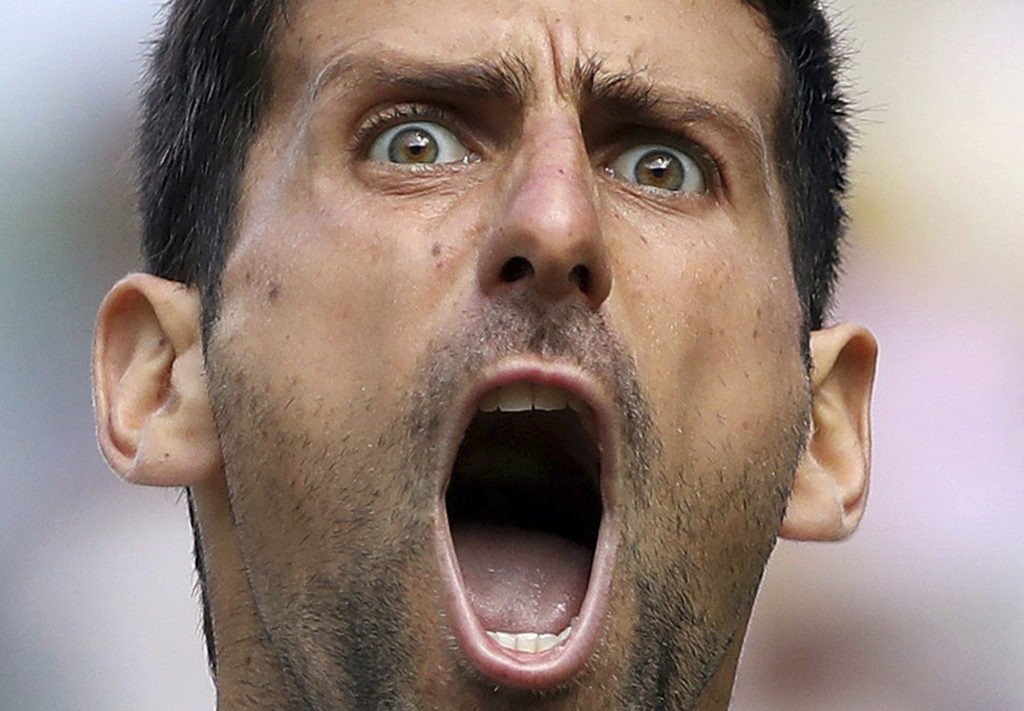 It almost felt like this Wimbledon passed the 34-year-old by in many ways and yet he won the whole thing by sparing just a pair of sets.
But that is the genius of Djokovic: his brilliance is cruelly subtle and his dominance over opponents painfully gradual. These days, Djokovic's biggest threat at Slams is himself, literally. The only reason he does not possess all four majors right now is due to his infamous US Open disqualification last year.
He can succumb to self-destructive tendencies like the above, and his manner occasionally appears alarming as seen in his frightening response to beating Berrettini at the recent French Open when he roared the sweet release of relief for what felt like longer than comfortable for all concerned. The highlight clip of that match has over one million views on the official Roland Garros YouTube page.
Many can relate, and Djokovic's deeply human side is nothing but authentic and even endearing, depending on your persuasion.
He has endured a frankly brutal past year on the PR front with the ill-advised hosting of the Adria Tour, the after-party, and subsequent positive COVID cases. There was the muddled Professional Tennis Players Association, co-founded with Vasek Pospisil which still fails to garner the support of their colleagues, and his complaint pre-Australian Open that the hotel facilities were inadequate for the players at a time when the pandemic was destroying the lives of millions worldwide significantly worse off.
Mistakes were made but his intentions were pure, rooted in Djokovic's overwhelming urge to people-please and the blind obligation he feels to aid his fellow professionals. As he arrived last on the scene, seemingly everything he does on and off the court is compared to two-thirds of the Big Three.
Djokovic lacks the easy charm of Federer and the natural modesty of Nadal. His edges come a bit rougher and so he polarises opinion the most of the trio. But for all his detractors, he has plenty of worshippers. Check out the YouTube comment section on any Djokovic debate Off The Ball hosts, and the evidence is littered. These interactions could diplomatically be described as passionate.
Whichever side of the fence you fall on, respect for the man is waiting for you. Federer possesses the innate talent and Nadal has the resilience; Djokovic's foremost on-court attribute is his adaptability. His return-of-serve is the game's best ever, better than Andre Agassi's, but it is his evolving ability to read and expose his opponents' weaknesses and refusal to panic when in a losing position that makes him currently untouchable.
Two sets to love down against Stefanos Tsitsipas in the Roland-Garros final less than two days after beating the King of Clay, Nadal? No problem.
At 2-3, 15-30 in the fourth set on Sunday, Djokovic chased several lost causes in the same point only to flick his wrist and wrestle a winner from the brink. Berrettini's face said more than words.
It is nearly impossible to beat Djokovic in a best of five match nowadays. Three sets? Absolutely. But you will not win any Slams beating Djokovic that way and ultimately, that is all he cares about any longer.
Perhaps the issue of motivation will eventually stop the Djokovic express train from running over records and finally allow the rest to catch up. The Serbian's statistics are becoming ridiculous. Hard to believe that after Federer clinched his 20th Slam at the 2018 Australian Open and while Nadal was on 16, Djokovic had just the 12 majors to his name and had recently undergone elbow surgery. Harder again to realise that he saved two championship points two years ago against Federer in the Wimbledon final when five Slams separated the duo.
He is unambiguously the favourite for three of the four majors every year and has spent the last three years ruthlessly capitalising on the fading forces of Federer and Nadal while swatting away the still-undercooked but not inconsiderable best of the rest, of which there are plenty worthy contenders. Even that is doing Djokovic a disservice, because he is a victim of constant comparison when, in 2021, he is in reality peerless.
Should he win the US Open in September, Djokovic will have competed the calendar Slam, i.e. holding all four Grand Slams in the same year, while simultaneously surpassing Federer and Nadal's joint-record haul of 20 majors to become the undisputed greatest male tennis player of them all.
One could argue that Djokovic is already there, having spent more weeks at world no.1 than Federer and Nadal as well as enjoying a winning head-to-head record against both individuals. All he needs to do now is make it official in a matter of weeks at Flushing Meadows, perhaps immediately after winning gold at the Olympics should he decide to play in what will be a depleted field.
In January 2011 Djokovic had one Slam title, won three years earlier at the Australian Open. Back then, Djokovic was viewed as supremely talented and known for his eagle-eyed impersonations of his rivals, but a player whose endurance for elite tennis was questioned, sometimes by his peers.
Those same players, past and present, look on in wonder now as Djokovic continues to wipe the floor with those who dare to challenge on the biggest stage. The kid from Belgrade has silenced the doubters and will soon be undisputed - that most crucial of stats is inevitable for the best clutch player out there.
You do not have to like it, but you may just have to respect it.
Download the brand new OffTheBall App in the Play Store & App Store right now! We've got you covered!
Subscribe to OffTheBall's YouTube channel for more videos, like us on Facebook or follow us on Twitter for the latest sporting news and content.