The Carr sporting dynasty: How former footballer Tommy mentors his son, Simon, a professional tennis player, for Off The Ball by Katie Lowry, Courtney Fizmaurice and Sean Power.
On the lonely grind of the international tennis circuit, Irish professional player Simon Carr has a unique coach to call on at any hour of the day or night – his father, former GAA All-Star and Leinster title-winner, Tommy.
Simon, 20, is currently ranked number 531 globally and competes around the world in an individual sport, but relies on advice from his father, who made his reputation in a sport with 15 players.
Tommy Carr, who coached Dublin between 1997 and 2001, is a strength and conditioning coach to Simon but also a mentor in countless other dimensions of elite sport.
Understanding
Tommy Carr said his coach-athlete relationship with Simon is good.
Carr told Off the Ball: "He's easy to work with. He understands the physical requirements, the strength requirements, (the) power requirements, he goes out to achieve those, but we do have our moments.
"He gets up grumpy at times, he can be hard to get through to at times."
The former GAA man, who retired as a player in 2001, also helps his son with the psychological demands of the game, such as staying focused on his goals.
"Not setting up winning as being the only thing," says Carr Sr., "but at his stage and at his level, it's continuing to develop his game and not to be distracted by losing, which can be difficult at times because he's highly competitive and highly driven."
Simon, who turned professional aged 15, was able to absorb values from his father, especially the need to push himself to be a successful sportsman.
"The knowledge of how hard you have to work," says Carr Jr., "and reach where you want to go helped me, being obviously part of his career and he knew what you had to do to get where you want to go."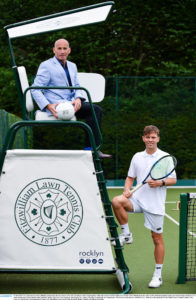 Such fortitude is essential to Simon who often travels alone for long periods of time, with competitions as far away as Zambia and Mozambique.
"He made that decision himself and you know that's at 17, 18 years of age and that's a difficult thing to do," says Tommy, complimenting his son's determination.
"He took his destination into his own hands and that was a big transition moment for him. And a moment for us to say, "Well, okay, he's really serious about this."
'Sport was the thing in this house'
"Sport was the thing in this house, so we encouraged it across the board," says Carr Senior.
Tommy won two National Football Leagues with Dublin in 1991 and 1993, captaining the Boys in Blue to a Leinster title in 1992.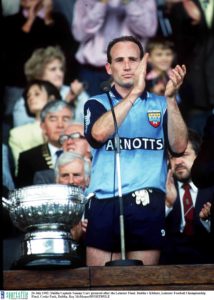 Some of Carr's best memories include Dublin's four-in-a-row series with Meath in 1991, which was "a great sporting moment." Tommy Carr is still heavily involved in the GAA as the strength and conditioning coach for the Westmeath Ladies.
Sport is in the blood of the Carr family. Tommy's brother, Declan, won two All-Ireland Hurling Championships for Tipperary in 1989 and 1991.
One of Tommy's daughters Vicky plays for the Westmeath Ladies, while another competes in international triathlons.
Simon's sporting path has taken a very different direction. Tommy has given his full support to his son's decision.
Carr has competed in numerous tournaments worldwide in both singles and doubles since he turned professional.
Most recently, Simon won an ITF Doubles Title in Cancun, Mexico with partner Ajeet Rai of New Zealand.
Simon has won one singles ITF title which was in Tabarka, Tunisia, back in 2019.
This young Irish talent has reached the latter stages of tournaments on several occasions over the past 12 months in places like Greece, Uganda, Mozambique, Portugal, the UK and in the US.
'No one really cares'
Looking to the future, Simon hopes to be ranked top 50 in the world.
However, this ambition may be hindered by a lack of official support. Carr says he feels totally alone when travelling due to insufficient support from Tennis Ireland.
"It just feels like some days when you're having bad days, no one really cares."
"But there are people who care, it's just they are not in the right positions, you know."
Tommy added: "The bonus for everybody in all this would be that Simon 'makes it' as a tennis player, whatever way we all consider that as an Irish player because Simon is swimming against the tide here.
"He's coming from a country that has never really produced Grand Slam players albeit we've got very close."
"I would love Simon to be able to stand up one day and say no matter what they threw at me, no matter what barriers were put in front of me, no matter what adversity I faced, I made it."
Occasionally, Tommy is able to travel with Simon, making lasting memories for both father and son.
Simon added: "I remember we were in the middle of Tunisia and...after a good win one day, and we were getting the bus back with the juniors and we were going through these shanty-towns.
"I just remember the bus passing by him (Tommy) in his big yellow, high vis jacket running through these Tunisian towns. I was like 'Jeez, you wouldn't get this anywhere else, in another sport."
"It's been fun," said Tommy of the journey Simon is on, "it's been frustrating and a lot of other things but ultimately we are still talking at the end of it all, which is the most important thing."
Download the brand new OffTheBall App in the Play Store & App Store right now! We've got you covered!
Subscribe to OffTheBall's YouTube channel for more videos, like us on Facebook or follow us on Twitter for the latest sporting news and content.