Welcome to the #OTBAM Crystal Ball, with our GAA predictions for the 2019 Senior Gaelic Football Championship.
Due to the fact that our overall 2019 Sporting Predictions went so well, we said we'd have to do it again! So, we've thrown Adrian Barry, Ger Gilroy, Tommy Rooney and Eoin Sheahan into studio and have put 15 burning questions for the summer their way.
What do you think, because we want to hear from you, tweet us your answers at @offtheballam on twitter.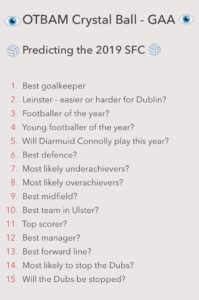 OTB AM is the sports breakfast show from Off The Ball - you can watch us or listen live every morning across OTB - come check us out, we're bringing you top quality shows every morning, also, if you're not up that early or can't listen at that time, check out the podcast!
Friday's #OTBAM was a good one - please subscribe/review and go check us out, this morning, Adrian and Eoin chat through the sports pages, Ross Tucker talks Caster Semenya, we're with Big Mike McCarthy on the weekend's Rugby, our GAA predictions and finally, Phil Egan with everything else you need.
Check out our this chat with Dublin legend Paul Flynn after his retirement from intercounty football this week - we got some brilliant insights into the good days with the Dubs!
Check out our Crystal Ball predictions for the 2019 sporting year right here: 
While you're here, SUBSCRIBE to the Off The Ball channels to watch OTB AM
- YouTube
- Facebook
- Twitter
Another option is to listen to OTB AM like a radio show every morning!
- https://www.offtheball.com - available live from 7.45am on our player!
You can also podcast OTB AM straight after the show ends.
- iTunes: https://itunes.apple.com/ie/podcast/o...
- click here for Spotify!
Finally, Get in touch with Off The Ball wherever you want!
📱 Whatsapp: any videos that might interest us? Or want to send us a voice note - 083 112 8154
📱 Snapchat: add us and message the show @offtheball
📱 Twitter: follow and tweet us @offtheball and @offtheballam