Andy Dunne joined Off The Ball on Wednesday Night Rugby as he looked back on his career and how watching Ireland's Grand Slam triumph in 2009 was tough for him.
Spring 2009 sticks out in many rugby fans' minds as an utterly joyous occasion when Ireland finally won another Grand Slam. For Andy Dunne, it was a very different feeling in his rugby life.
"I had gotten another knee injury," recalled the retired out-half, " It was in my last year in Connacht, it was the week of St Patrick's Day in 2009, far more known in Irish rugby as the Grand Slam week.
"I was chatting with Michael Bradley and Eric Elwood and they were like, 'the knee's not great, is it?'
"Contracts are up. Your contract is up. We are most likely not going to renew your contract.' And that was the end of my career."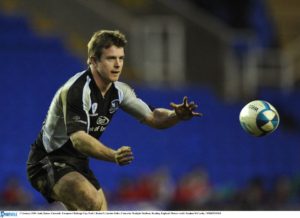 Professional sport is nothing if not brutal, Dunne then joined the rest of the country and diverted his attention the same way we all did.
"That happened on the Thursday, there was no game that weekend and I went up to Dublin and met up with my close friends.
"Didn't say a word to anyone and we watched the Grand Slam in the Bleeding Horse having a few pints.
"I remember kinda thinking, 'God my career is over and this is the pinnacle of Irish rugby for the last 61 years and the vast majority of that team I played with.'
I loved it
Dunne allowed himself to dwell on this temporarily but has since realised how special his career was, even finding a silver lining to the injuries.
"So I gave myself a few weeks of self-pity after that because it hadn't worked out the way I liked or I'd dreamed, but in fact, you say ten years later when I'm sitting on the couch late at night having a beer, I loved it.
"I loved every minute of it. I don't think I'd change a single disappointment, I wouldn't change an injury. It's actually given me the career I'm in now.
"I think I even developed quite an interest in rehabilitation after that (injury).
"So I'd look back with fondness, even at the challenges and I think there's huge scope to learn from those things in life."
Everyone's in the Team Of Us.
Vodafone. The Official Sponsor of the Irish Rugby Team.
Download the brand new OffTheBall App in the Play Store & App Store right now! We've got you covered!
Subscribe to OffTheBall's YouTube channel for more videos, like us on Facebook or follow us on Twitter for the latest sporting news and content.