Recently retired jockey Barry Geraghty dropped in to Friday Night Racing in association with Horse Racing Ireland on Off The Ball to talk about the career he recently called time on.
The decision to hang up the boots is never taken lightly but Geraghty said he had made up his mind before the 2020 Cheltenham Festival where he was again Top Jockey.
FRIDAY NIGHT RACING 🐎@BarryJGeraghty is with us now as we discuss his stepping away from racing with an incredible trophy haul. @HRIRacing #Everyracingmoment https://t.co/UEQElUw3gy

— Off The Ball (@offtheball) July 17, 2020
"I was looking at finishing up at the end of the season," said Geraghty, "whether that was going to be at Fairyhouse or Punchestown or whatever, I knew this was my last Cheltenham.
I went out on Saint Roi and I knew this was my last ride at Cheltenham. That's why there was so much emotion when I won on Epatante and winning on all those other horses. I showed more emotion in the week than I had done on previous years.
"It wasn't raging emotion, it was 'this is what I love' I was in the moment and you can be in no other place when you are riding in a race only be in the moment. There are people with a troubled past but once they get in a race, there's only one thing on their mind.
"Their judgement isn't clouded but then you hit the line and result!"
The Meath native was happy to be able to make the call on retirement himself, there was a fear only 12 months ago the decision could be taken out of his hands.
"Going back to last year when I broke my leg at Aintree," Barry Geraghty recalled, "and I'm lying there and for the second time in two years I'm saying 'Jees I didn't see that one coming.'
"I'm lying there with my leg bent inwards saying 'I didn't see that one coming' and then I'm thinking 'Is this where it ends?' It was an ugly break, the worst I've had, I was screaming for morphine. Just wanted them to give me morphine to put me in a better place.
"Then I was happy it wasn't the end once the doctors weren't going to sign me off I was coming back. I had a Galway comeback lined out, as soon as the rumour mill [about retirement] started, I wanted to quench that.
"During the spring, I was thinking, I've been very fortunate to have a great career, with lots of good horses for lots of great people and big winners. You get thinking it's not a bad note to go on if we're going to go."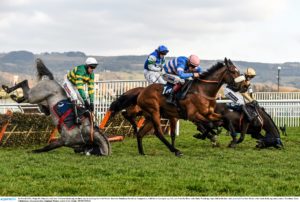 Brutal
Falls are an occupational hazard for jump jockeys but Barry Geraghty says he tried not to let them affect him.
"I had a great gift of blocking everything out so I'd generally block it out," recalled the retired rider. "The broken leg was very hard. I had an external frame on it for 14 weeks and there's no point in saying otherwise that was brutal.
"But, at five months I was standing in front of a surgeon and he said to me 'what do you want to do now?' I said 'Listowel next week,' and he said 'give it another month.' So at that stage I was doing okay.
"My Physio in Santry thought I made great progress for my age to get back to where I was, so I got the impression from him I was beating the clock a little bit.
"I suppose I've had an average run [of injuries] over the last five years, I had a broken leg when I took the job first with JP back in 2015. I broke my arm twice in the meantime and then my leg, ribs and a punctured lung in there too. So I missed 18 months of five years.
"They are hard to keep coming back from, and as I said I was lying on the ground saying 'I didn't see that one coming' so I didn't want to see the next one coming."
High Speed Chess
Despite retiring now Barry Geraghty feels he was riding as well as ever, with no substitute for experience when it comes to racing at the highest level.
"I've always described racing as high speed chess, it's every move from the drop of the flag, every move counts. So, albeit you mightn't take the falls as well, you see things coming. You read a race better.
"I had five winners from eleven rides this year and no seconds so for me that's the best return I've had at Cheltenham.
"Only experience can bring you to that place [the top of his game] If you're still up for the challenge, if you're not ducking the challenge, if you're still going at the second last and the last as if they aren't there, then there isn't an issue with your hunger.
"It's timing, it comes back to timing, and timing comes with experience. You have a certain amount when you're young but as you get older [it's better]. I had a couple of tight finishes, Dame de Compiegne, Sire du Berlais and Champ, all of those were trusting your instinct and timing, timing, timing."