Naas Racecourse will stage the Irish EBF Ballyhane Stakes on Sunday. It's the richest race for two-year-olds run in Ireland or the UK this season.
The track has organised a prize to show support for some nominated 'Lockdown Heroes.'
On Friday Night Racing in association with Horse Racing Ireland on Off The Ball those heroes were revealed and each given a runner for Sunday's big race.
Whichever horse wins means that Lockdown Hero will receive the incredible prize below.
Ahead of the @IrishEBF_ @BallyhaneStud Stakes @NaasRacecourse The lads on Friday Night Racing did the Lockdown Heroes Draw live on air!@HRIRacing #EveryRacingMoment

PODCAST: https://t.co/Q3AnEbgbxA pic.twitter.com/BkKnQHt1HE

— Off The Ball (@offtheball) August 21, 2020
Naas Lockdown Heroes' Horses
Lockdown Hero: Caoimhe O'Mahony - Nurse at Naas Hospital
Horse: Giorgio Vassari
Caoimhe is a nurse in Naas general. She contacted COVID while treating patients and once she beat it, she was straight back to work caring for others.
Lockdown Hero: Catherine & John Merrick - Foodbank Volunteers 
Horse: Allagar
Catherine and her husband John kept the food bank on main street Naas, going during the pandemic. They work all year round to keep food on the table for people in need.
Lockdown Hero: Aoife Green - Emergency Department GP Liaison Nurse
Horse: Anna Strada
Aoife, an Emergency Department GP liaison Nurse in Mater hospital, took charge of and ran a GP Clinic as part of the Mater Hospital Emergency Department to deal with the surge during Covid-19.
Lockdown Hero: Caitriona Twomey - CEO of Cork Penny Dinners
Horse: State of Rest
Catriona has kept the homeless and marginalised in Cork fed three meals a day and gave them food & clothes parcels and PPE throughout COVID 19 She provides this service 24/7 all year.
Lockdown Hero: Theresa McGinn - Physio in Kilkenny
Horse: Devious Company
Theresa worked the entire way through lockdown as a physio in her clinic. She took on the workload of four physios even though she herself suffers from arthritis and osteoporosis.
Lockdown Hero: Niamh Aherne - Doctor at Tallaght Hospital
Horse: Hyde Park Barracks
Niamh flew home from Perth, Australia in March to help on the frontline as a Doctor on the COVID wards in Tallaght hospital.
Lockdown Hero: Patricia McGuinness - Nurse - Belfast Hospital
Horse: Rebel at Dawn
Patricia is a nurse working in the Ulster Hospital in Belfast in the endoscopy unit. When the coronavirus hit, she volunteered to go and work in COVID ICU. She also helped all her elderly neighbours with their errands.
Lockdown Hero: John Ryan - Postman – Naas
Horse: Measure of Magic
John worked every day of the initial lockdown so some of his colleagues could get some time off to be with their families. He also gave extra time to his elderly customers who had no visitors.
Lockdown Hero: Sharon O'Carroll - Community Volunteer, Co Kildare
Horse: Vafortino
Sharon organised the cooking and delivery of 140 free hot meals a week to the elderly and vulnerable in Kildare. Sharon was involved in organising a courier service delivering medical prescriptions to the elderly.
Lockdown Hero: Emma Redmond - Nurse  
Horse: Amber Kite
Emma is a ward manager in St Vincent's Hospital, Athy. She has gone above and beyond helping her patients during COVID who couldn't have visitors. She dressed up as the Easter bunny giving out eggs to her patients.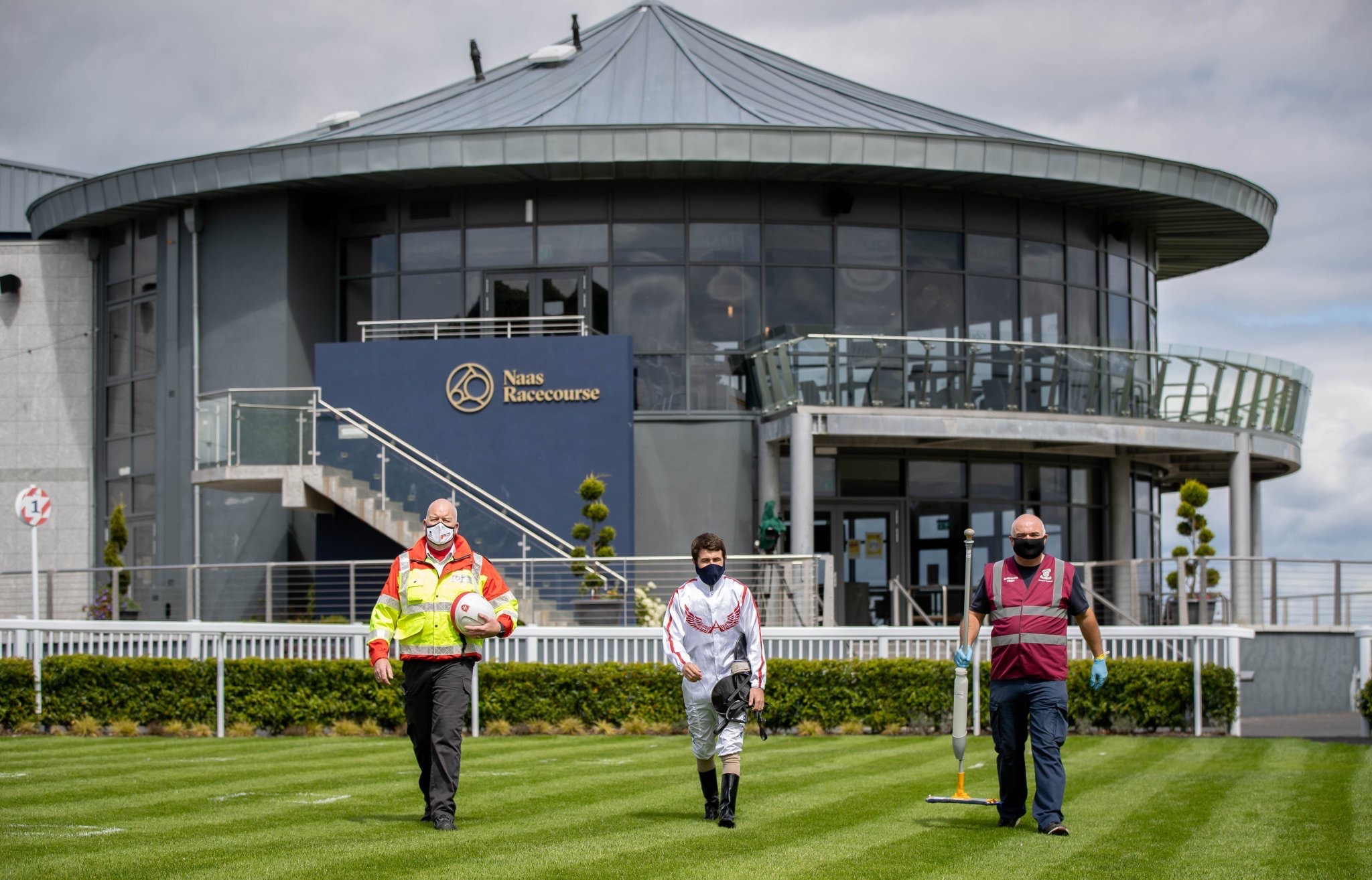 Lockdown Hero: Stacey Looby - Garda 
Horse: Inhaler
Stacey works at Navan Garda station during lockdown she looked after the most vulnerable in the community shopping, delivering meals, collecting prescriptions, and bringing vulnerable to doctor appointments.
Lockdown Hero: John Doyle - Postman
Horse: Sloane Peterson
During lockdown, John went above and beyond. His route is a large one and was extra busy, he still checked on his elderly customers who were cocooning and he got them whatever they needed.
Lockdown Hero: Monica O Brien - Clinical Nurse Manager - Naas Hospital
Horse: Eastern Voice
Monica was due to retire in June but as the hospital was under pressure due to COVID she postponed her retirement so that she could help her colleagues. She even went back working nightshifts on wards which is not her role.
Lockdown Hero: Hazel Gleeson - HSE Project Manager - Croke Park testing centre
Horse: Street Kid
Hazel managed the Croke Park testing facility and was working 12-hour days and weekends during the height of the pandemic to help get it open and up and running.
Lockdown Hero: Lorraine Kavanagh - GAA Community Volunteer 
Horse: Fly Girl
Lorraine took on the job of coordinating the GAA Volunteers who delivered Groceries and ran errands for people cocooning in Celbridge.
Lockdown Hero: Paula O'Connor - Supplied essential PPE for Frontline Staff 
Horse: Moniesta
Paula made masks and scrubs for frontline workers when there was a shortage, even though she has a full-time job.
Lockdown Hero: Justin Kelly - Order of Malta Volunteer 
Horse: Charmed
Justin put his life on hold to work on the Irish front line he returned from Australia on the 1st of March, volunteering with The Order of Malta ambulance. Justin spent 4 months away from his family friends and ambulance colleagues to work on the front line.
Lockdown Hero: John Fitzsimons - Order of Malta Volunteer
Horse: Monassib
Since April 4th, 2020, John has been out assisting his community on medical transfers 5 to 7 days per week. He also assists in delivering medications to those isolating/on lockdown.
Lockdown Hero: Bernard Murphy - Healthcare Volunteer
Horse: Chief Little Hawk
Bernard took on the role of bringing together a team of volunteers to work in the Stadium as a frontline COVID testing centre for the HSE.
Lockdown Hero: Sinead Keogh - GAA Community COVID Liaison 
Horse: Amazed By Grace
During the lockdown, Sinead brought together a large number of volunteers from the GAA Club to help in the local community.
The Prize
1st prize  - 4-night staycation at the Heritage Hotel for a family of 4 ( 2 adults and 2 kids), €2,000 cash prize,  luxury car for a week from Colm Quinn BMW
2nd prize - 2-night stay in a O'Callaghan Collection Hotel
3rd prize - 1-night stay in the Osprey Hotel
4th prize – All For One Voucher From Weatherbys
5th prize - A VIP experience at the Irish National Stud
All 20 Lockdown Heroes will receive a goodie bag including a €100 voucher from Dunnes Stores and a printed image of the allocated horses.