Irish horse racing does not have an issue with sexism in the weigh room, according to jockey Sean Flanagan.
In the wake of the allegations of misogyny and bullying from Bryony Frost against Irish rider Robbie Dunne, the question of a wider problem of sexism in racing has been raised.
Frost, who is Britain's most successful female jockey, accused Dunne of a campaign of aggression, bullying and sexism, including an incident in Stratford in 2020.
While the investigation into Frost's allegations continues in Britain, Irish jockey Sean Flanagan insisted that he had never experienced any instances of sexism in the weigh room across his extensive racing career.
Speaking on Friday Night Racing, admitted that he had not been paying particularly focused attention to the Frost story.
"I don't probably know enough of the details," Flanagan said. "I have read headlines rather than content on it. You'd hear the stories going around.
"I fully understand that something happened. There is no denying that fact. If something happened it should have been dealt with."
Flanagan did, however, discuss the inter-jockey dynamic that exists within the weigh room in his experience.
"'Not treated very well' is the wrong wording of it," Flanagan said. "As a young rider coming through I had the utmost respect for, going way back, Tommy Treacy, Ken Whelan, Ruby [Walsh, etc.].
"If Ruby or [Paul] Carbery, or Shay [Barry] or Tommy T came to me... they could throw a few 'f's and blinds into you and tell you where you went wrong, they wouldn't f and blind and leave it at that.
"They would 'f' and blind, and you've done this wrong, and you should have done this, and you should have done that. In future, do this and do that.
"Me, as a rider going forward, I took that onboard, because they are where I want to be. I improve myself for it.
"Would I do that today? I probably would. I might sit a lad a down, and if he did it again I'd say it to him again. If he did a third time, I mightn't just sit him down and say it to him a third time.
"That is the way racing has worked all along, and I'd like to say that is the way racing should stay working."
While he did not suggest that a verbal 'bollocking' never happens, Flanagan did suggest that any criticisms are often earned by the riders.
"I'm going to say 80% of why riders will fall out is a rider not holding a straight line or a rider going down to an obstacle and veering off a line," Flanagan said.
"Or they are under pressure going down to the second last and they start veering out and veering out. That is what it is all about.
"The other side of the coin, in Ireland anyway, is if I've gone down to the second last and I've given mine a beast, if I'm a seven pound or five pound claim or whatever. I've given a really good ride tactically.
"No matter who it might be, not that I've out-ridden them, but I've given a really good ride and I've beaten them fair and square.
"The older generation might come in and they might look at you like, 'hmm'. But the day will come in the next couple of months when they get over the fact that you have beaten them, they will come to you and say, 'you gave that a good ride, fair play to you!'
"That is my outlook on it. That's been my outlook on it for a while. I'm riding 16 years now, and I've never felt like I was going to get a belt, and I've never given a belt in the weigh room.
"But I have gotten plenty of good dressing downs. I've given plenty of them as well. I think that is what it is all about."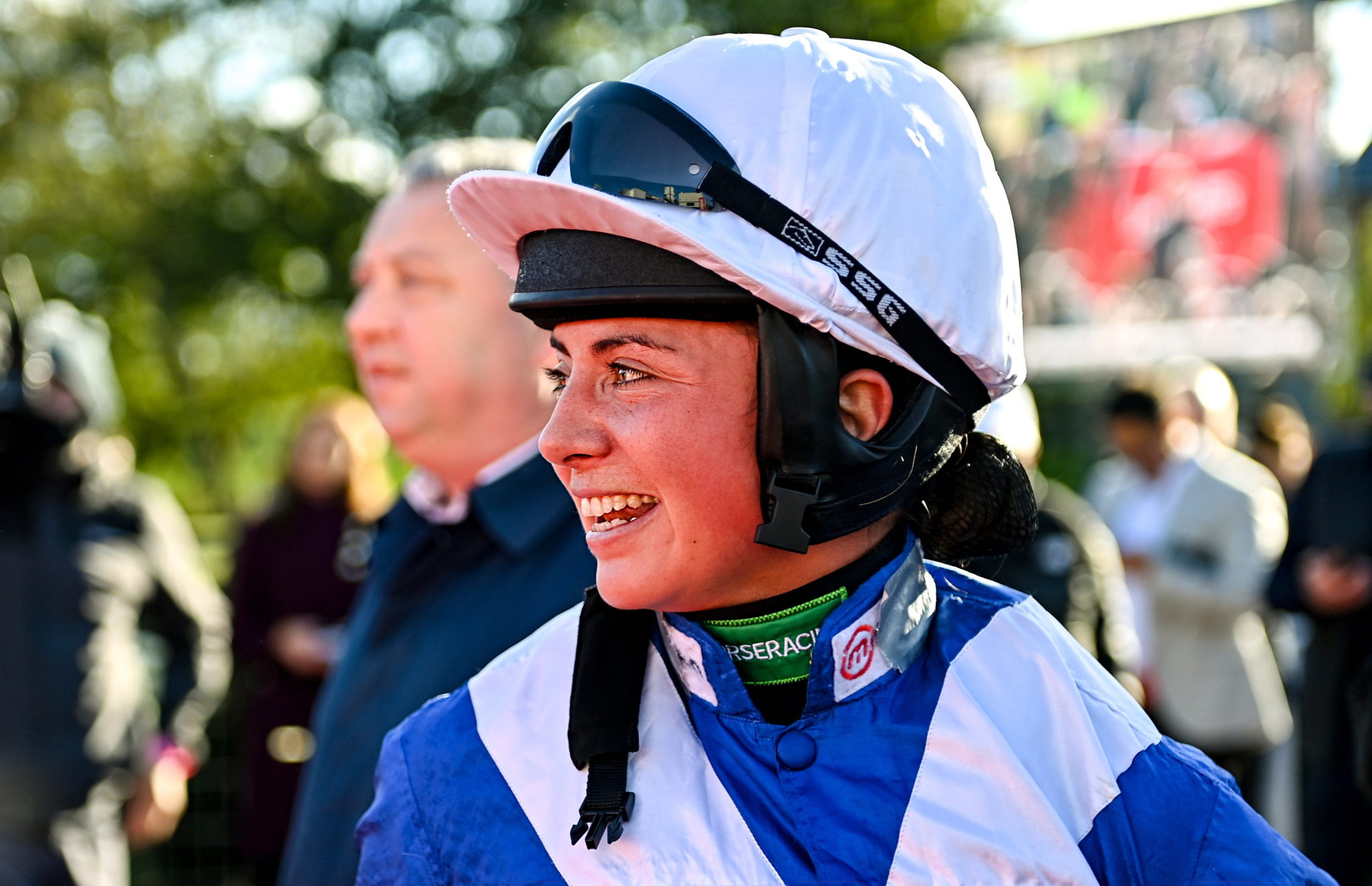 'Sexism hasn't come into the weigh room in Ireland'
Flanagan's suggestion that most dressing downs are given to younger riders earning their way into the scene does not ring true in the case of Frost, however, by his own admission.
He suggested that any senior rider, regardless of gender, would know when they are about to get a dressing down, and that they are often not needed as the senior riders will admit to their errors and apologise first.
"Bryony [Frost] is not a youngster, which is a very valid point," Flanagan said. "If any senior rider was to veer off a line, I would say to them what I would say to anybody else.
"A senior lad would know they're after doing it. A younger lad generally mightn't know they're after doing what they are doing.
"And 85-90% of the time, you don't have to go that far to say it to them. They are like, 'oh, sorry. I've done that and I'm sorry'.
"I've done that as much to a male senior rider as I would to a female senior rider. That is where the definite line needs to be.
"I don't think it should matter if you male or female. If you have done it, you have done it and take your bollocking if you are going to get it."
In his 16 years as a jockey, Flanagan believes that he hasn't witnessed any sexism in the weigh room.
"As regards the sexism thing, it definitely hasn't come into the weigh room here in Ireland," Flanagan said. "I don't think anyway."
Download the brand new OffTheBall App in the Play Store & App Store right now! We've got you covered!
Subscribe to OffTheBall's YouTube channel for more videos, like us on Facebook or follow us on Twitter for the latest sporting news and content.