As Champion Trainer Willie Mullins steps up his preparation for the 2020 National Hunt season. Assistant trainer, champion amateur and son of the great man, Patrick Mullins spoke to OTB about the team.
Over the next few weeks, team Willie Mullins will begin to unveil some of their big-name horses. Unlike Gordon Elliott, the Closutton handler tends to start a little slower with his stock and Punchestown is frequently the first port of call.
"We started schooling this week with a few of our winter horses," Mullins junior told OTB.
"Monkfish was very good and I schooled Lord Royal, he's got loads of scope. Nothing was bad, we were delighted with everything.
"Paul Townend was in, David Mullins was in so we did a few today, a few on Monday and we'll do more on Friday.
"That's the start of it now, we start to school them in October then once we get a bit of rain we start the fast work and that's when it gets exciting.
"Especially with the new horses, you get to see what's under the bonnet," said the Mustang-driving jockey.
The John Durkan and Morgiana meetings are often where Mullins starts his bigger names. The biggest name in the yard though will start in the same place as the last two seasons, Tramore.
Al Boum Photo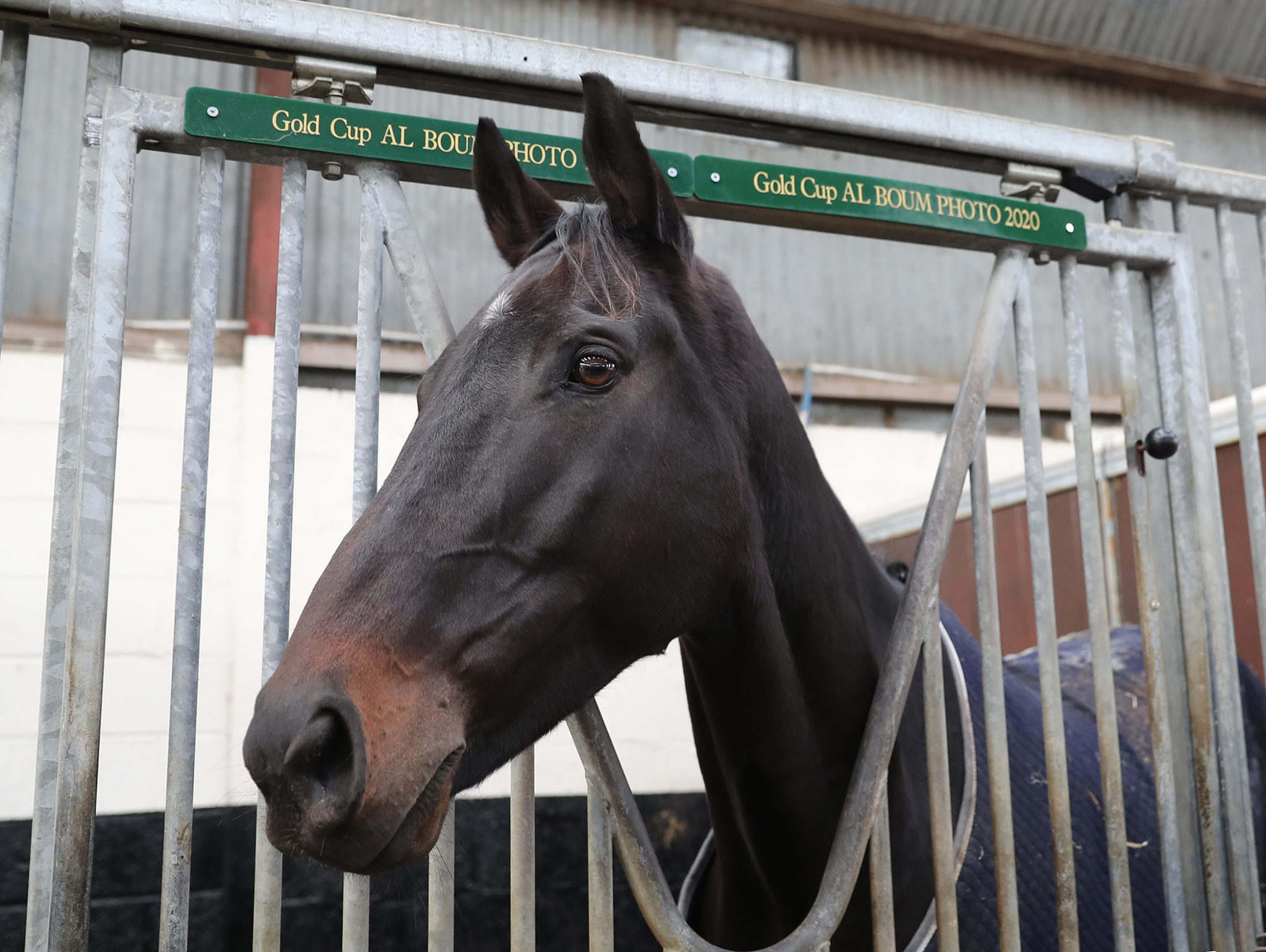 Al Boum Photo is bidding to follow in the famous hoofprints of Best Mate and land a Gold Cup hat-trick in 2021. Mullins junior confirmed that the path will be the same this year.
"I think you'll see him at Tramore on New Year's Day," Patrick said.
"It's a plan that seems to work, we stumbled across it because of that very dry winter we got a couple of years ago.
"We had lovely soft ground in Tramore and then he was declared for the Irish Gold Cup, but was taken out of the day because of the ground, so he ended up going straight to Cheltenham and completely by chance the programme was born.
"He followed it again last year and it worked, so why not go again?
"This fellow doesn't stand out from the crowd. He's not overly big or flashy, he's quite plain and not a fantastic jumper, but in March in Cheltenham he doesn't miss.
"I can't see any reason why he can't do it again with luck in running."
Faugheen
Faugheen had an incredible season as a novice chaser last season where he became the first Champion Hurdle winner to win a grade one over fences since Dawn Run.
Many questions were raised over Faugheen's future even before last season, but early reports are good for a horse who will rise thirteen in January.
Mullins said: "Faugheen is back in and 100 per cent. John Codd, who looks after him and rides him out, is absolutely over the moon with him.
"If he shows that he's still got all the enthusiasm and ability that he had last year, we'll probably go again, and if he doesn't, he doesn't owe anyone anything.
Regarding a possible Gold Cup tilt, Mullins added: "It's a possibility, we'll have to take it step by step.
"I don't know where Willie is going to go with him for his first run. Hopefully, there's a few extra second-season novice chases this year and one of those could be an option.
"At the moment all options are open. John Codd knows him better than anyone and would be able to tell us straight away if he thinks the fire has gone, but at the moment it's still burning very brightly."
Chacun Pour Soi
Some great insight into riding our chase course from the brilliant @dan2231 💡

Danny schools @WillieMullinsNH's Chacun Pour Soi who is entered in our Grade 1 @paddypower rewards club s'chase on December 27th.

We cannot wait to welcome team Mullins this Christmas #LRCChristmas pic.twitter.com/cdYdc9hYpL

— Leopardstown RC (@LeopardstownRC) December 9, 2019
Chacun Pour Soi was a late Cheltenham withdrawal and the Champion Chase remains a gap on the Willie Mullins CV, Leopardstown at Christmas will be on the agenda where he will look to right a wrong before another outing at the Dublin Racing Festival before Cheltenham.
The incident that ended his Champion Chase bid isn't causing the team concern, as Patrick noted.
"He got a foot bruise in Cheltenham. It's a 24- or 36-hour thing and it was just a case of very bad timing. He would have gone to Punchestown no problem," said Mullins.
"The way the Champion Chase worked out was disappointing as Altior didn't run and Defi Du Seuil was disappointing on the day, so it looked like it was a nice opportunity.
"I'd imagine his season will be very similar to last year and we'll try to get him back to Cheltenham for some unfinished business.
"He's only run a handful of times over fences, but his jumping is fantastic and to me, he's our best chance of winning a Champion Chase."
Saint Roi
The County Hurdle winner was part of Barry Geraghty's incredible Cheltenham. He could be a Champion Hurdle contender although Patrick Mullins has less fond memories of riding the horse.
"I thought he had all the ingredients to win the amateur maiden hurdle in Clonmel last year, but that is one of life's great mysteries," said Mullins.
"He jumped terribly that day and we got the physio on to him, maybe he was a bit sore. Usually, he is a fast jumper.
"We think this horse could be anything. To do what he did last year in the County Hurdle off the back of just two runs for us was extraordinary, you just don't see that happen.
"He's not the biggest, but he's a fantastic jumper usually, he works with a lot of speed, he's won at the track, although the Champion Hurdle is on a different one to the County, but for me he ticks all the boxes. Until he says he's not good enough we're going to think he is."
Sharjah
Sharjah placed for Patrick in the Champion Hurdle in 2020, comparing Willie Mullins hurdler to a stablemate of the great Istabraq.
"Last season for four or five strides I was thinking 'Here we go', but the mare probably won quite comfortably in the end – Barry (Geraghty) was always in position A," Mullins said of his mount who placed in the 2020 Champion Hurdle.
"A smaller field might have helped me, we went forward in the Irish Champion to follow Honeysuckle and it didn't seem to work so we went back to ride him patiently so he could pass horses which he seems to love.
"I think he's a huge price (for the Champion) again, I think he could be a Theatreworld and be placed in the race a couple of times and on another day – Epatante was coughing in February last year – you just don't know.
"To me he's a fantastic horse, he had a little break after Galway and will probably have the same programme, Morgiana then back to Leopardstown. I'd love to win a third Christmas Hurdle on him and I'd love another crack at Honeysuckle."
Novice Hurdlers: Appreciate It & Ferny Hollow
The pair finished first and second in the Cheltenham Bumper and go over hurdles this campaign.
Unsurprisingly, Ferny Hollow and Appreciate It are expected to take high rank among the Willie Mullins team of exciting novice hurdlers this season.
For Patrick Mullins, it was a slightly bittersweet moment as he was riding Appreciate It who was mugged by Ferny Hollow up the hill in March.
"Ferny Hollow and Appreciate It are two fine specimens. Appreciate It is probably a bigger horse, he ran a cracker in the Champion Bumper, ran all the way to the line, but Ferny Hollow just picked him up," said Mullins.
"Paul (Townend) gave Ferny a fantastic ride. I wasn't gutted when he came past me, the only bit of commentary I heard was that Ferny Hollow was coming and I knew what would happen.
"That was our first winner of the week in the last race on the second day, so I was just glad it was one of ours by then!"
They are two different types of horses according to Mullins with Ferny Hollow the speedier of the two.
"Ferny Hollow will jump a fence no problem, he's won a point, jumps will help him settle.
"Appreciate It will probably step up in trip and be more of a Neptune/Albert Bartlett type, while Ferny Hollow is probably a Supreme horse, or Neptune, depending on how he goes."
Benie Des Dieux
Benie des Dieux and Honeysuckle served up one of the races of the festival last March. Mullins has watched the replay with housemate Rachael Blackmore since and they agree to disagree.
"Racheal thinks she won anyway, I'm not so sure. they got the prize on the day and that's what counts."
The mare will, like her famous predecessors have a gentle campaign looking toward big spring targets.
"Benie Des Dieux is back in and, like Quevega, we won't campaign her very heavily, we want another crack at Honeysuckle, I'd love to see them go at it again," said the champion amateur.
"I think she was unlucky, but Rachael [Blackmore] disagrees strongly.
"I think the Mares' Hurdle has worked out, I know they could have run in the Champion or Stayers' but it was a great race."
"The Mares' Hurdle has come into its own and the Mares' Chase is probably going to take a few years to get it to the quality of the mares' hurdle, but I can't see why it wouldn't.
"Cabaret Queen or Salsaretta could probably go for it now."
Willie Mullins Novice Chasers
Monkfish was the first horse on the Willie Mullins team Patrick name-checked having schooled the novice early in the week.
"Paul rode him this morning and he was delighted with him[...] He's a horse that has improved, improved, improved.
"What I really like about him at Cheltenham was when it got tight down at the last and after the last he went through it. The penny is starting to drop, you need a horse that understands racing.
"He's 16.3, he's really filled into his frame Monkfish is as exciting a novice chaser as we have in the yard"
Patrick is a big fan of The Big Getaway, who is well named and he even gave a hint that he might try convince Willie Mullins to put him in the National Hunt Chase.
"I can't wait to see The Big Getaway over three miles, maybe even four miles on heavy ground over fences. He's even bigger than Douvan, I think he's the biggest horse we've ever had."
OTB also caught up with Gordon Elliott for his stable tour.
Download the brand new OffTheBall App in the Play Store & App Store right now! We've got you covered!
Subscribe to OffTheBall's YouTube channel for more videos, like us on Facebook or follow us on Twitter for the latest sporting news and content.