"These are difficult topics to talk about," Joe Molloy noted as Off the Ball's 'Sunday Paper Review' veered into an alternative perspective on the issue surrounding (and created/perpetuated by) Israel Folau and Billy Vunipola.
After the latter jumped to the former's defence when Folau received criticism for posting a homophobic comment on Instagram, a shared Polynesian background was read as a potential means for - if not quite excusing - explaining a set of beliefs that Rugby Australia nevertheless deemed "a high-level breach of the Professional Players' Code of Conduct."
"We're almost half-defending them on the basis of ignorance, and that they couldn't know better," noted Vincent Hogan of the occasionally qualified response to these comments in a public forum.
"My impression of Polynesian views was almost an Archbishop McQuaid, old-school view of Christianity."
An admittedly imperfect outlook undoubtedly shared by a number of onlookers, the English RFU's decision to issue nothing more than a warning to the hugely important Vunipola certainly appeared to demonstrate their own moral equivalence on the matter.
Yet, with Rory Keane's article in The Irish Mail on Sunday came reasons for reassessing the pair's behaviour that shone a far more critical light on the individuals involved, and balked at the notion that a shared Polynesian background ought to provide any cover whatsoever.
The irony of the whole situation is that our communities are some of the most tolerant, particularly of sexual deviation or orientation because we have the fa'afafine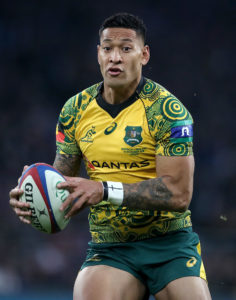 "I nearly fell off my chair reading [this]," Hogan noted of Keane's interview with Dan Leo - a former Test lock for Samoa and CEO of Pacific Rugby Players Welfare, a professional network that supports its 600 members throughout Europe.
Amid a number of topics discussed, the manner in which significant strands of Polynesian society stands at odds with the beliefs shared by Folau and Vunipola was striking.
"In Samoa, for example, the country recognises the role of the fa'afafine, a third gender," Keane writes.
"Dating back to the early 20th century, the term means 'in the way of a women'.
"[England's Manu] Tuilagi has a trans sister, a brother who identifies as a woman. Her name is Julia."
Exploring how this situation is generally received within these communities, Leo highlights the paradox at play.
"The irony of the whole situation is that our communities are some of the most tolerant," Leo explained to Keane, "particularly of sexual deviation or orientation because we have the fa'afafine."
"They have been part of our culture for a long time and are still some of the most respected people in our communities.
"They hold positions of leadership all across the country and that was the irony afterwards."
For our panelists, this insight into the finer details of Polynesian culture proved to be revealing.
"I had no idea that there was that level of tolerance and engagement with, if you like, the modern world," noted Hogan.
"In many ways, the reasonable nature of this interview with Dan Leo shines an even more unflattering light in my view on [Israel Folau and Billy Vunipola].
"This tells me categorically that they should know better, and probably do know better."
Download the brand new OffTheBall App in the Play Store & App Store right now! We've got you covered!
Subscribe to OffTheBall's YouTube channel for more videos, like us on Facebook or follow us on Twitter for the latest sporting news and content.