Brian O'Driscoll joined us ahead of the first Lions test against South Africa, and spoke about the battles that will be crucial to win.
O'Driscoll will join Off The Ball on commentary of the match on Saturday evening on the OTB Sports app, and spoke also of some of the reservations he has for Warren Gatland's side.
 Brian O'Driscoll on Lions
O'Driscoll started with a concern over the choice at left-wing.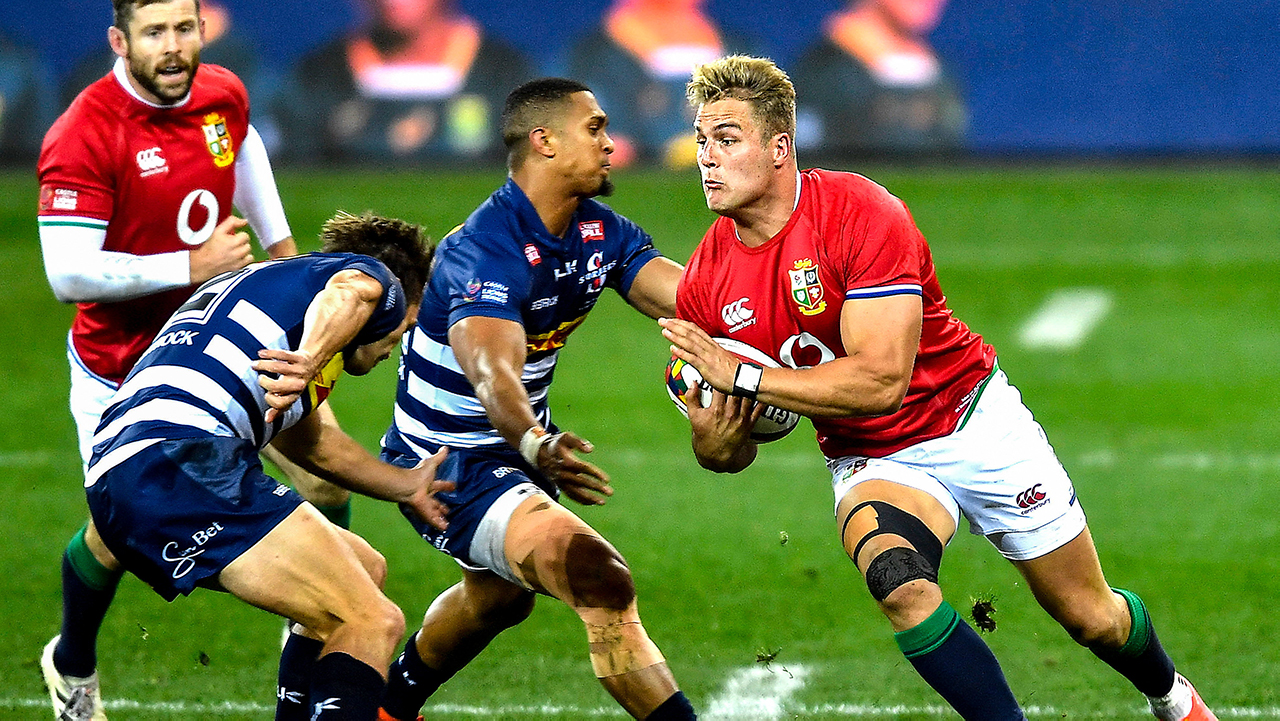 "I think there will still be a huge amount of kicking, which is why I'm surprised Liam Williams hasn't found himself on the left wing instead of [Duhan] van der Merwe.
"Despite the fact that he is matched up against Cheslin Kolbe, I said before the tour that I am nervous around van der Merwe's understanding of defensive systems, and being able to read the play in real time.
"We're talking about probably the best player in world rugby at the moment in Cheslin Kolbe. He could make anyone look silly."
van der Merwe
It is less the odd tackle miss, but a general game understanding that O'Driscoll fears lacking in van der Merwe.
"I'm not worried about him missing tackles, I'm worried about him missing reads in understanding who his personnel are, that can be catastrophic rather than just scrambling to make up for a missed challenge.
"If you pick the wrong guy that often leads to line breaks, and good sides often put those away.
"I'll be watching with real interest what van der Merwe does without the ball considering what is going to be coming at him."
Six Nations worries
O'Driscoll said it was during matches against Ireland that these concerns first emerged.
"I just watched him against Ireland, I don't think it's the part of his game that is natural to him. This guy is a really good athlete - he's strong, abrasive and carries really hard.
"Some guys are like that and are able to manage at international level but can just get caught out at the very highest level.
"You need to be a ball player, to understand and read the game extremely well. I don't think that is his strength.
"Comparatively, I think someone like Liam Williams reads the game brilliantly, [Anthony] Watson is a combination of the two in that he's a phenomenal athlete but still reads the game quite well.
"That's why I'd have had Liam Williams in there. If it is going to be a bit of a kickfest and the ball is going to be down his throat as well, he is very good in the air. On his Twitter bio is a self-confessed bomb disposal expert!
"He gives you great confidence with that but he's sitting on the bench now, and Faf De Klerk and Pollard will be pinging to those corners and [Makazole] Mapimpi is good in the air.
"Even though Kolbe is diminutive in size, he has great spring and will get up and challenge. They even use him for some of the kick-offs, it just shows his capability of catching the ball above his head."
Brian O'Driscoll's prediction
O'Driscoll gave us his prediction for the match.
"Just crazy physical from the off, I just hope that we don't have it manipulated in any way with yellow or red cards. It's not going to be for the faint-hearted.
"If someone misses a shot or their timing is off, they could be gone which could impact the game significantly, particularly if it happened in the first 30-40 minutes.
"I feel it'll be a bit of a chess match, they'll tease each other out; there'll be penalties given and kicked, there'll be very little rugby played in one another's half.
"I do feel as though it might be left to a moment of magic from Cheslin, Stuart Hogg or Anthony Watson to be the difference.
"I've swung around, I felt that South Africa might win the series 2-1, but I really feel the Lions might put it up to South Africa.
"I'm going for a Lions victory, just by three or four points because I think over the course that there'll be very little between these two sides."
The 2021 British & Irish Lions Tour on OTB Sports with Vodafone. Lead Partner of the British and Irish Lions
Download the British & Irish Lions App, Powered by Vodafone, to stay connected to the Lions this summer.
Download the brand new OTB Sports App in the Play Store & App Store right now! We've got you covered!
Subscribe to Off The Ball's YouTube channel for more videos, like us on Facebook or follow us on Twitter for the latest sporting news and content.