You can help New Zealand rugby legend Dan Carter support UNICEF in their aid efforts for Syrian refugees by bidding on a special pair Carter's Adidas boots.
The DC10 fund has been set up by Dan Carter, in partnership with UNICEF, to help kids everywhere dream big and achieve their goals.
The fund supports and advocates for UNICEF's work to empower children and protect their rights - both here in Aotearoa and around the world.
Speaking on Tuesday's OTB AM, Carter detailed his trip to a Syrian refugee camp in 2019, and what sparked the creation of the DC10 fund.
"I got the opportunity to visit this refugee camp, and it blew me away," Carter said. "These children that were doing it tough, you wouldn't know, because they were so grateful for anything that they had.
"So we threw a rugby ball around, and they were laughing, they were smiling, and I walked away from this visit really motivated and inspired.
"I thought I was going there to help put a smile on their face, but I was the one that walked away from this environment feeling motivated and inspired by these incredible children.
"I returned back home to my own family, and it just put everything into perspective. My children are really lucky to live the lives that they live. I want to be able to do more.
"Not every child, especially in third world countries and underprivileged children don't have the access to simple things like clean water, good nutrition or education.
"At that moment I felt that I wanted to do more, but I couldn't because of my rugby schedule. When I finished playing professionally last year, I felt I wanted to use this time of transition to really use my platform and profile to be able to give back."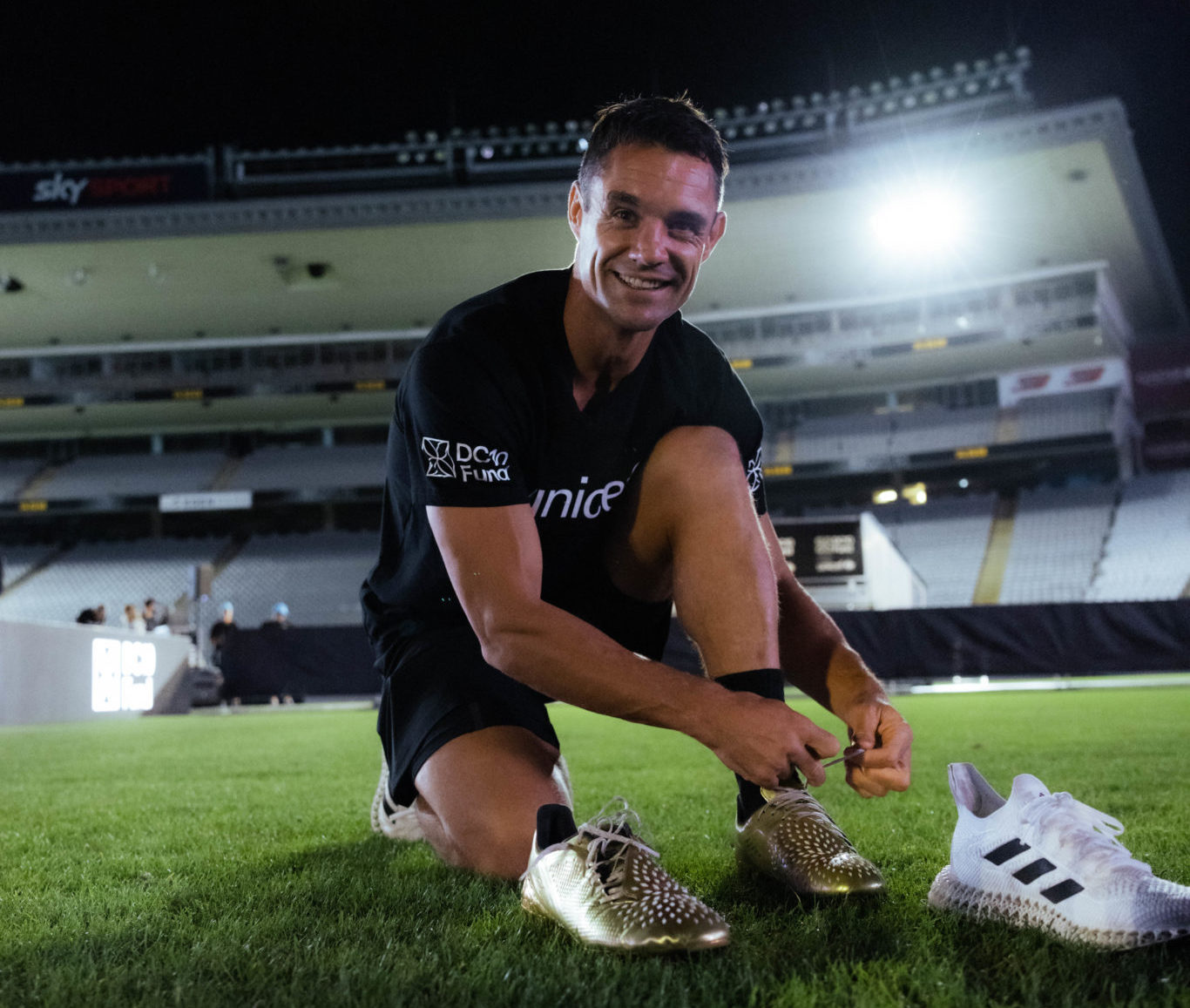 Bid on Carter's boots
As part of this charity movement, Carter is auctioning off a pair of his own boots that he specifically designed with Adidas, with the proceeds going towards his DC10 fund.
"They were going to be my retirement boots," Carter said. "I was going to play my last game of professional rugby in these boots.
"With the pandemic, I ended up having to return back to New Zealand and I never actually ended up playing my last game professionally with these boots.
"So, I designed a pair, Adidas raffled a few pairs off, so you've never actually ben able to buy a pair of these boots."
These are not just some ordinary, limited edition boots. Carter wore the very same pair of boots for 24 hours straight in a kick-a-thon to raise further funds in aid of the children in need in the Pacific Islands.
"I wanted to bring my two passions together," Carter said. "My one passion, giving back, and my other passion of kicking. I love taking my bag of balls down to the park and just kicking goals.
"So, I went down to Eden Park and I kicked goals for 24 hours straight. No sleep. I managed to survive the 24 hours, raised some incredible money to help provide clean water for children in the Pacific Islands, and I managed to kick 1,598 kicks in that 24 hours.
"That is how many test points I scored for the All Blacks. It was just what I needed, having retired. We are closing the event in terms of the fundraising event next week.
"So I've put a pair of my rugby boots that I wore for the entire 24 hours, I wore one pair of these limited edition boots for 24 hours. So, they probably smell a little bit, they are a little bit dirty, they have some wear and tear from that 24 hours.
"I am auctioning them off on eBay, and 100% of the donation will go towards helping provide fresh water for the children int he Pacific Islands."
You can bid on Carter's boot here.
Download the brand new OffTheBall App in the Play Store & App Store right now! We've got you covered!
Subscribe to OffTheBall's YouTube channel for more videos, like us on Facebook or follow us on Twitter for the latest sporting news and content.