Ex-Munster flanker Alan Quinlan joined OTB AM on Friday to talk about what the loss of Owen Farrell means for Saracens against Leinster on Saturday.
Farrell was given a five-match ban for his tackle on Wasps flyhalf Charlie Atkinson two weeks ago.
This has forced Saracens head coach Mark McCall to reshuffle his backline, ahead of the repeat of last year's Champions Cup final.
McCall is likely to go with the more experienced Alex Goode in the starting outhalf position, with young Manu Vunipola, the cousin of Mako and Billy Vunipola, expected to take the bench.
Loss of Farrell will be felt
Quinlan thinks that the loss of Farrell will definitely be felt.
"I think Alex Goode is a very talented player, but Owen Farrell is world class," Quinlan said.
"He is probably one of the best, if not the best, fly-half in world rugby.
"His presence, his aggression, his physicality, all that kind of stuff makes Saracens.
"He is a real leader for them, he makes them tick really and he's done brilliantly in that role for England and Saracens the last couple of years.
"He is a big loss, there is no doubt about it."
Farrell and Sexton know each other very well, both as opposition and as teammates for the British and Irish Lions.
Reports throughout the week have suggested that Farrell is playing the 'Johnny Sexton role' in training.
Quinlan does not underestimate the effect that just being involved in training can have on the rest of the team.
"His presence is very important to Saracens in the training week," Quinlan said.
"Ultimately it is about what happens on the field under pressure, and Farrell is really good under pressure."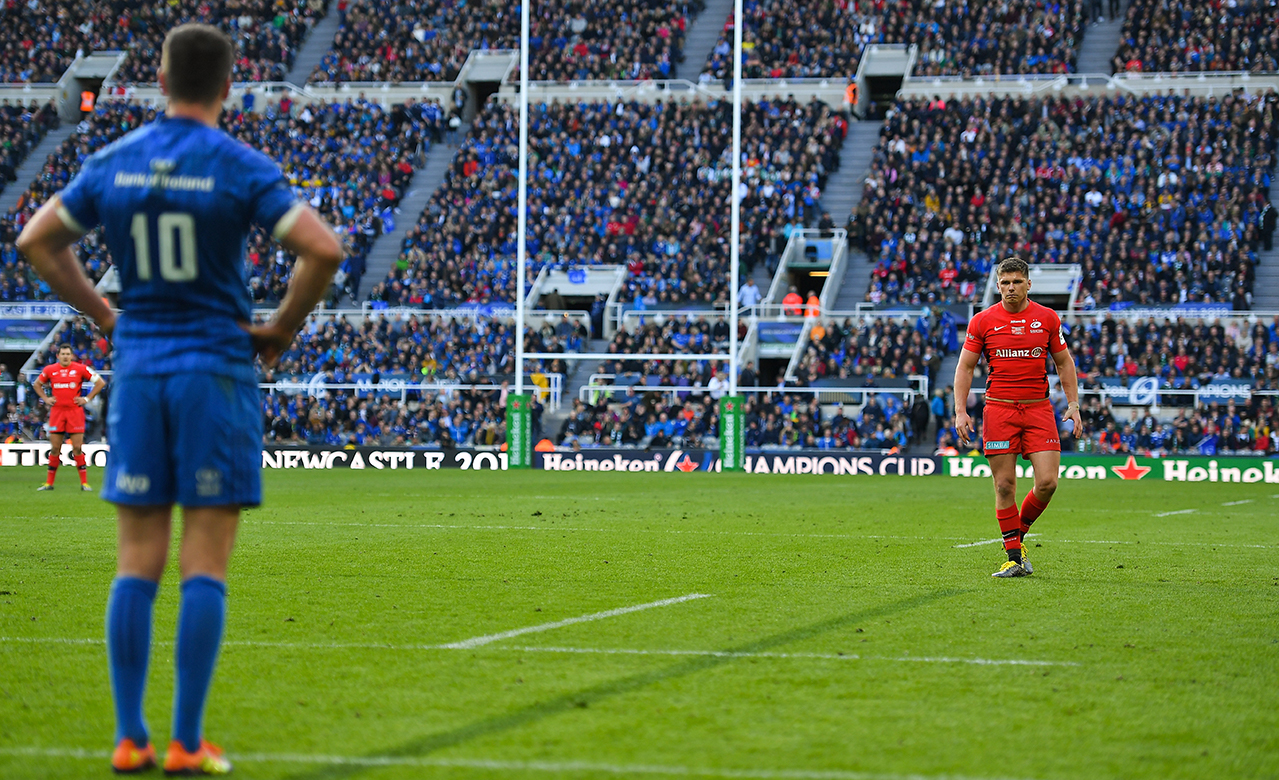 Will Sarries mix it up?
The difference in style and ability between Farrell and Goode is evident, as Goode is much more of a runner from first receiver.
Despite the difference in attitude from the playmaker, Quinlan does not see Saracens adjusting the way they play too much.
"I don't think Saracens are going to change dramatically from what's brought them success in the last couple of years," Quinlan said.
"The personnel in that final in May 2019 is going to be a bit different, there's probably going to be 10 or 11 guys that were in that 23 that day who are not going to be involved.
"They've gone, they've moved on, some of them are departed for good, some on loan, so it's a little bit different but I don't think they are going to change the way they play."
Much like their opponents on Saturday, the English club like to dominate territory and the speed of play, while also getting in the faces of their opposition.
"They play with a lot of pressure, use the kicking game very effectively, quite direct in their approach and they try to out-muscle teams," Quinlan said.
"Of course, they have pace in their wings, [Sean] Maitland and [Alex] Lewington are very dangerous, Elliot Daly if he gets enough ball in his hands can be very dangerous as well.
"Saracens like to play a lot of territory and Alex Goode's kicking game wouldn't be as sharp and as accurate as Farrell.
"It's those decision makers making the decisions under pressure that is very important, it is what Farrell is very good at."
Saracens' stand-in
Leinster will be eying up the opportunity to rattle Farrell's replacement, hoping to force him to make mistakes under pressure.
"You'd want to unsettle [Goode], everybody does that with any fly-half," Quinlan said.
"I think it is more of a pressure game, we saw [Josh] van der Flier shooting out of the line last week, it is just about getting somebody in his face as often as possible and forcing some errors from his kicks.
"Saracens will be conscious of that and you always try and protect your fly-half no matter what."
Despite not being the same quality of player as Farrell, Quinlan was wary of underestimating Goode's abilities.
He suggested that Leinster still need to focus on their all-round game, rather than targeting the 10 channel.
"Goode is a very good footballer, make no mistake about him, if he gets enough quality ball, he is very dangerous," Quinlan said.
"I think that's the rock [Leinster] could perish on, if they think that there is a massive weakness here and they can solely focus on him."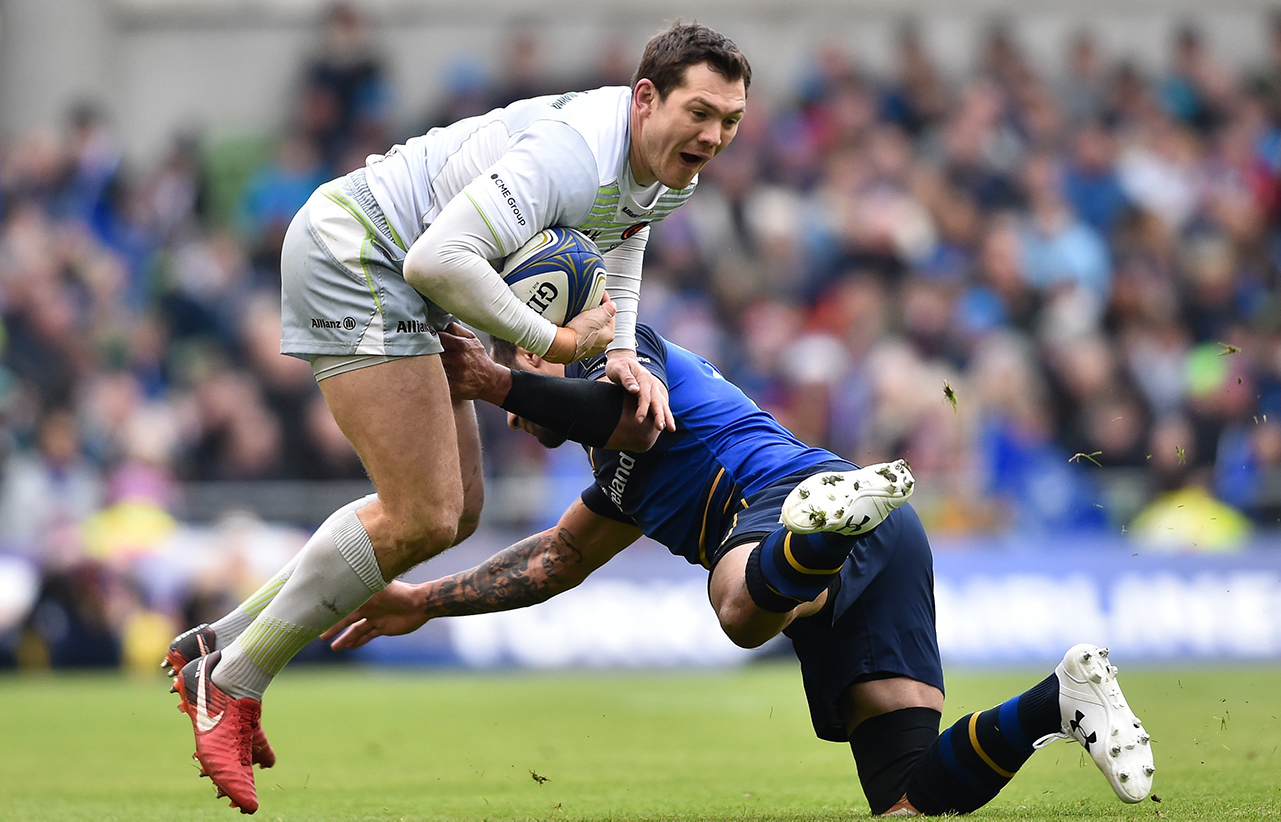 They'll want to 'give two fingers'
With Saracens being relegated from the Premiership for next season, this year's Champions Cup will be their last shot at top European competition for the next 12 months.
Quinlan believes that this will spur the visitors on and could cause issues for Leinster.
"In a sense, this is kind of the last shot for them before they go down into the Championship next year," Quinlan said.
"They'd love nothing more than to win the Champions Cup and really give the two fingers to everybody that has criticised them and called them cheats."
Quinlan believes that Leinster and Toulouse will win their respective quarter-finals, but that Saracens will make it a close match.
"It will be Leinster and Toulouse I think [to win]," Quinlan said.
"I think it will be tight, and if Saracens are in the game late on in the game that makes them more dangerous.
"Leinster don't need to have this wonderful game; they just need to win."
Download the brand new OffTheBall App in the Play Store & App Store right now! We've got you covered!
Subscribe to OffTheBall's YouTube channel for more videos, like us on Facebook or follow us on Twitter for the latest sporting news and content.