Ireland's Six Nations campaign is a matter of weeks away. Andy Farrell named his squad today, but who should start for Ireland against Wales in their opening game?
Andy Farrell named his Ireland squad for the Six Nations. He included 37 players, with 17 backs and 20 forwards. There is also one development player, Cian Prendergast, but he will not be available for selection on gamedays.
Here is the squad in full:
Backs (17)
Bundee Aki (Connacht/Galwegians) 33 caps
Robert Baloucoune (Ulster/Enniskillen) 2 caps
Joey Carbery (Munster/Clontarf) 27 caps
Jack Carty (Buccaneers/Connacht) 10 caps
Craig Casey (Munster/Shannon) 4 caps
Andrew Conway (Munster/Garryowen) 27 caps
Keith Earls (Munster/Young Munster) 96 caps
Jamison Gibson Park (Leinster) 12 caps
Mack Hansen (Connacht) uncapped
Robbie Henshaw (Leinster/Buccaneers) 53 caps
James Hume (Ulster/Banbridge) 1 cap
Hugo Keenan (Leinster/UCD) 16 caps
Jordan Larmour (Leinster/St Mary's College) 30 caps
Michael Lowry (Ulster/Banbridge) uncapped
Conor Murray (Munster/Garryowen) 92 caps
Garry Ringrose (Leinster/UCD) 37 caps
Johnny Sexton (Leinster/St Mary's College) 101 caps CAPTAIN
Forwards (20)
Ryan Baird (Leinster/Dublin University) 6 caps
Finlay Bealham (Connacht/Buccaneers) 18 caps
Tadhg Beirne (Munster/Lansdowne) 25 caps
Jack Conan (Leinster/Old Belvedere) 22 caps
Gavin Coombes (Munster/Young Munster) 2 caps
Caelan Doris (Leinster/St Mary's College) 12 caps
Tadhg Furlong (Leinster/Clontarf) 52 caps
Cian Healy (Leinster/Clontarf) 112 caps
Iain Henderson (Ulster/Academy) 65 caps
Rob Herring (Ulster/Ballynahinch) 23 caps
Ronan Kelleher (Leinster/Lansdowne) 16 caps
Dave Kilcoyne (Munster/UL Bohemians) 45 caps
Peter O'Mahony (Munster/Cork Constitution) 79 caps
Tom O'Toole (Ulster/Ballynahinch) 2 caps
Andrew Porter (Leinster/UCD) 40 caps
James Ryan (Leinster/UCD) 40 caps
Dan Sheehan (Leinster/Lansdowne) 2 caps
Nick Timoney (Ulster/Banbridge) 2 caps
Kieran Treadwell (Ulster/Ballymena) 3 caps
Josh van der Flier (Leinster/UCD) 35 caps
Ireland face Wales in their opening game on the 5th February and then they travel to face France the following week. This is the more difficult route to a Grand Slam for Ireland as they play away games against France and England, but they do have three home games they are heavy favourites to win.
Wales are the defending champions, but they won last year's championship fortuitously. If Ireland can avoid getting a red card this year, they should comfortably win at home.
But who should Andy Farrell select for that opening game? Farrell showed little interest in bringing in new players in October, but the form of different players since then at club level might force his hand. Could Mack Hansen or Jack Carty force his hand? Or maybe James Hume surprises everyone and jumps past the established veterans in the centre.
This is the team that Farrell should pick against Wales:
1. Andrew Porter
Ireland's front row picks itself at this stage. Porter was arguably Ireland's best player in the Autumn internationals and he's continued that fine form for Leinster. Not only will he start this game, but he's liable to play all 80 minutes if everything goes his way.
2. Ronan Kelleher
The question for Ronan Kelleher is now how good can he be. His performance against New Zealand elevated him to another level. Ireland knew about his potential before that game, but international eyes were opened to his ability then. So long as his lineouts remain accurate, Kelleher's play in the loose should justify his starting spot by itself.
3. Tadhg Furlong
He's Tadhg Furlong and that's about all that needs to be said.
4. James Ryan
Ryan missed Leinster's win over Montpellier last weekend through injury, but he should be in a position to start in two weeks. The stand-in Leinster captain has dealt with too many injuries over recent times, but his form when he's been healthy has elevated. After missing out on the Lions tour last year, Ryan should still be carrying that motivation as he returns to international rugby.
Alun Wyn Jones misses out, but Adam Beard will likely start. Beard was selected ahead of Ryan during the tour, so the Leinster lock will have an individual battle that motivates him.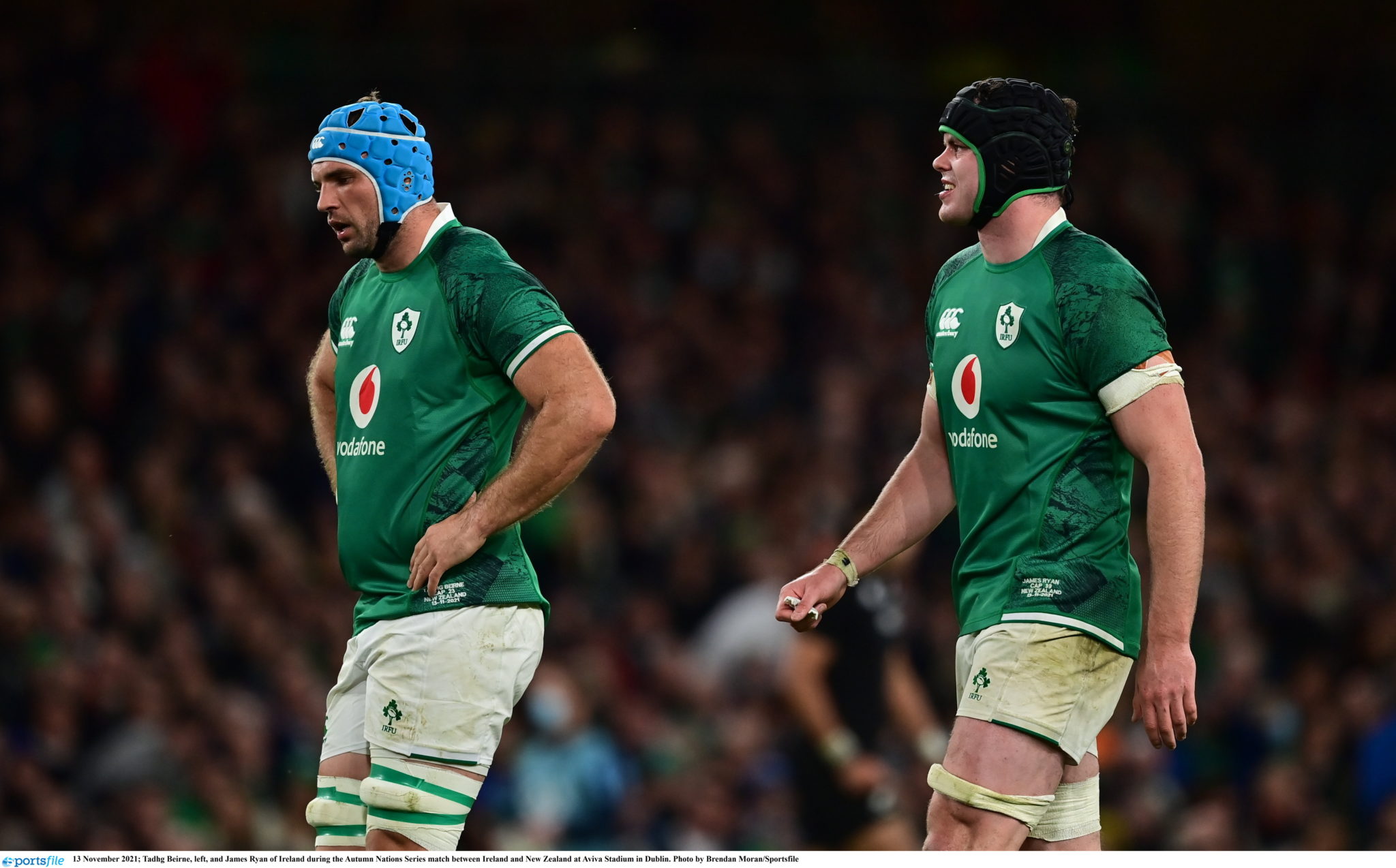 5. Tadhg Beirne
Ireland have difficult selections to make all over the field and this one is particularly tough.
Iain Henderson is a Lions-calibre player who would start every game for most countries. But in Ireland he has to contend with Ryan and Beirne. The question for Beirne is where he should start. Farrell will make this decision based on the style of rugby he wants to play. Henderson is the bigger, brutish forward who matches the fight of his opponents, but Beirne offers the team more in the loose and at rucks.
Beirne has won every ruck he's entered for 12 months now. Putting him in the second row with the combination of talent in the back row means Ireland will have jackalers in at least three positions.
6. Caelan Doris
A natural number eight, Doris has proven he is just as good at six. He remains one of Ireland's most exciting players and is in the process of transitioning from a young player to a foundational piece. Doris offers dynamism in space with the ball in hand but he's also a physical presence at rucks and in defence. He perfectly complements Josh van der Flier as the blindside flanker.
7. Josh van der Flier
Van der Flier is 28 years of age and appears to have hit his peak. He developed as a ball carrier and is showing improved physicality in tackles. His brain was highlighted by his try against Montpellier last weekend and he's now a certain starter for Ireland. That's saying something considering the quality of depth Ireland have available across the back row.
To be fair, while there is plenty of competition for places, van der Flier is Ireland's only real out-and-out openside flanker. But so long as he stays healthy they won't need a second one.
8. Jack Conan
Speaking of staying healthy. Ever since Jack Conan returned from his injury-ravaged year on the sideline, he has been one of Ireland's best players. He and Doris are interchangeable. Regardless of where they start, both players offer dynamic, physical ball-carrying ability. Conan will be a focal point for Ireland's attack, punching through the Wales defence to set up scores and score himself.
9. Jamison Gibson-Park
Munster's playing style over recent weeks isn't helping Conor Murray get his place back. Murray needs to prove he can play at a higher tempo still, but it's been a long time since we've seen him do that. Gibson-Park's performances during the November internationals were outstanding, so it's difficult to replace him until he drops off in quality. The real battle here is between Craig Casey and Conor Murray for the bench spot.
10. Jonathan Sexton
He's barely played since November but that won't stop Farrell from throwing him back into the starting lineup. Nor should it.
11. Keith Earls
James Lowe's injury opens the door for Mack Hansen to make his debut. Or Jordan Larmour could make a return to the international stage. But unfortunately for both players, Ireland have established veterans ahead of them for both wing spots. Earls is the perfect bench player because of his versatility, but for this game specifically, he needs to start.
Hansen or Larmour would make sense to start against Scotland or Italy, but since this is also a prelude to the game in France Ireland need to pick a settled team.
12. Robbie Henshaw
The player of the year for 2021, Robbie Henshaw is an unquestioned starter for Ireland. The only question is if he starts at 12 or 13. It's a competition between Bundee Aki and Garry Ringrose rather than putting Henshaw where he is best suited. Henshaw excels as both an inside centre and outside centre. He'll have the same impact on the game no matter where he lines up to start.
13. Garry Ringrose
Brian O'Driscoll has repeatedly praised Garry Ringrose's defence but he still doesn't receive enough credit for his physicality. Much like how Aki doesn't receive enough credit for his passing ability, Ringrose doesn't cost Ireland anything in defence when he starts. He's enjoying a consistent run of games and full health, which sets him up to have a big Six Nations now that he is in the prime of his career.
This is the best centre partnership in the Six Nations and should start whenever both players are fully healthy.
14. Andrew Conway
The Munster winger has rarely put a foot wrong for Ireland. Conway's consistency in defence and attack, not to mention his finishing ability, makes him a high-end starter at international level. James Lowe outshone him somewhat during the Autumn internationals, but Conway was just as impressive in his shadow.
15. Hugo Keenan
There's less competition for Ireland's fullback spot these days than at out-half and tighthead prop.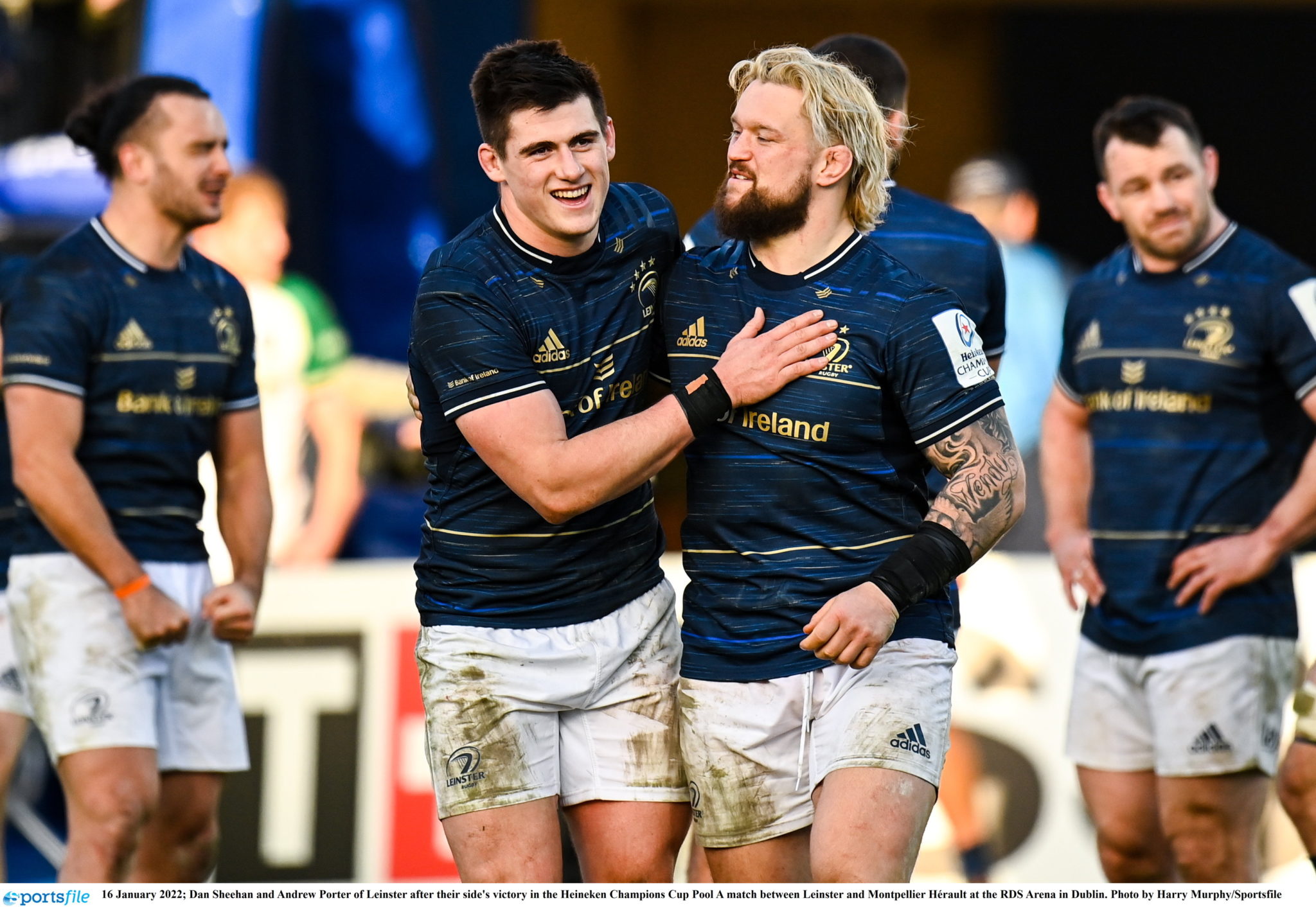 16. Dan Sheehan
Rob Herring is a solid hooker at club level but he's not an impact player at international level. While Dan Sheehan has limited experience, the talent he has shown off in his minutes is overwhelming. He scored two tries against Montpellier at the weekend that most backs would be proud of.
Sheehan's athleticism and physicality makes it a worthwhile risk including him and his inexperience.
17. Dave Kilcoyne
Cian Healy is still a quality option for Ireland and Leinster but Kilcoyne is playing more rugby at club level now and offers serious impact off the bench. His ball carrying ability makes him an impact sub and he's rounded enough in his overall skill set to play more than 60 minutes if Porter is injured early in the game.
18. Finlay Bealham
Connacht fans will feel hard done by having so few players who are actually involved in the Irish squad on matchdays. Bealham is solidified as the backup tighthead right now, but there's always the chance that Andrew Porter moves across the hooker if Furlong is out for a prolonged period.
Ireland just happen to be lopsided in talent available at loosehead versus tighthead. Still, Bealham is more than just a competent international player. He has starred for Connacht this season and will maintain the quality of Ireland's set-pieces should he start.
19. Iain Henderson
The Ulster lock will either start or be on the bench, he's too good to be overtaken by Ryan Baird just yet.
20. Nick Timoney
Ireland have a couple of options here. Peter O'Mahony will probably be picked, but his value is largely limited to the lineout at this stage. Ryan Baird would make sense too because Ireland have Beirne in the second row to drop into the back row if needed. But there's great appeal in Nick Timoney. He can cover multiple back-row spots and should van der Flier get injured early in the game, he would maintain the athleticism as a replacement seven.
Not to mention he's an exciting young talent. His versatility over the likes of Gavin Coombes gives him the edge.
21. Craig Casey
Ireland don't gain much by bringing Murray off the bench. Casey is closer in style to Gibson-Park and can inject life into the team if they're chasing the game at the end. Murray is definitely the safer option but it's time to entrust the younger Munster man with greater responsibility.
22. Jack Carty
Joey Carbery's inclusion in the squad is somewhat surprising. He's injured but will presumably be healthy by the time the competition starts. But even if he does, he will be coming in cold after barely playing this season. Carty has been in great form for Leinster and gives Ireland a player who can add urgency and tempo for the final 20 minutes of the game.
23. Jordan Larmour
There are plenty of options for Ireland here. Robert Baloucoune can feel overlooked, so can Mack Hansen. Michael Lowry is probably a year too early to be involved in matchday squads and James Hume just doesn't cover enough positions. With Larmour on the bench and Keith Earls starting, Ireland have the back three covered as well as outside centre. If Henshaw were to be injured, then they could bring Carty on at 10 and move Sexton to 12.
Jack Crowley creates a problem for Munster, Ireland and the IRFU
Team of Us. Everyone In.
Vodafone. The main sponsor of the Irish Rugby Team.
Download the brand new OffTheBall App in the Play Store & App Store right now! We've got you covered!
Subscribe to OffTheBall's YouTube channel for more videos, like us on Facebook or follow us on Twitter for the latest sporting news and content.