Ireland face the prospect of being beaten 3-0 in New Zealand after the first test, Andy Farrell must make big changes to his starting 15.
Ireland were always unlikely to win in New Zealand. It's the end of the season, it's a depleted squad and it's a motivated home team. The All Blacks didn't dominate the first 80 minutes of the series, but Ireland fell apart themselves after the first 30.
For that first 30 it looked like IReland would make it a competitive series. Now it looks like they will lose all five games.
Maybe it's a coincidence that Ireland fell apart at the same time as Johnny Sexton was injured. Maybe it's not. But Ireland must progress past the idea that all of our success hinges on Sexton. The Ireland team that started on Saturday was very different to the one that started in November, even with Sexton on the field.
Ronan Kelleher, Iain Henderson and Jack Conan were key starters in Ireland's pack last November. Kelleher was arguably man-of-the-match in just 59 minutes. Doris officially won the award. Doris won the award at six because Jack Conan was still playing like a Lion at number eight.
Conan didn't start on Saturday because his form dropped off for Leinster over the second half of the season. Peter O'Mahony is pretty good and he's consistently pretty good, but without Conan and Doris on the field together, Ireland lost their dynamism and some physicality in the pack. O'Mahony simply doesn't have the athleticism that Conan does.
But maybe most significant of all is the absence of Henderson.
Henderson isn't dynamic. He's resilient. He's intimidating and he relishes the physicality that New Zealand brought to rucks and the challenge they created at scrum time. Tadhg Beirne and James Ryan have their own elite traits. Both can be outstanding players at the highest level on their day. But neither is built for a fight the way Henderson is. It's why Farrell picked him over Beirne in November even though Beirne was Ireland's form player for a long time.
Ireland don't have another second row like Henderson. Add in the slight set piece drop off and resilience of going from Ronan Kelleher to Dan Sheehan, as well as the Conan to O'Mahony alteration, and Ireland's pack identity completely changed for Saturday's game.
With a referee allowing almost anything to go, New Zealand went to an extreme at the ruck. They constantly lay on the wrong side, entered rucks from the side, threw themselves dangerously into contact and rucked players far past the actual ruck.
The referee didn't stop them so they had no reason to stop themselves. Without those three key contributors, Ireland couldn't match the brutality. Ultimately, that is what decided the game.
Ireland went to New Zealand in search of a series win. They won't get that now. They likely won't even get a win against the Maori. So they need to fully commit to actually blooding players so we can move past the same conversations about depth and who will start or who will come off the bench at different positions for next year's World Cup.
Here is the team Farrell should pick for the second test.
1. Andrew Porter
Andrew Porter is Ireland's unquestioned starter at loosehead prop and he should remain there. Cian Healy is injured and doesn't benefit from playing further tests either way. Jeremy Loughman could have been an option but his inclusion in the squad never really made sense in the first place.
Loughman is 26 years of age so he's still relatively young, but he's also not seen as the future of the position. Josh Wycherley, at 22 years of age, established himself as the rising star at prop in Munster this season.
Andy Farrell mismanaged his initial squad selection and that in turn handcuffs Ireland now.
2. Dan Sheehan
Ireland's best performer on Saturday and someone who will continue to benefit from playing more games at this level.
3. Tom O'Toole
What will Ireland do without Tadhg Furlong? Tom O'Toole is 23 years of age and will likely never be a full-time starter for Ireland because of Furlong. But Furlong plays too many minutes. Now that winning the series is beyond unlikely, it makes sense to invert the playing time of the tight head props.
Furlong will benefit from playing a 20-25 minute impact role in the final two games and O'Toole will benefit from more time on the field and getting to start.
4. Tadhg Beirne
Tadhg Beirne knows that his Ireland place isn't guaranteed. James Ryan doesn't. Ryan was a rising star during the early stages of his career and played to that level, but his performances have plateaued in recent times. There was no response to missing out on the Lions squad this season and there may be a level of complacency in that he knows he will always be picked for Ireland.
Dropping Ryan at this point might spark a reaction for next season. But more importantly, Beirne is in better form so he deserves to keep his place.
5. Ryan Baird
Fineen Wycherley showed some class towards the end of the season for Munster, but he didn't make the squad for some reason. Joe McCarthy did and while he didn't look out of place against the Maori last week, he didn't make enough of an impact to press the first 15. Ross Moloney or Wycherley would make sense here if either were in New Zealand, but they're not.
Ryan Baird is in New Zealand, but he's listed as a flanker rather than a second row. That makes little sense since Baird is a second row. He's built to be an athletic second row rather than a dynamic back rower. Baird always plays well when selected for Ireland or Leinster, so why not give him more gametime?
6. Caelan Doris
Although he didn't have his best game on Saturday, Doris is a staple of this team now and will start every game either at six or eight.
7. Josh van der Flier
Similar to Dan Sheehan, van der Flier was one of Ireland's few standout players on Saturday. Peter O'Mahony might feel aggrieved about losing his place but age profile impacts him more than it does van der Flier.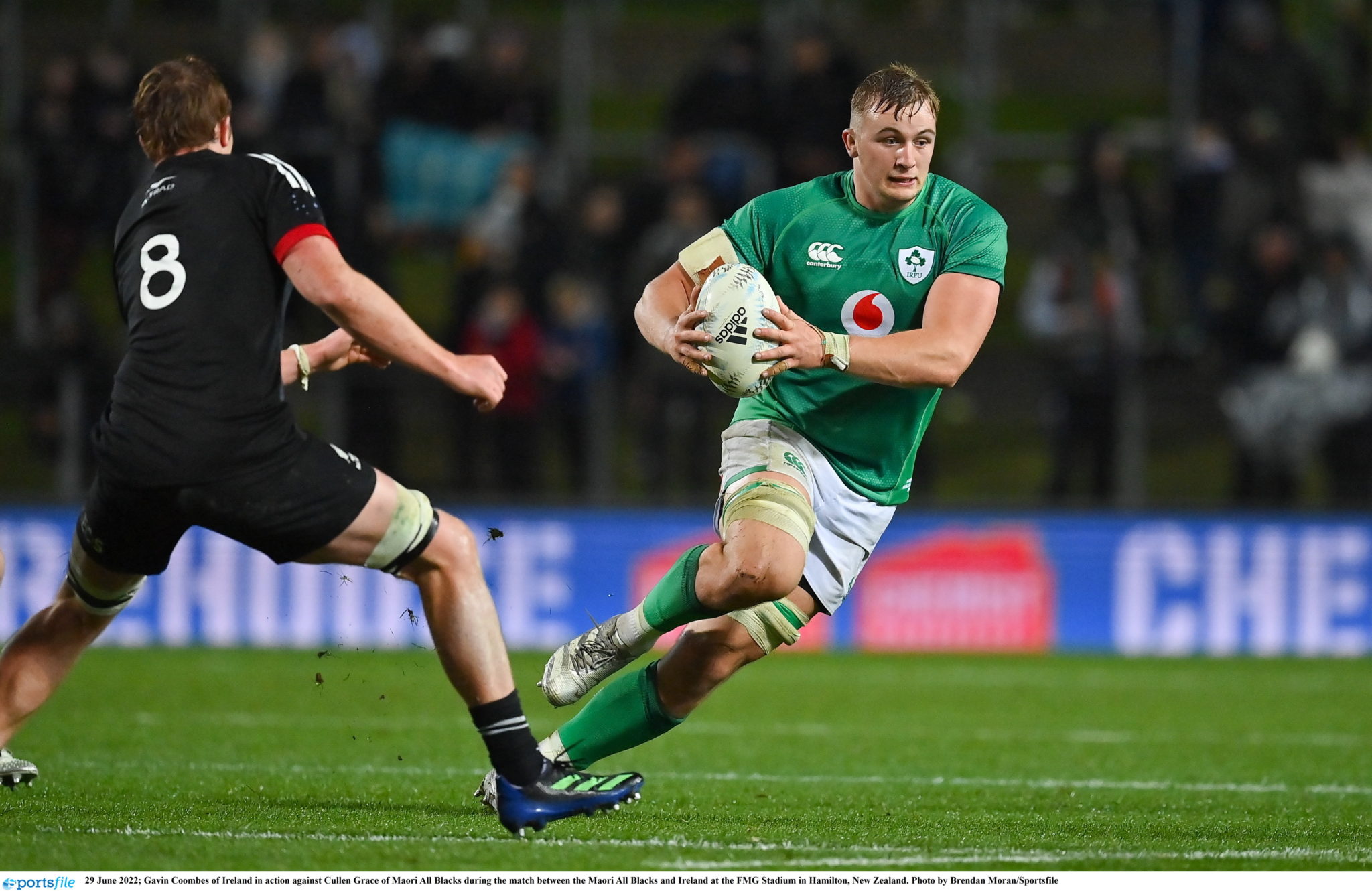 Gavin Coombes showed against the Maori that he can be an impact ball carrier at this level. He's consistently played well for Munster but never got a look in for Ireland because of the quality ahead of him. With Conan out of form and O'Mahony less in need of gametime for development, Coombes is the logical answer.
His midseason injury likely makes him fresher than most of his teammates at this point too.
9. Craig Casey
There's a good argument for Conor Murray to return to the starting lineup. He played well in relief of Jamison Gibson-Park and he brings a calming influence that Ireland desperately lacked on Saturday. Jamison Gibson-Park played fast but made a lot of mistakes. He has been good for Ireland but not to the point that he should have a monopoly on the position.
Casey made mistakes against the Maori last week but he's the type of talent who needs gametime to acclimatize at this level. He can play fast like Gibson-Park and he also has an established relationship with Joey Carbery.
10. Joey Carbery
Carbery is the obvious option here, but there's a real question about who is on the bench between Ciaran Frawley and Harry Byrne.
11. James Lowe
Rarely lets Ireland down. Lowe has been one of Ireland's best players since his initial struggles in a green jersey.
12. Robbie Henshaw
Henshaw and Garry Ringrose put in some big hits against New Zealand last week. Carbery needs to play with Ireland's first-choice center partnership.
13. Garry Ringrose
The only problem with Garry Ringrose is this coaching staff's commitment to moving him into the back three. Keep him at 13 where he's at his best.
Assuming Hansen is healthy and available, his physicality and intelligence coming off his wing will be vital for linking up with Carbery and company.
15. Hugo Keenan
Michael Lowry should at least start against the Maori this week, but Keenan is still unquestioned for the big games. He's in the rare position of being an established player who will still benefit from these tests as they are new experiences for him.
----
16. Niall Scannell
Scannell brings stability to the set pieces that Dave Heffernan doesn't. Heffernan should start against the Maori this week and play as much as he can. Maximizing that game for his development leaves Scannell as the better option for the bench next Saturday.
17. Finlay Bealham
Cian Healy's tour should be over. Ed Byrne can start against the Maori, allowing Finlay Bealham to play
18. Tadhg Furlong
Having Furlong in the squad gives Ireland a second half impact sub and should give confidence to the younger players playing bigger roles.
19. James Ryan
Ryan's experience and leadership can still be felt as a substitute off the bench.
20. Peter O'Mahony
O'Mahony isn't going to start against the Maori so he can still play off the bench against the All Blacks. Again, having his presence in the squad for leadership is important.
21. Jamison Gibson-Park
It's tempting to keep Conor Murray on the bench for his experience and his connection with the 8-9-10 Munster starters ahead of him. But Gibson-Park should keep his place in the squad despite his bad performance in the first test. He's played well enough for Ireland over the last 12 months that he won't lose his place immediately.
22. Harry Byrne
If he's fit, Byrne is probably the only real option. Ciaran Frawley is a better option for the game itself but Frawley is a center now after starting his career as an out-half. Byrne hasn't really earned his place for Ireland but without Ben Healy, Jack Crowley or Jack Carty in the squad, what other option is there?
Again it points to the confusing nature of the initial squad selection from Farrell.
23. Keith Earls
Assuming he gets a full week off this week, Earls is the best option for cover on the bench.
South Africa to the Six Nations by 2025?
Team of Us. Everyone In.
Vodafone. The main sponsor of the Irish Rugby Team
Download the brand new OffTheBall App in the Play Store & App Store right now! We've got you covered!
Subscribe to OffTheBall's YouTube channel for more videos, like us on Facebook or follow us on Twitter for the latest sporting news and content.