In the wake of Jordan Larmour being ruled out for the Six Nations through injury, Brian O'Driscoll discussed Ireland's options at fullback on Off The Ball.
Larmour will likely not feature for Andy Farrell for the remainder of the year after suffering a dislocated shoulder in Leinster's win over Benetton at the weekend.
This will likely force Farrell to make a big call in the back three, as Larmour was likely to be the starting number 15.
O'Driscoll felt, despite being moved to the wing recently after his poor performances at 15, that Larmour was still likely to start at in the back three, even if not fullback.
"Was he in contention to be the starting fullback again? Of course he was," O'Driscoll said.
"But I think there were still some huge question marks as to who was going to start back there.
"It probably was going to be him, with [Jacob] Stockdale playing there a little bit more."
Despite being the most logical replacement for Larmour at fullback, O'Driscoll feels that Stockdale is not cut-and-dried to start there.
"He has shown good points and some pretty disappointing aspects of his performances so far this season.
"I don't think there is anyone that is very cut and dry as to who is going to replace [Larmour].
"You could take a punt on Hugo Keenan coming in at 15 against Italy? I don't think so. Shane Daly? No.
"So, I think they're going to go with a tried and tested international player, and that is why - for me - I think Stockdale looks as though he is going to get the 15 jersey."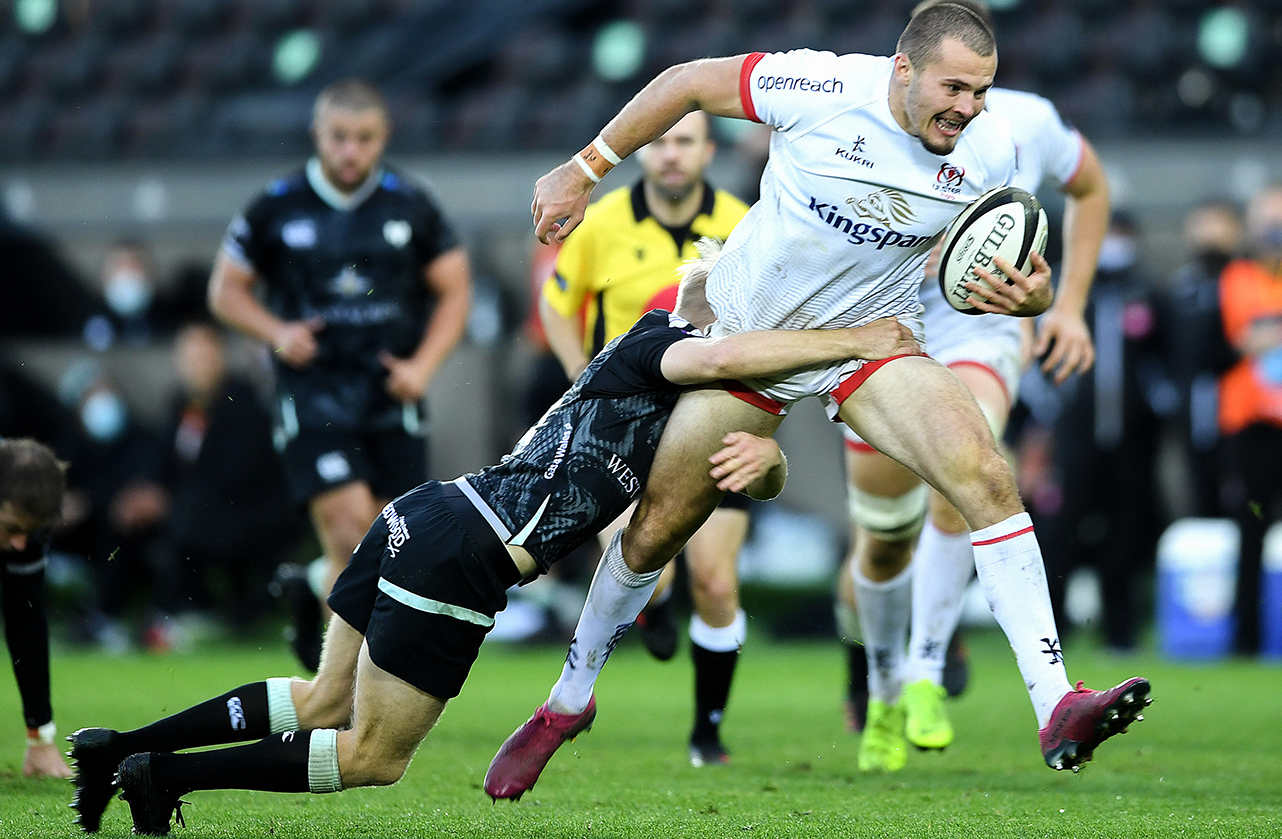 Keith Earls is also in doubt for the remainder of Ireland's matches this year as he is currently rehabbing a back injury.
With these injuries, O'Driscoll believes that the back three pick themselves based on a process of elimination.
"It seems as though it is going to be Stockdale, [Andrew] Conway with the inclusion of one more," O'Driscoll said.
"Previously it was going with Earls and Larmour in the mix."
O'Driscoll likened the current injury woes to that of Leinster in the 2011-2012 season, when one of Isa Nacewa, Rob Kearney, Shane Horgan and Luke Fitzgerald was always injured.
"Over the course of that season, someone always was injured, so coaches never had to get to that really tough decision to leave someone out," O'Driscoll said.
"In some way, that has been a bit fortuitous for Andy Farrell that he doesn't have that headache, but it the sort of headache you want to have."
Stockdale is better at fullback for Ireland
All three of Larmour, Stockdale and Conway have experience playing across the back three, making the decision of who starts at fullback all the more difficult.
O'Driscoll, however, believes that between the two of them that are available, Stockdale is better suited for the 15 jersey.
"I don't think [Conway] has the kicking game for it," he said.
O'Driscoll added that Conway often runs the ball into trouble, which can cost teams at international level.
"Obviously, he is very good in the air, but he is predisposed to running the ball an awful lot," O'Driscoll said.
"That's what the crowd will love, but international rugby is about weighing up your options and get punished for making bad decisions in that regard.
"Even when [Rob Kearney] decided that he was going to have a run and it wasn't the right option, he was brilliant at breaking the first tackle.
"He bought time for the reinforcements to come in and clear the ball.
"Conway is powerful, but he is not the same sort of powerful, so if he runs into a dark hole I think he can get eaten up."
It is for this reason that O'Driscoll thinks Stockdale is more suited to fullback.
"That is why Stockdale, with his size, he can turn a bad decision into a good decision," he said.
He added that Stockdale struggles in defence when on the wing, as he has to make decisions, while the only defensive decision he will make at fullback is to tackle.
"He has less issues with understanding the defensive system playing in the 15 jersey," O'Driscoll said.
"At 15 at least you know you're the last man, you have to make your tackle.
"You don't have to make any decisions, you just know what your tackle is, and you make it or you don't make it."
With few other options for fullback heading into Italy, O'Driscoll did not entertain the idea of Robbie Henshaw at fullback or another out half at 15.
The only other option O'Driscoll saw was experimenting with Hugo Keenan or Shane Daly, however they will likely only come in for the Autumn matches after the Six Nations.
Team of Us. Everyone In.
Vodafone. The main sponsor of the Irish Rugby Team
Download the brand new OffTheBall App in the Play Store & App Store right now! We've got you covered!
Subscribe to OffTheBall's YouTube channel for more videos, like us on Facebook or follow us on Twitter for the latest sporting news and content.