Ireland laid down a marker against Italy with a big win over the perennial wooden spoon holders in the Six Nations on Sunday.
Andy Farrell had made a few changes to the side that narrowly lost to France in the second round of the championship.
Of those changes, the focus was on Mike Lowry, who came into the starting lineup at fullback, chasing Hugo Keenan out of the squad for the first time since his debut against Italy in 2020.
Italy, on the other hand, were desperate to achieve any sort of result, as they remain in search of their first victory against a Tier 1 nation since their shock victory over South Africa in 2016.
Ireland got off to the expected start by scoring early through Joey Carbery. However, as the first half rolled on, Italy began to gain some traction at the breakdown.
With Italy slowly looking to get into the contest, though, they were reduced to 13 men with a single red card, effectively ending the match as a contest.
Ireland continued to score three unanswered tries from Peter O'Mahony, Jamison Gibson-Park and debutant Lowry in the first half.
While the hosts did open the floodgates after the red card, they were nowhere near as composed and clinical as the would have wanted to be with a two-man advantage.
After 80 minutes of sloppy rugby, Ireland put an end to Italy's misery, winning 57-6 in the Aviva.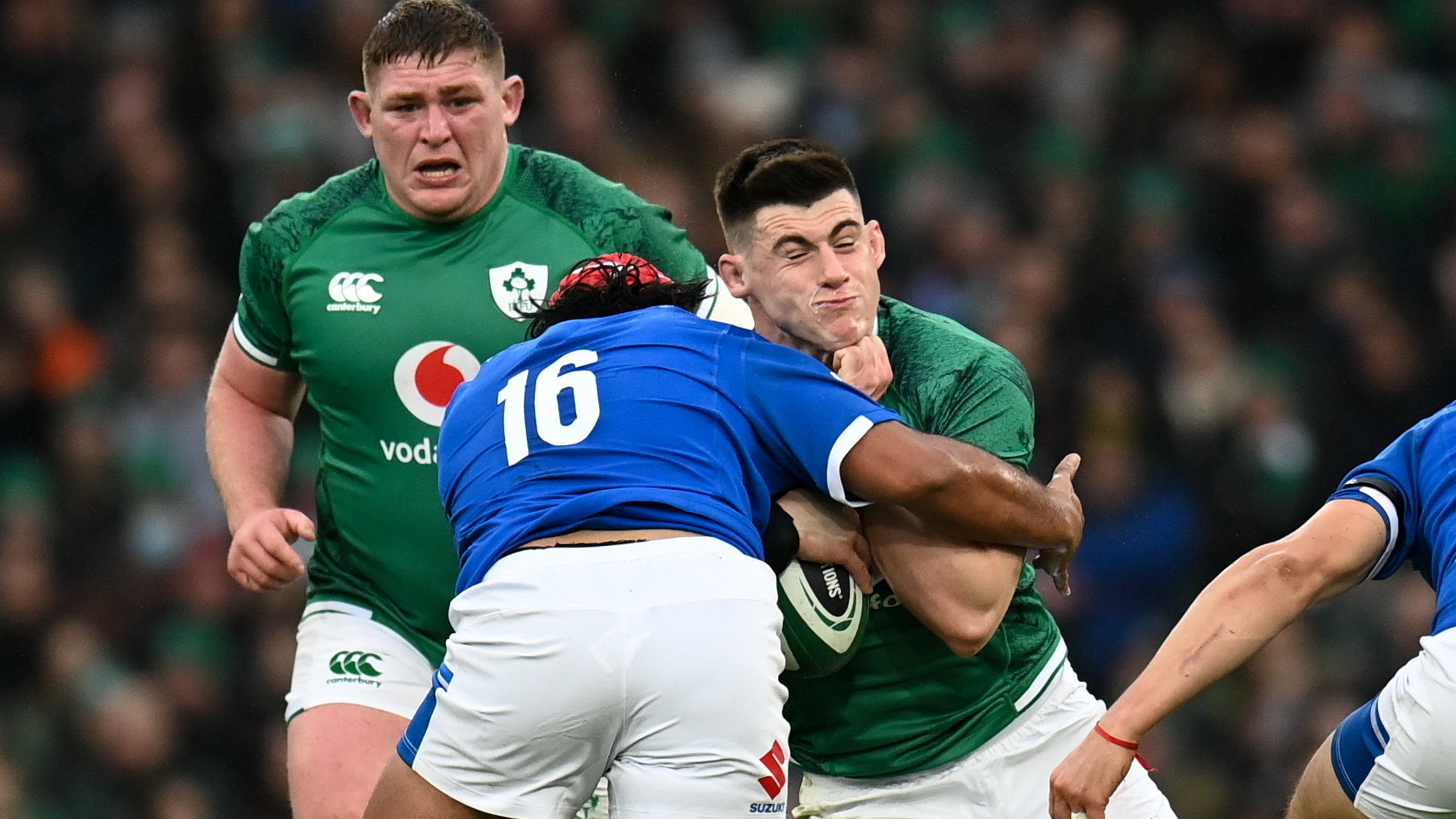 Ireland player ratings
Andrew Porter 7/10
While Ireland had the upper hand at the scrum early on, the set piece was rendered a formality by the red card to Faiva. This opened both Porter and Tadhg Furlong to showing their skills outside of the scrum.
While Italy was not able to maintain a lot of possession, Porter still racked up a decent number of tackles before he was subbed off for an injury early in the second half.
Dan Sheehan 7.5/10
In his first start in the Six Nations, Sheehan looked to get on the ball with every phase. He ran the ball well and offloaded through contact, even though not every pass went to hand.
He was crucial to Joey Carbery's try when the game was still could have gone either way when all teams were equal. He also maintained a near-perfect record at the lineout.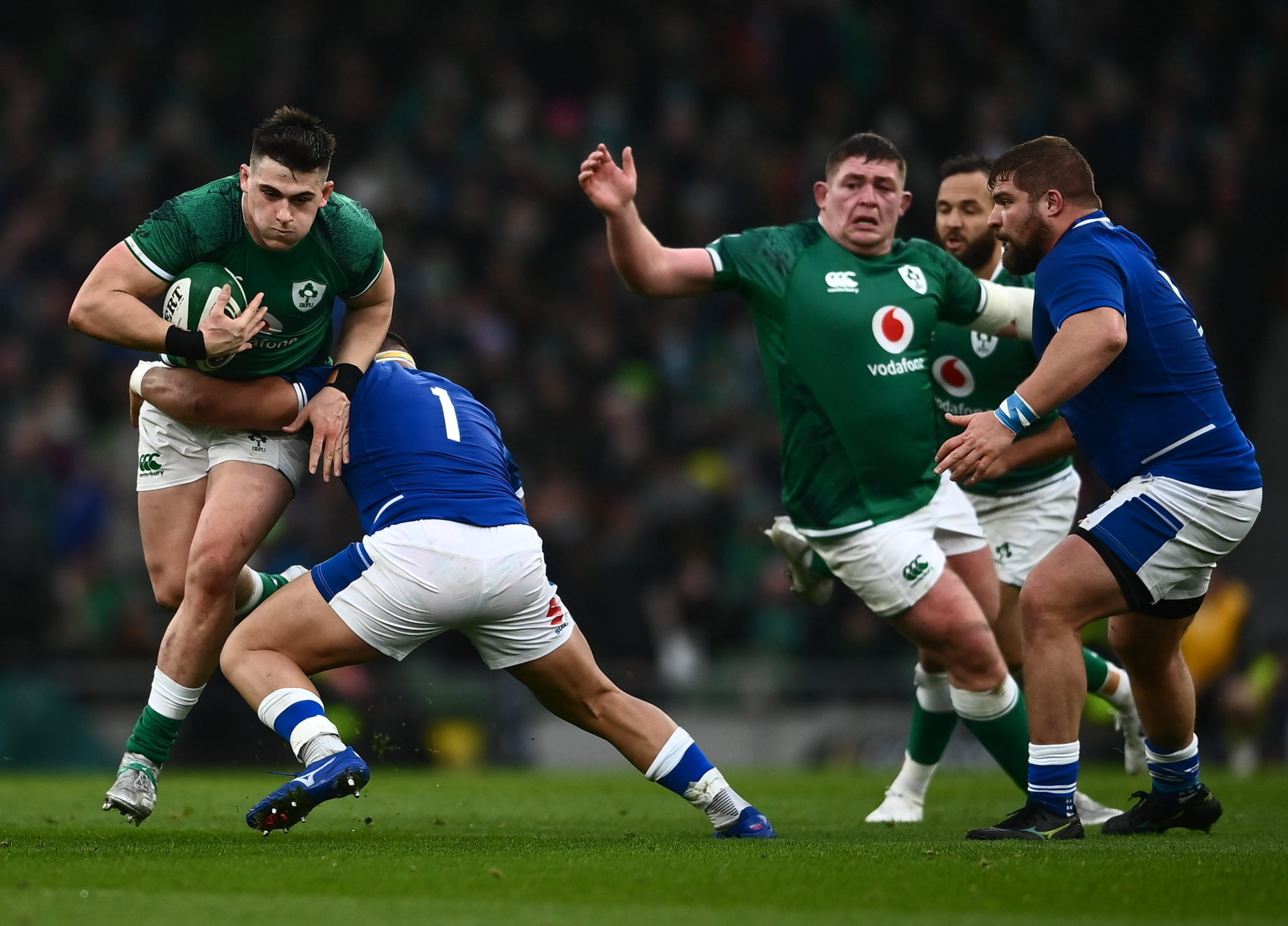 Tadhg Furlong 7/10
Like Porter, Furlong's ability to influence the game at set-piece was completely negated by the red card and uncontested scrums. He defended well, and was the perfect link man to spread the ball out wide, but at the end of the day it was far from Furlong's best performance.
Tadhg Beirne 7/10
Few things in life are certain: Death, Taxes, Marcus Smith being named player of the match when others deserved it more, and Tadhg Beirne winning turnover ball at the breakdown.
However, when Ireland were in possession, Italy were able to get over the ball and disrupt the Irish rucks, due in part to the Irish forwards not making it to the breakdown quick enough.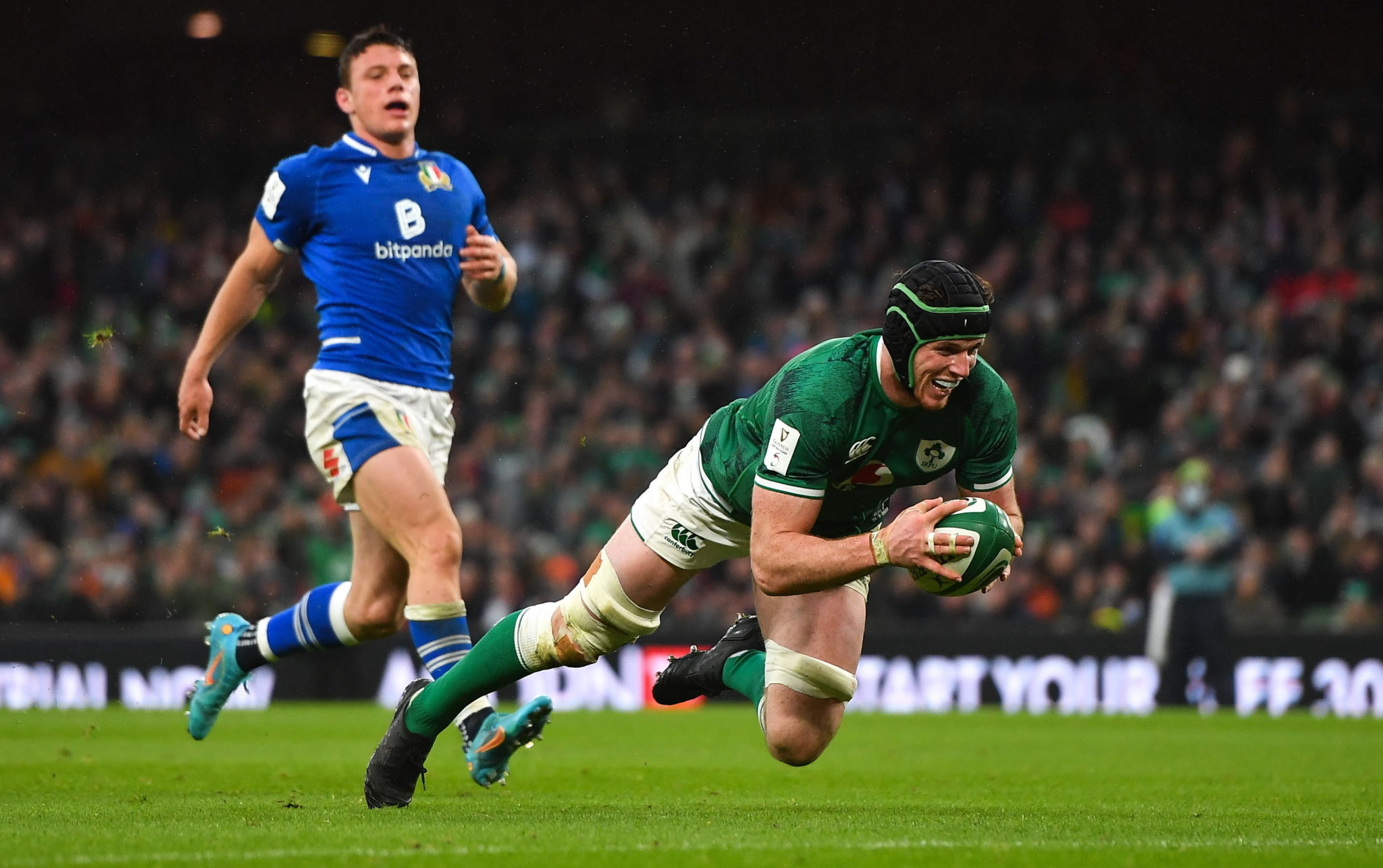 Ryan Baird 7/10
Baird, like the rest of his forward pack, did not cover himself in glory at the breakdown, allowing Italy to get over the ball too often and affect a number of turnovers. However, he was excellent on defence throughout the match, and strung together a number of powerful runs.
His try came off the back of a textbook charge down and fortuitous bounce that sat up perfectly for the big second row.
Peter O'Mahony 7.5/10
The Munster captain disrupted the Italian lineout well, and even though not every stolen lineout landed in the hands of an Irish teammate, he still helped break down the Italian possession. His powerful carries made a tremendous amount of meters and he capitalised on the lack of Italian defenders to score.
Josh van der Flier 8/10
He was named the player of the match by Alan Quinlan on Virgin Media commentary, and it is easy to see why. He was excellent in the air at the lineout, bith on attack and defence, and was all over the park with his physicality and workrate.
Between Tadhg Beirne and Van der Flier, it is difficult to find a more undroppable combination of forwards.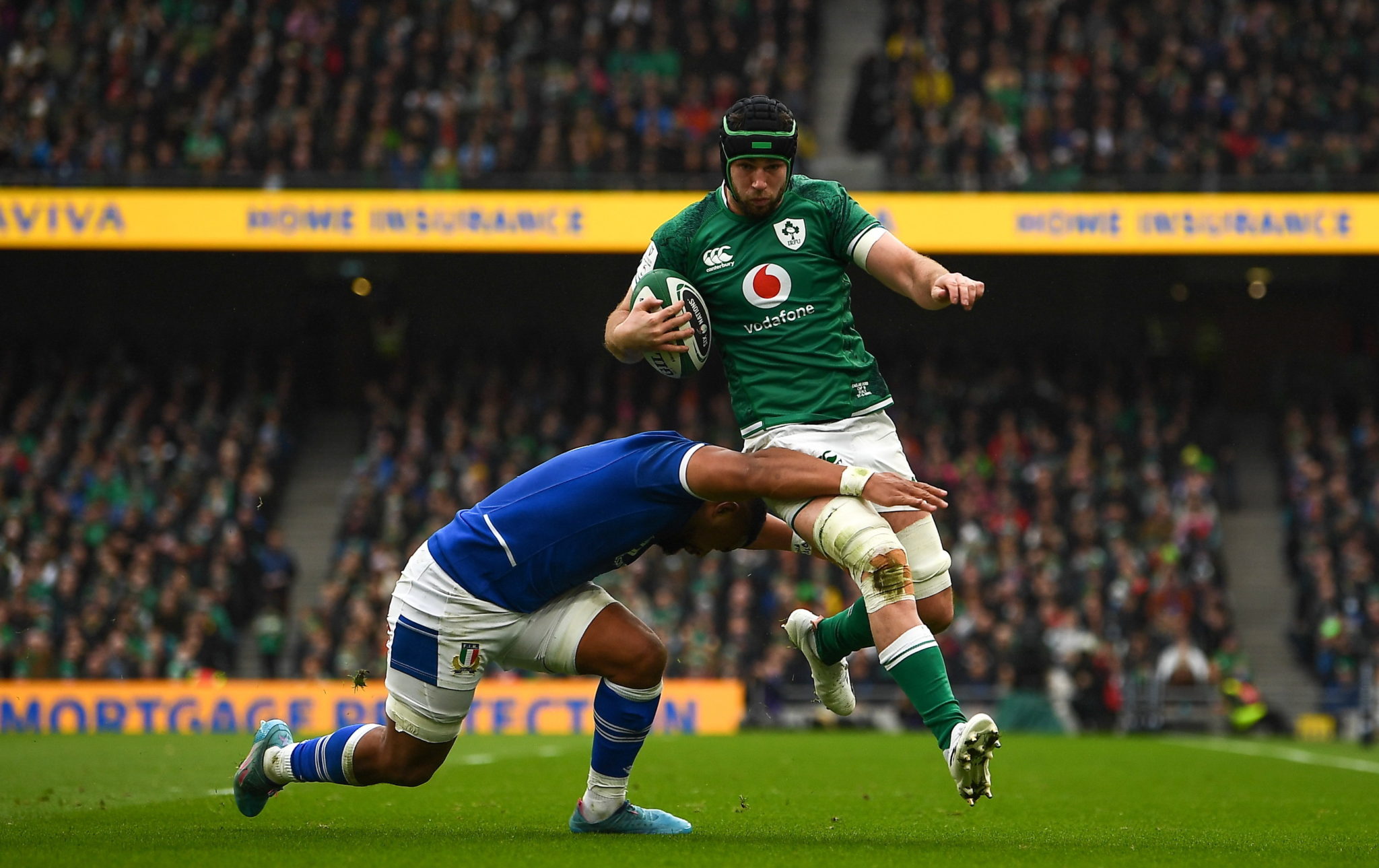 Caelan Doris 8/10
No one made as many meters with ball in hand in as few minutes as Caelan Doris. In just under an hour, Doris made just under 100 meters, which would make most backline players blush. Not too much can be gleamed from his defensive work as the rest of the forward pack made all the tackles against an Italian side that could not keep possession.
Jamison Gibson-Park 7/10
While he scored a great try against 13 men, Gibson-Park was not the electric halfback that would have been expected coming into the weekend. With the electric backline outside him, the Leinster scrum half would have been expected to get as much clinical ball back to them as possible.
However, he does play the style of play suits perfectly the style that Ireland are looking to play, meaning that it would be difficult to see him played out of the starting nine jersey for now.
Ireland go over and secure the first points of the game ☘️ #IREvITA #GuinnessSixNations pic.twitter.com/tAJ58br7eF

— Guinness Six Nations (@SixNationsRugby) February 27, 2022
Joey Carbery 6.5/10
While he started off a bit slow, with the odd pass going to ground, Carbery soon found his rhythm again. He scored a walk-in try from the efforts of his forwards.
However, the biggest issue for Carbery throughout the match was his inconsistency from the kicking tee. In a match that was all but ended after 20 minutes, Carbery got away with missing the majority of his kicks. However, against the likes of England, those missed kicks could have potentially cost Ireland a championship.
James Lowe 7.5/10
On his return to the starting line-up, Lowe showed excellent knowledge and awareness to avoid the knock-on from the poor offload by Sheehan early on. He opted to put boot straight to ball as opposed to reaching down and trying to grab the ball.
He was excellent under the high ball throughout the match. He scored two of the easiest tries he will ever score against 13 men, as Italy just ran out of defenders on both occasions.
Robbie Henshaw 6/10
The famed Irish centres were nowhere near as potent on attack as they should have been against this Italian side. Henshaw made just 14 meters in 68 minutes. That was against 13 men for 48 of those minutes too. While he is still returning to form, Henshaw did not do enough to warrant a starting place against England in two weeks.
Knock Knock 🚪
Who's there? 🤔
Monty Ioane 🇮🇹 #IREvITA #GuinnessSixNations pic.twitter.com/6JsXBl2oqO

— Guinness Six Nations (@SixNationsRugby) February 27, 2022
Garry Ringrose 7/10
While he was more potent on attack than his centre partner, Ringrose did not put up his best performance against a poor Italy. He was put back by Monty Ioane on defence a few times, and was one of the many that struggled to find the accuracy on attack, perhaps solely down the fact that against 13 men there was too much space that he began to panic.
Mack Hansen 7/10
While the former electrician was not as electric as he had been over the past two rounds of the championship, Hansen was still able to rack up some good numbers on attack.
His role was visibly different than it had been over the past two weeks, as Lowe and Lowry were much more involved in set-play than Hansen.
The Connacht flyer was used more as the dummy threat out wide rather than the danger man himself, but was able to rack up some good meters with limited carries.
Lowry goes over and scores on his Ireland debut 👏 #IREvITA #GuinnessSixNations pic.twitter.com/1Oyw9WaCkK

— Guinness Six Nations (@SixNationsRugby) February 27, 2022
Michael Lowry 8/10
Making his debut, Lowry brought his Ulster form and electric attitude to the Aviva. He scored a brace in excellent style, and looked to add an injection of pace into every Irish attack.
While the rest of the players around him lacked some accuracy, particularly when Italy went down to 13 men, Lowry continued to look for work and was exceptional in everything he was asked to do.
His unselfish act of not taking the hattrick in the final five minutes gave him an extra half a point at the end of the game too.
Vodafone. Main sponsor of the Irish rugby team. #TeamOfUs
Download the brand new OffTheBall App in the Play Store & App Store right now! We've got you covered!
Subscribe to OffTheBall's YouTube channel for more videos, like us on Facebook or follow us on Twitter for the latest sporting news and content.