Jacob Stockdale has inflicted a similar volume of damage to the rest of the 'Aviva Greatest Moments' contenders as he did to the All Blacks defence in 2018.
In Friday's final Rob Henshaw was the latest to toil in the Ulster winger's wake. The brilliant try from the centre against England at The Aviva in 2015 was just cannon fodder for the Ulster winger's chip and chase effort in November 2018.
Stockdale's try against the All Blacks was a resounding winner of the final twitter poll for the 'Aviva Greatest Moment.'
It's time for the FINAL of our 'Greatest AVIVA Moments' rugby series! ☘️@henshawrob try v England in 2015
V
@JacobStockdale try v All Blacks 2018@AVIVAIRELAND has been the proud sponsor of the AVIVA Stadium since 2010. #SafeToDream

— Off The Ball (@offtheball) May 29, 2020
Stockdale's effort is the clear fans' choice, but several other big names had their say over the course of the last week. Joe Schmidt and Brian O'Driscoll were among the special guests to have their say on what they remember best at the renovated Lansdowne Road venue.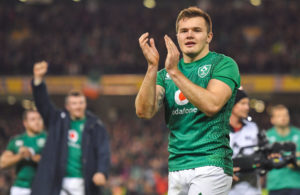 Jacob Stockdale virtually dropped into OTB AM during the week, where he spoke about how special, the atmosphere at the Aviva can be, especially that evening against New Zealand.
"The AVIVA is quite a special stadium in the sense that it's not necessarily the biggest in comparison to somewhere like Twickenham or the Stade de France, but the noise that can be generated in that stadium is incredible.
"That night, it really went to the next level. Every time you caught a high ball the hairs on your neck were standing up because of the noise of the crowd.
"You felt like you were hitting a rock and people were going wild. On that night, I think mainly because the game had been talked up so much... like I remember the first game of the season with Ulster, afterwards in an interview they were like 'Well, what about this game against New Zealand in November?'
"That's about three months away! But people were just ready for it, when it finally came around people were just so worked up about it, that's where the noise came from."
Aviva Ireland has been a proud sponsor of the Aviva Stadium for 10 years. 4. Since 2010, over 7.2 million fans from around the world have attended matches at the Aviva Stadium. We're encouraging fans to tell us your favourite moments from the iconic venue by following Aviva Ireland on Instagram and Twitter and sharing them using #SafeToDream