Cheslin Kolbe was lucky to not receive a red card for his hit on Conor Murray according to Lions legends Brian O'Driscoll and Keith Wood.
South Africa's star winger was shown yellow in the 25th minute of the second test between the Springboks and the British and Irish Lions for taking Murray out in the air.
However, many Lions supporters believed that it should have been a straight red card as Murray had to put out his hand to prevent himself from landing on his head.
The referees were in the spotlight after South African Director of Rugby Rassie Erasmus released a 63 minute long video detailing a number of officiating errors made in the first test.
Speaking on Off The Ball after the match, Wood suggested that Kolbe needed to have been sent off for the sake of player safety and the safety of the game.
"I thought that Cheslin Kolbe's chase to hit Conor Murray, yes he had his eye on the ball, but if you are looking for mitigating factors, I didn't think there was any," Wood said.
"I thought that was a red card. I then thought that [Duhan] van der Merwe kicking out, that was so stupid, that could have easily been more as well.
"I have to say I have huge sympathy for the refs at the moment. We have to support the refs in this rather than castigate them.
"We have to give them some level support. I don't think it was perfect, but in the ebb and flow of the game, he got an awful lot right.
"I wouldn't be giving out about the referee at all. I think if you look back 18 months ago and that tackle was made with Conor [Murray] at the top of his jump, it would have been a red card.
"I think it needs to be a red card and we need to make certain that we don't have those instances happening again."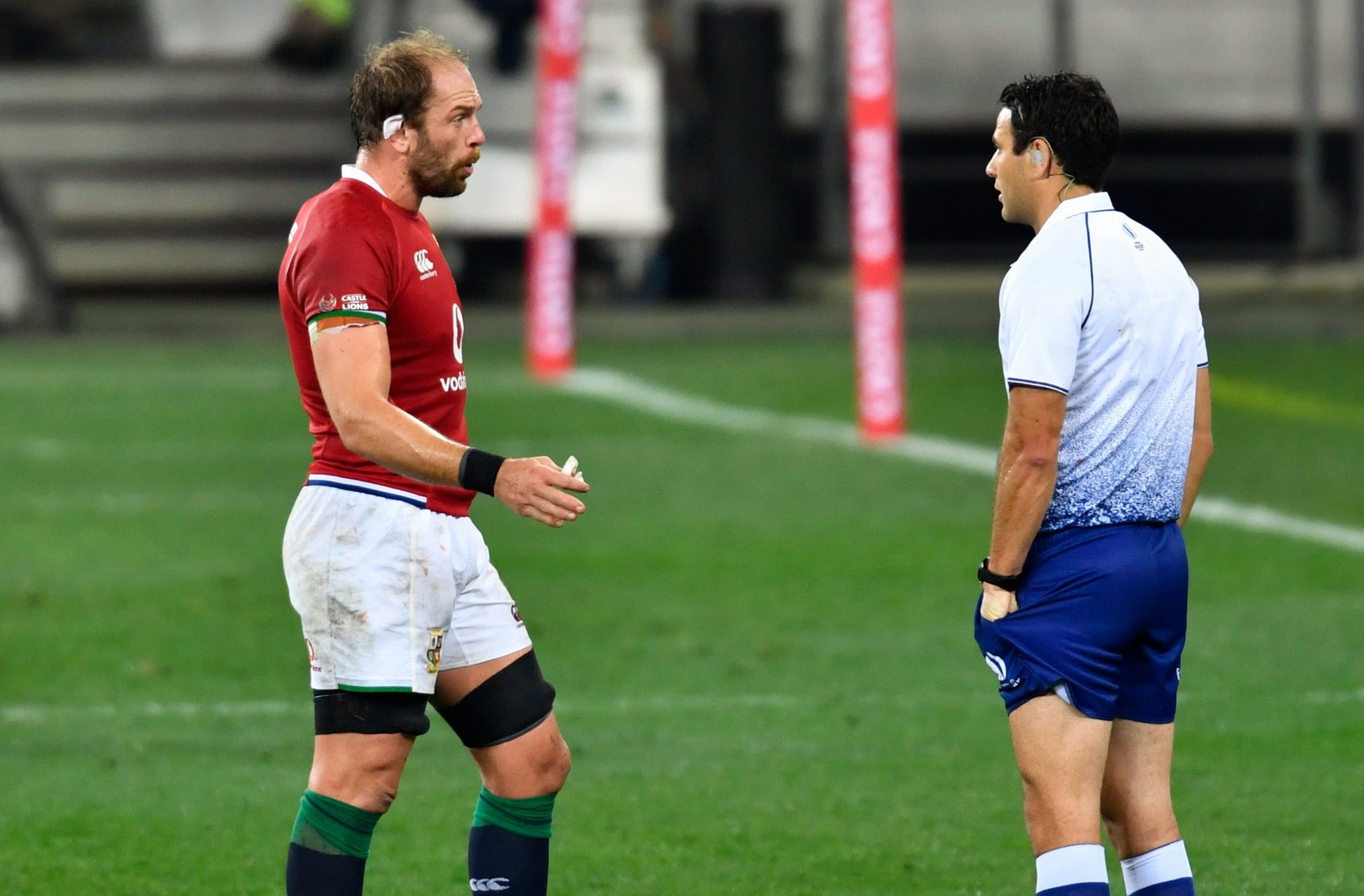 The referee on the day, Ben O'Keeffe, is used to a different style of play, according to O'Driscoll, and it is for this reason that he believes Kolbe got away with a yellow card.
For O'Driscoll, if the match was refereed in the same manner as the Premiership, then Kolbe would have seen red.
"If you were to take a number of those incidents based on what would go on in the Premiership, there could have been multiple red cards today," O'Driscoll said.
"Cheslin Kolbe could have been sent off twice. He could have been sent off for his head collision with Tom Curry in the first half which the referee didn't even look at at all.
"If you look at the Conor Murray fall, the ruling in the Premiership is that if you have to break your fall with an arm and that has stopped you landing on your head or neck, well that is a red card offence.
"That versus Ben O'Keeffe who is obviously refereeing in a different part of the world and the crazy scrutiny that has gone on this week that is going to squeeze his decision making and make him think twice about pulling out the red card."
With all of the scrutiny on the referees, O'Driscoll believes that the victory for the Springboks should not be seen as a victory for Erasmus, as he believes that Erasmus' antics should not be celebrated.
"People will say about it being a Rassie Erasmus master plan, maybe he got the break of the ball today, but ultimately it doesn't make what he did any better or any more palatable," O'Driscoll said.
"He won't care because they are 1-1 and it goes to a decider and you would have to imagine that all of the momentum is with South Africa at the moment and the Lions looked out on their feet.
"It is just a matter of some of those refereeing decisions where that perspective comes from and whether you are trying to really shore up the safety of the game or whether you want a little bit of the old game to still remain intact.
"That is why you are going to have a smorgasbord of differing opinions across what was right, wrong or indifferent."
The Lions will have to overcome South Africa one more time after the Springboks won the second test 27-9 in Cape Town.
Catch every moment of the British and Irish Lions series on Off The Ball, with live commentary from the likes of Brian O'Driscoll, Ronan O'Gara, Keith Wood, Alan Quinlan and more throughout the test series.
The 2021 British & Irish Lions Tour on OTB Sports with Vodafone. Lead Partner of the British and Irish Lions
Download the British & Irish Lions App, Powered by Vodafone, to stay connected to the Lions this summer
Download the brand new OffTheBall App in the Play Store & App Store right now! We've got you covered!
Subscribe to OffTheBall's YouTube channel for more videos, like us on Facebook or follow us on Twitter for the latest sporting news and content.