Former Munster and Ireland flank Alan Quinlan could not believe that Tomas Lavanini's ban was so short following his red card against Ireland last month.
Lavanini was red carded in Argentina's 53-7 defeat to Ireland in the Aviva Stadium in November. It was the Argentine lock's third red card at International level.
In spite of his track record at international and domestic level, World Rugby only gave a five week ban to Lavanini, meaning that he will miss Clermont's European Cup matches against Ulster and Sale, as well as Top 14 clashes with Toulouse, Biarritz and Brive.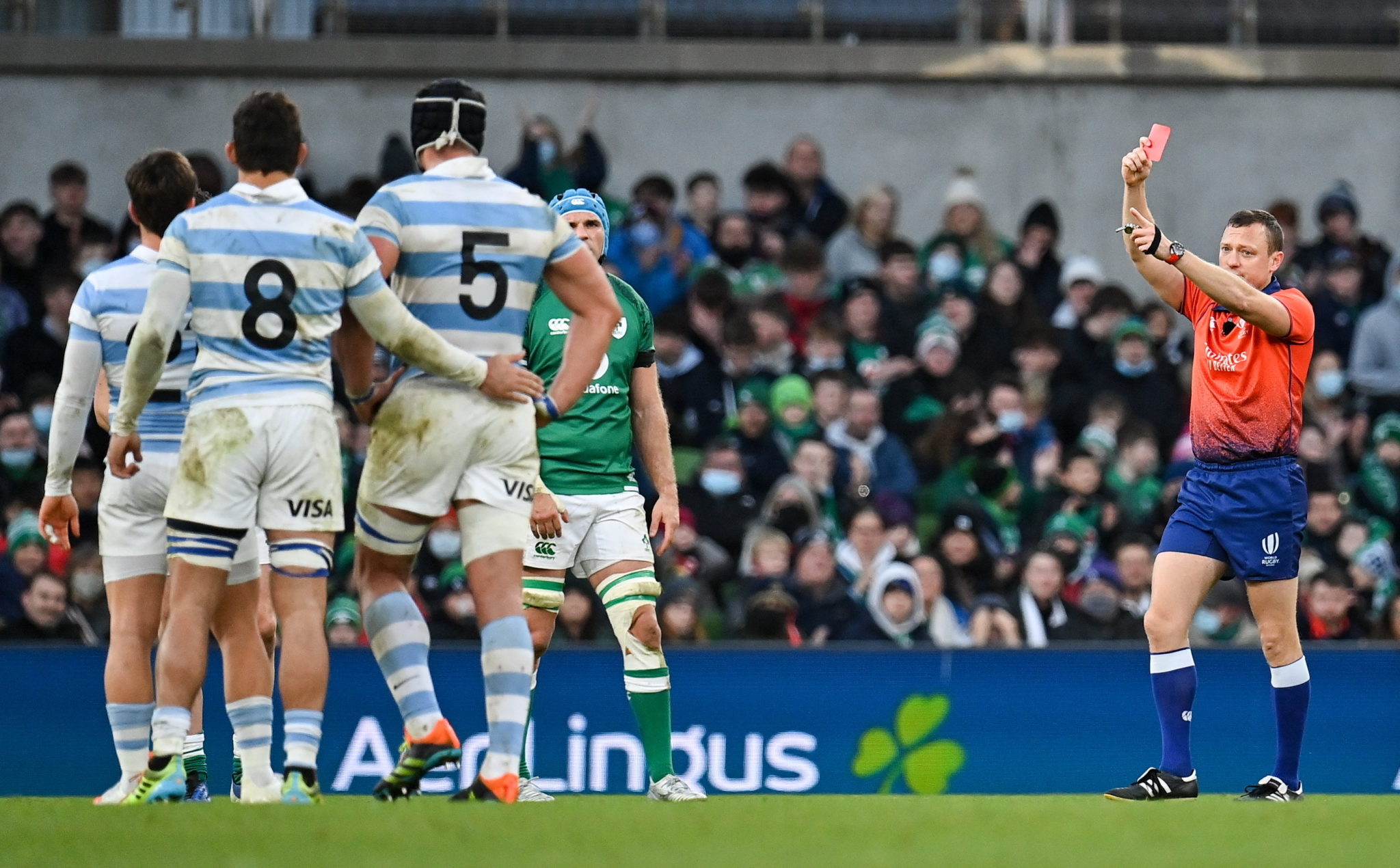 In a statement released by World Rugby, they explained the short ban.
"The player accepted that he had committed an act of foul play, but not that it was worthy of a red card," the World Rugby statement said.
World Rugby upheld the on-field red card, and agreed that there was contact to the head. "This resulted in a starting point of a six-week suspension," the statement continued.
"Having acknowledged mitigating factors including the player's expression of remorse, his conduct at the hearing, and the fact that he has been taking active steps to ensure that his on field aggression was appropriately controlled, the committee reduced the sanction by two weeks.
"However, it thereafter required to consider the player's previous dismissals, and in that regard the committee added one week."
Speaking on Monday's OTB AM, Quinlan was shocked by the reduction of the ban and the overall length that Lavanini will be on the sidelines.
"That hit on Cian Healy, I don't know what other people think, I thought it was terrible," Quinlan said. "It was absolutely terrible.
"I know players can get caught and show people flying into rucks and stuff like that and hit players and get red cards. I just thought that was a really cynical, nasty challenge.
"He was on his knees. It could have resulted in a really serious injury for Cian Healy."
Quinlan was not targeting Lavanini. However he does believe that his previous record speaks for itself and should not be overlooked.
"I have nothing against Tomas Lavanini, per se," Quinlan said. "I don't know the guy. I've watched him play and I think his aggression is a real issue.
"Backed up with that aggression, he is absolutely huge. He's a very, very strong fella. I just thought the challenge was terrible, and for a player to get five weeks for that is wrong."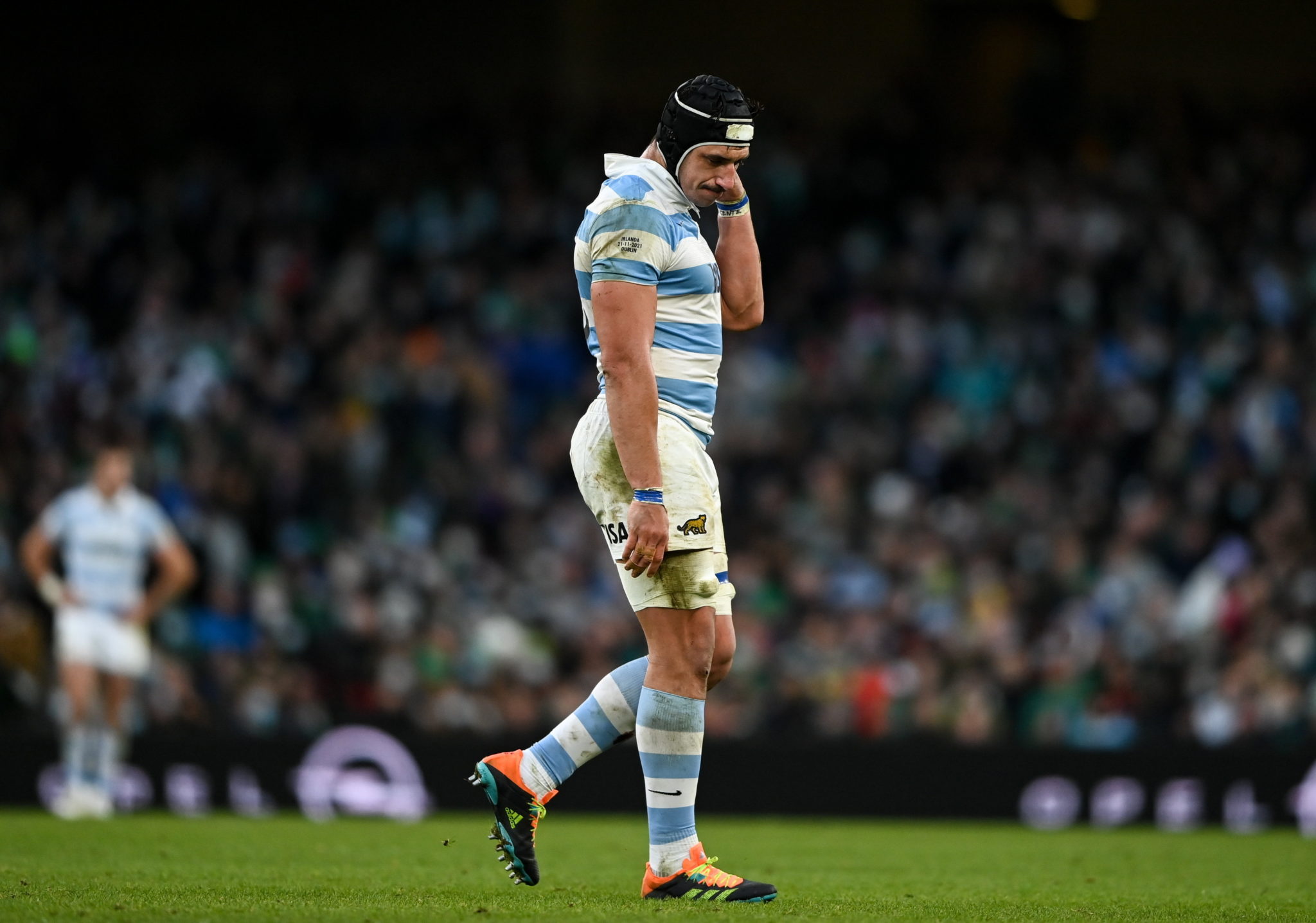 People should be talking about Lavanini
Aside from the duration of the suspension, what has surprised Quinlan the most is the fact that so few people are even talking about it.
"It has kind of been swept under the carpet," Quinlan said. "It hasn't been picked up, people are not discussing it. There are so many podcasts out there and rugby analysis, and I am surprised that this hasn't been spoken about more.
"I think the challenge was absolutely sickening. He's got three red cards at international level. They've given him six weeks, a mid-point entry and take a week off.
"He potentially gets another week off if he partakes in a World Rugby course, he'll get down to four weeks. I just think for those actions it should have been minimum 12 weeks.
"The player needs to learn himself."
For Quinlan, the mitigating circumstances that reduced the already short sanction is very confusing, He does not believe that a player's conduct in a hearing should have any affect on the length of their ban.
"It was a really bad sanction," Quinlan said. "It was a really poor sanction for an incident like that. I just think it is wrong.
"They challenged it. They said that it wasn't a red card. This is absolute bullshit that you hear their good behaviour and the way that they presented themselves at the hearing.
"What has that got to do with anything? You get mitigation for that? It is baffling to be honest."
Quinlan was no stranger to the citing commissioner during his playing days. He missed the 2009 British and Irish Lions tour because he was sitting a suspension for eye-gouging against then-Leinster captain Leo Cullen.
While he acknowledged that people might point out the irony of him calling for a longer suspension, Quinlan feels that Lavanini should be on the sidelines for a lot longer than he will be.
"People will say pot-kettle with me," Quinlan said. "I just think that is an incident that can seriously injure somebody, and because of what has happened before, and his record, it should have been a lot more."
Download the brand new OffTheBall App in the Play Store & App Store right now! We've got you covered!
Subscribe to OffTheBall's YouTube channel for more videos, like us on Facebook or follow us on Twitter for the latest sporting news and content.