Ireland rugby legend Brian O'Driscoll believes that the Lions will have to take more risks in their offence if they wish to make history against South Africa in their final test match. 
The Springboks overcame a first-half deficit to bulldoze their way to a comfortable 27-9 victory over the Lions in the second test match. Now with one test apiece, Saturday's game will ultimately decide the test series.
O'Driscoll, who has been part of the OTB commentary team for the Lions series, spoke with Nathan Murphy about the Lions needing one last trick up their sleeve to claim victory.
"I do think it's going to be very close. I was very negative after the second half last weekend. I thought there was a huge momentum shift from South Africa," O'Driscoll says.
"They have another game under their belt. The wave and magnitude, the game plan, and the way they put us to the sword, just felt like it made it men against boys for 20-25 minutes of that second half." O'Driscoll says.
"Rugby is a momentum game and it's very hard to shift a ball rolling down a hill. I don't fancy the Lions but I do fancy it to go right to the wire" O'Driscoll continued.
Tries win games
One of the things missing from the Lions last two matches has been putting tries on the scoreboard. O'Driscoll highlighted that the Lions have only scored one try in the first two games, something they will need to up the ante if they are to get a result in Cape Town.
South Africa will be without Faf De Klerk for Saturday's game – whose presence in the test series so far has been pivotal in sussing out Lions' attack.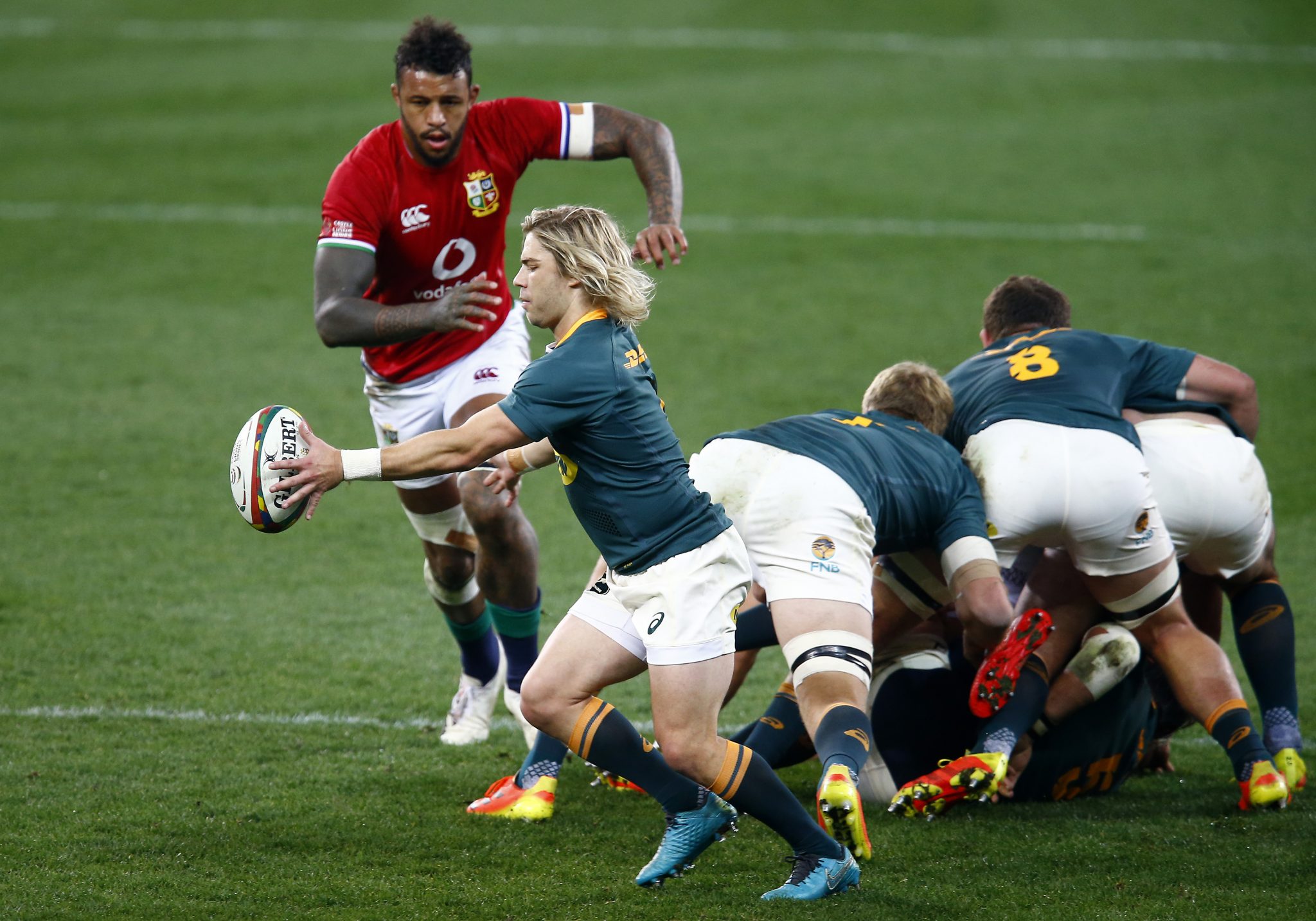 Risk risk risk!
O'Driscoll also pointed out the need to take more chances when carving out chances this Saturday. The Lions so far have been criticised back home for their stagnant and ponderous build-up. Something O'Driscoll feels the Lions need to shake off.
"I do think there will be more edge to be got and be willing to throw the pass on the line and risk the occasional intercept. That's the reality of it you have to break and blitz defences, occasionally you might be picked off because it's such a fine line between a clear line break and seven points up the other end," O'Driscoll says.
"But I do feel like they're risks the Lions are going to have to take. We've realized we're not gonna win in an arm wrestle, or the kicking contest, so they will have to try and find space on the edges. That's through ball in hand."
"This is a Lions test series in the balance and there's one big 80-minute performance left in them. I think they had a slightly inflated view of where they were at with those provincial teams they played, got a bit of a wake-up call against South Africa A, turned it on in the first test and got their comeuppance in the second.
"It's all equally who can churn out the best performance on tour," O'Driscoll concluded.
Aki and Henshaw start in the centre
Meanwhile, Ireland's Bundee Aki and Robbie Henshaw will start at inside and outside centre respectively. Henshaw shifts to 13 for the first time and has been praised for his individual contribution in the test series so far.
Catch every moment of the British and Irish Lions series on Off The Ball, with live commentary from the likes of Brian O'Driscoll, Ronan O'Gara, Keith Wood, Alan Quinlan and more throughout the test series.
The 2021 British & Irish Lions Tour on OTB Sports with Vodafone. Lead Partner of the British and Irish Lions
Download the British & Irish Lions App, Powered by Vodafone, to stay connected to the Lions this summer
Download the brand new OffTheBall App in the Play Store & App Store right now! We've got you covered!
Subscribe to OffTheBall's YouTube channel for more videos, like us on Facebook or follow us on Twitter for the latest sporting news and content.