Manu Tuilagi's red card shouldn't distract from his overall performance against Wales. The English centre plays a style of rugby that Ireland are lacking and that has propelled England to be the most physically-intimidating outfit in the northern hemisphere.
Baseball is the only sport in the world where the defence holds possession. Batters hit home runs by connecting with pitches but that's the only contact they ever have with the ball. Rugby is fundamentally different in that you have to hold possession to score. Scoring and attacking are two different things though. More and more, attacking is becoming about playing without the ball rather than with it.
Rugby is a game of momentum. If you can stop your opponent's, everything starts to move backwards. If you generate forward momentum, everything starts to move forwards. That's why winning collisions is so important. As Stuart Lancaster said to Off The Ball's Ger Gilroy in a recent interview, the professional era has improved defensive play to no end.
Line speed, restart exits and dominant tackles are now parts of rugby's lexicon. Wales scored a try from their own 22 off a restart on Sunday, a very rare occurrence in the modern era of the sport. The majority of teams won't run the ball from their 22s anymore. Scoring from that far out is highly unlikely, so it makes more sense to play for territory and kick the ball clear.
The improvements that Lancaster spoke about were mostly tactical. They emanate from the coach. Positioning in the defensive line, when to compete at the breakdown and the approach to set pieces are all determined by the coach. Players have a greater responsibility when it comes to tackling technique.
As the world cup reminded us, tackle location and wrapping technique is vital for a successful tackle in rugby. Unlike the NFL, where players can legally torpedo into one another, rugby has a real safety element to its rules.
But anyone who has played rugby at any level understands that you can't execute a perfect technical tackle in every situation. Manu Tuilagi was sent off on Sunday against Wales for a reckless hit on George North. Tuilagi wasn't in a good position to start with. He was trying to prevent a try but to reach North he had to dive into the contact. He dove in with his shoulder leading into North's head. Not wrapping is a staple of Tualagi's game. He seeks out dominant, momentum stopping hits that force the ball-carrier backwards.
In the absence of Billy and Mako Vunipola, Tuilagi and Maro Itoje have stepped up to increase England's physicality. They have propelled the team to outstanding performances since the France loss.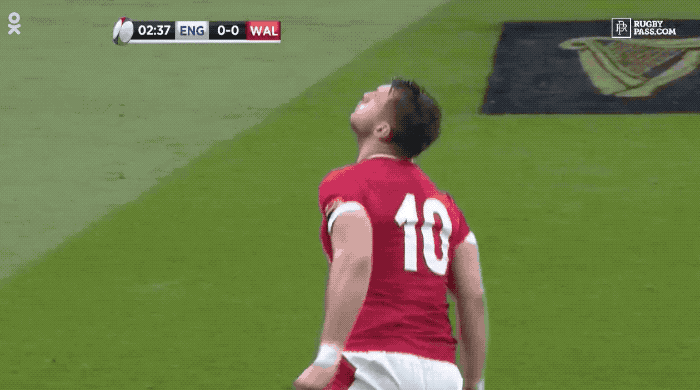 Tuilagi lives on the line of legality at the tackle point. This play comes at the very start of the game. Wales kicked off into the England 22. England exited to Dan Bigger near midfield. Tuilagi showed great awareness and athleticism to time his arrival so that he could immediately hit the Welsh out-half. This was a legal, double-team hit with teammate Tom Curry.
When a tackler hits a ball carrier at full speed, the ball carrier can bounce away from the defender. That space makes it impossible for any wrapping action to occur. In this contact, Tualagi leads with his shoulder and never looks to make a wrapping tackle. He throws his left shoulder into Biggar to blow him backwards. But the referee has no way of seeing this because his arms are wide and in front of him as he connects.
Tuilagi made a similar hit on C.J. Stander in the Ireland game.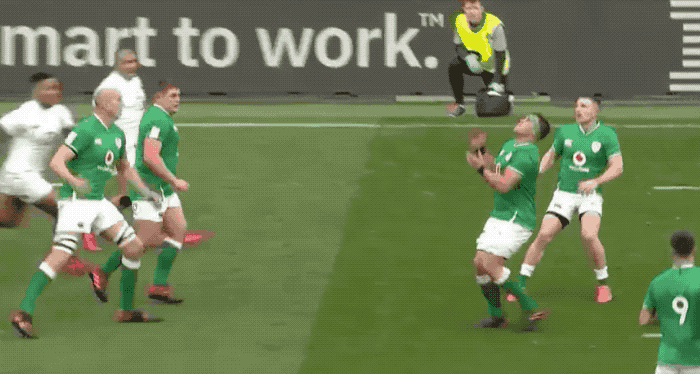 The difference between this hit and the prior one on Biggar is Tuilagi makes a legitimate attempt to wrap on this occasion. This is a perfect example of the bounce preventing a completed wrap tackle. Tuilagi rolling over Stander away from the ruck in one smooth motion highlights how he put his full body into the hit rather than concerning himself with completing the tackle.
Tuilagi's arms are functionally useless on both plays. The key difference is intent. He was never looking to tackle either player, he was looking to punish both. Both hits begin high, almost too high, and then drive upwards through the contact.
And that's exactly what he did. The Biggar hit is an illegal hit, but it's never likely to be called. From Tuilagi and England's perspective, there's no reason for him to not continue to tackle this way if the referee isn't going to pull him up on it.
Much of England's success over the last 12 months has come from pushing the offside line and being excessively physical at different points of contact. They've played to the line that different referees have given them. That's what good teams do. Force your hand forward and only retreat when it's slapped back. Eddie Jones and Owen Farrell, particularly Farrell, have framed themselves as victims of unfair refereeing to help keep officials from calling them on all their infractions. Farrell clinging to C.J. Stander's leg then crying for a penalty or Farrell aggressively pushing Biggar to the ground then crying for a penalty stand out in particular.
These are all elements of the "absolute brutality" that Eddie Jones promised before the tournament. It was late in arriving but now that it's here it's being led by Tuilagi.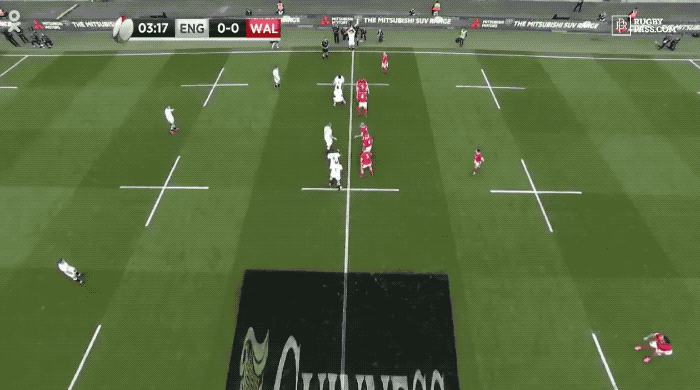 England's first try actually came when Wales disrupted an English lineout near midfield. Wales won possession, but the initial ball carriers rushed to send the ball wide. George North joined the line from deep. Crucially, Biggar turned over his right shoulder to throw the ball outside his left shoulder. As soon as Biggar turned, Tuilagi shuffled his feet to reposition himself so he could hit North square. This defensive read and movement was outstanding.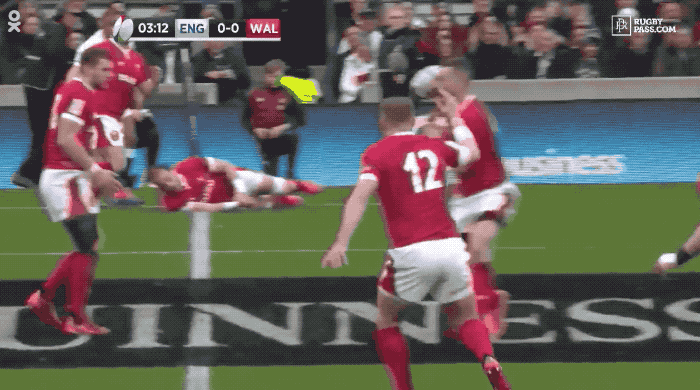 Bigger's movement as he passed the ball allowed Tualagi to line North up. The quality of his pass set North up to be abused. Tuilagi again hits shoulder height and drives up through the contact rather than flat. He's again punishing the ball carrier with his shoulder. This time there is a wrap attempt. It's an afterthought and it's low. It doesn't occur with the contact and his arms aren't out in front, this allows him to get a lower posture and generate more power into North's body.
It's another legal, violent hit. A dominant tackle that leads to a score.
England haven't been aggressive competing at rucks during this Six Nations. They don't commit bodies to the breakdown. Instead, they keep as many defenders in the defensive line as possible, aggressively chasing turnovers when the opportunity presents itself. This is important for Tuilagi and for generating dominant tackles. Having less space to cover allows him to shoot into contact without worrying about leaving space to either side.
Tuilagi missed Leigh Halfpenny in his own 22 on one occasion towards the end of the first half. He tried to lead with his shoulder in space when he needed to turn with the fullback to drag him down. Then he had the chance to slow Nick Tompkins down on Wales' try to start the second half but instead chose to obliterate the Saracens centre. That desire to punish his opponent meant the ball wasn't slowed and none of the trailing England defenders could recover.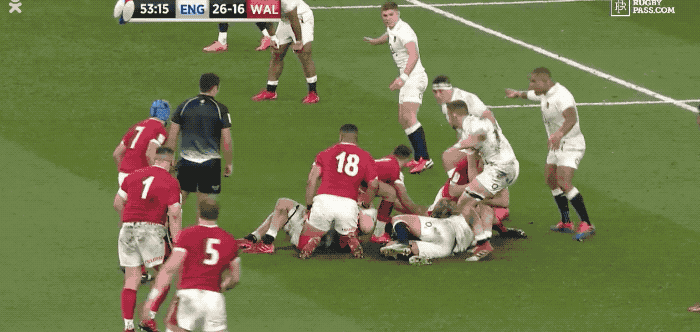 It's not a coincidence that typically sure-handed backs for both Wales and Ireland made multiple unforced errors with the ball against England. The intimidation factor that Tuilagi's style of play brings makes opponents uncomfortable. Take this play as an example. There's no need for Tuilagi to involve himself in the first tackle attempt. In fact, he is probably the reason the tackle fails. But that desire to be aggressive and blow the ball carrier backwards sets the tone for his teammates.
And again, you can see that style where Tuilagi starts near shoulder height and drives upwards. England won possession two phases later as Wales moved backwards.
Brian O'Driscoll has repeatedly spoken to Off The Ball about Ireland's lack of "dog" in their pack. He's repeatedly called on the name of Sean O'Brien as an example. O'Brien was a brutally physical player for Ireland. His physicality led to his body breaking down. Although he did it from the six spot rather than at 13, O'Brien and Tuilagi represented the same thing for their respective teams. Both toe the line of legality while offering absolute brutality in attack and defencei
England's physical dominance throughout this tournament has put them in position to win the Championship. It carried them to the World Cup Final four months ago. Until Ireland can front up to match that physicality, they won't have another competitive game with Eddie Jones' side. Tuilagi's red card and Joe Marler's incident will dominate the narrative of this game, but Ireland need to look past those moments to learn from a team that is simply better than they are right now.
In the past Munster churned out forward after forward who could match the brutality of a Tuilagi. They famously met and matched Sebastien Chabal during his prime in Thomond Park. Those players, along with O'Brien, made Ireland an intimidating forward pack. The current Ireland squad has more talent than any that preceded it. They need to unearth characters from the incoming classes of youngsters or get that tenacity from those already in the squad as they enter their primes.
While Ireland look to find the nastiness to match them, England are in pole position to win the Six Nations and Tuilagi is in position to be the player of the tournament.
Everyone's in the Team Of Us.
Vodafone. The Official Sponsor of the Irish Rugby Team.
Subscribe to Off The Ball's YouTube channel for more videos, like us on Facebook or follow us on Twitter for the latest sporting news and content.