An undermanned Munster travelled to Racing 92 in hope more than expectation. The end result suggests they never had a chance, but the game was much tighter than it appeared thanks to some great defensive play from Johann Van Graan's side.
The 39-22 scoreline flattered Racing 92 in the end.
Racing were the better team. Without Joey Carbery and Taidgh Beirne, Munster just didn't have the depth through their starting 15 or their extended squad to stick with Racing. Racing were missing both ex-Munster men in Simon Zebo and Donnacha Ryan. It didn't slow them down. They still had enough individual star power to carry them to a bonus-point victory.
As Alan Quinlan noted this week on Off The Ball AM, many of Munster's players simply aren't good enough. That's exposed further when you're missing the likes of Carbery and Beirne with David Kilcoyne only recently coming back off of injury. Munster will be much better suited to win this game next year when the squad is bolstered by the additions of Damian De Allende and RG Snyman.
De Allende and Snyman will be important additions in the future but Munster's season isn't over just yet. Munster need to get a bonus-point win against Ospreys, have Racing beat Saracens then scoreboard watch in other games to sneak into the knockout stages.
Munster built a nine-point lead in the first half through three penalties. Layering David Kilcoyne's carries on top of C.J. Stander's gave the Munster attack an ability to generate front-foot ball from multiple points. That allowed them to create space and change the point of attack repeatedly to keep Racing on the back foot. It also made it easier for Jean Kleyn and Niall Scannell to have impact carries during second phases.
One of those penalties came about because of a knock-on by Racing after a quick lineout.
That knock-on was an unforced error but it was generated by a perfect clearance kick from Mike Haley. Finn Russell kicked a lot throughout this game. He was forced to by Munster's discipline in how they set up defensively. Here, Russell recognizes Keith Earls coming forward so he pushes the ball in behind the defensive line. Haley reads it well but is in a tough spot when he gets to the ball.
From this position, you'd typically expect the fullback to hopefully reach his own 10-meter line. Haley reaches the opposition's 10-meter line, a great clearance kick. It's arguably too far because Racing can play it quickly, but even without the knock-on, Munster's defensive line had put in a good chase to contain any run back.
Munster won the penalty from the sequence that followed.
On the 12-minute mark, Munster showcased one of the best defensive sequences you're likely to see all season. Let's break it up into three phases.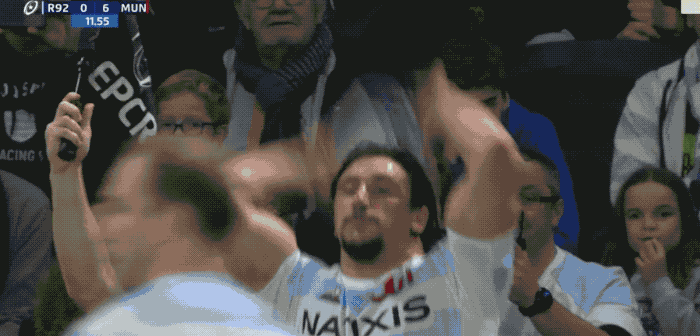 Racing have a lineout in an attacking position, just outside the Munster 22. Despite contesting the lineout with a jumper at the front, Munster's initial maul defence holds up very well. Racing set their maul up quickly but don't generate any forward momentum. When they peel off the initial point of contact, they still fail to move forward. Munster were able to stop the first drive without selling out, which let them reset and stop the second drive just as effectively.
#7 Jack O'Donoghue and #3 Stephen Archer control the second maul attempt. Archer is the anchor while O'Donoghue can be seen fighting through the middle so that he eventually forces his way to the ball.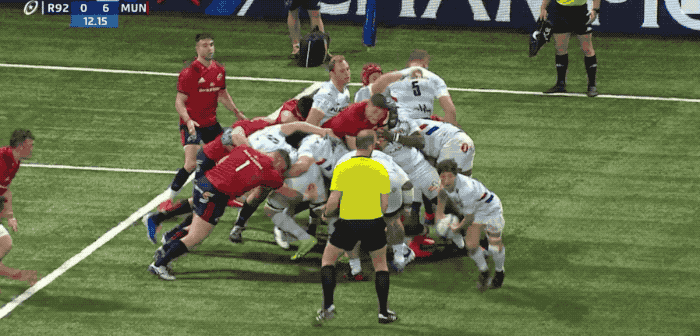 Since the maul was stopped in its tracks without drawing in defenders, Munster's defensive line is organized and full of bodies. Rory Scannell shoots up to hit the outside shoulder of the first receiver, forcing the ball carrier back into his pack. The ball is slowed up coming out of the tackle, allowing the Munster line to reset again. This time David Kilcoyne shoots up the way Scannell had previously.
The first two phases are contained and any momentum Racing were going to generate or any set-piece move they were going to execute was stopped before it could start.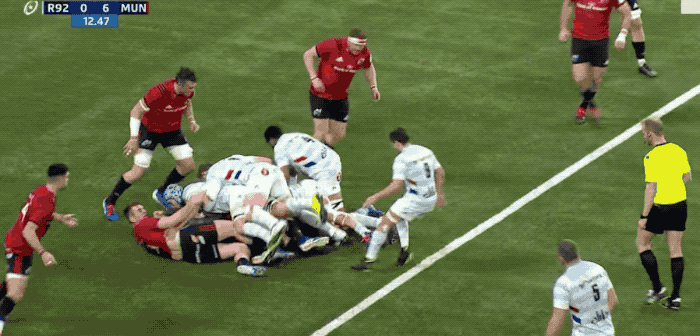 Racing worked the ball to the left side, but they had nowhere to go because Munster's line was set. Munster slowed the ball at the ruck without overcommitting bodies to it. When Racing tried to recycle the ball and move back to the right side, the numbers advantage was with the defence and the knock-on came when Racing tried to get creative from an uncomfortable starting point.
For the first hour of this game, it was rare that Musnter were out of position in defence.
Finn Russell is noted for his ability to create as a ball carrier from the first receiver spot. He's a creative kicker too but he doesn't typically kick for territory as often as he did in this game. It was a reflection of how well Munster were setting up that he was forced to put the ball in behind instead of engaging his talented attackers outside. Eventually, Russell found a way to unlock the Munster defensive setup.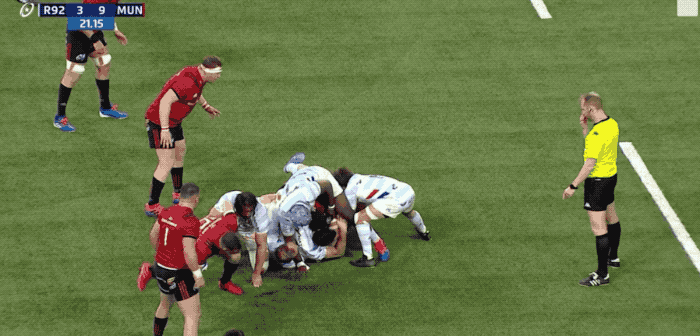 This time beginning from midfield, Keith Earls is in a deep position on the left-wing. The line speed of the initial defenders for Munster is fast, so Russell is able to chip the ball into space perfectly for his outside centre to recover. The ball bounces perfectly for Virimi Vakatawa, who hits it at speed. He hands off one defender but has two more between him and the try line.
Vakatawa is an extremely difficult player to take down one-on-one in the open field at full speed. Mike Haley took the wrong angle to the ball carrier, meaning Andrew Conway was left alone to bring him down.
Conway executes a perfect form tackle to get Vakatawa to ground quickly. Such is the talent of Vakatawa that he is looking for the offload as he's being tackled. The ball is popped up for his support runner, who moves the ball to the outside. Hooker Niall Scannell had been part of the initial ruck that set up Russell's chip. He kept working to get back involved in the play. He got onside for the ruck then came forward to win the ball on the ground. Munster cleared their lines from there.
There's no argument that Munster are slower than they need to be as a team. One player at the centre of that is the ageing Peter O'Mahony.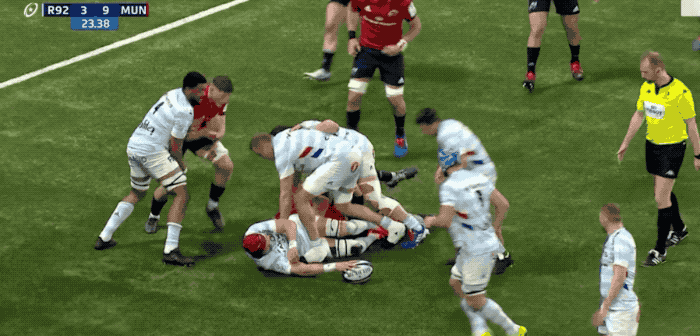 O'Mahony isn't certain of his starting spot for Ireland anymore. He's facing massive competition from Rhys Ruddock, with Will Connors waiting in the wings too. C.J. Stander and Max Deegan can also play six if they suit Andy Farrell better. But this game was a reminder of just how valuable O'Mahony can still be. He provided some value as a ball carrier in attack, most notably with two carries when he was found lingering on the left-wing.
More importantly, he was excellent disrupting the Racing lineout and made this try-saving tackle. O'Mahony tracked Finn Russell across the field in a fair sprint, winning the penalty for Munster to clear their lines.
Vakatawa had forced the ball into broken play by running across the field, drawing in O'Mahony's less patient teammates before offloading to Russell. O'Mahony recognized it and recovered when his teammate outside had to respect Teddy Thomas' width. Broken play would lead to Racing's first try. Teddy Iribaren's audacious pass coming with penalty advantage to put Thomas over the line.
That play didn't break the Munster spirit. They continued to play well until the final quarter of the game when starters got tired and the bench came on to be outclassed. For more than a moment, Andrew Conway's intercept try afforded the travelling fans a chance to believe.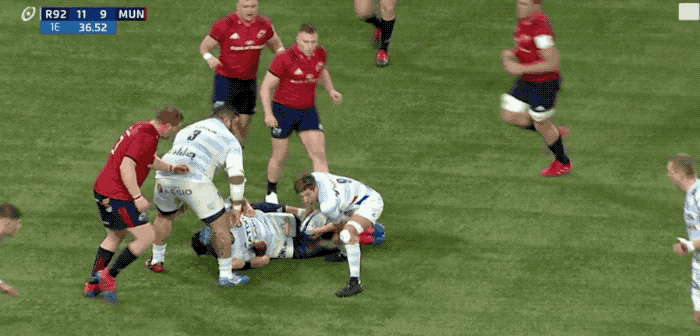 Russell unlocks the Munster defensive line with a smart inside pass off first receiver. Winger Juan Imhoff almost escapes Haley, but the fullback is able to corral him. Quick ball lets Racing attack before Munster can organize and get the right numbers to the wide side of the field. Andrew Conway is trapped in a difficult spot. Racing have three defenders working against him once Conor Murray steps inside.
Conway is fortunate here that the Racing player misses the pass. He's too relaxed with the ball, not reading the situation properly. But Conway had to make a quick decision and he made the right one. It's not just that the ball found its way into his hands, it's that he set himself up with the best chance of stopping the play. He was in the passing lane understanding that the inside man would be caught by the Munster defensive line flowing to the sideline.
The danger was in letting the ball get to the man directly across from Conway, because then there would be a quick two-on-one that he couldn't prevent.
Preventing the two-on-one outside was Conway's responsibility. The intercept and return to score was a nice extra.
The reality of the first half was that Munster were playing outstanding defence and kicking penalties in the hopes of winning a tight game. It was clear that Racing possessed the better athletes and more creative individual players. It's how they eventually pushed their way out to a lead and finished the game with 39 points.
Everyone's in the Team Of Us.
Vodafone. The Official Sponsor of the Irish Rugby Team.
Subscribe to Off The Ball's YouTube channel for more videos, like us on Facebook or follow us on Twitter for the latest sporting news and content.