The second test of the 2009 British and Irish Lions tour of South Africa is widely considered as one of the most physical test of the professional era.
However, it was in the first test that former Lions captain Brian O'Driscoll came face to face with Bismarck du Plessis, and was almost given a split lip for his trouble.
Just before half time, with the Lions trailing by 12 points, an altercation between O'Driscoll and Du Plessis saw the Springbok hooker standing over the Irish captain with his arm cocked and ready to punch.
O'Driscoll remembers this altercation as a microcosm of the wider physicality and aggression of that 2009 tour.
Speaking on Off The Ball's Classic Games Club, O'Driscoll recalled what went through his mind as Du Plessis towered over him.
"I remember specifically thinking, 'do I blow him a kiss?' on the ground," O'Driscoll said. "All he was trying to do was get you to wince.
"I probably did; I had a little jolt. You see a fist over your head, and he motions to dig you, you are going to jolt a bit.
"It was all of those small little wins. If you watch over the course of the test series, there are so many of those.
"Victor [Matfield] came in when the whistle had gone game in and tackled Mike Phillips and threw him to the ground, and then goes to the referee, 'oh, sorry I didn't hear you!'
"It was all of these moments of aggression that goes to reinforce that physicality and what they were doing, and how they were coming at you. It is how they live and breathe."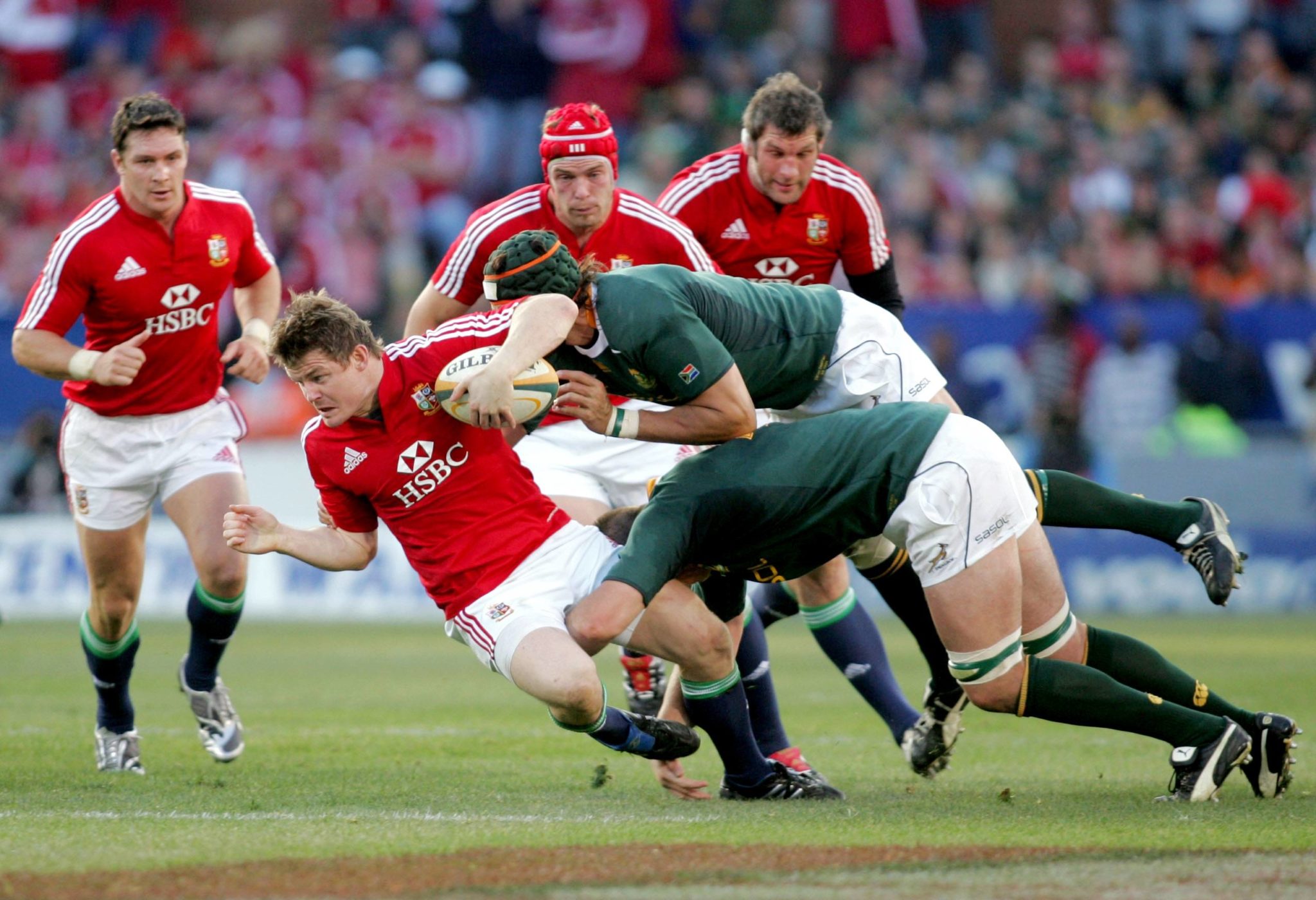 The Springboks can't win any other way
The physicality and aggression in the Springboks throughout that test series was an example of how the South Africans have played in all of their successful matches, according to O'Driscoll.
"It is their way," O'Driscoll said. "They have always been [like that], it is what they live and breathe by.
"It is what motivates them, it is what drives them, and it is what they get their sense of momentum from; just getting that physical game.
"They have never played any other game other than that. When they have been successful, they have excelled at that.
"When they have been matched, or teams have gotten at least parity or gotten the better of them, they have crumbled.
"They have not had a second type of way to win, they just have not."
While he was fairly confident that Du Plessis was not going to take the shot, O'Driscoll could not be completely sure, and so he decided not to antagonise the big hooker.
"It is in '09, right, so it is not just a couple of years ago," O'Driscoll said. "There still was the occasional dig.
"So, you are thinking, 'there are lots of cameras, but you are not guaranteed for everything to be picked up'.
"I had come off the back of the tour previous four years, where the spear wasn't picked up by TV.
"So, you are kind of going, 'blow a kiss?' You are running the risk of protruding your lips and you get a split lip if he gets a dig.
"I just remember there was a lot of talk about 'no backwards step' that week."
The 2021 British & Irish Lions Tour on OTB Sports with Vodafone. Lead Partner of the British and Irish Lions
Download the British & Irish Lions App, Powered by Vodafone, to stay connected to the Lions this summer
Download the brand new OffTheBall App in the Play Store & App Store right now! We've got you covered!
Subscribe to OffTheBall's YouTube channel for more videos, like us on Facebook or follow us on Twitter for the latest sporting news and content.