Racing 92's Simon Zebo says he's having to play the waiting game in Paris. 
The former Munster back is living in a city on lockdown amid the COVID-19 pandemic and is still unsure about when he'll be back on a rugby pitch.
"We're obviously on full lockdown, you can feel it's something in the air - the people are very nervous and cautious," he told Today FM's Dermot & Dave.
Major sporting events in France are unlikely to go ahead - at least with fans present - until the start of September.
"The official lockdown in France ends on May 11", Zebo said on Monday morning.
"I think we were being slowly reintroduced to coming in in small groups - in twos and threes - after the 11th of May, just to do some medical screening and things like that, and slowly get the process back towards training.
"All going well we'd have apparently around six to eight weeks to train together as a team, and then either play a playoff or scrap it - holidays, and back into the following season."
Last week, the French National League (LNR) cancelled this season's semi-finals and final of the Top 14, set to be held in Nice in June and July.
Racing currently sit third in the Top 14, and did look set for a semi-final berth.
But as Zebo warned this morning, even if they can begin a slow return to training in the coming weeks, the return to play will be trickier, "If you're being rushed back into playing, and you're a second or half-a-second or a fraction away, a bad decision - that could be your career gone.
"Because you're putting your head, your neck, everything into big collisions and you need time to adjust your body to get back to that level.
"It will be interesting to see how they put the time span on everything and what goes ahead, but it will be the waiting game until then."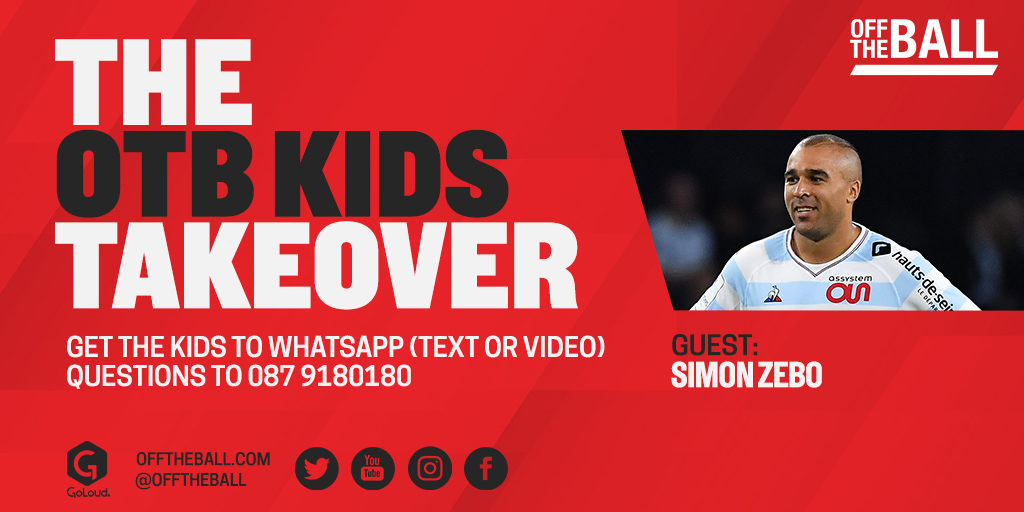 Racing's last top flight game came on February 29 with a 49-0 thrashing of Ronan O'Gara's La Rochelle.
Zebo says that result was indicative of the journey the Parisian side have been on this season, "We had a shaky enough start to the season with the World Cup and everything but the last couple of months we really put the foot down and we were looking very dangerous.
"Unfortunately for ROG, he had a visit to the La Defense Arena and it didn't go too well for them.
"They're obviously a smaller club, with a smaller budget, and they've been doing well - they beat us last year in the [Top 14] semi-finals, so they're well able to cause an upset but we owed them one."
Zebo will be the next participant in our OTB Kids Takeover. 
To get involved just video your kids asking Simon a question, the more ridiculous the better and WhatsApp it to 087 9180 180. Video is best for us but if the kids are a bit camera-shy you can send in your question accompanied by a photo.
Download the brand new OffTheBall App in the Play Store & App Store right now! We've got you covered!
Subscribe to OffTheBall's YouTube channel for more videos, like us on Facebook or follow us on Twitter for the latest sporting news and content.