Leinster looked to bounce back from a home defeat against Ulster last weekend as they hosted Connacht in the RDS on Friday night.
Connacht came into the match off the back of a big win over Ospreys in the Sportground a week earlier. They also would have been buoyed by their previous visit to the RDS, where they defeated Leinster by 11 points.
Leinster brought back a host of internationals for the encounter, however that did not help settle them early on. Connacht, on the other hand, looked a much more settled side in the opening minutes of the match.
Connacht scored the opening try out wide in the first 15 minutes, with Mack Hansen regathering a well-weighted kick from Jack Carty to touch down.
However, that score sparked Leinster into life. Rhys Ruddock put the hosts on the scoreboard a few minutes later, with Harry Byrne's boot putting them into the lead.
Both sides turned things up late in the first half, trading tries as Leinster took a seven-point half time lead thanks to a late winger-esque try from Dan Sheehan.
The second half, however, was a completely different story, as Leinster were dominant in all aspects of the game.
Tries for Jordan Larmour, Caelan Doris, Ryan Baird and Max Deegan put the game out of reach of Connacht, however Conor Oliver's score gave the away supporters some hope with 20 minutes left in the match.
However it was not to be as Leinster ran out 47-19 victors over Connacht at full time.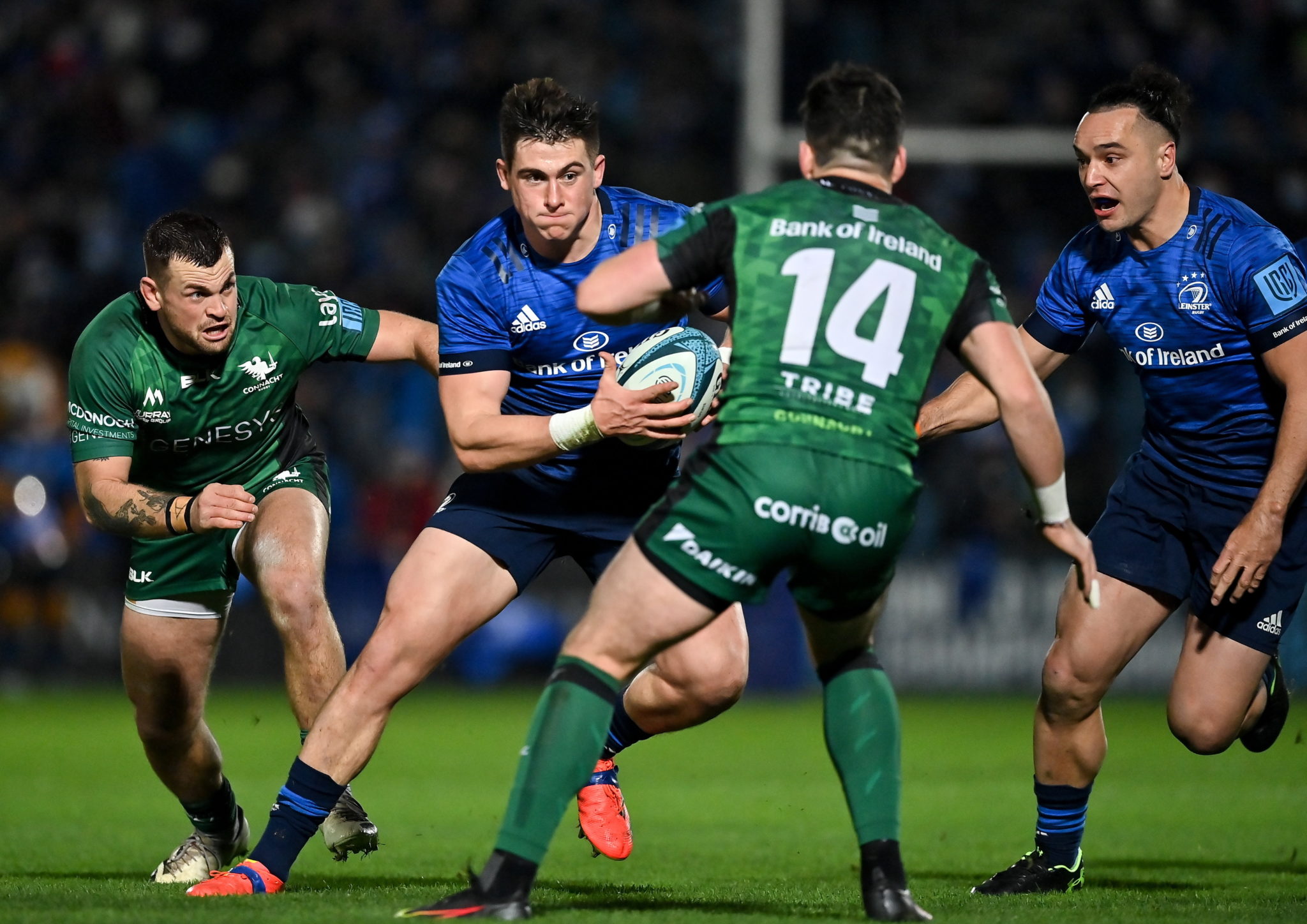 Leinster Player Ratings
Cian Healy 5/10
The Leinster scrum struggled early on, with Cian Healy being blown up on more than one occasion. While his reputation would not be tarnished by one average performance, the fact that Andrew Porter's first scrum was rewarded with a penalty where Healy only conceded them would prove to be the perfect analogy for his performance on the whole.
Dan Sheehan 8/10
Dan Sheehan has had an outstanding 2021, and his performance in the RDS on Friday was just the continuation of that. While he did not shirk the usual duties of a front rower, his 40m try late in the first half was the difference for his side. Mack Hansen will not want to watch the highlight reels after this match with that wicked sidestep.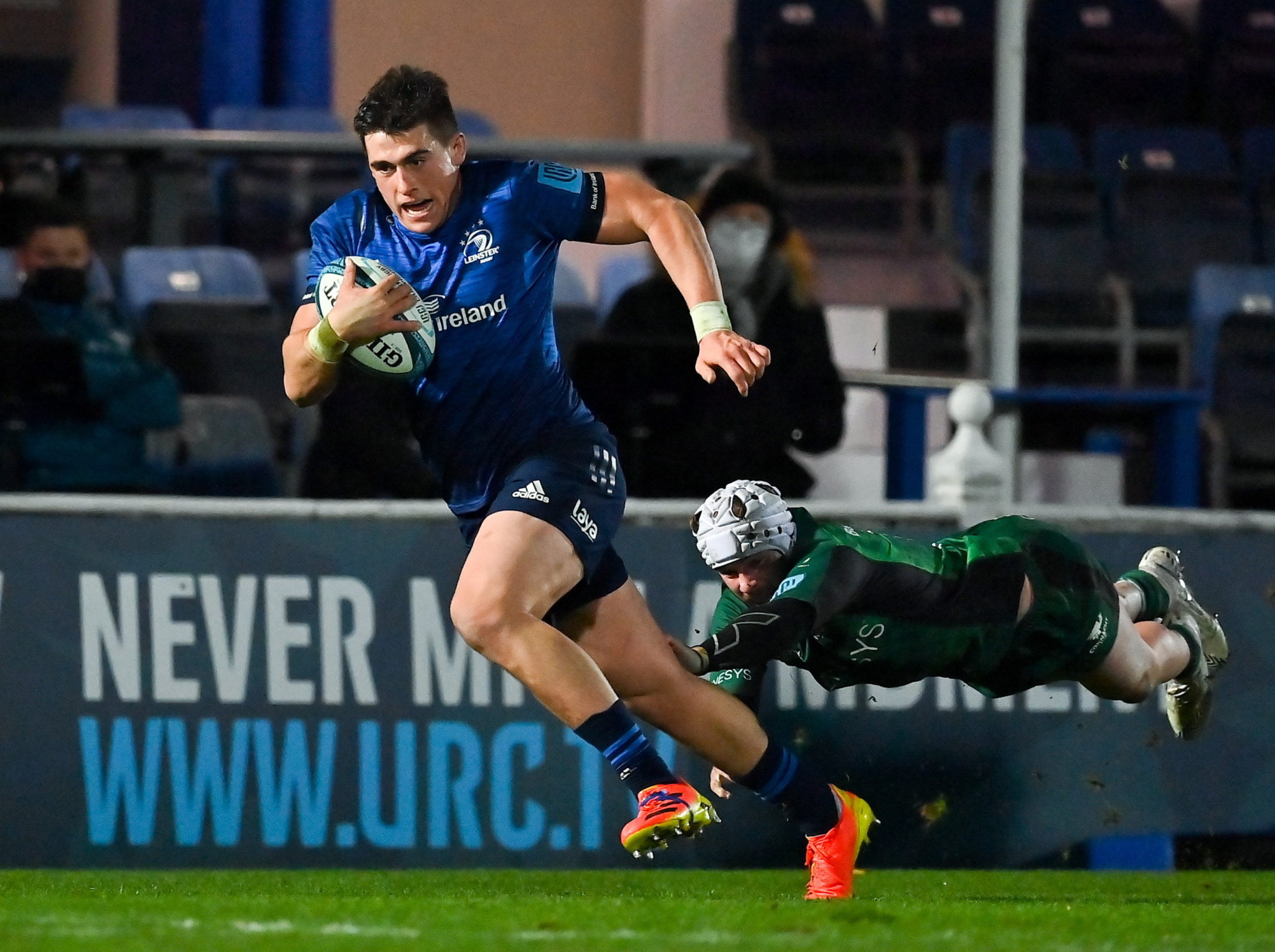 Mike Alaalatoa 7/10
Alaalatoa might not have been dominant with ball in hand, his 14 tackles and improved scrumming performance as the match wore on helped give the Australian a favourable rating.
Ryan Baird 8/10
Ryan Baird had a mixed match for the hosts, as his late intervention prevented what could have been a brilliant score for Connacht. He then took the game by the scruff of the neck to swing momentum in Leinster's favour, and was rewarded with a try for all of his efforts.
Devin Toner 6/10
Devin Toner would not be adding this match to his lit of favourites throughout his illustrious career, as he made little impact either way other than at the lineout. The touring veteran was yet again a force in the air.
Rhys Ruddock 8/10
It took the majority of the Leinster contingent a while to get into the match, however once Ruddock woke up, he put together a very strong performance. He looked like a threat with ball in hand, and opened up space for players out wide, but also put in the hard yards in the dirt to score a try of his own.
Josh van der Flier 8/10
It is difficult to pick a best of the back three for Leinster, as Ruddock, Josh van der Flier and Caelan Doris were all in top form as the match swayed in favour of the hosts. He was announced as the official player of the match, however it could have easily gone to any of the loose trio on the winning side.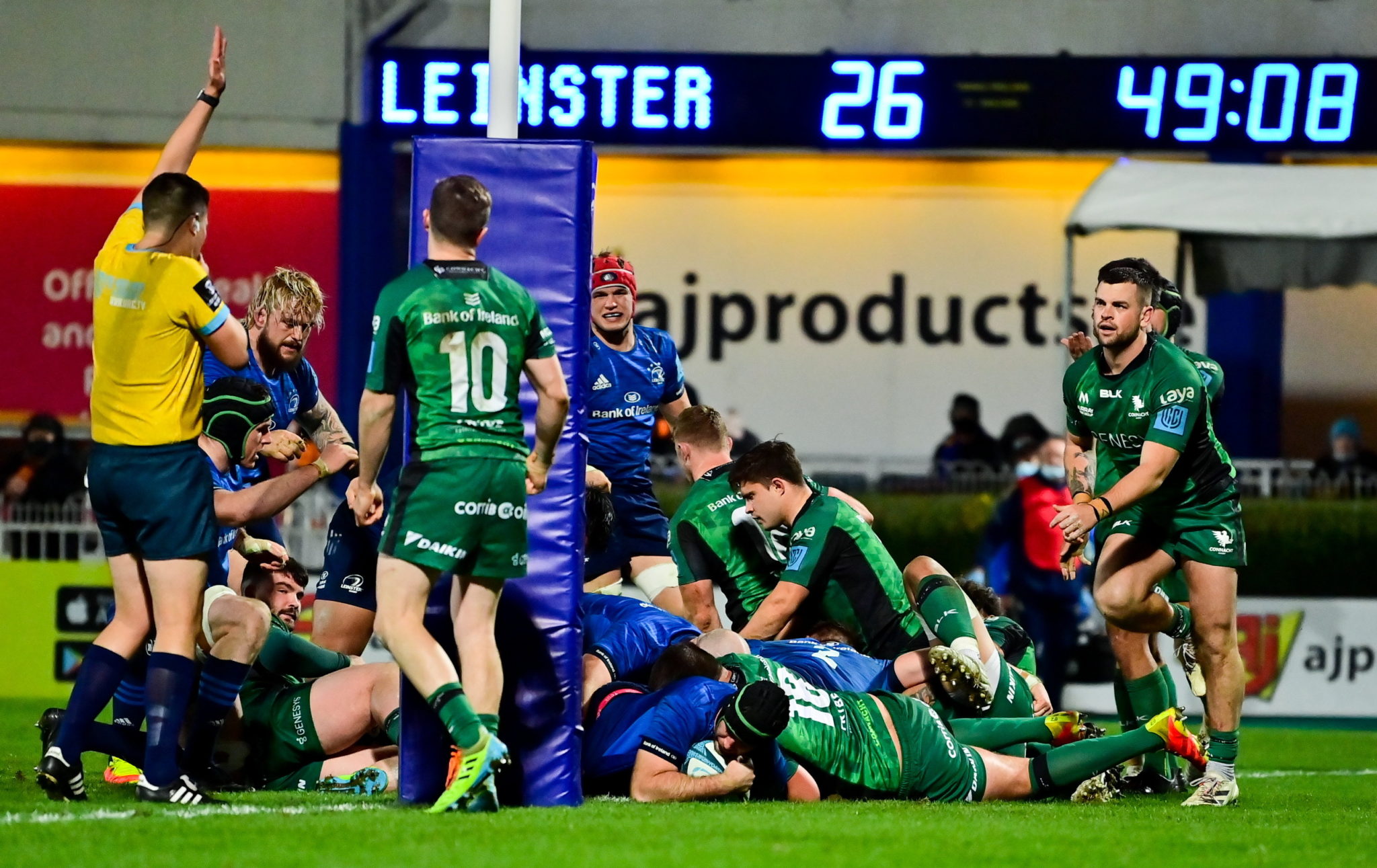 Caelan Doris 8/10
Caelan Doris ran off the pitch looking as if he'd gone ten rounds against Mike Tyson... and won. He was involved in everything for the hosts, particularly in their resurgence in the second half, and was rewarded for his hard work with a well-earned try.
Luke McGrath 6.5/10
While this performance will not earn him a recall to the national side, Luke McGrath showed in glimpses that he does have the capability to be a world class scrum half. However, those glimpses were flashes in a pan, as even when his side were dominant at the breakdown, he struggled to get the ball out as quickly as one would expect and want.
Harry Byrne 6.5/10
While Harry Byrne seems to have leapfrogged his brother Ross in the eyes of Andy Farrell, Leo Cullen is not one to gift the younger Byrne too many starts until he earns his starting place. Byrne made a good account of himself, but still struggled to grab the headlines throughout most of the game.
James Lowe 7.5/10
While James Lowe's attacking prowess is well-known, it was his defensive efforts against Connacht that stood out, for all of the right reasons for once. He made the correct defensive read late in the first half to prevent what looked like a try-scoring chance, and was difficult to beat out wide for the remainder of the match.
Robbie Henshaw 6/10
Robbie Henshaw is still returning from a long injury layoff, however if you compared his performance tonight with any other centre you wouldn't have known that. However, because we know what Henshaw is capable of at his best, his solid performance in blue against Connacht was still somewhat disappointing for the Irish centre.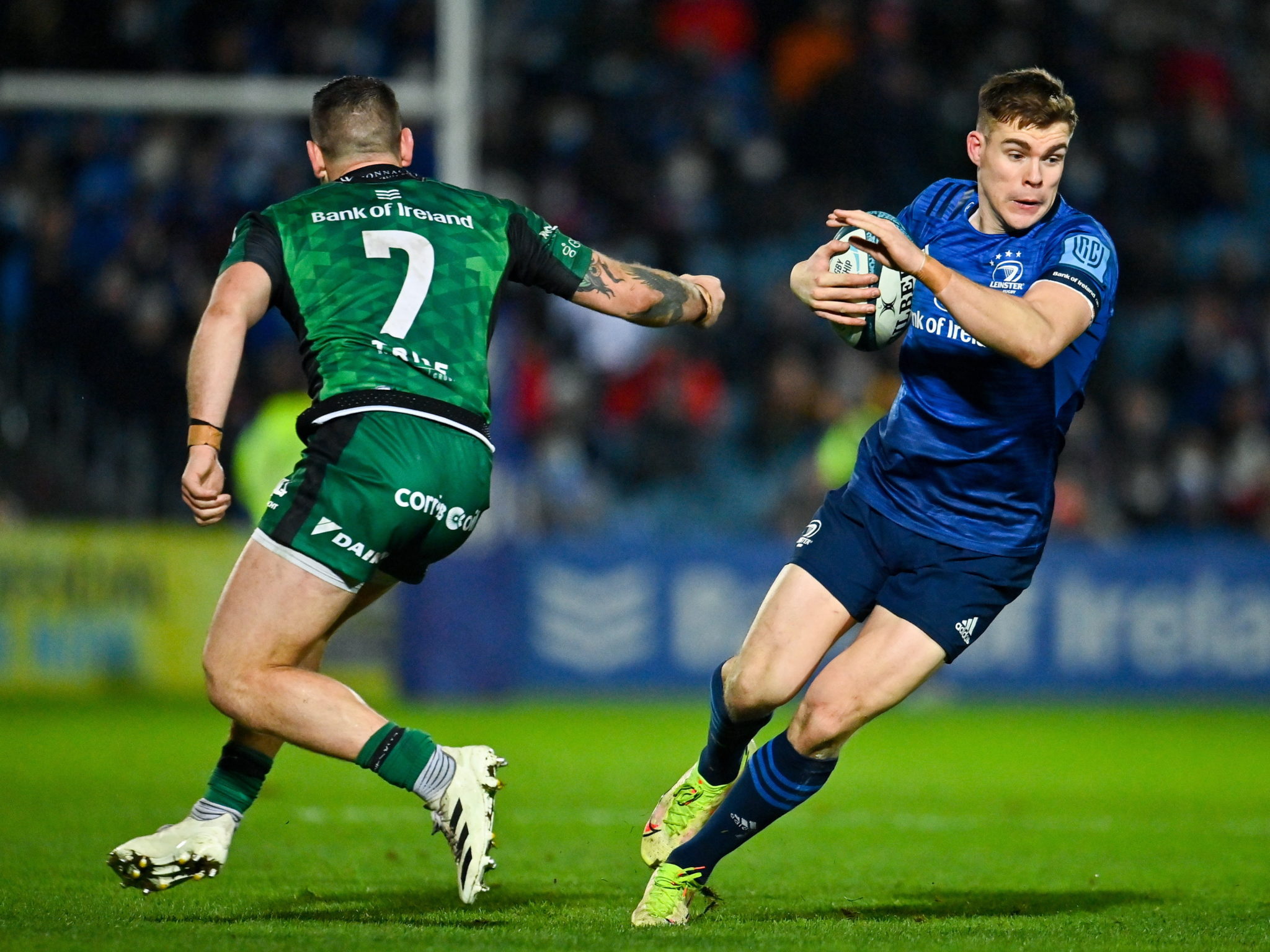 Garry Ringrose 7/10
Like Henshaw, Garry Ringrose had a solid performance rather than an outstanding one. He was instrumental in putting Jordan Larmour into space for his try in the second half, and scored a brilliant one of his own, however Leinster were missing his spark for a lot of the match.
Jordan Larmour 6.5/10
Jordan Larmour needed a strong match to boost his confidence again, and while his first half performance was average at best, it was a try early in the second half that ignited the winger.
Hugo Keenan 7/10
Hugo Keenan is human. While it was never seen before Friday night, the Irish fullback finally showed that he was able to make an error at the back against Connacht. His overall performance was still up there with his consistent norm, but there were a few errors creeping into the usually metronomic 25-year-old.
O'DRISCOLL: "WE HAVE TO BEAT THEM WITH A BIT OF INTELLIGENCE" 
Connacht Player Ratings
Matthew Burke 6.5/10
While the majority of the scrums were dominated by Bealham on the other side, Burke's involvement in bossing the Leinster front row in the first cannot be overlooked. He also carried well, but was not as active on defence as he should have been.
Dave Heffernan 7.5/10
Dave Heffernan quietly had a very good game, just short of being a great game. He went about his business without too much fanfare, but his work in the tight phases as well as his defensive shifts were above the average for his side. He was quick over the ball at ruck time, and made one of the highest number of tackles for his side throughout the game as well.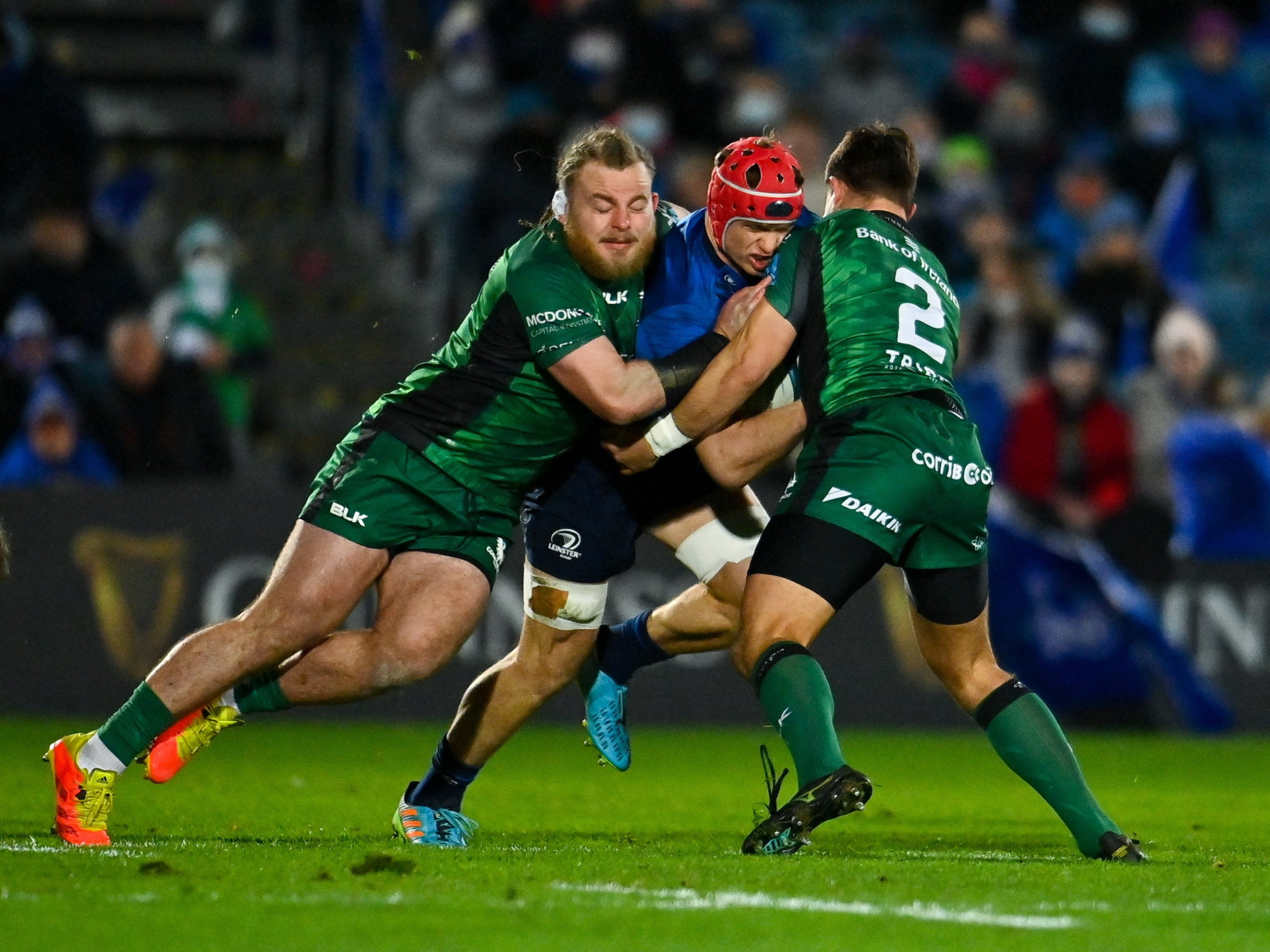 Finlay Bealham 7/10
The corn-rowed front rower made a statement louder than his hairstyle against Leinster, as not only did he front up at scrum time against one of the best in the game, he also added his bulk to Connacht attack on the gainline. Bealham's absence was felt the second he left the pitch, as the very next scrum went the way of Leinster, and the floodgates began to open.
Leva Fifita 6.5/10
The Tongan international carried the ball well and added some much needed strength to the Connacht pack, however his discipline let him down on a few occasions, and his presence in the lineout was not what it needs to be.
Ultan Dillane 5.5/10
Ultan Dillane was quite anonymous in what would prove to be a difficult night for Connacht, as he struggled against the Leisnter lineout and was not able to make a mark on defence. Dillane slipped too many tackles for the amount that he made and made almost no impact with ball in hand either.
Eoghan Masterson 6/10
Going up against the well-balanced and dangerous Leinster back three, Masterson needed to make a bigger impact in the dark arts areas of the pitch than he ultimately made, which allowed Leinster to dominate the second half.
Conor Oliver 6.5/10
Similarly to Masterson, Oliver would want to do more at the breakdown, particularly in the second half, which would prove to be the big diference between the two sides. However, he did score a great try, which put him above Masterson in terms of ratings.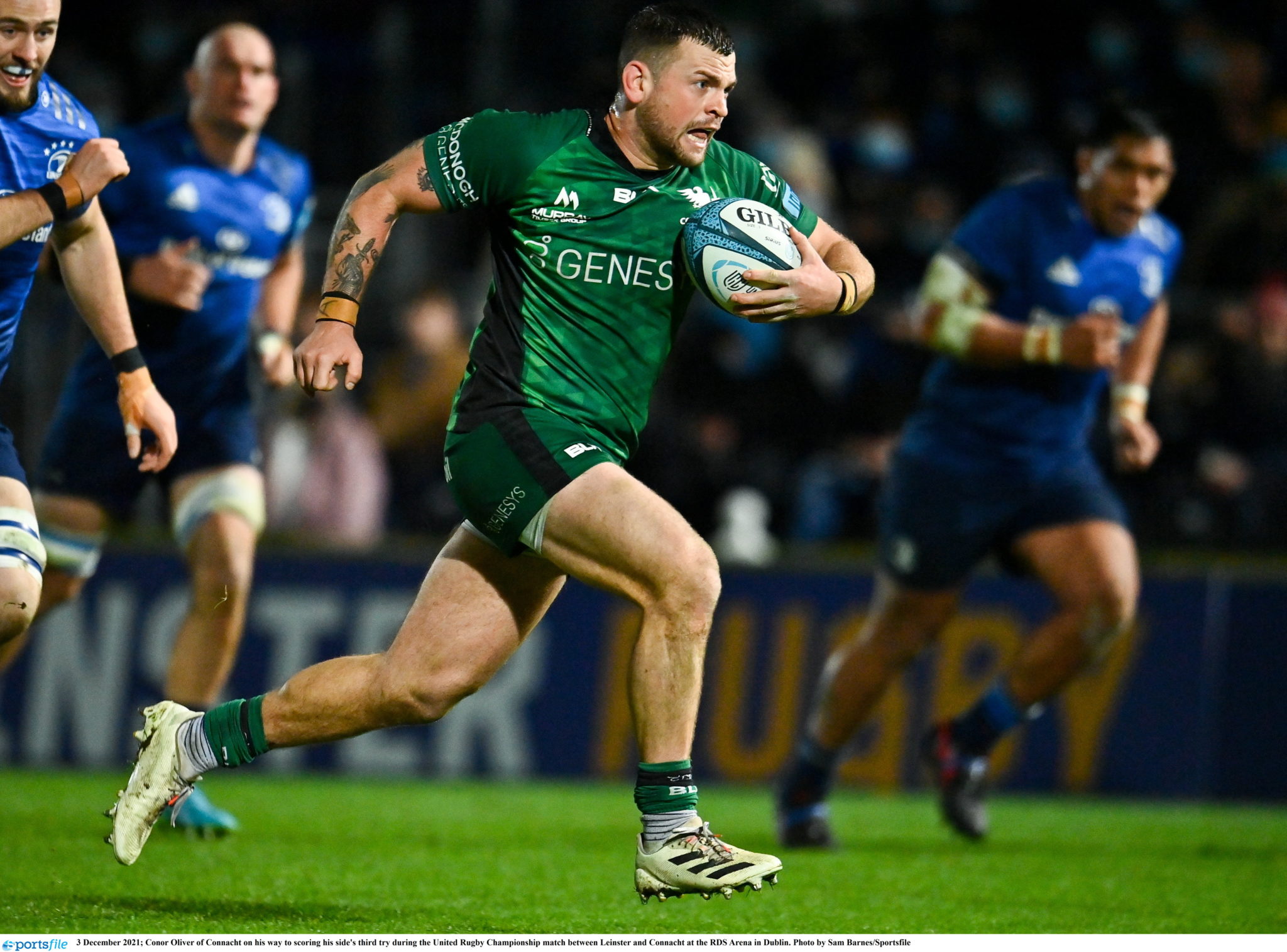 Jarrad Butler 7/10
Butler was the pick of the Connacht back three as he was the only one to make over 20 metres on attack while also putting together a decent number of tackles. He put in a great effort throughout the match, popping up all over the field, however he was outshone by the three Leinster looises.
Kieran Marmion 6.5/10
Marmion started the game off like a house on fire, however that was likely due to his pack being on the front foot for the majority of the first half. He looked to get on the front foot with every possession, and even made a good break and a half from the base of the ruck, however when Connacht lost the run of the ruck, Marmion was all but taken out of the game.
Jack Carty 7/10
Jack Carty up against Harry Byrne went about the same as Carty against Joey Carbery: the Connacht outhalf was the clear winner. Carty attacked the gainline and put in some clever kicks, even if one or two of them did not come off the way he wanted them to. While his inconsistencies late in the match did not help his side, his exciting performance while Connacht were on top would please Andy Friend and Andy Farrell.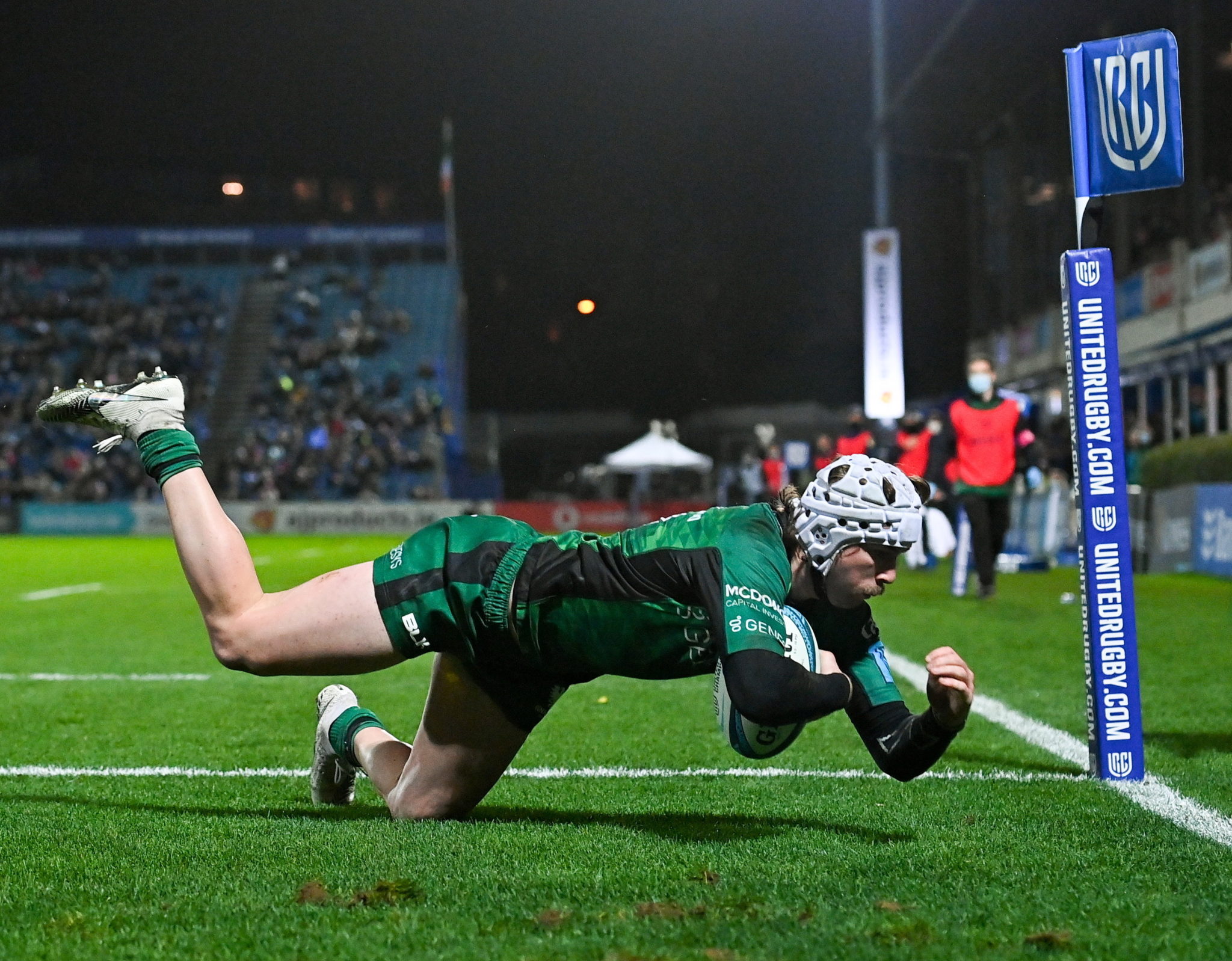 Mack Hansen 7.5/10
Hansen has looked spectacular in green this season, and his start against the benchmark Irish side continued that form.He made strong carries and good turnovers, however it was not all highlights for as he was also sidestepped by a flying Dan Sheehan late in the first half, showing that he still has work to do on defence. He completed a great game with a try early on to put Leinster into chase mode from the beginning.
Peter Robb 7/10
Connacht's inside centre racked up some good metres against two of Ireland's first choice centres, as Robb made a very strong account of himself. He linked well with the players outside him, particularly Mack Hansen, and was key in putting Connacht on the front foot for most of the first half.
Sam Arnold 6/10
While his teammates around him looked exciting every time they touched the ball in the first half, Sam Arnold saw very little of it when Connacht were on top. He did score a well-taken try, but other than that his involvements were few and far between.
Alex Wootton 6/10
Alex Wootton had the quietest of games out of side's backline. However, the one standout moment for him would have given Connacht supporters major anxiety as he took an age to regather a loose ball deep inside his 22m, and almost coughed up a soft try.
Oran McNulty 7/10
Not to let Hansen get all the glory in the Connacht back three, McNulty looked dangerous whenever he touched the ball. A scything run in the first half almost resulted in what might have been a try-of-the-season contender if it weren't for the interference of Ryan Baird.
O'GARA | "BYRNE WON'T GET BETTER IN THE GYM, BUT BY PLAYING GAMES"
Team of Us. Everyone In.
Vodafone. The main sponsor of the Irish Rugby Team
Download the brand new OffTheBall App in the Play Store & App Store right now! We've got you covered!
Subscribe to OffTheBall's YouTube channel for more videos, like us on Facebook or follow us on Twitter for the latest sporting news and content.