Munster hoped to remain unbeaten in the Heineken Champions Cup as they hosted Wasps at Thomond Park on Sunday.
After two three-point victories over Castres, and that historic miracle in Coventry, Munster came into the weekend knowing that they had already qualified for the knockout stages of the Champions Cup.
Munster were disrupted by some late changes, with Keith Earls and Dave Kilcoyne not available. Simon Zebo came in for Earls, who was suffering a strain, while Jeremy Loughman started in place of the ill Kilcoyne.
The hosts looked to keep ball alive in the tackle, with quick hands through the backline as well. They racked up 24 points through their exciting play in the first half, however it was their defensive efforts on their own try line late in the first half that truly stood out.
ZEBO! ZEBO! ZEBO! 😄

Simon Zebo becomes @Munsterrugby's top European try scorer, surpassing the late great Axel Foley 🙏

Look at what it means! 🙌#HeinekenChampionsCup pic.twitter.com/Ce5cw9soLe

— Rugby on BT Sport (@btsportrugby) January 23, 2022
The match unfortunately died down late in the first half, after a serious injury to Thomas Young brought proceedings to a halt as he was stretchered off.
While the match did not liven up for the remainder of the first half, Munster remained in control taking a 24-7 lead into half time.
The second half did not have as much life in it as the first half did, as Munster were not as accurate as they had been prior to the Young injury. However, they still managed to extend their lead early and maintain their dominance over a Wasps side that were dropping like flies.
With knockout seedings and positions yet to be finalised, Munster did all they could to ensure their best possible opponents with a 45-7 victory.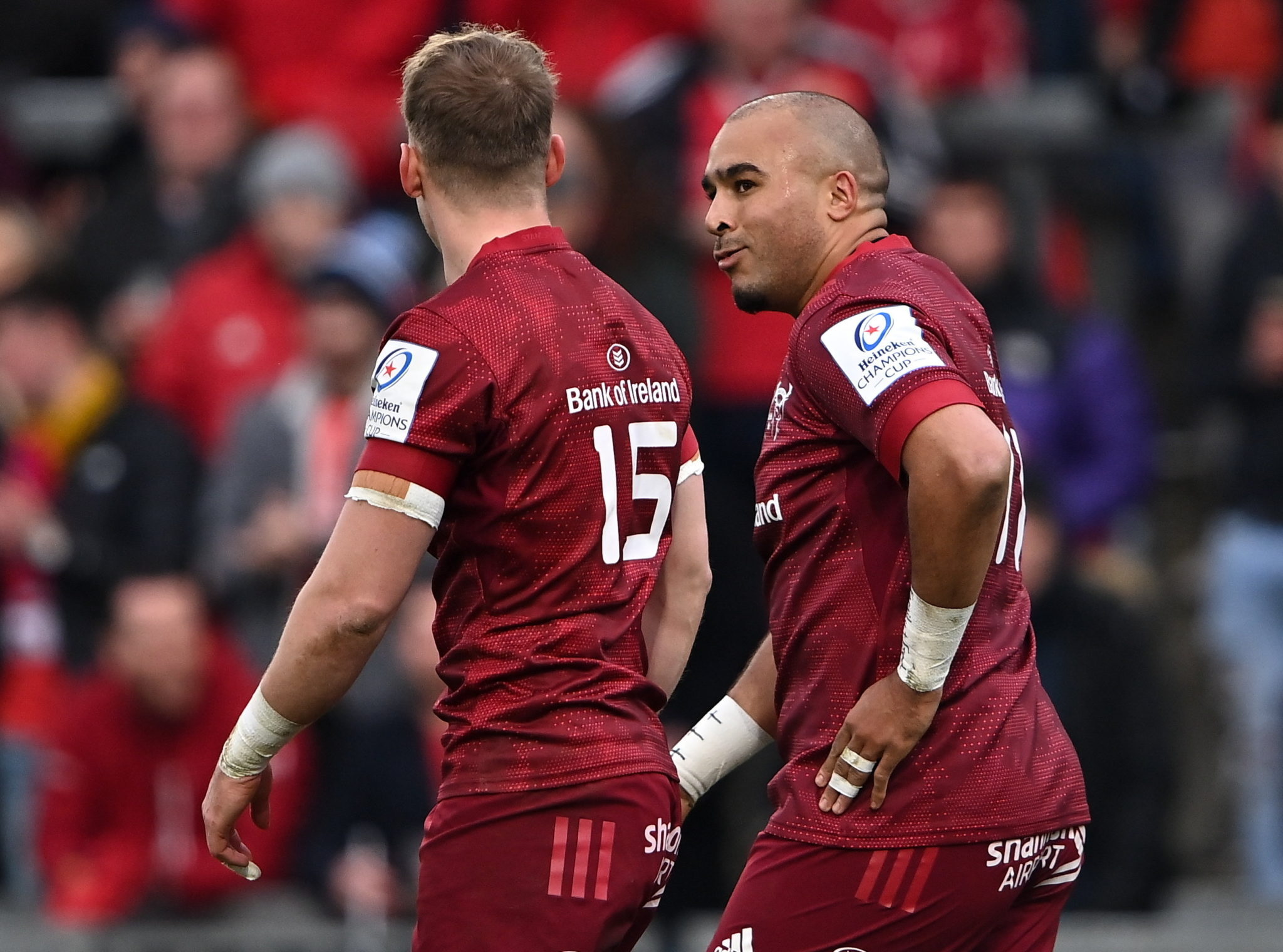 Munster Player Ratings
Jeremy Loughman 8.5/10
Loughman was called into the starting lineup at short notice and definitely made the most of his opportunity. He carried well, looked for work throughout the match and popped up all over the pitch. He was crucial to Munster's late first half goal-line defence, and was one of the standouts in a very good Munster performance.
The cherry on top? He added his name to the scoresheet as well.
Diarmuid Barron 7/10
While his start was not as prolific as the late starter Loughman, Barron made a fine account of himself throughout his 50 minutes. He carried well with his limited touches, and was key to the goal-line stand late in the first half. His throwing was also particularly strong.
Stephen Archer 7.5/10
Archer carried well early on, and was always looking to get on the ball. He might not have had as great a game as Loughman, but the anchor of the Munster scrum did well not to stand out in the opposite way. His scrummaging, however, left something to be desired, as Munster were penalised a few times at that particular set piece.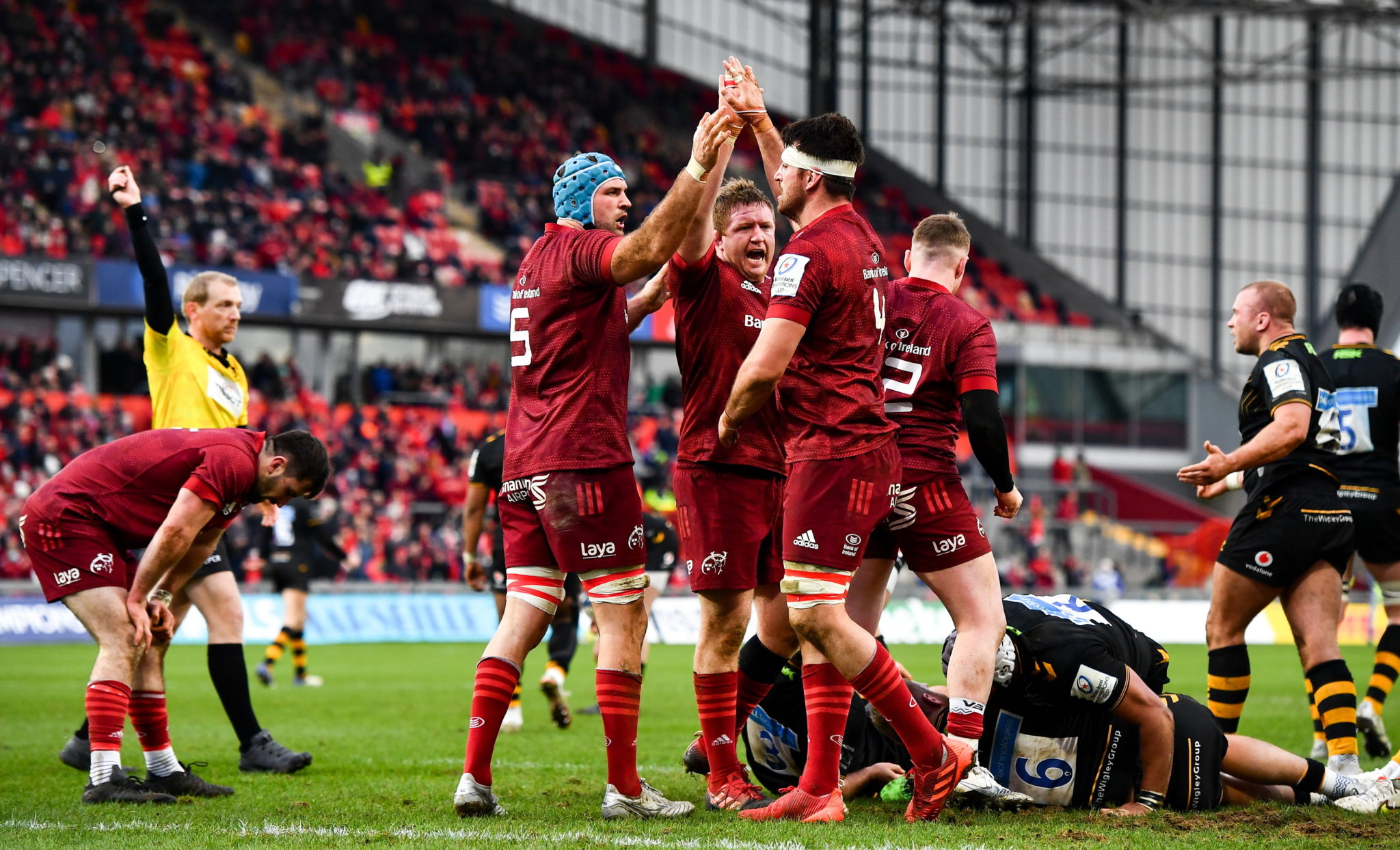 Jean Kleyn 7.5/10
Kleyn was crucial to the lineout maul defence late in the first half, and was one of the many that defended Munster's try line doggedly late in the first half. He carried well, making a number of offload attempts, even if not all of them connected.
Tadhg Beirne 8/10
As always, Beirne was involved in almost everything that Munster did throughout the match. He made a number of powerful carries, making solid meters, and was always looking to keep the ball alive. While he was penalised for swimming through the maul once or twice, he was otherwise superb in keeping the Munster line relatively unscathed.
Peter O'Mahony 8/10
O'Mahony is one of the best defensive jumpers in Europe, and proved it yet again by stealing a number of Wasps lineouts. He was brilliant in the maul defence inside his own 22m, and added to the Trojan effort at the end of the first half to keep Wasps out of his side's tryline.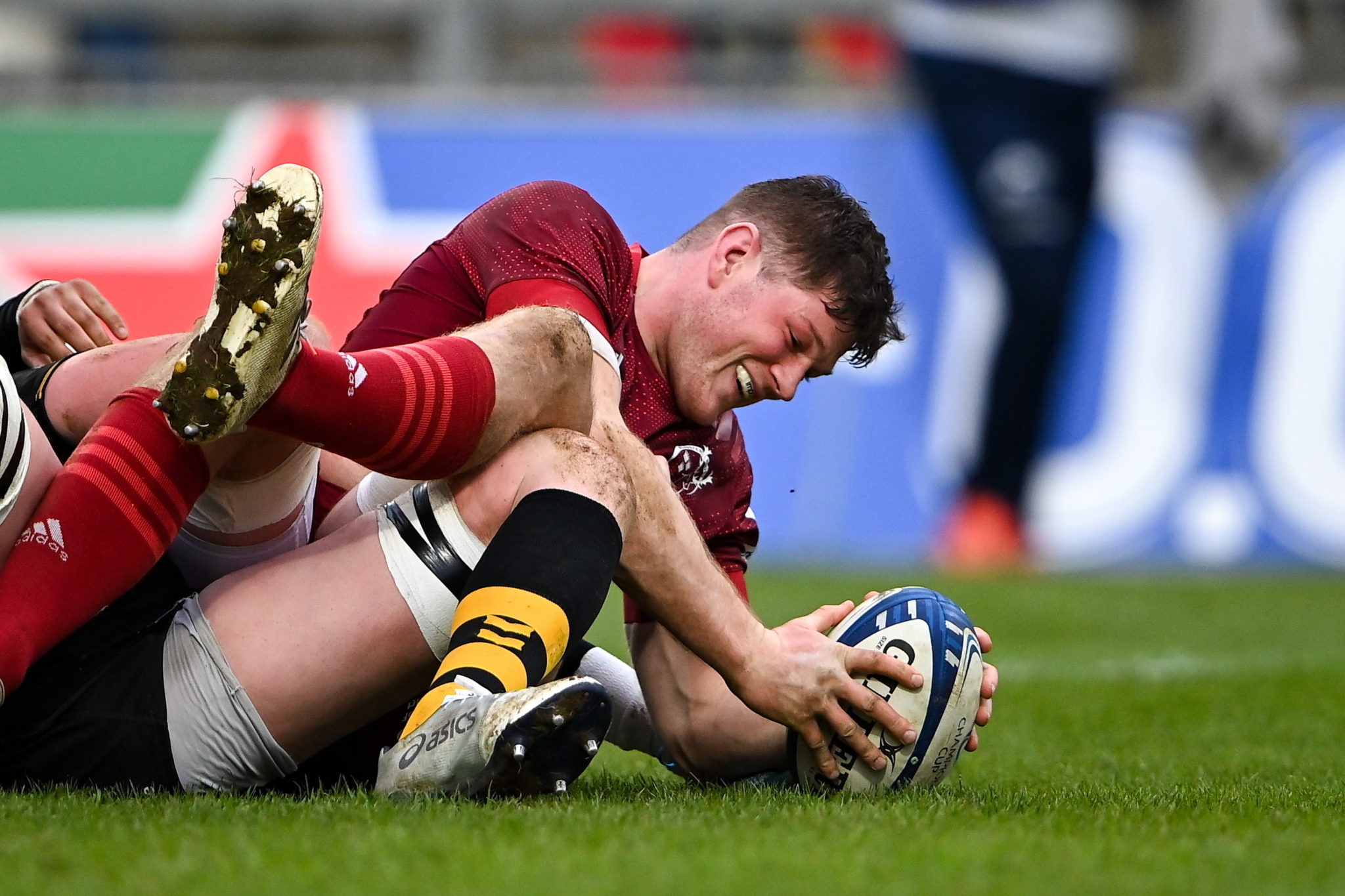 Jack O'Donoghue 8/10
O'Donoghue was the ever-present support runner throughout the first half, which resulted in him scoring his first try in the first half. Very few players made as many tackles as him throughout the match, and he made a vital turnover as well to ensure that Munster were never really challenged on the scoreboard. He was a well-deserved player of the match.
Gavin Coombes 7.5/10
Coombes will be running throguh Charlie Atkinson's nightmares as his powerful carry sat the young out half down inside his own 22m to set up O'Donoghue's try. In addition to that one massive run, the Munster number eight carried well as usual.
He added to the brilliant maul defence late in the first half, however, his efforts were ultimately deemed illegal, and he was yellow carded, which was the only blight on his otherwise superb performance.
Gavin Coombes what a carry! 😳😅

Charlie Atkinson bounces off Coombs who blasts his way past the Wasps defence, setting it nicely for Jack O'Donoghue to finish for @Munsterrugby #HeinekenChampionsCup pic.twitter.com/olJv9DF3J0

— Rugby on BT Sport (@btsportrugby) January 23, 2022
Conor Murray 8/10
Murray displayed brilliant awareness and rugby intelligence to score the opening try of the match, playing to the whistle and running in the easiest try he will ever score. He controlled the game well from the base of the ruck, and kept Munster playing int he right areas.
Ben Healy 7.5/10
After all of the hype around Jack Crowley, Healy needed a big game to ensure that he is still the first-choice out-half after Joey Carbery. While it was not the perfect performance, it was a mature performance that put Munster on the front foot with some intelligent decision making and clever kicks.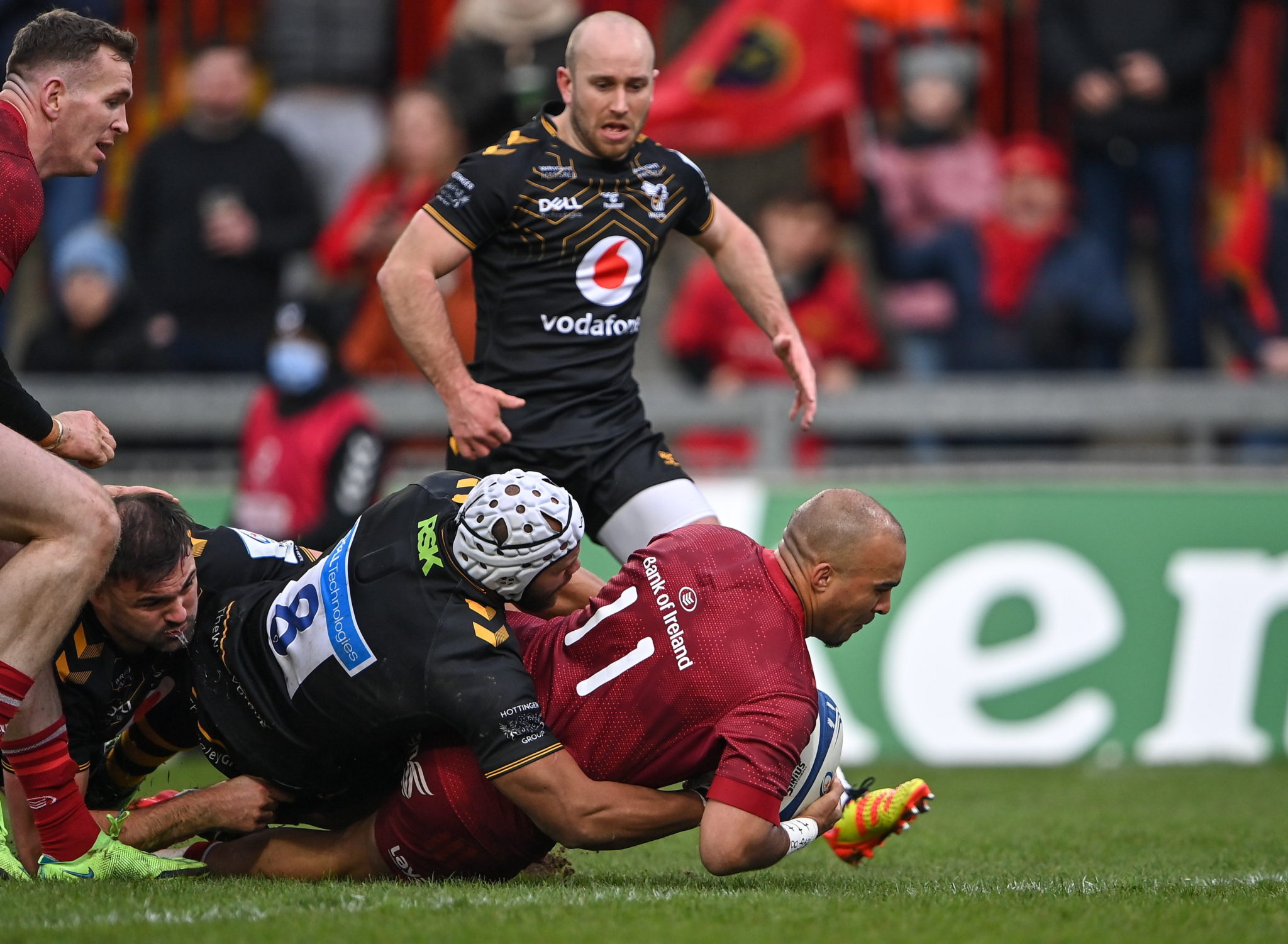 Simon Zebo 8/10
He became Munster's most prolific points scorer in Europe with a brilliant brace of scores on his first start in Europe since his return. Zebo was as electric as ever in a red jersey, and his final run down the pitch brought back memories of the best of times for the men in red.
Rory Scannell 8/10
Munster came out wanting to keep the ball alive and play exciting, running rugby, and Scannell and Chris Farrell were key to that. Scannell was constantly looking to open up a defensive lines in attack, and his offloading skills, while not flawless, were on display for the Thomand Park faithful. He rounded off his performance with the late score to add to Wasps' misery.
Chris Farrell 7.5/10
Like Scannell, Farrell was crucial to getting Munster on the front foot and opening space out wide. He kept the ball alive in the tackle, and his inside steps almost always opened up a half gap that put Munster over the advantage line. While his channel was not challenged too often defensively, he still put in a good defensive shift as well.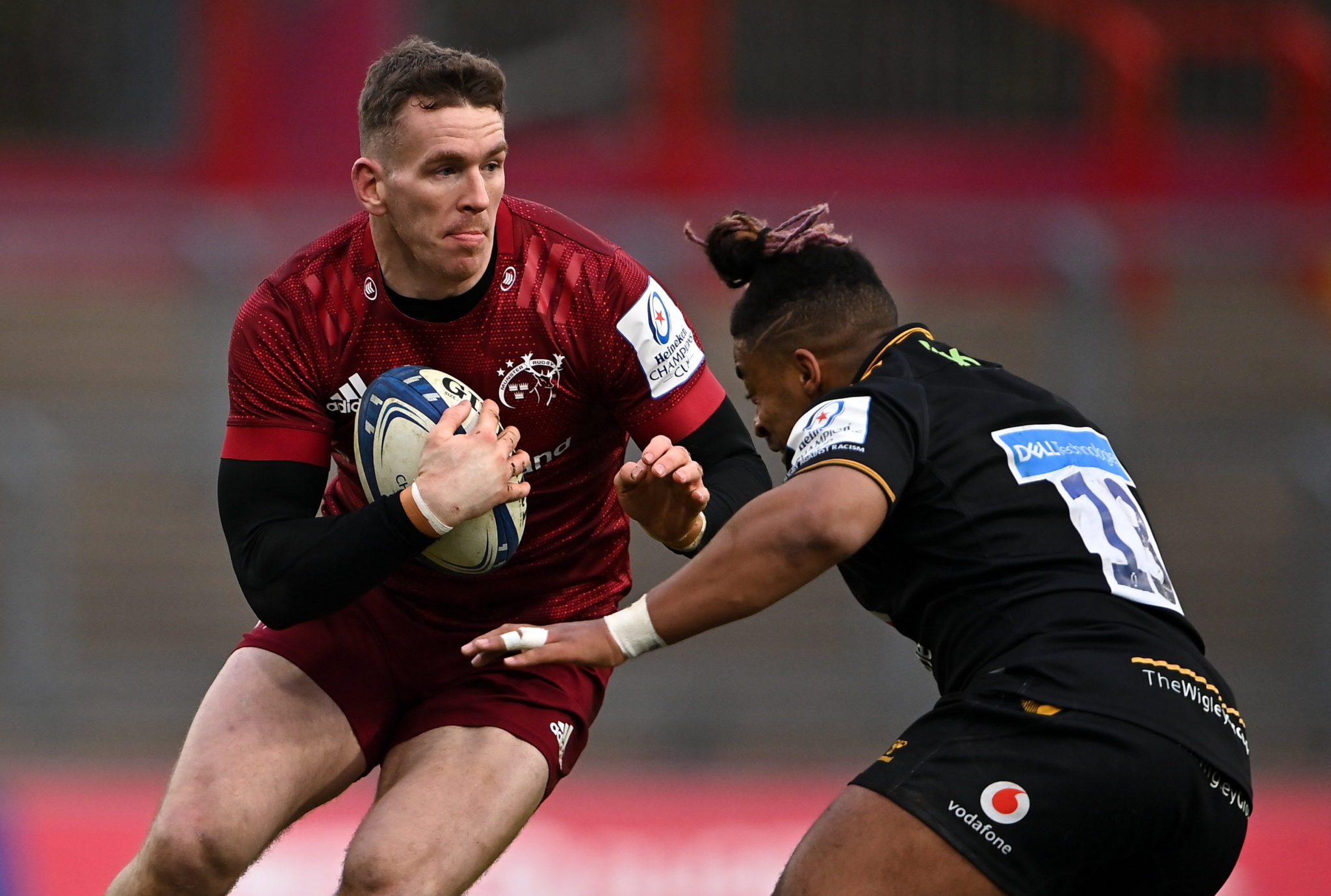 Andrew Conway 7.5/10
The 30-year-old was always looking to put the pressure on the visitors, putting them back inside their own half with counter-attacking kicks and exciting runs. While he did miss a few tackles, he will be happy that this week he did not meet an attacker the likes of Filipo Nakosi.
Mike Haley 7.5/10
Haley looked electric with ball in hand. He was coolness personified under the high ball, and always looked to counter-attack rather than simply punch the ball back down the field. While he will not be challenging Hugo Keenan in green anytime soon, if he keeps up performances like this, he will be eventually.
Team of Us. Everyone In.
Vodafone. The main sponsor of the Irish Rugby Team.
Download the brand new OffTheBall App in the Play Store & App Store right now! We've got you covered!
Subscribe to OffTheBall's YouTube channel for more videos, like us on Facebook or follow us on Twitter for the latest sporting news and content.