The World Cup winning South African Head Coach Rassie Erasmus has insisted that he never accused the Ireland team of being 'softies' in conversation with OTB Sports. 
In the aftermath of South Africa's 2019 Rugby World Cup win, the documentary Chasing The Sun revealed how Rassie Erasmus and his team had triumphed in Japan.
Among a catalogue of snapshots from team meetings, pre-match speeches and the remarkable journey so many of those involved had made to this point, the attention of Irish rugby fans was piqued when Erasmus sought to prepare his team for a World Cup semi-final with Wales.
"They are not softies, they're not like Ireland," he was heard saying to his players.
"That is a big statement to make," responded the South African-born Ireland international CJ Stander back in November. "[Erasmus] put it out there so, you know, that's his prerogative. That's what he thought of us."
However, as he spoke to OTB AM in an interview that will be aired in its entirety on Tuesday morning's show, Erasmus denied he had made any such assertion.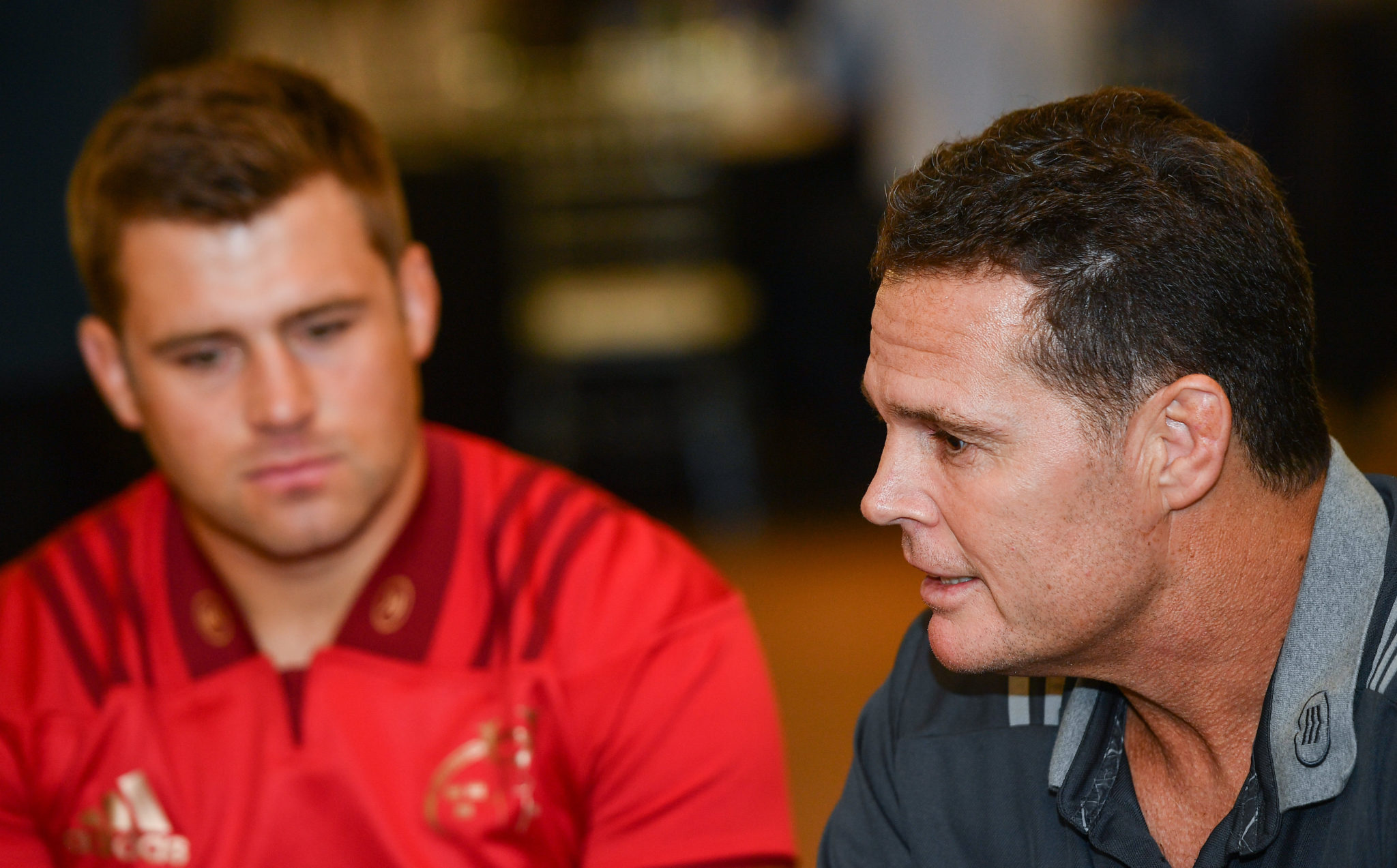 "If people made up their opinion on what they have heard," he began, "then I wouldn't try to convince them otherwise.
"But I think the people from Ireland who do know me know that I would never say something like that in a way that is meant to be negative.
"What Irish people have done for me, what I've learned from Munster and Irish people overall, I wouldn't be half as successful a coach."
The former Springbok arrived in Ireland from South Africa five years ago to become Director of Rugby with Munster. Following the tragic passing of Head Coach Anthony Foley in October 2016, Erasmus concurrently operated as DoR and Head Coach until departing the Irish province in late 2017.
A time in his life that he discusses with great fondness, Erasmus sought to provide context for what was said in that team meeting before the Welsh game.
"We were actually talking about the different souls of the different teams," he explained. "The French have a different soul the way they operate, England has got a different soul.
"When actually talking about Ireland, we said they are so well-drilled, so clinical, these guys absolutely take ownership of the game. They are on top of their game.
"So, we were actually going through all of the teams and their souls and I actually said: "They are not like Ireland," meaning, they are this structured team that build phases and phases and phases.
"Then I said: "They are not softies." I was actually talking about another team which people can make up their mind on. I know Ireland are not softies."
You can watch the full interview with the South Africa Head Coach Rassie Erasmus on Tuesday's OTB AM across all of OTB's social channels from 7.30am
**********
Rassie Erasmus joins online business leadership event, Leaders Lounge. Leaders Lounge is an online interactive event designed for CEOs, Senior Management Professionals, Business Executives, and those in wider leadership, start-up, and coaching roles.
Focused on the themes Inspirational, Situational and Transformational Leadership, attendees will gain unique insights from an incredible panel of guests including; Rassie Erasmus, Brian O'Driscoll, Lady Chanelle McCoy, Joanne O'Riordan, and resident host Paul McGinley.
For further information or to purchase tickets for this event, you can visit www.leadersloungelive.com
Download the brand new OffTheBall App in the Play Store & App Store right now! We've got you covered!
Subscribe to OffTheBall's YouTube channel for more videos, like us on Facebook or follow us on Twitter for the latest sporting news and content.