With not long to go before the Six Nations gets underway, Ronan O'Gara ran us through Ireland's half back depth chart on Thursday's OTB AM. 
Despite both men being into their 30s now, do Johnny Sexton and Conor Murray still hold dominance over the #10 and #9 jerseys in the Irish team?
This was the main challenge facing Ronan O'Gara as he looked to assert Ireland's depth in both positions on Thursday's OTB AM.
Ronan O'Gara | Ireland's half-back depth chart: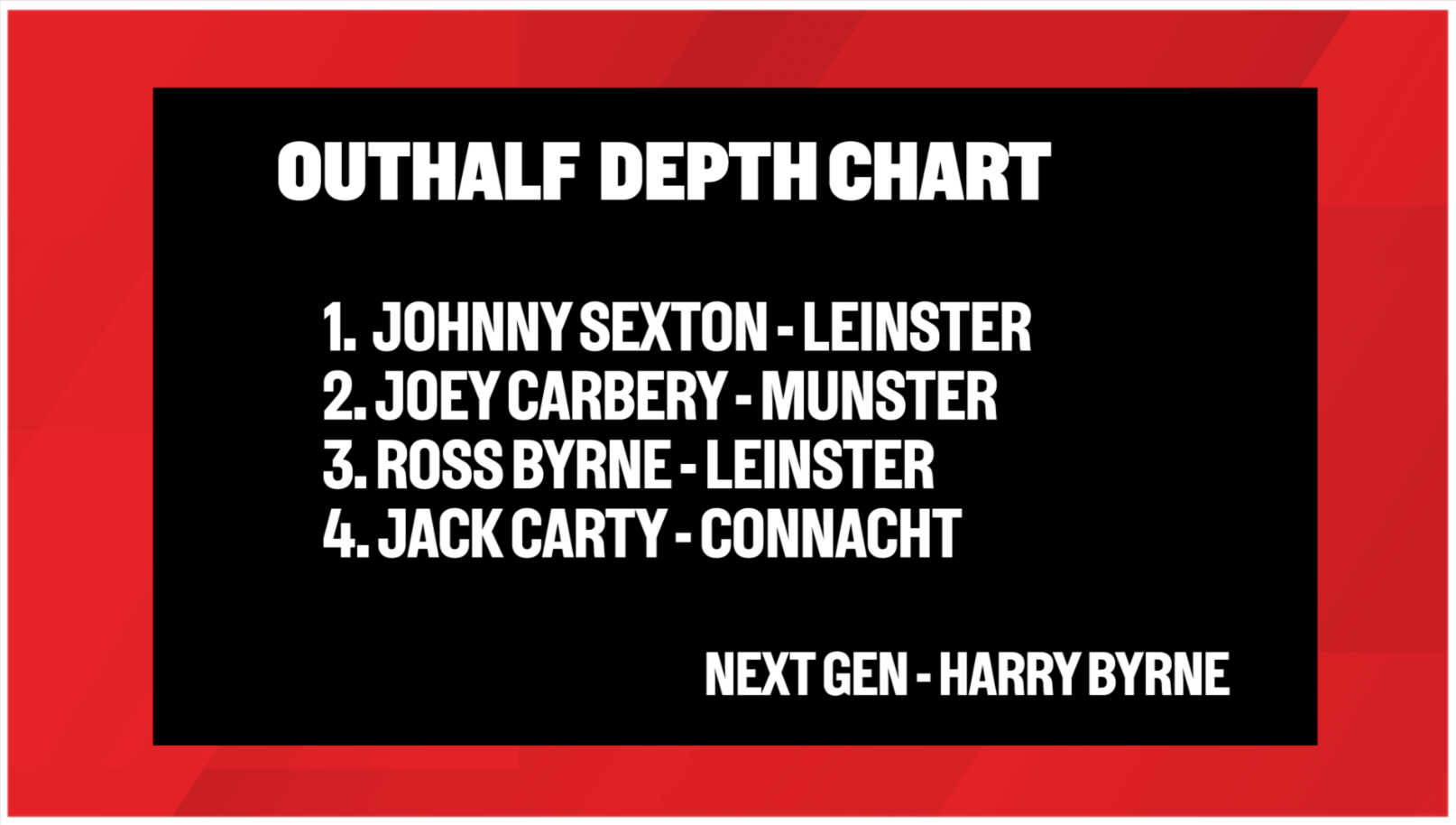 There was no change at the top with Johnny Sexton retaining a hold of the #10 jersey in Ronan O'Gara's mind.
"In Ulster you have (Ian) Madigan who is 32 in a few months and Billy Burns who is 26," he explained, outlining all the options. "In Munster there is a peculiar situation where you've JJ Hanrahan, Joey Carbery who is injured and the key to everything, and you've two very promising young #10s in Jack Crowley and Ben Healy.
"In Connacht I looked at Jack Carty and Conor Fitzgerald who is a young guy going well and had the jersey for a week or two until Carty bucked up his ideas.
"Then in Leinster it is particularly interesting because you have three out-halves in the two Byrne brothers (Ross & Harry) and Johnny (Sexton) and then you have a young guy who I have seen once or twice, Charlie Tector - he looks a really neat player. The outlier then is (Ciarán) Frawley.
"I think this is an area of huge strength with the capacity that things could change. The short-term is Johnny, but the medium- and long-term, I don't know."
Categorically, Ronan O'Gara remains certain that Johnny Sexton is still Ireland's best fly-half and that it is up to others to take the jersey from him.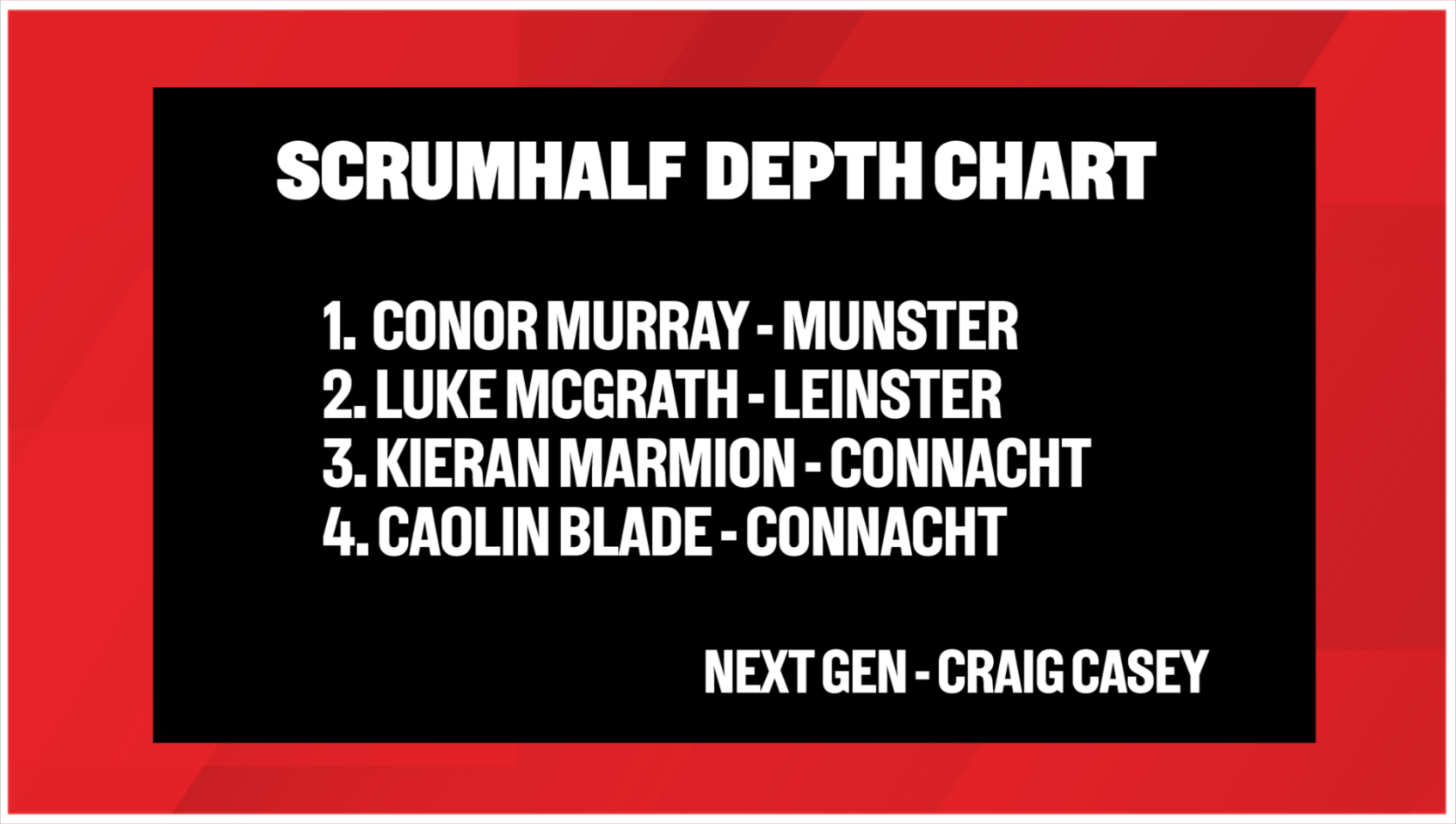 The notable absence here was Ulster's John Cooney. Yet, as Ronan O'Gara would demonstrate, there was method to his decision-making.
"For me, it is a shoot-out between Conor Murray and John Cooney," he explained. "Cooney is 31 in May and Conor is 32 in April, you can't have the two of them in the same squad.
"Cooney excels for Ulster because he is their petit général and he does everything for them and he goal kicks. It is different set of measurements when you're looking between Heineken Champions Cup rugby and Test rugby.
"When you're playing on the Irish Test team there's a #10 in Johnny Sexton who kicks the points and that dilutes Cooney's effectiveness by 50%, so that's my logic in terms of that decision."
Mulling over the different ramifications of what #9 may best suit Ireland's #10 on a given matchday, he considered the potential role for Luke McGrath.
"I'd say he was very respectful to the fact that Conor was the starting #9 and he was probably happy to go on the bench," O'Gara suggested of McGrath's outlook at one point, "but I don't think that would be his mindset now.
"He's taken on board the message from the Irish management and he looks very, very polished with Leinster for me."
O'Gara also cast an eye over the man he placed in top spot and looked at where he believes his game must improve.
"Conor at the minute is remembered for his box-kicking, but he needs to change that," he insisted. "I think he will change that and that's what a lot of good competitors do."
*****
Related Reads:
Ireland Depth Chart | Alan Quinlan picks his back row
Ireland Depth Chart | Malcolm O'Kelly picks his second row
Ireland Depth Chart | Keith Wood picks his front row
*****
OTB AM is brought to you in association with Gillette | #MadeOfWhatMatters
Download the brand new OffTheBall App in the Play Store & App Store right now! We've got you covered!
Subscribe to OffTheBall's YouTube channel for more videos, like us on Facebook or follow us on Twitter for the latest sporting news and content.