"Kickers are mad," proclaimed Ronan O'Gara on Tuesday morning's OTB AM. 
Reflecting on the cramp-ridden Ross Byrne kicking Leinster's winning penalty in Saturday's Champions Cup clash with Ulster, O'Gara explored the dichotomy of the kicker's existence within a team.
"You're playing in a team sport," O'Gara noted, "and then all of a sudden it's like you're on the 18th tee at Augusta."
"You've got to hit the fairway, and then the next one has to go on the green - that's your mindset."
Acknowledging that he himself had hated this process for a period of years, it was rarely so simple.
"I loved the responsibility of it," O'Gara went on to explain, "and the thought of giving the tee to someone else would break you."
You have to find something that works for you, and what works for me won't work for Wilkinson, for Carter and for Stephen Jones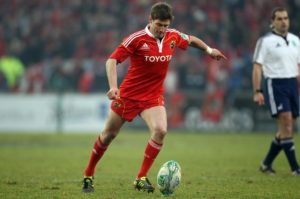 Exploring the intricacies of life as an elite kicker, Ronan O'Gara described how no two can be treated alike.
"It's such a fascinating subject," stated O'Gara, "the fact that some days it's so easy and you're doing the same thing the next day but you're going, 'why am I missing?'"
"You have to find something that works for you, and what works for me won't work for [Johnny] Wilkinson, won't work for [Dan] Carter and won't work for Stephen Jones.
"So, it's a very personalised subject where you can give an opinion but is it really, really the truth?"
Recalling one of the most fascinating subjects he came across in his own career, his 2001 British & Irish Lions teammate Neil Jenkins came to mind.
"People ask what experience is," said O'Gara, "and I got a great lesson in 2001 on the Lions tour."
"Neil Jenkins could barely walk, I'd say he was on a lot of injections a day to keep him out of a wheelchair because his knees were gone.
"I remember Graham Henry going to me, 'If there's a penalty-kick with three minutes to go, or eight minutes to go or 10-minutes to go, I'm backing Jenks to kick it.'
"How right he was! But at the time you're like, 'Ah Jesus, no, he can barely walk, he can't move.'
"But that's what big games are won by."
Subscribe to Off The Ball's YouTube channel for more videos, like us on Facebook or follow us on Twitter for the latest sporting news and content.