Given the severity of the COVID-19 pandemic and the extremely clear policies that both the Government and the IRFU have issued, a petition to play the Leinster Schools Cup Finals appears woefully misguided.
A petition has been created which is calling for the Leinster Schools Cup Finals to be played.
To put things into perspective, in terms of the most recent statistics that have been provided by the HSE on March 19th, there have now been three deaths associated with COVID-19 in Ireland.
There are also 557 confirmed cases of COVID-19 in Ireland at the time of writing and the medical advice has remained the same; reduce social interactions, keep a distance of two metres between themselves and other people, do not shake hands or make close contact with other people where possible.
Social distancing and isolation is now the norm.
In terms of domestic rugby, on March 19th, the IRFU confirmed that this season's domestic season has ended with immediate effect, a point that a recent petition on Change.org is taking umbrage with.
The petition states that the decision to cancel domestic rugby has left the finalists "disappointed and outraged".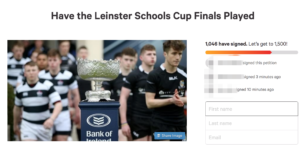 The petition adds: "There is no reason whatsoever why these games should not be held behind closed doors to determine a winner. The final fixtures will be played irrespective of the nature of the contest - whether the results be official or unofficial.
"This is a matter of great pride for all those involved with the respective schools - not to mention the biggest match of a lot of these players' careers, should they be a sixth-year student.
We, therefore, demand the finals to be played. They could be played behind closed doors, or even still in front of a crowd, should the COVID-19 situation diminish as quickly as it has escalated."
At present, the petition has over 1,000 signatures.
In response to the IRFU's recent decision, Clongowes released the following statement: "We share the deep disappointment of Calum, David, Diarmuid and all the panel who have worked extremely hard in preparation for the Senior Cup final.
"We were certainly ready for the game, and great credit for this is also due to the coaching team. Whilst it is uncertain when the final might take place at a later date, we want to acknowledge, at this time, the enormous enjoyment this team have given us throughout the season.
All those who have bought tickets for the game should hold onto them for now."
Subscribe to Off The Ball's YouTube channel for more videos, like us on Facebook or follow us on Twitter for the latest sporting news and content.