Jonathan Sexton scored a try as Ireland routed Japan on his 100th cap.
We don't prepare much for Ireland. Wherever Jonathan Sexton goes, the ball goes, so we just follow him.
That was the sentiment of Bernard Jackman on the Sunday Paper Review. Jackman was quoting England out-half George Ford while reviewing the Ireland-Japan game. Ford said that just 12 months ago. But Ireland have been playing with an over-reliance on Sexton since the start of the Joe Schmidt era.
Maybe it was fitting or maybe it wasn't, but Ireland proved on Sexton's 100th cap that they no longer need to rely on him. Jackman himself noted it.
It was a great performance that showcased atypical attacking rugby. Ireland were expansive, played in space, created space in different ways and most importantly relied on a wide cast of characters to instigate attacks. Sexton played his part but the game itself was not about him. The performance was not about him.
And importantly, Andy Farrell didn't insert a specific second playmaker.
Matt Williams said that Ireland must start Ciaran Frawley over Bundee Aki last week. Ireland didn't. But Williams was giving voice to a large section of supporters who wanted to see that change happen. Aki was perceived as an obstacle to playing expansive rugby because of his style at inside center.
Another suggestion was to drop Hugo Keenan for Joey Carbery or Simon Zebo. Keenan is a certain starter for Ireland. He is one of the team's best performers every game. He must start. It's that simple.
Instead of adding a second playmaker, the philosophy of the team as a whole changed. No individual was responsible for Ireland's success with the ball. All 15 players looked to offload the ball, passed it in space and looked up rather than predetermining what they were going to do. Sexton wasn't the orchestrator
Ireland matched proactive decisions with reactive actions so they were always posing questions to the defence and building off of what they saw.
James Lowe was heavily involved all over the field. Andrew Conway got opportunities to win the ball in the air. Jamison Gibson-Park contributed positively in different facets of the attack and the pack was as creative as the backline. Jack Conan, Caelan Doris and Tadgh Furlong were particularly impressive.
In that trio, Ireland have three of the best passing forwards in World Rugby. Since Andrew Porter, Tadhg Beirne and Ronan Kelleher all started, the pack as a whole is dynamic with the ball.
For Ireland's first try, Sexton was on the ground.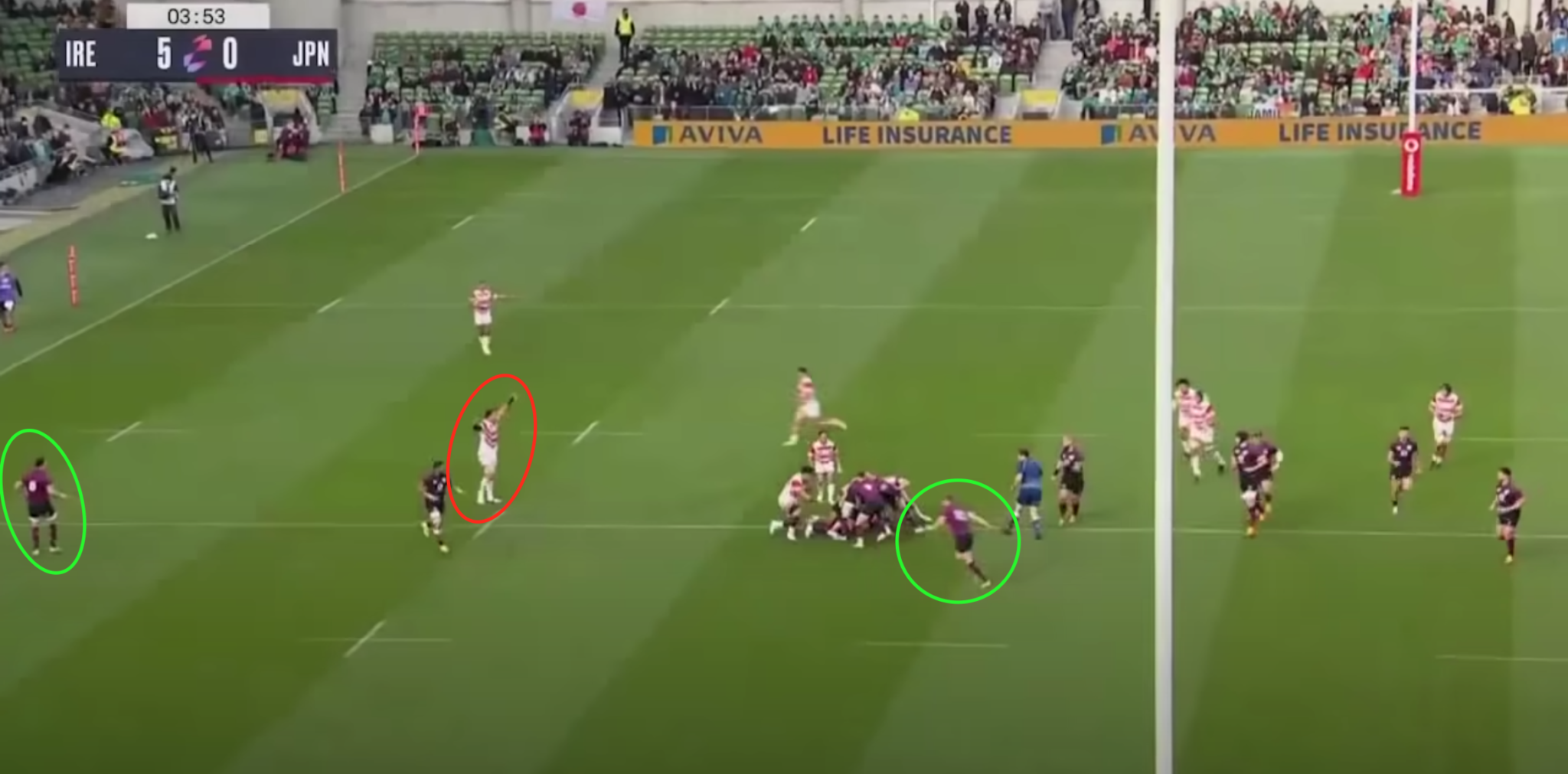 Japan kicked the ball away poorly. Hugo Keenan caught it at midfield, setting Ireland up with opportunities to go left or right. Sexton went left. The ball followed him. Japan reacted and were able to bring him down behind the gain line. But the poor clearance resulted in a broken defensive line. As you can see circled in red, there is only one Japan forward on the blindside.
Garry Ringrose sees it. Only one Japan defender does. Ireland have an extra attacker on the wing because Jack Conan has purposely moved out there.
Keeping your number eight on the wing is something other international teams have done. CJ Stander was a fixture in Ireland teams of recent years at number eight. Stander was a great player for Ireland but he was also very limited in space. He couldn't play on the wing the way Conan can.
Now that Conan is installed as the starter, Ireland can set up this way in attack.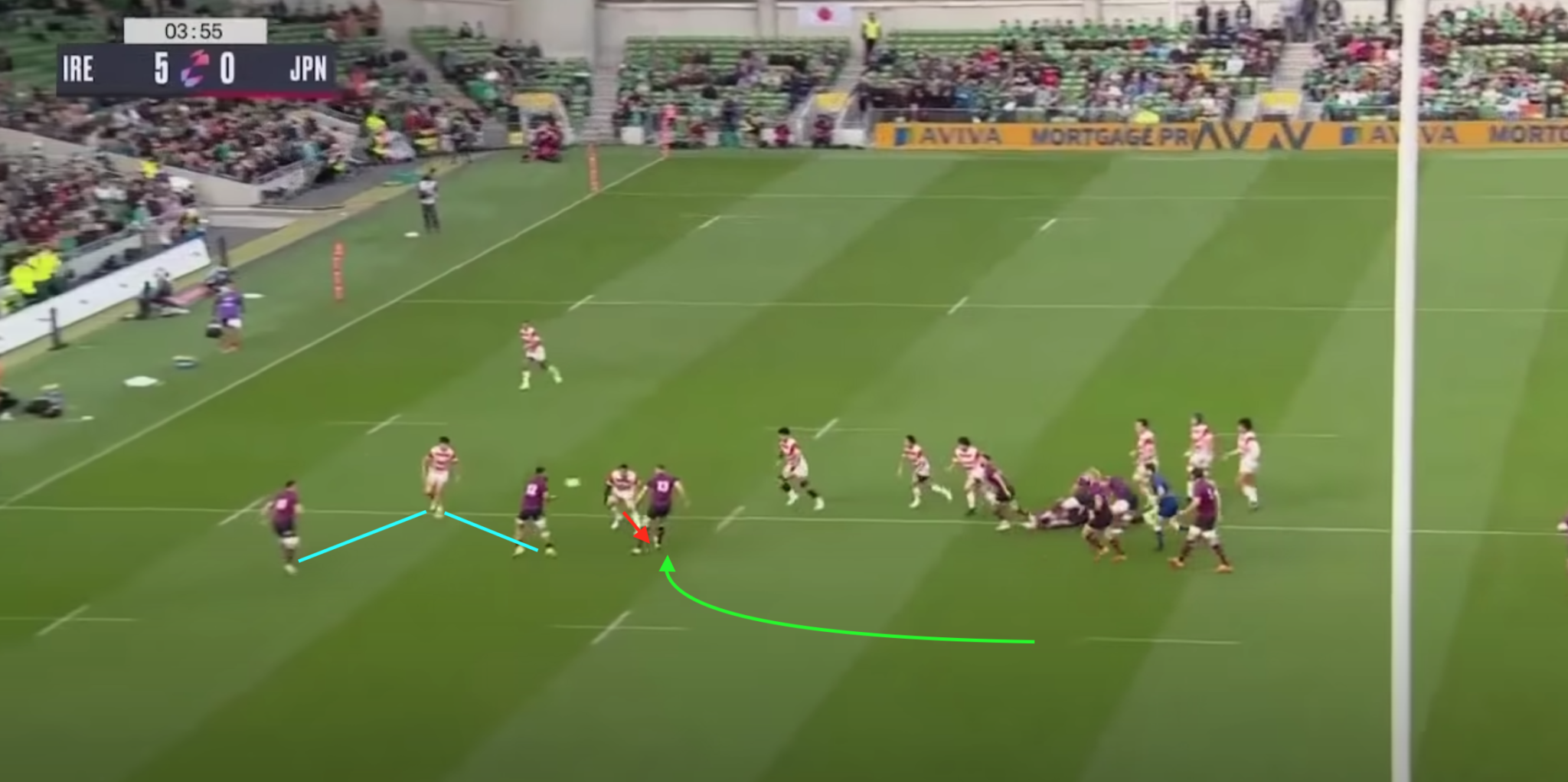 Ringrose saw the potential overlap, but he didn't rush to the wide position. He can see Conan and James Lowe outside so he smartly runs to the inside channel. The defender mirroring him goes wide. When Jamison Gibson-Park looks up from the base of the ruck, he can see Ringrose running a hard line inside and the defender reacting to him. This frees up Aki past the defender's outside shoulder.
Gibson-Park smartly throws a skip pass to Aki. Ringrose's intelligence created the opportunity, Gibson-Park being on the same page took advantage of the opportunity.
Whether Ciaran Frawley or Bundee Aki, this is an opportunity every inside center should take advantage of. The second defender is wide to account for Conan. Aki must advance through the gap to the second level even though his instinct is to get the ball wide quickly.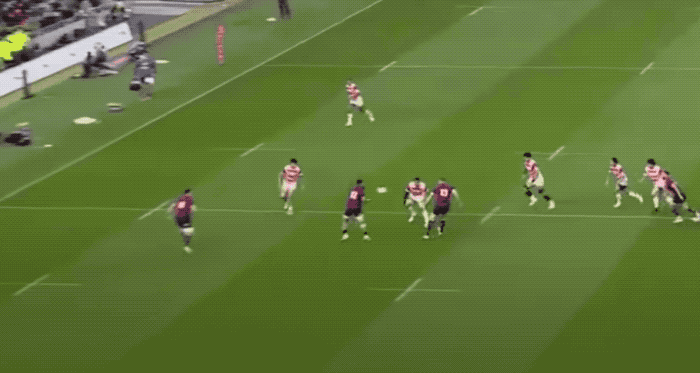 Aki sees the space immediately and cuts off the covering defence on the next level. He has the ball in two hands and holds it long enough to create another two-on-one for Conan and Lowe against the fullback. Conan ships the ball on perfectly to Lowe, who easily runs in the try.
Stander might have made this pass. He didn't too many times for Ireland to assume that he would. He was more likely to lower his shoulder and run into the fullback. Such was his nature.
Conan's head is up. He's reacting to what is in front of him rather than predetermining what he's going to do with the ball. That's good rugby. That's instinctive, attacking rugby, same as Ringrose reading the defensive line is instinctive, attacking rugby. Ireland have very talented players who should be trusted to make these kinds of plays.
Sexton isn't the only one.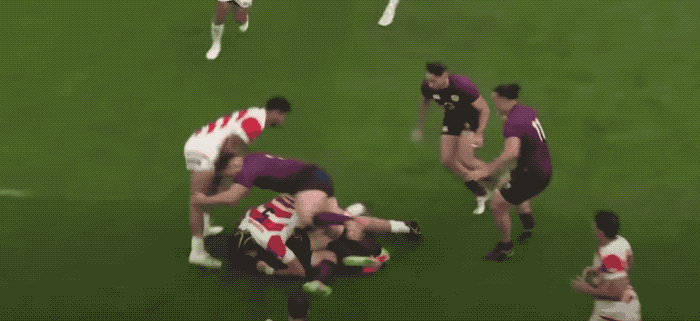 Sexton mostly played outside Conor Murray. As Ireland slowed down, Murray took the brunt of the blame. He hasn't played fast at the base of rucks for a very long time. Jamison Gibson-Park does. But swapping Gibson-Park in for Murray isn't what changed the tempo of Ireland as a team. It's an overall philosophy.
Neither Sexton nor Gibson-Park are instigators in this attack.
Ringrose and Lowe combine initially to break the defensive line. After they get through the first defensive line, Ringrose is tackled and Lowe finds himself at the base of the ruck. Gibson-Park is available. But instead of waiting for him, Lowe takes on the initiative himself. He doesn't want the defensive line to reset. Moving the ball quickly prevents them from doing so.
Lowe finds Tadhg Furlong. The prop forward is the protagonist of this attack. His pass is perfectly weighted to set Sexton into space. Sexton moves the ball on, his teammates follow suit and Ireland reach the second ruck. Quick ball comes again.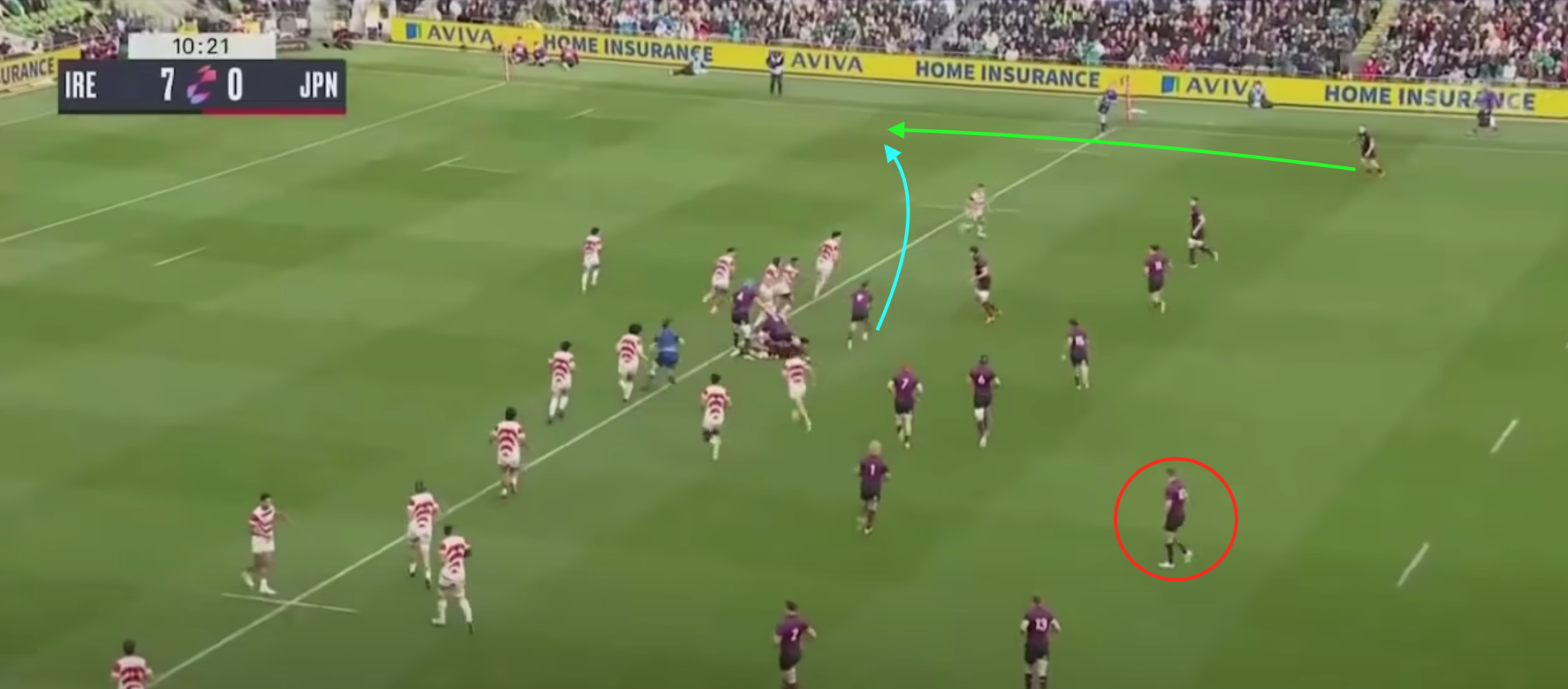 Gibson-Park is at the base of this ruck. The ball is available and he follows the flow of the attack. But importantly, he doesn't just whip the ball out quickly. Ireland have an overlap, but there are forwards there. Gibson-Park picks the ball off the base and steps out, which draws the defensive line forward.
Now instead of having to move the ball through the hands of forwards in space, Gibson-Park can clip it through for Andrew Conway.
Conway finishes the move off with relative ease.
If you look to the bottom of the screen, you'll see Sexton circled in red. He was not a factor in this play at all. He touched the ball once and he filled a complementary role.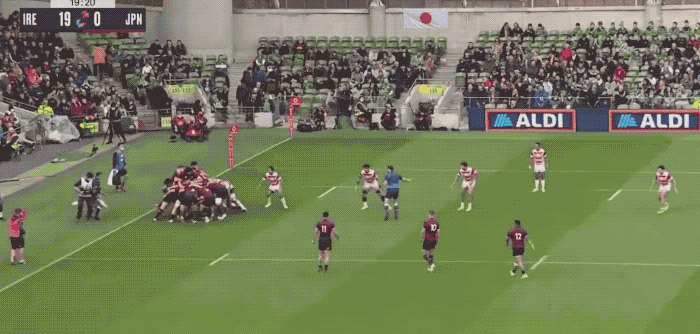 Conway's second try was even easier. Japan showed poor discipline here. Ireland mauled the gain line away and it led to impatience in the back line. But again, Sexton is only an ancillary character in this attack. He throws the pass to Hugo Keenan, who then connects with Conway. Keenan and Conway had an overlap because the outside center crashed inside to Sexton.
But it's Aki and Ringrose who create the anchor point for this play.
Gibson-Park begins the play by coming off the back of the maul, holding the defensive line inside. Aki then shapes to crash up the middle but turns suddenly to pop the ball back to Sexton. Lowe is trailing Sexton, but the out-half doesn't need him. The weight and accuracy of Aki's pass tempted the outside defenders to Sexton, making his decision to throw outside for him.
Any out half can make this play. It's a set play and Sexton plays his role, but it's not a set play that is built on the fact that Ireland have a world class out half.
Tougher opponents will present greater resistance against Ireland's attack, but this game proves that teams can no longer sit back and let the ball come to them against Ireland. Farrell and his coaching staff have successfully changed Ireland's style of play. So no matter who is starting at out-half during the next World Cup, Ireland won't be made or broken on the back of just one player.
Sexton is still Ireland's best option at out-half though, so he will have his part to play.
WATCH: Jonathan Sexton receives a samurai sword from Japan
Team of Us. Everyone In.
Vodafone. The main sponsor of the Irish Rugby Team
Download the brand new OffTheBall App in the Play Store & App Store right now! We've got you covered!
Subscribe to OffTheBall's YouTube channel for more videos, like us on Facebook or follow us on Twitter for the latest sporting news and content.