Shane Jennings joined Monday Night Rugby on Off the Ball where the retired flanker spoke about his time in England at Leicester.
The move to the Midlands was a shock to the system for someone living at home with his parents prior to transferring to the Tigers.
"Yeah it was pathetic, it was embarrassing, I was only 23 going on 24," says Jennings of still having his mother washing his dirty rugby kit.
"If they's signed me on that clip, they'd got the wrong guy!"

Shane Jennings hilarious story about signing for Leicester.@VodafoneIreland #TeamOfUs

FULL CHAT:https://t.co/lyjnW15BbK pic.twitter.com/1phBx803PU

— Off The Ball (@offtheball) July 21, 2020
The initial experience at Welford Road was very much one of growing up and fast for Jennings.
"I went over I remember my first weekend," said Jennings. "I was living with a fella Ephraim Taukafa, a Tongan hooker, and Seru Rabeni, who has passed away. We were out on the outskirts of Leicester and I was like: 'This is a million miles from what I'm used to' and it was just brilliant.
"I had to go off, buy a bed, buy some clothes, buy some food, and just grow up and cop on a bit. It was brilliant in the club.
"I remember the first day I arrived in Birmingham Midlands Airport and Richard Cockerill picked me up. He goes 'Right, sit in the car, I don't know you. I didn't sign you. Paddy [Howard] did.'
"So he was kinda saying 'You've got to prove yourself to me,' but he had the decency to come and pick me up, talk to me, get a feel for me, and - thankfully - he was one of many good coaches over there.
"They had a serious setup and it was just a good environment for someone who was a bit wet behind the ears. You grew up and learned from good players, you learned from a good culture.
"Looking at guys who were playing for England at the weekend then they were rocking up on a Monday morning putting it in for their club.
"If you can't learn in an environment like that, you're doing something wrong."
Leicester stereotypes
The stereotype of Leicester Tigers at the time was a grizzled, old school one, Jenning says that wasn't inaccurate.
"Paddy Howard, who had played there was a young head coach at the time, I think he was 34, but he had a real appreciation for the value of the club and its culture, but he tried to add a bit of finesse, a bit of guile and a bit of structure to our play." recalled the back row.
"He did that and he knew how to balance the two, but Jesus some of the players they had, Julian White was propping with Martin Castrogiovanni then Marcus Ayertza comes along.
"I think at one stage out of a squad of 40 there were about 25 or 26 internationals, so the second team was [exhales] the training was savage.
"If you were picked you were ducking and diving to make sure you got through to be fit for the weekend game. That was brilliant thought.
"I remember the first Heineken Cup weekend we had, we played against Clermont at Welford Road. We were going well in the league but you could notably see the lads flick a switch and go 'okay this is Europe.'
"At the time Leicester were the standard-bearers, they had won a couple of Heineken Cups, you could see what it meant to them."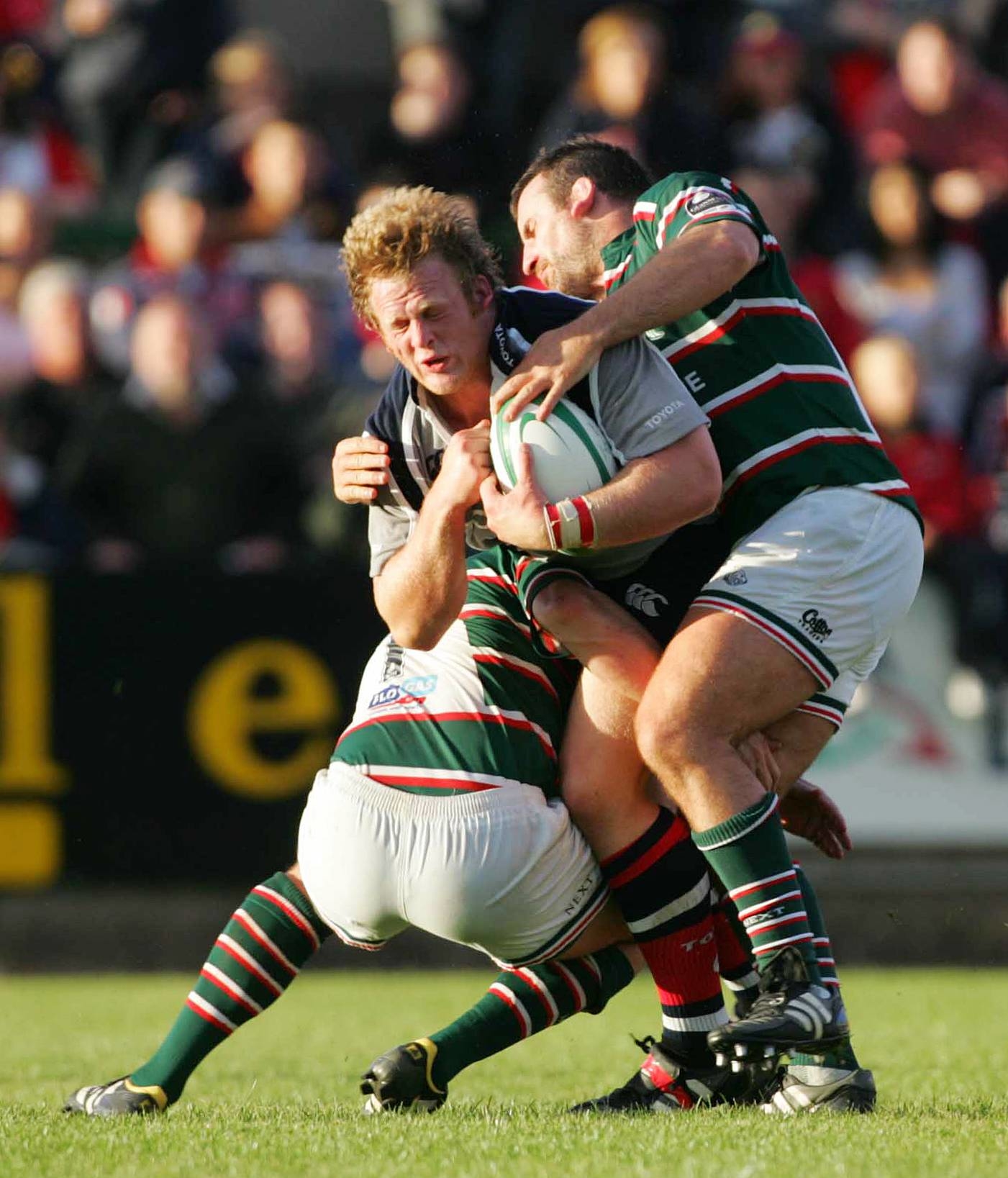 "They were good days, Welford Road is a good stadium too, with the atmosphere and teams were half-beaten just by going there. It was just that perception [of toughness] was in their heads and if you started well usually some of them would run out the gate."
Jennings has an obvious fondness for his time at the Tigers, where he overcame some stereotypes of his own.
"I was on my own with no responsibilities," says the former Ireland international. "I couldn't but muck in and get on with it. They had a load of young lads as well in the same position.
"The beauty about Leicester was you had a load of guys who weren't from there, so the only social connection we had was each other.
"I had such an incorrect perception of English rugby and English people before I move over there and they couldn't have been more welcoming. They looked after me.
"My perception was 'Aw, the fuckin' English, and this that and the other, the old enemy, those so and so's.' You just have this false guard against them, which is wrong but that was immaturity on my behalf."
Everyone's in the Team Of Us.
Vodafone. The Official Sponsor of the Irish Rugby Team.