Ulster swept past Bath 22-15 to secure progress in the European Champions Cup. As runners-up to Clermont, they will play a quarter-final against unknown opposition in April. But for Ireland fans, the game made bittersweet viewing.
At 27 years of age, this should be Stuart McCloskey's time. The Ulster centre has been in scintillating form so far this season. He has been one of the form players in the country, alongside teammate John Cooney and Leinster centre Garry Ringrose. The question for McCloskey was whether he would be Ireland's starting 15 or not. The answer shouldn't have been that he isn't even in the squad.
Ringrose and Robbie Henshaw deserved their spots. Bundee Aki and Chris Farrell less so.
Farrell had a great World Cup. He and Andrew Conway forced Joe Schmidt's hand as much as they possibly could. Schmidt's hand remained dormant as ever. Aki was a stalwart of the Schmidt era. His value is as a defensive inside centre who is capable of linebreaks and interlinking with his attackers outside, but only rarely. Once Aki re-upped his contract with Connacht, the assumption was that Andy Farrell had assured him of his importance to Ireland.
McCloskey needed to play at a very high level to supplant Aki. He needed to play at an even higher level to contend with Henshaw for the 12 jersey. He did both things. McCloskey is an unproven international player. Schmidt gave him his debut in 2017 and he has three caps in total. Since then, his skill set has expanded. McCloskey's season has been defined by his ability to offload the ball out of tackles and draw defenders in to set his teammates free through defensive lines. He's not as dominant in tackles as Aki, but he's a strong defender too.
Similar to the decision at scrum half, this choice was less between who was the better player and more about who fit the right style of play.
It's a bad sign for anyone hoping that Farrell is going to open up Ireland's style of play. A Ringrose-Henshaw centre combination brings balance and quality. A Ringrose-Aki combination would be more rigid, with Aki fitting a specific role inside and Ringrose fitting a specific role outside. An Aki-Henshaw combination would be a step in the wrong direction, moving further toward a defensive identity. It appears very unlikely that Chris Farrell plays.
Having McCloskey in the squad would give Ireland a different dimension. It would give Ireland a playmaker outside Johnny Sexton who is capable of opening up the play for those outside of him as a passer but also someone who could generate front-foot ball by winning against the defensive line as a ball-carrier.
McCloskey was the form choice ahead of Aki.
Brian O'Driscoll echoed that sentiment while speaking before Ulster's game against Bath for BT Sport, "It's really tough on him...if he can't get into a 35-man squad based on his performances over the last four to five months, the future doesn't look too bright for him. Visually, it would have been a smarter play from Andy Farrell even if he didn't want him in his starting 23 at any stage because it shows everyone else that he's picking on form...and he'll raise the game of the other centres."
That form continued against Bath.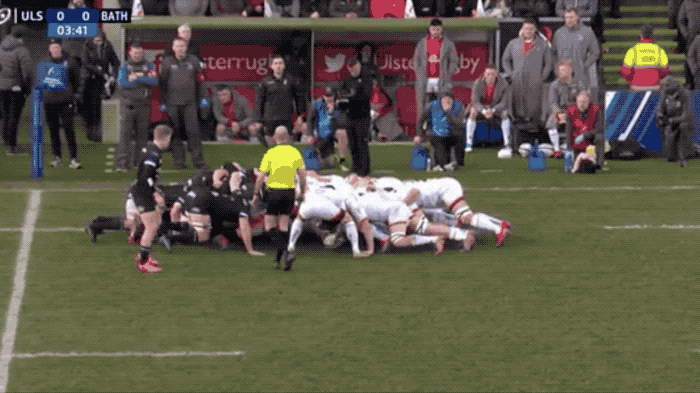 Marcell Coetzee scored Ulster's opening try within the first 10 minutes. The sequence began near midfield when Ulster had their first scrum of the game. The huge openside allowed winger Robert Baloucoune to work around and create an overlap. McCloskey acts as first receiver, holding the defensive line to allow Baloucoune to work his way from one wing to the other. McCloskey releases the ball with accuracy and at the perfect time.
Ulster's lineout that ensues sees McCloskey join the pack to be the ball carrier off the set-piece move. The timing of the play is off a little bit, preventing McCloskey from properly attacking the defensive line. He draws two tacklers in and offers Cooney good presentation at the base of the ruck.
McCloskey would soon get a chance to penetrate the defensive line fully.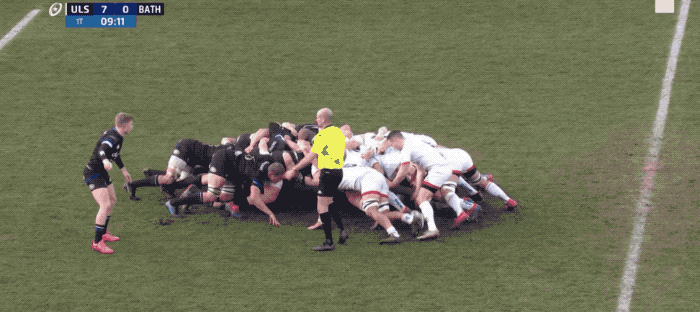 John Cooney's service off the base of this scrum wasn't particularly good. It slows Billy Burns down, forcing him to reach above his head then accelerate. Billy Burns ships the ball onto McCloskey without drawing his opposite number Freddie Burns. That means the defensive line is drifting. McCloskey catches the ball and recognizes the defence in front of him. By straightening his line, he forces an isolation with him and Freddie Burns.
Not many out halves in the world will stand a chance against McCloskey's lowered shoulder. He gains 15 metres before presenting quick ball for Cooney to set up Ulster's attack in Bath territory. The deep penetration combined with the quick presentation meant Bath defenders were offside in the middle of the field as they didn't have time to recover.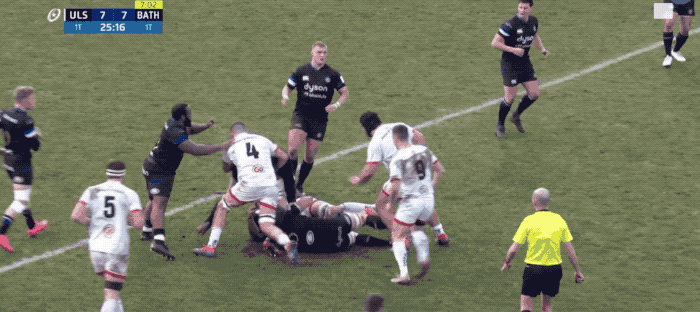 Ulster wasted lots of opportunities in the first half. It was what allowed the game to still be tied 7-7 at halftime. On this occasion, McCloskey steps into first receiver. He plays on the defensive line, holding the ball to sell the crash ball to his right before popping the ball out the back for Burns. McCloskey's soft, precise hands set up a three-on-two for Ulster outside. Burns rightfully goes for the skip pass to put Baloucoune down the line.
Baloucoune would have only had the covering fullback between him and the endzone. Instead, Burns' misses the throw behind, stopping the move in its tracks.
At the very end of the first half, McCloskey made an impressive tackle when Bath hit the ball at speed off good lineout ball. That set Bath up inside the Ulster half. McCloskey played an integral role in shutting down the next phase to force the ball over the sideline.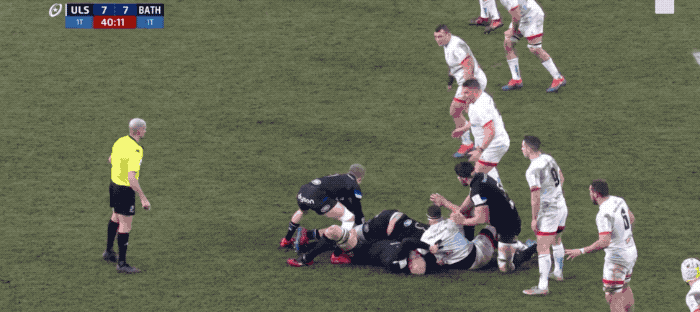 Initially, McCloskey is lined up inside of his winger at the top of the screen. He rushes up on the initial pass, staying wide to close off the attacking options. Ulster's line speed as a group forces Bath to gain greater depth. They need to work the ball back so they can go around McCloskey and get outside. It's McCloskey's positioning and movement from that initial position that allow him to shut this play down.
He transitions his weight in such a way that he's a factor in the decision-making of the ball-carrier on every pass.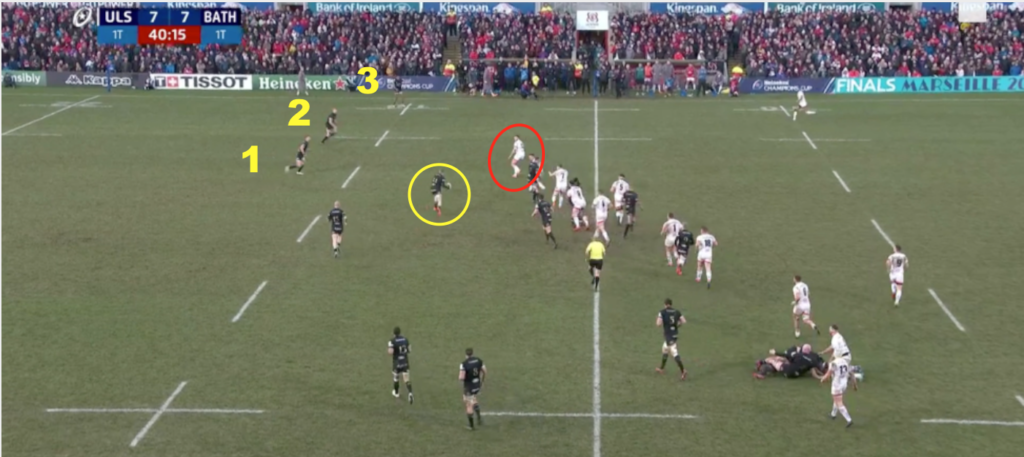 At this point in the play, there are three defenders outside of the passer. McCloskey only has Baloucoune in a deep position outside of him. McCloskey's positioning forces the skip pass, but his hips allow him to easily redirect to that attacker.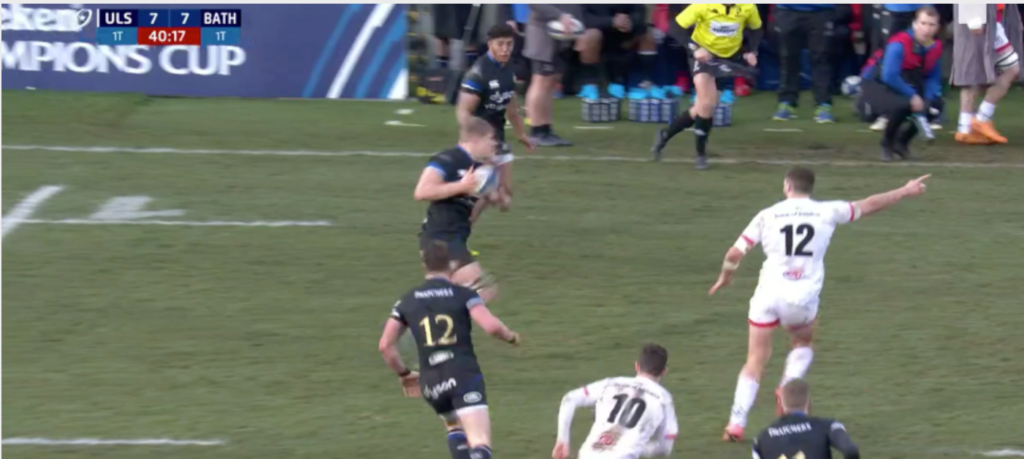 Further highlighting McCloskey's intelligence, he recognizes that the ball is in the hands of a back-row forward, not a winger or fullback. He tells Baloucoune to stay outside and trusts his own speed to shut the play down. The back-row forward tries to kick through, but McCloskey snuffs it out to go to halftime.
Baloucoune, who was included in the Ireland squad as a development player, had an outstanding game. He scored a try at the start of the second half that set Ulster on the way to victory. Will Addison scored another in the 48th minute. McCloskey set that one up.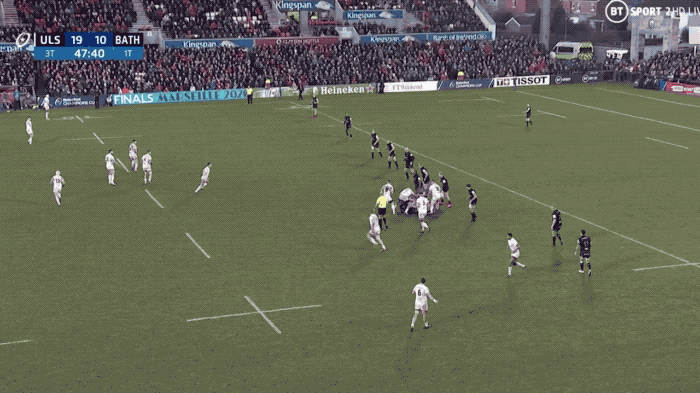 Ulster have an outstanding platform to attack from in the Bath half. This time McCloskey is drifting behind two forwards when Burns has the ball. His out half finds him accurately and on time. McCloskey holds the defensive line by straightening his line while holding the ball. He has an easy option on his outside shoulder but instead makes the better choice, hitting Jacob Stockdale with a perfect flat pass.
Jonathan Sexton has been Ireland's best player for most of the past decade because of plays such as this one. He takes the ball to the line to create space, then hits space with a perfect flat pass. Stockdale and Addison are given a two-on-one because of McCloskey's work, leading to an easy try for Addison.
O'Driscoll on the commentary team couldn't help but lament McCloskey's absence from the Ireland squad in response to the score. The Irish great rightfully highlighted how McCloskey has developed that area of his game.
An endorsement from the greatest centre to ever play isn't going to change McCloskey's fate. He's not going to play in the Six Nations unless there are multiple injuries to players ahead of him. That disappointment could have given him a reason to drop his intensity this week, but it didn't. He continued to be one of Ulster's key performers and continued to be a protagonist for an effective attack.
Ulster will be better for having him. Ireland will be worse for not. Not only that, Cooney suffered a serious-looking head injury late in the game. It's now possible that the only Ulster player who will start for Ireland against Scotland will be Jacob Stockdale. Iain Henderson didn't have a good game. Rob Herring was fine, but the Ulster lineout again wasn't impressive.
Regardless, Ulster's star players are now guaranteed a European quarter-final.
McCloskey can use it to prove Andy Farrell wrong again.
Everyone's in the Team Of Us.
Vodafone. The Official Sponsor of the Irish Rugby Team.
Download the brand new OffTheBall App in the Play Store & App Store right now! We've got you covered!
Subscribe to OffTheBall's YouTube channel for more videos, like us on Facebook or follow us on Twitter for the latest sporting news and content.