Ciarán Frawley might be the next Irish outhalf, but Joey Carbery needs to start the second test against New Zealand, according to Irish legend Keith Wood.
Johnny Sexton will not be Ireland's flyhalf forever. With the Irish captain turning 37 next week, it is most likely that he will not feature for his country after the 2023 World Cup.
What was thrown into sharp focus in the first test against the All Blacks yet again, however, was just how little preparation Ireland has done for the eventual retirement of their long-standing outhalf.
Sexton went off with a head injury at Eden Park on Saturday. While Joey Carbery did an admirable job in the 10 channel, it was far from a performance to equal the Irish captain.
Similarly, Ciarán Frawley's performance against the Māori All Blacks did not light the house on fire, and Harry Byrne's continued injury concerns would worry Andy Farrell.
However, in spite of the issues facing Farrell at flyhalf, Keith Wood feels that Carbery and Frawley are the two with their eyes on the jersey.
Speaking on Wednesday Night Rugby, Wood looked beyond Johnny Sexton as Ireland's only option at flyhalf for the all-important second test against New Zealand.
"I thought that Carbery played pretty well," Wood said. "It's not the same with Johnny. I think Johnny gives a huge amount of comfort to everyone around him.
"His mind is streets ahead. It's as if he's read the last page of the book. Having said that, I still think at times he is too deep and isn't considered a threat.
"The idea that we can only play with Johnny at 10, we've been doing this for years. It gets to a point where something has to change, because we are entirely reliant on him."
While Frawley was far from perfect against the Māori, Wood felt that he has seen enough in the 24-year-old to think that he should be considered Sexton's successor.
"When you look at Ciarán Frawley a couple of weeks ago, he makes a few mistakes, but he has to make mistakes," Wood said.
"You have to learn from all these things. I still think that he is the guy who will be in the 10 jersey going forward. That's the feel I have.
"He just needs to play an awful lot of rugby at 10, he's not playing any rugby at 1o. It is all kind of uncomfortable actually, watching it."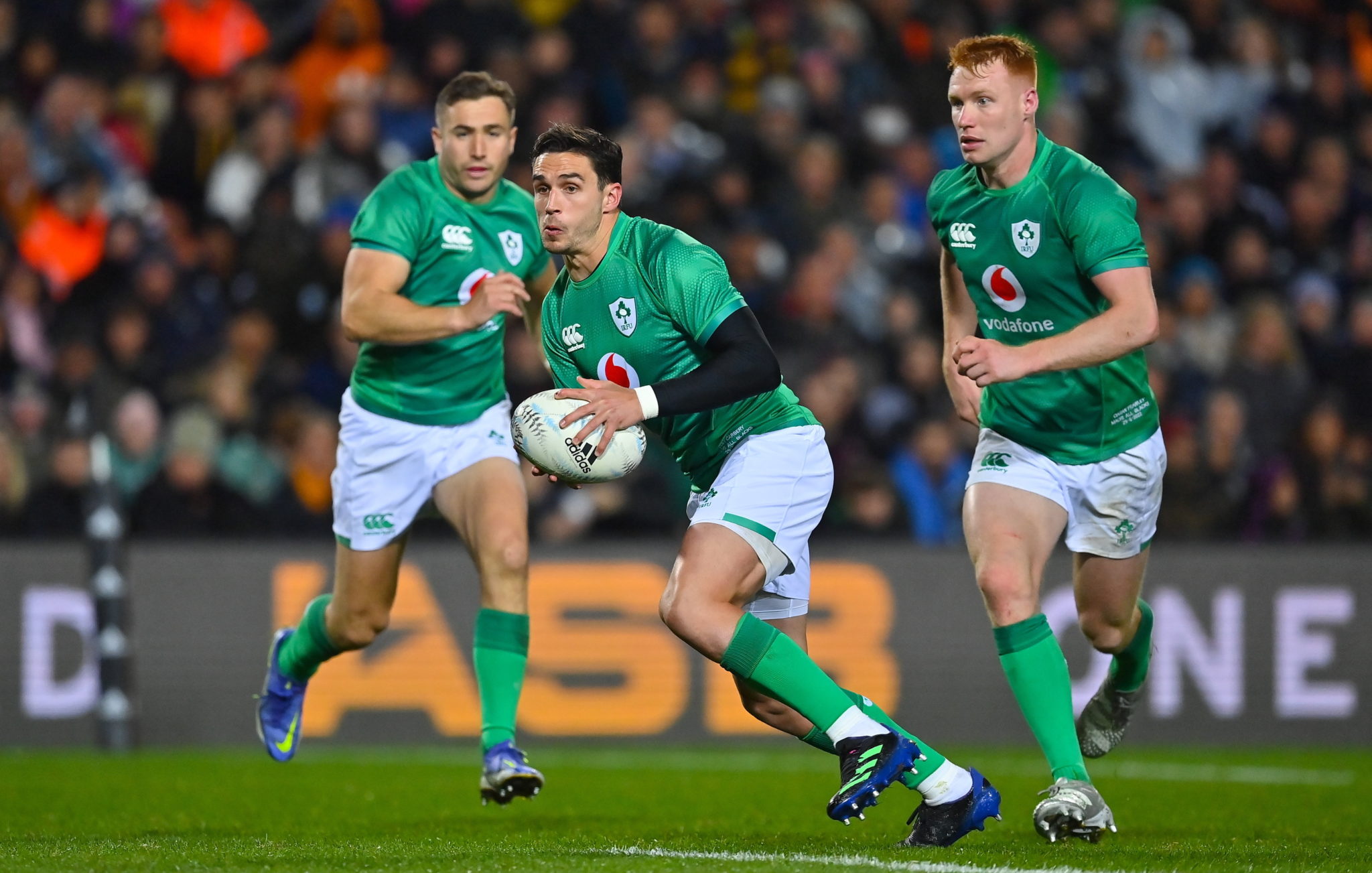 Now is the time to experiment
Sexton has been declared fit to play in the second test in Dunedin on Saturday. However, even if he is able to play, Wood feels that now is the time to test out the other options in the pivot role.
"I still think it's a great opportunity," Wood said. "I still think you try and bring other players on to play. We were looking at Frawley playing at 10, or Carbery playing at 10 and Frawley on the bench.
"Then Harry Byrne getting a chance to play next week against the Māoris. That way you are getting a lot of use for the players and you are bringing them in to see them under a high level of pressure.
"You have to try and win those games with those players in that position."
Wood suggested that he would back Frawley in the long run to take the 10 jersey for Ireland. However, he wants to see Carbery get more game time on the tour of New Zealand.
"If you were asking me, I would start Carbery on Saturday," Wood said. "You don't have to take him off if he's on and is playing very well.
"You can make that decision and those calls as they come. We have to accept that fact that it's an experiment. It is a crazy place to be doing an experiment, but we have to make those changes at some stage.
"We can't have a game built around Johnny and if Johnny goes off after 20 minutes there's no back-up. I still want to see Joey play more and with a smile on his face.
"I know people say he's a very good 15, and I think he is a very good 15. You could pick him at 15, but we have a shortage of 10s. We need to try and get a 10, it is an issue for us."
Team of Us. Everyone In.
Vodafone. The main sponsor of the Irish Rugby Team
Download the brand new OffTheBall App in the Play Store & App Store right now! We've got you covered!
Subscribe to OffTheBall's YouTube channel for more videos, like us on Facebook or follow us on Twitter for the latest sporting news and content.