The moment we've all been waiting for arrived last week. Disney + has finally launched in Ireland. The new streaming service allows you to watch back all the Disney movies, the Simpsons, Star Wars and Disney Pixar, to name just a few.
One film I would recommend to watch is a Disney Pixar film which was released a few years ago called 'Wreck-it Ralph', starring John C Reilly.
Ralph is the the 'bad guy' in an arcade game but soon grows tired of his role. He doesn't want to be the villain anymore, he wants to be the hero. In the one hour, 58-minute runtime, we follow Ralph on his journey as he attempts to escape the label of only being a bad guy and nothing more.
I imagine, at times, this must be what it's like to be a tall striker in the modern game. You could be the most skilful footballer out there but if you're over 6'3'' tall, then you just get put into the 'big man' category.
If you're lucky, you might fall into the subcategory of 'good touch for a big man', but that's still not satisfactory. Ultimately, you are a player with a good touch, who happens to also be tall.
Big is beautiful. Here are the best footballers, who are also tall.
Olivier Giroud - 6'4''
One of the most underrated and underused strikers in the Premier League. Giroud has been criminally boxed into the 'big man' category throughout his career.
At Arsenal, he had to take a back seat for more expansive, pacy players like Pierre Emerick Aubameyang and Alexader Lacazette who could play on the break. Yes, Aubameyang has scored loads of goals and Lacazette too, but they don't lay a mark on Giroud in terms of pure skill and flair at times.
In fact, the year Giroud left Arsenal for their London rivals, Chelsea, he went on to have a stormer of a season which ended in Chelsea hammering Arsenal in the Europa League final. He collected the Golden Boot that year having scored 11 goals in 15 Europa League games, including the final where he scored a delicious diving header.
He also set-up Eden Hazard for his hattrick with a superb chipped pass in between the Arsenal defence having taken the ball on the half-turn seconds before.
Add to that his pivotal role in France winning the World Cup in Russia in and some of his career goals into the mix and you've got a top-class player.
His Scorpion kick goal against Crystal Palace is Giroud summed up in 30 seconds of play.
Movement
It all starts with his movement, coming short and taking the ball from the defence.
Vision and footwork
He opts for a back-heel flick to Granit Xhaka instead of taking the ball in.
Workrate
He bursts a gut to get himself into an attacking position.
Flair
He finishes off the attack with an unbelievable, improvised scorpion kick into the top corner, off the crossbar.
Peter Crouch - 6'7'' 
The quintessential 'good with his feet for a big man'. Crouch is the tallest of our big men, coming in at 6'7'' but is by no means just a target man.
At Liverpool and especially at Tottenham, Crouch proved more of a handful with the ball at his feet than in the air.
In the 2006/07 season, he scored seven goals for Liverpool in their run to the final but it was at Spurs where he made a name for himself. Especially in Europe.
He bagged a hat-trick against FC Youngs Boys and even scored against Inter Milan as Harry Redknapp's side made it as far as the Quarter-final in 2011.
His volleyed goal for Stoke is clearly his best but he also did it for his country when it mattered.
Zlatan Ibrahimovich - 6'5
Perhaps the exception to the rule. Zlatan has had such a successful career playing at the highest level that he escaped the 'big man' label.
It may not have worked out for him when it came to Pep Guardiola and Barcelona but he was a hit pretty much everywhere he went.
Although his persona can be fairly annoying at times, there's no denying his ability. Essential viewing includes his goal in the LA Derby last season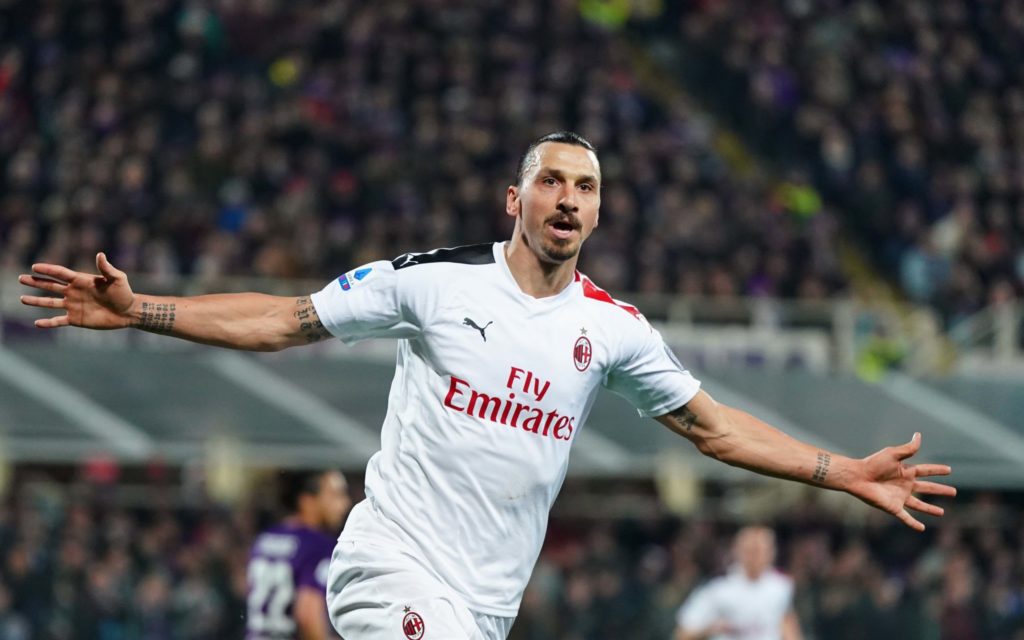 Chris Sutton - 6'3''
This one is a personal choice. Growing up a Celtic fan, the partnership Chris Sutton and Henrik Larsson had was the thing of dreams.
On the face of it, Sutton was a target man. There's no shame in that at all. If you're playing alongside one of the best strikers of the generation, it's expected that you would be doing at least some of the donkey work.
Unfortunately for Sutton, he had to play second fiddle to both Larsson at Celtic and before that, Alan Shearer at Blackburn.
He still managed to score 47 goals for Blackburn and 63 goals for Celtic. Yes, he was great in the air but he also had an impeccable first touch and could turn defenders inside-out on occasion too.
Nwankwo Kanu - 6'6''
Who didn't love big Kanu?
From the very beginning, success followed the Nigerian throughout his career. In his debut season for Ajax, he scored 25 goals in 54 appearances as they went on to claim the Champions League title.
In 1996, he scored two vital goals in the Olympics semi-final against Brazil to send his team through to the final and on their way to claiming gold that year.
Despite playing second fiddle to Thierry Henry for the latter stages of his Arsenal career, he still managed to bag 44 goals for the Gunners and was part of the 'Invincibles' team.
After leaving Arsenal he went on to have a fairly forgettable few years at West Brom but made a revival under Harry Redknapp at Portsmouth. He also played alongside Peter Crouch at Pompey in a dream partnership.
In his first season, he was their top scorer, the second season he scored the winning goal in the FA Cup final against Cardiff. What a player.
WATCH: Enda Coll and Colm Boohig discuss their favourite 'big men' on Team33 
Download the brand new OffTheBall App in the Play Store & App Store right now! We've got you covered!
Subscribe to OffTheBall's YouTube channel for more videos, like us on Facebook or follow us on Twitter for the latest sporting news and content.