Ireland's struggles to find a first-choice goalkeeper boils down to a lack of specialised training and education, according to former captain and 'keeper Emma Byrne.
Former Republic of Ireland skipper Byrne retired almost four years ago, and since then the national side has not had a steady goal-tender.
While it is difficult to fill the boots of someone the likes of Byrne, the lack of a standout 'keeper worries the 134-time capped former captain.
Byrne believes that more attention needs to be brought to the goalkeeper role in underage teams across the country, with specialised coaching and training before they get to senior level, as by that stage it is too late.
Speaking on the latest episode of the COYGIG Podcast, Byrne discussed the idea that the national side has not yet been able to find a replacement for herself.
"I don't think it is positive," Byrne said. "I think it's a really sad state of affairs if I'm honest. If you are saying that I have not been replaced, I'm not going to agree with that, but I think it is really sad that that [might be] the case.
"I am retired over four years now. Especially coming from a country where Gaelic sports are so prominent, we should be able to get a goalkeeper from this because they have all the skills and the attributes to be a goalkeeper.
"I think it is a real shame that we are not producing goalkeepers. Then you have to look at what we are doing to develop our goalkeepers."
Byrne believes that the adaptation of a proper football academy for female athletes would be the ideal solution to not only the 'keeper problem, but the other issues facing the women's football in Ireland.
"Not just for goalkeeping, but for the development of women's football, I really believe there should an academy," Byrne said.
"Education-based, obviously. That is a massive thing. Not just any old education, a really good education. You have a lot of academies where you can only do specific subjects and they are kind of average schools.
"I think there needs to be an academy where they can get the education that they want, and train everyday and have good coaches as well.
"Even if it is a goalkeeping academy, it doesn't have to be."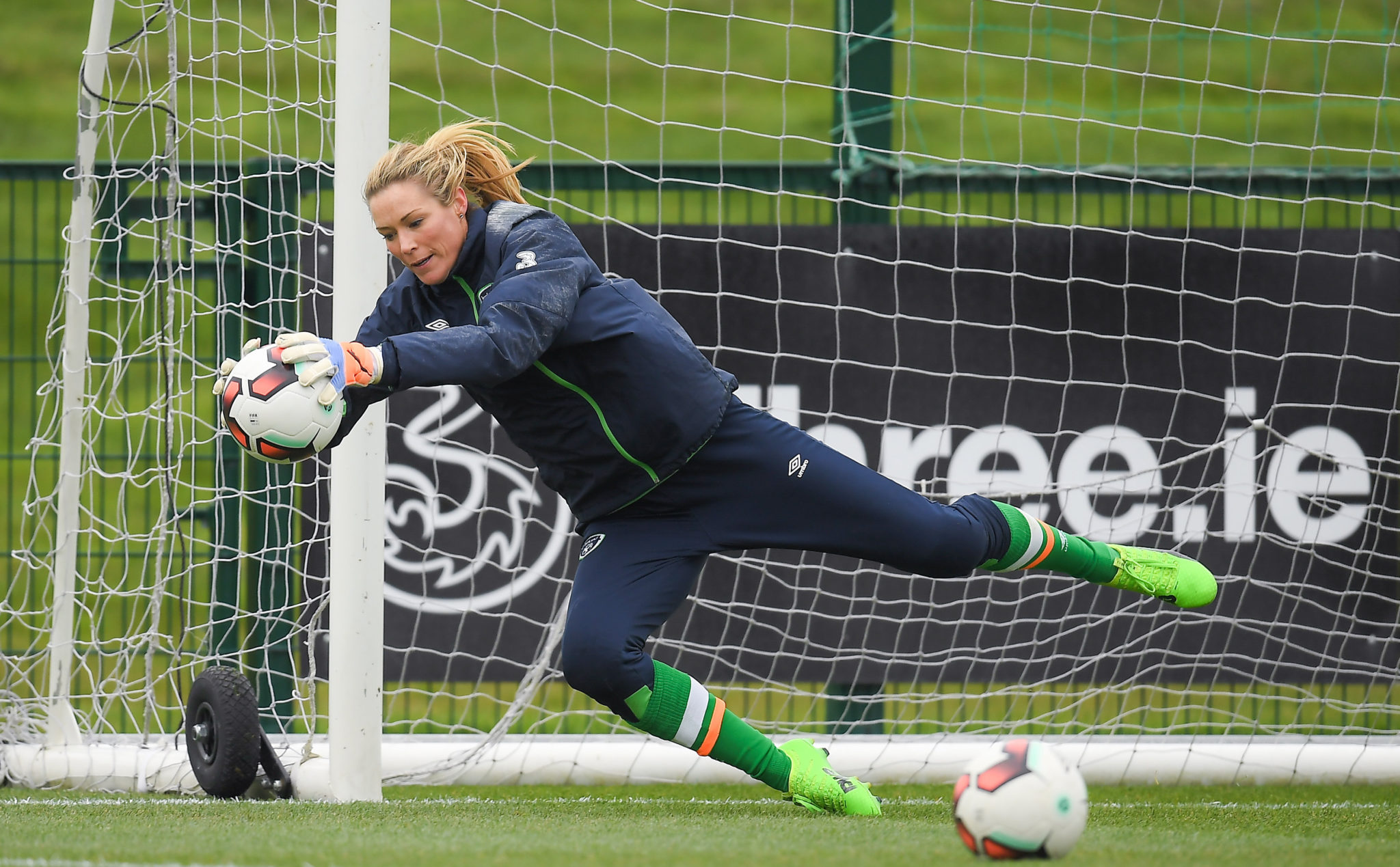 A goalkeeper need to be fitter
For Byrne, the idea that a 'keeper is in goals purely because they cannot run is a fallacy. She feels that she was fitter and more of an athlete than the outfield players that she played alongside, and that is how it should be.
"One of the things that I do have to talk about is the fitness levels of the goalkeeper," Byrne said."Personally, I think a goalkeeper needs to be even more of an athlete than an outfield player.
"I am not sure that that message is getting through to some of the goalkeepers. I was a bit of a freak when I was younger about stuff like that. I wanted to be super fit; I wanted to be the fittest.
"I wanted to get rid of that [feeling] that everyone thought the goalkeeper was the one that couldn't run and the least athletic. I wanted to get rid of that.
"I think I did for a little bit, especially with Arsenal. I worked really hard outside of training to do that, and I am not sure that the goalkeepers are doing that."
However, Byrne acknowledged that she received different levels of training than what the current crop of 'keepers are getting.
Byrne believes that with proper training from an earlier age, Irish 'keepers will be much more adept at the specialised position, which is nothing like any other position on the football pitch.
"In fairness to them, they are not getting the training," Byrne said. "There are very specific things about their agility training. It is not the same as the outfield players.
"They need to have specific programmes, and that needs to be done at an earlier age than 20-25. That needs to happen when they are 15 or 16, or earlier if possible.
"It is a big thing that needs to be changed. There is a lot of work that has to go into it. You just need someone to want to do it, and I am hoping that they will do it.
"I think it is fairly obvious that we are falling behind with that, which I think is another sad thing. Yes the goalkeeping is improving, but it is improving more rapidly in other countries than our own. That is something that I never thought I would see either."
The COYGIG Pod on OTB Sports in association with Cadbury FC, official snack partner to the Republic of Irelands Women's National Team.
Download the brand new OffTheBall App in the Play Store & App Store right now! We've got you covered!
Subscribe to OffTheBall's YouTube channel for more videos, like us on Facebook or follow us on Twitter for the latest sporting news and content.