Jack Charlton used to pay for meals in Irish restaurants with cheques, because he knew that they would never be cashed.
So the stories go. Charlton was such a hero in Ireland in 1988 that he knew that restaurateurs and shopkeepers would have them as keepsakes.
But Ireland's relationship with Charlton was not as straightforward or benign as anecdotes like these imply. In the mid-1980s, part of the island's nationalist community was in direct conflict with Charlton's England and 'Englishness' was a concept that was difficult to reconcile with many Ireland fans.
Jack Charlton: shoe lover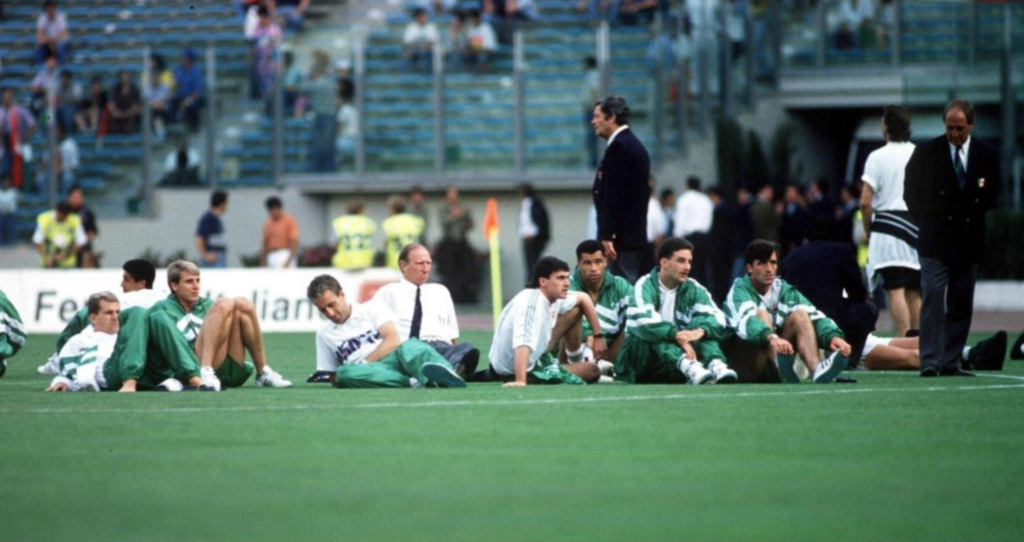 Off The Ball spoke to Ross Whitaker about Charlton, after his documentary 'The Boys in Green' aired on RTE, which focused on Italia '90.
Whitaker spoke about the aspects of Charlton that he had forgotten prior to making the documentary.
"What I hadn't really remembered about him was the gentler side; the more sensitive side. There were things that weren't featured in the documentary - there were hilarious things like he loves babies!
"He literally couldn't walk past a baby without throwing it up in the air and catching it - we didn't get to include that in the documentary.
"The other thing was that he couldn't walk past a shoe shop without buying a pair of shoes. They were all these sensible, black shoes - he had about 27 pairs of them!
"He was quite a quirky guy. We got to interview Gary Lineker about him and he was saying that [Charlton] was tough, but a bit of fun. I think that is what Irish people connected to a lot.
"He didn't take himself too seriously; he was happy to take himself off fishing and not know what was going on in the world."
Jack Charlton: untypical Englishman
Charlton was not the 'typical' Englishman when he arrived in 1980s Ireland.
"He was from the north - so far north that he was practically in Scotland - so maybe the further you get from London the fewer airs and graces you have.
"I don't think he even fancied himself as a footballer, which is understandable when you look at his household!
"But he went to Leeds United and, ultimately, got that World Cup winners medal. If you speak to John Giles, he says that he was the best centre-half in the English league for a couple of years."
But this was a tumultuous time in the British Isles, with the IRA extending their bombing campaign into England and it was on this backdrop that Charlton arrived.
He was greeted with a flag emblazoned with 'Go Home Union Jack', typical of at least a part of the sentiment towards a British manager of Republic of Ireland.
"The idea of an Englishman managing Ireland during the Troubles - we were trying to drill into that a little bit and understand how things intersected," said Whitaker.
"It felt natural to wonder about Jack being an Englishman. We know today, there will always be someone to complain and there was that banner about Jack.
"Fast-forward a few years later and there would be very few naysayers or concerns about where he came from.
"Beyond that, you're thinking about how his Englishness impacted his reign and, conversely, he started getting a lot of flak for it in England.
"He was called a traitor and a Judas, all of those kinds of things."
"That became more interesting, an English man coming to manage Ireland at a difficult time. Being welcomed into the hearts of Irish people and then, strangely, a lot of fans turning against him from the country where he won the World Cup.
"That is quite an interesting arc."
Reclaiming the flag
It was an arc that would have a deep impact on Charlton. In the film, Tony Cascarino remembers the manager being booed at Wembley, in the qualifiers for Euro '92.
Cascarino remembers Charlton saying, with no little bemusement and frustration: 'I won a World Cup for this country - in this stadium.'
No man is an island and Charlton was on one end of a spectrum of changing national and personal identities. Whitaker remembers the tricolour being something of a damaged brand, similar to the Union Jack in its being tainted by paramilitarism.
It was Italia '90 that went some way, in his eyes, of rekindling a national pride in the three colours.
"The Irish flag was often associated with paramilitary activity in Northern Ireland. You would see it at funerals, you would see it on murals, you would see it associated with the IRA fairly regularly.
"It is [through the fans that attended Italia '90], that George Hamilton calls them the 'green-clad ambassadors', waving their flags and doing so with such incredible joy that that identity started to change."
Download the brand new OffTheBall App in the Play Store & App Store right now! We've got you covered!
Subscribe to OffTheBall's YouTube channel for more videos, like us on Facebook or follow us on Twitter for the latest sporting news and content.