As the death of Diego Maradona filtered through earlier this week, Ger Gilroy was left asking himself why so many middle-aged men felt like crying. 
*****
I don't know why I felt grief as tributes were being paid to Diego Maradona on Wednesday, why I felt like crying and then why I actually cried. It doesn't make sense. Or else it is the only thing that makes sense.
It seemed like those tokens of youth I have taken for granted were slowly disassembling, fading to become a YouTube highlights reel, shorn of authenticity somehow, by no longer being real. That's always happening, especially as everyone today becomes a celebrity. So why did I care so much this time?
There's no one answer, only fragments that don't really fit together. It has something to do with football, and heroes, and failures, and I don't know.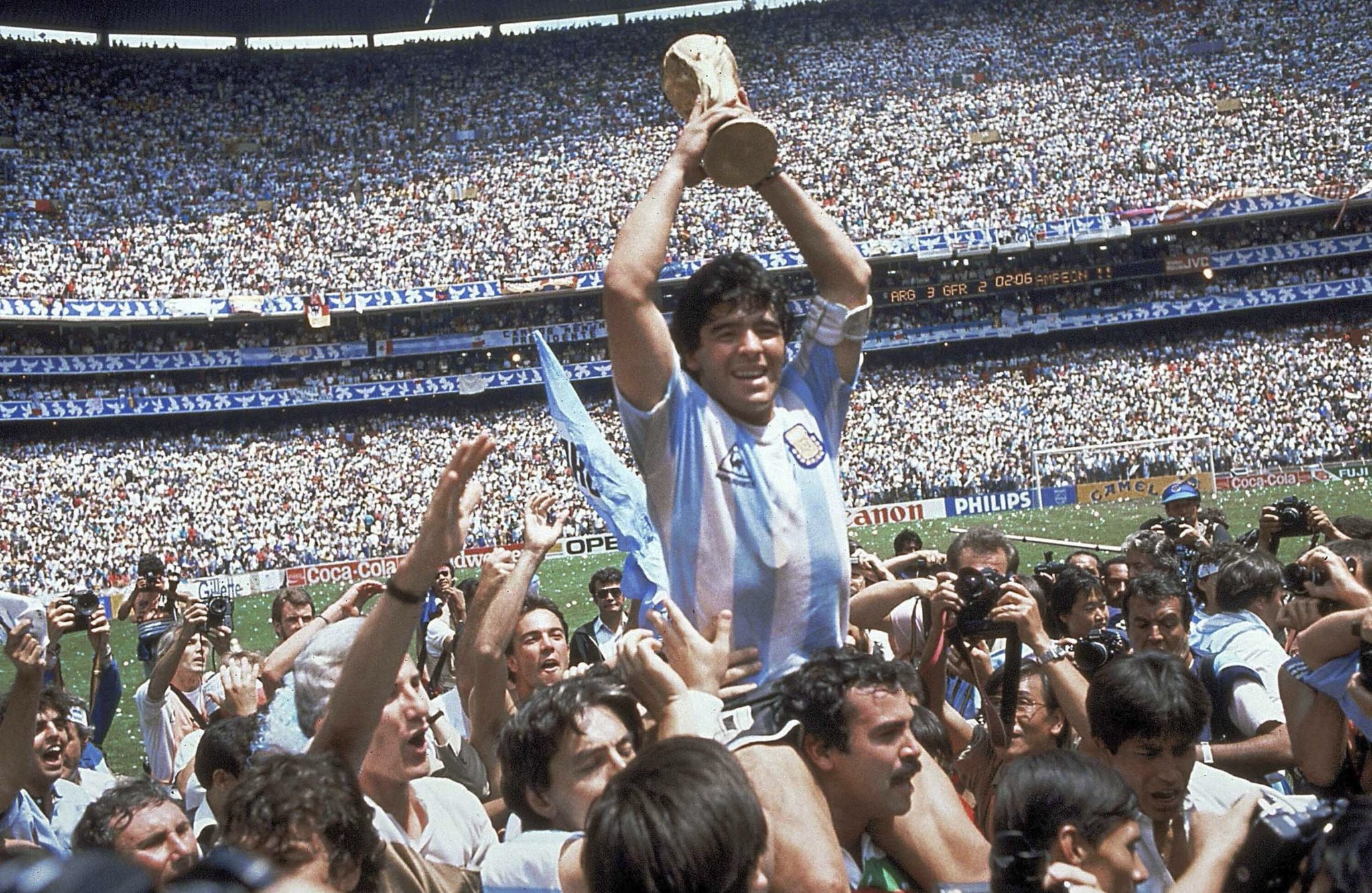 The 1986 World Cup began for me in the back room of my Granny's house in Belfast in the winter of 1985.
Nestled in by the side gate of the King's Hall, we were out of harm's way while proximate enough to wonder if that was fireworks or something else? Our visits to the North were always slightly edgy, exciting and at times an adventure to literally another world.
That otherness was the precise point of the barracks, the army land rovers, the funny looking signs and beeping road-crossings and the second football team. We'd trundle up the four hours in a tinny car, from the south to the weirdly coloured streets of the North.
It wasn't just the kerb-stones, but the very asphalt on the road was dyed or painted red by some sorcery I couldn't imagine, though I knew somehow the relentless smoothness made it better than our roads. Especially after the backroad potholes between Balbriggan and the back arse of Louth before you passed through the guns at the border.
Looking back now I realise that Belfast in 1985 - despite the glittering array of sweets you couldn't get in Athy, the 10p SuperCans of Pepsi, the cheap tennis balls that were "bomb damaged stock" that I'd flaunt to my mates - was a grim, grim place.
Gripped with sectarianism, riven with poverty and enmired in a self-defeating circular conflict that seemed to boil down to whether the priest was magic or not. We tried not to talk about that too much. However, the BBC provided more sport than on our two channels and the sweets were well-stocked.
And this night England were playing Northern Ireland and we just needed a draw. I say we because that's the team my Granda was shouting for – the team of Jennings and McIlroy and most importantly, Whiteside.
It would have been weird for my parents to be too interested in a football match to be honest, we were hurling people and by then I'd been to two All Ireland finals. Our summer holidays and winter Sundays were entirely dictated by the hurling calendar and how long the Athy team my Dad was involved with might last in the Championship.
So, it was definitely at my Granda's prompting that we had gathered that evening to watch England pummel Northern Ireland and yet fail to score. A giant moral victory, that 0-0 was a suitable introduction to my life watching Irish international sides.
Actually, I'm wrong, maybe the World Cup really started for me in summer of 1985 and the FA Cup Final.
At the fringes of the endless training sessions that I'd go to with my Dad, the various kids of players and mentors would pick up broken hurls and burst sliotars and either make friends or fight.
One night - I know now it was May 1985 - the Brophys, Mark and Kenneth, asked who was I up for at the weekend? I hadn't a clue. Myself and Ken were seven, or just turning eight, and later played underage all the way up through the hurling age grades.
Mark was a bit older - and stronger. He should have been the best whenever we played games but actually his little brother was. He had already been marked out across the town as a star player in the making and his skill as a hurler, footballer and soccer player was clear.
Pace, bravery, skills, tactical awareness and a nice nasty edge, if he needed it. We won an U16 hurling final by 11 points with Ken scoring 11 points, almost all of them from play. That same year we won the minor title and the opposition did him in the first ten minutes because they knew he was so good.
He played on with a butchered hand and we still won. When the Athy senior footballers made a run to the county final in 1995, myself and my mates watched from the stands as the team were run ragged. The crowd interest waned to the point where we could hear Jimmy Magee singling out Ken's performance as one for the ages from the windowless press box behind us in St Conleth's.
Even in a crushing one-sided defeat, at just 18, he was brilliant. Different Class.
Mark went on to manage the Athy footballers to a County title 16 years later with Ken at centre-forward. The last time I saw Ken he was home from Australia visiting. Apart from his brilliance, he became a local talking-point among the football crowd after his Dad had been the town star before him.
Tommy Brophy, as far as I know and this might be a fabrication on my part but it's always been my truth and so I record it here too, had gone to school in St Kieran's in Kilkenny. That made him a hurler. In our house, St Kieran's was spoken about in spiritual terms. I often wonder if my parents regret not sending me, and that maybe if I'd shown any promise might it have happened.
Anyway in a football town Tommy was a hurler first, even though the story goes, he was as good at football, so now his sons might be the axis to power the team to glory. No pressure.
But that balmy evening before the FA Cup final, I had given the wrong answer – I was not up for United against Everton and the lads had taken their ball and decided to play on the other side of the pitch. It was United fans only that evening.
And so nursing the burden of my social gaucheness I watched the '85 final with more emotional investment than I might otherwise have had. I cursed Norman Whiteside's genius and was oblivious to Paul McGrath's greatness. I have realised this past week that Paul McGrath is Ireland's Diego Maradona.
I have also realised that not picking United that evening was the first of many stupid decisions I have made in my life. I could have aligned myself with McGrath, United and ultimately unashamedly, Diego.
By the time England got drawn to play Argentina, I'd clambered on board the English train. I'd married Everton in May 1985 and I was going to dance with the one who brung me. In this case that was Everton's Gary Lineker. With his broken arm in a cast and still scoring freely, I was doubling down on my decision-making.
I don't really remember the hand-ball or, as an 8-year old at the time, caring that much about the second goal. My entire football supporting weight was mindlessly behind England at this stage. What I do remember is John Barnes ascending from the bench to a higher plane and ripping Argentina apart again and again down the left wing.
Lineker eventually made the end of one of the crosses and as he scored it had me up out of my seat screaming for another goal. I don't know if that was just because I wanted extra-time and more football on the telly, or because I legitimately wanted England to win. As the game finished though it slowly dawned on me that I'd been cheering for the wrong team, or rather the wrong player.
Even at 8, I couldn't miss the story in front of me.
That entire World Cup was an explosion of new colour and joy on a multitude of levels. It was a multicultural experience in a monochromatic world. It was also the beginning of the end of my childhood innocence.
When I later cheered for Northern Ireland openly at a friend's house, his big brother took proper serious offence to it. I didn't yet know why, but it was made clear that you can't be supporting Northern Ireland, even though you were born there.
When Spain went 2-0 up he relented a bit until his Mum gave out to him and the taunting stopped.
I didn't really care though because the fucking World Cup was on. EVERY DAY! And I could watch almost all of it. The Brazil team's jerseys were amazing and the goals they scored, particularly against Northern Ireland, were so otherworldly that it was just great to be somehow a part of this spectacle.
The World Cup was crack cocaine for a sports mad kid who lived in two-channel land and never saw live football played in sunshine. Also, and I can't overstate this, the 1980's were shite. I remember coleslaw coming to Athy. Sometimes for dinner we'd have a slice of ham and a plate of chips.
When we had a fire because a chip pan was left on one time we were delighted because it meant we had to get a deep fat fryer. The news was stern grey men delivering the troubles, Israel, strikes, Anglo-Irish shite, 'Ulster says NO', Maggie Fucking Thatcher and once a year the All Ireland finals on telly.
We didn't even have the English channels. I'd have to listen as various kids made the Dukes of Hazard sound like a pre-cursor to The Wire.
Into this world comes Michel Platini untucked, Joel Bats and his silver jersey, Zico and Careca. Penalty fucking shootouts! We watched the final in the good room - the aerial just about held out after we moved the TV because my Aunty Maeve was coming to visit.
Maeve travelled with an entourage in the 1980's. It was always hard Northern women who drank more than we had and laughed a lot. They were gamey and craic. In her time she was an intimidating character, refereed two All Ireland finals - no-one would give her shit. They knew what she was like on the field, after she had already won one with the Antrim camogie team. She travelled alone sometimes and never married. A quiet act of rebellion in the 60's, 70's and 80's. She won the individual camogie award the same year as Sean Purcell in Football and Nicky Rackard in Hurling. Hardass!
I was slightly put out, that July in 1986, that my World Cup was being somehow turned into a general family thing – where had they been for the shitty first round games? Or that Brazil quarter-final?
My other 1986 memory is that my parents decided I couldn't stay up for the Belgium semi-final. I am slowly working up the courage this week to bring that up and pick the fight we should have had then.
The only other time I can distinctly recall being as feverishly excited by a sporting talent was one dark afternoon when myself and my Dad had stopped to watch a schools hurling game.
Late Winter or early Spring. I think we might have left school early to get a glimpse of the phenom who's reputation had done the rounds, the pre-internet message boards of training sessions and selectors chats and in cars to matches.
DJ Carey and Kieran's were playing a game fixed for Geraldine Park. Deep in Kildare football country this pitch was considered one of the best hurling pitches in winter in Leinster and so a slew of colleges and club hurling matches were fixed for there.
Sometimes there'd be open warfare between the Kilkenny and Laois club hurling teams on and off the pitch. Bloodied hands and faces were the currency of these games and it seemed normal. We watched agog, as close to the action as we'd dare, especially as it spilled into the terraces. But that afternoon, on a heavy pitch, Carey was also luminous and we knew it too.
As we stood there another body shuffled up to us, "Alright Gerry, alright son". It was Tommy Brophy. He too was bunking off wherever he was supposed to be that afternoon to watch the hurling. We were all part of a very select crew that day and it felt pretty good.
*****
Somehow, as the news broke on Wednesday, I wasn't taken back just to 1986 but in a split second I'd worked my way back to watching DJ with my Dad, and Tommy Brophy. A zip from 86 to 85, to the sidelines in Chanterlands as the hurlers trained, that night in Belfast Pat Jennings was brilliant and it was really just fireworks, and back to the final and how Jimmy Magee rolled Jose Luis Brown through his voicebox and heart simultaneously.
Tommy didn't get to see his sons win in 2011, he'd died suddenly before then, and I still remember the shock of hearing that news. My Aunty Maeve is in a home in Belfast where she's being cared for, and I'm not sure she remembers our good room and her mates and the World Cup Final of 1986 anymore.
But I do, and I guess I know now why I was crying when Maradona died.
Download the brand new OffTheBall App in the Play Store & App Store right now! We've got you covered!
Subscribe to OffTheBall's YouTube channel for more videos, like us on Facebook or follow us on Twitter for the latest sporting news and content.