OTB Sports' Ciaran Bradley on why the sight of Christian Eriksen resonated with us all in a collective but deeply personal way - and why UEFA dropped the ball.
On a winter night in 2011, my brother was abducted.
He was and is a vulnerable adult, who took a wrong turn on his way back to his bus stop after a day with his friends at the Daylight Club - a social club that organises activities and entertainment for people with intellectual disabilities.
He was lured into a house by a man whose identity we know, who took his money and threatened him with, among other things, a slash hook. That man remains a bogeyman in the psyches of my brother and our family; the personification of harm being done to those closest to you, after one wrong turn.
As the enemy was cast, so too were the heroes. The police raised the alarm immediately, squad cars from our county and others looking for him as the situation's gravity hit home. Facebook messages and texts were immediately answered by friends and family who took to the streets to look for him.
I was in a car with my friend Brett, looking for him. I remember the sense of being mentally frozen, that what we were experiencing was so out of time and out of comfort that you suddenly understood quite was 'surreal' meant. But it was the everyday, unthinking heroism of people like Brett that ensured that my brother was found, wandering a motorway verge in the cold.
I remember how I felt bringing him close to me after a fright that shook him to his psychic foundation. He didn't match my relief, he was pointing to a bruise on his face. That bruise was not the only one, and his trauma would be our trauma as we dealt with what happened.
The guy who did it is known in our home as 'that man', and when my brother speaks about 'that man' we instinctively know exactly who he is talking about; what his mindset is now and was then.
We then set ourselves into our particular roles to ensure his safety and comfort once again.
Eriksen
The immediate severity of Christian Eriksen's situation brought that to mind. The total and abject helplessness of his teammates, forming a protective shield for a harm that had already come.
The leadership and quiet solidity of Simon Kjaer and Kasper Schmeichel, who felt exactly the same inside as the tearful Thomas Delaney, but exhibited in a different way.
Each a trauma, to each his own.
It would be churlish and wrong to say that our family's incident came to mind straight away. That is the nature of these kind of incidents - they take a while to settle, they are both universal and intensely personal.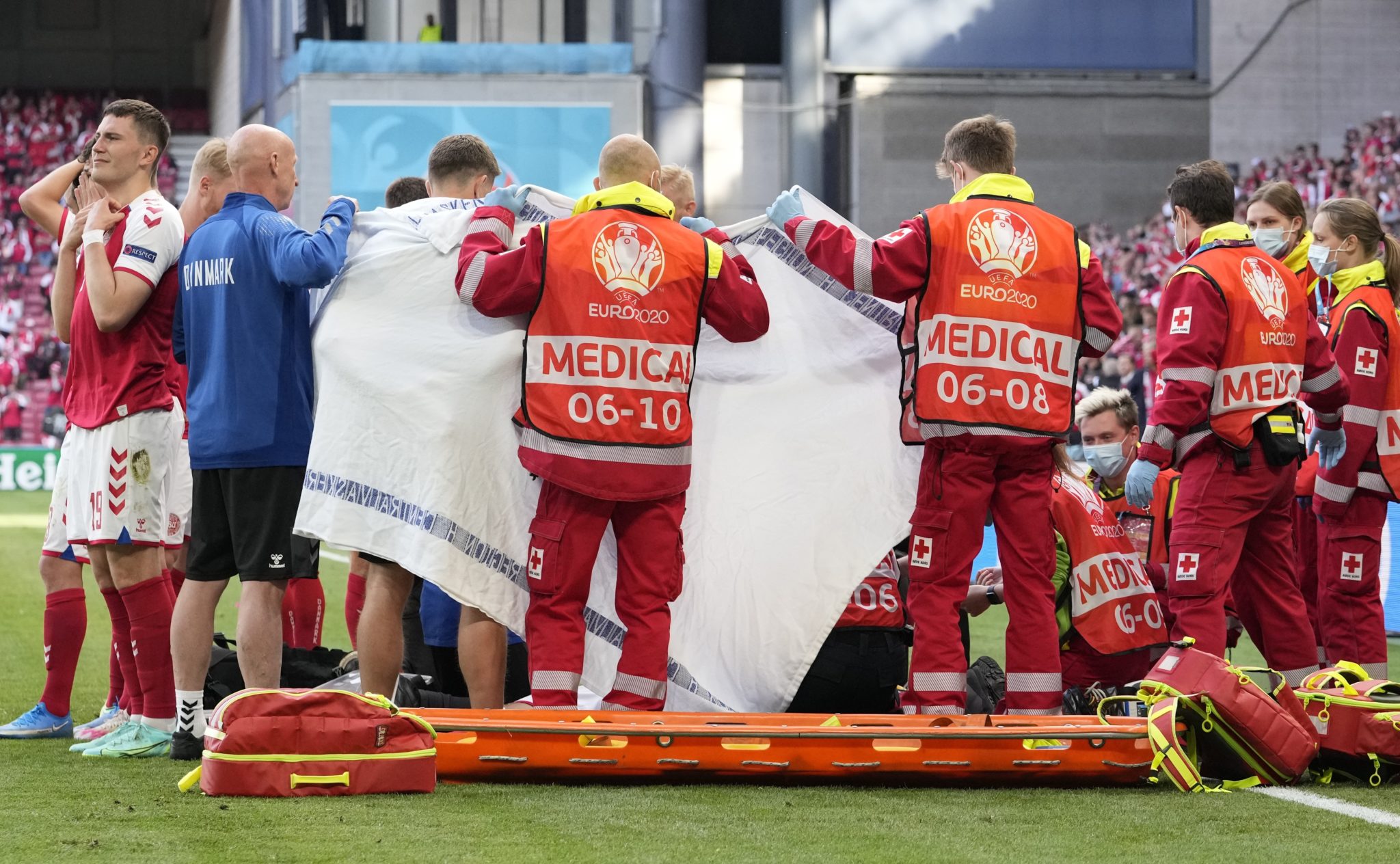 In one sense, even writing and comparing the two seems a mawkish overreach, as if trying to piggyback on something that was intensely personal to Eriksen, his family and those on the pitch.
But the images of him laying there struck a chord with each of us, even if that chord's tone was different for everyone. The Guardian's Barry Glendenning neared tears on Football Weekly as he recounted the incident, having covered the match on a minute-by-minute.
It is no stretch to presume that the trauma was at least in part because we all know someone who succumbed to that which Eriksen survived.
The false grief phenomena
Soon after the Euro 2020 coverage on Saturday on ITV, a documentary of the Royal Family played. It started with the death of Princess Diana.
Her death is often referenced when psychologists talk of 'false grief', the idea that outward emotion over a particular incident prompts a delayed emotional response about something else. Those outside Buckingham Palace may have been weeping for Diana, but only in part.
It is rare that we witness an incident that brings people together with such immediacy. Christian Eriksen was the latest collective trauma, and will not be the last.
The term 'false grief' is not to say that there is anything false about the emotion displayed in both instances; the tears are real, and Saturday remains a traumatic injury to his teammates.
UEFA forcing the Danes to either play the match today or tomorrow was deeply insensitive and makes a total mockery of any PR guff they direct towards mental health.
"Moments like this put football into perspective," Aleksander Ceferin was quick to tweet, before UEFA made it clear that the inanity of football would remain front and centre.
If my employer had forced me back to work that night I would, in the words of Alan Partridge, have spat on their back.
Mark Chapman
After a day of real trauma, the most touching reaction came from the BBC's Mark Chapman, no stranger to grief himself in the last twelve months. Mark lost his wife Sara to cancer a year ago.
His reflex was one of understanding, and should have been mirrored by those in charge.
"I don't tend to talk about this but I do believe that after everything I have dealt with over the last two or three years that everybody deals with grief, and trauma, and shock in their own individual way. There is not a right way or a wrong way to deal with it.
"But what you need when you go through it is the full support of people you work with, your management or whatever it may be. You need the support of the people who are around you.
"I do worry, rightly or wrongly, whether the support was really there for some of these players."
Support
My brother's situation got a little darker before the dawn, but that was just his way of processing it, as Mark says.
We were in the position to be with him every step of the way, and bring in medical expertise of a different form on show in Copenhagen. He is now better than he has ever been, and that bogeyman fades a little more with each year.
We need to see trauma as an injury. You don't rush someone back to fitness or they break down again.
We saw that on Saturday. Let's hope that lessons are learned.
Download the brand new OffTheBall App in the Play Store & App Store right now! We've got you covered!
Subscribe to OffTheBall's YouTube channel for more videos, like us on Facebook or follow us on Twitter for the latest sporting news and content.