President Michael D. Higgins joined Off The Ball to discuss Jack Charlton's influence and why Irish people loved him so much.
Charlton passed away on Friday at the age of 85 and has been fondly remembered as a manager who changed soccer in this country and brought many special moments to the nation.
"He was an icon, not confined to any period," President Higgins said.
"Jack's influence was a great, inclusive one. Everybody involved, the players, the backroom team, the travelling supporters and all the people back home watching the game.
"All those people from different generations who came into the atmosphere that he created.
"With Irish people travelling abroad acquiring a reputation as great supporters before and after games.
"They're fantastic moments that will always be there."
President Higgins also explained what he felt endeared Charlton to the nation.
"It was the size of him, this earthiness.
"You could get any kind of an answer from him, there was nothing posed about it. There was nothing inauthentic about him.
"It was just like this man has come up from the coal mines, taken on soccer and is now talking about it the same way he would be coming up or down the mine."
President Higgins believes this coal-mining background helped Charlton connect with ordinary people.
"He was able to move through communities and see no distance between himself and people of any rank or of any background," he said.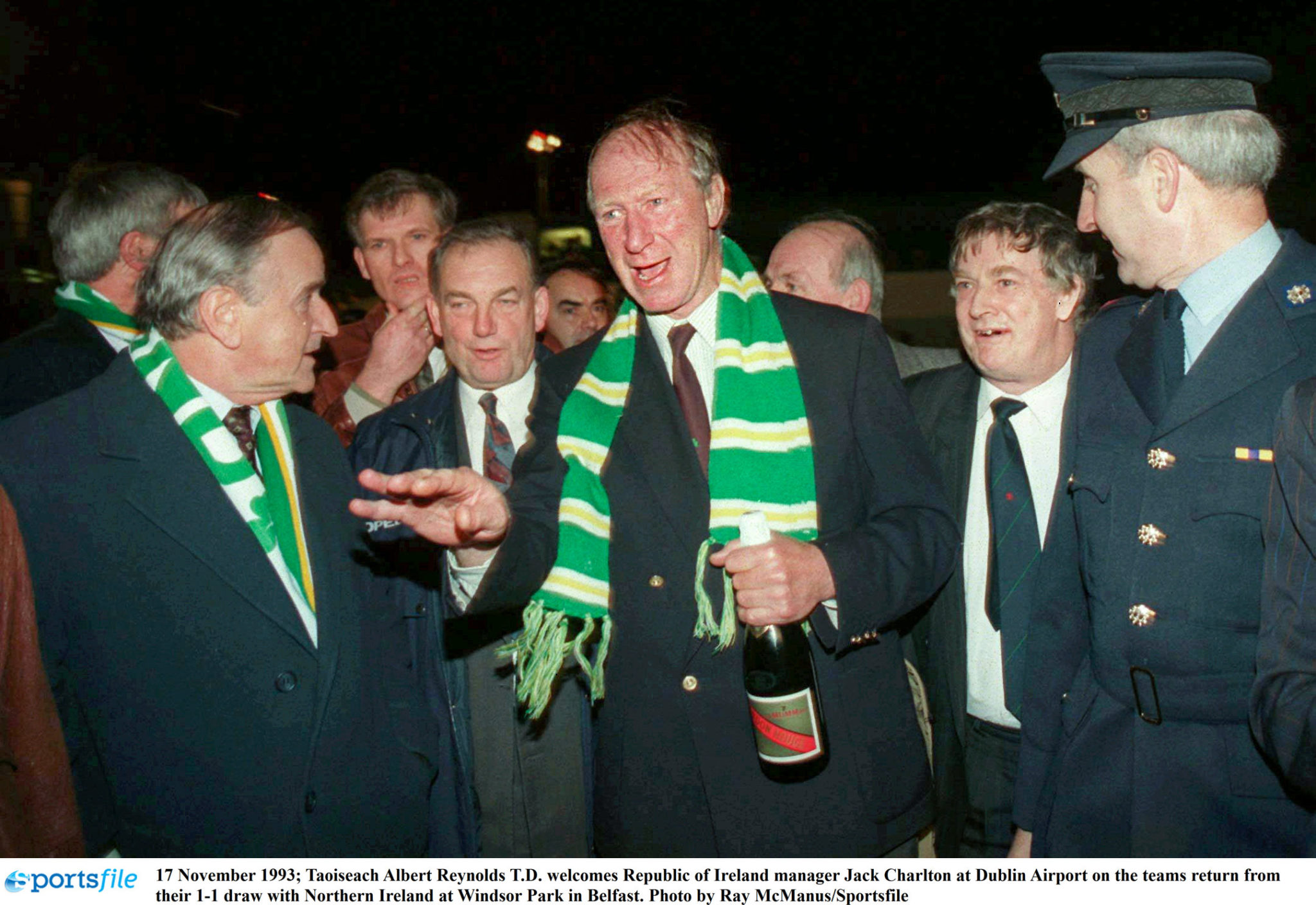 Charlton also famously supported the miners' strike in the 1980s.
"There was a granite-like strength of character to him for that," President Higgins said.
"Some people would suggest that it perhaps cost him a knighthood.
President Higgins recalled Charlton's answer when he was asked why he was supporting the miners. "All these people are fighting for is a decent livelihood and the lives of their communities," Charlton said.
The President also credited Charlton for getting soccer more equal treatment in Ireland.
"It was not getting its fair recognition in terms of all that it does at every level and the opportunities that it creates.
"The game has such a huge participatory level and what he did helped to put in the middle of the field".
President Higgins also remembered with fondness a time when he was at Clarenbridge Oyster festival with Charlton.
"I was standing next to him in the 1990s, I was mayor of Galway at the time and he had a fine pint of Murphy's in front of him. He said 'I'd like to thank our sponsors Guinness'. I had to give him a kick in the shin!
"He was just a person who it was very easy to be with."
Download the brand new OffTheBall App in the Play Store & App Store right now! We've got you covered!
Subscribe to OffTheBall's YouTube channel for more videos, like us on Facebook or follow us on Twitter for the latest sporting news and content.