Manchester City's Erling Haaland is such a complete striker that the only logical way of defending against him would be to throw bodies at him, according to former Republic of Ireland defender Damien Delaney.
The Norwegian striker signed for Premier League champions Manchester City during the offseason transfer window. Since then, he has gone on to score 10 goals in six Premier League appearances, and two in his solitary Champions League appearance to date.
In addition to those 12 goals in seven matches, Haaland has also registered an assist for City. Most notably, though, was Haaland's back-to-back hat-tricks against Crystal Palace and Nottingham Forest respectively.
With the Norwegian destroyer on track to break several scoring records for City this season, many defenders are asking the same question: How do you defend against him?
Speaking on Football Saturday, Delaney attempted to answer this same question, relieved that he is no longer responsible for actually attempting to defend against him.
"I'm glad I'm sitting at home watching the golf on TV," Delaney joked. "I suppose when you are going in to play against players like [Romelu] Lukaku or [Cesc] Fàbregas, you are always trying to think, what are they good at?
"Ok, that's what they're good at, don't give them that. With Lukaku, don't get involved in physical battles with him, don't get tight to him, don't try and get involved in a match-up battle.
"Admit that he's stronger than you, so don't get into battles with him. What's he not good at? His touch is poor, so go to that.
"With fast centre forwards, give yourself a yard. He gets at your feet, you can readjust, or you might get help from a number six. Don't get caught in a foot race with him.
"Don't get greedy. Things like that you always try and work out before a game, or I did anyways."
Haaland is near impossible to mark
Haaland is not like any other striker currently in England. He is quick, physically imposing, and has a vast arsenal of skills.
This makes defending against him as a sole defender nearly impossible, according to Delaney.
"Strength in numbers I suppose would be one of the things I'd be thinking," Delaney said. "Then again, if you start converging on him and start asking your six to play a bit deeper or your fullback to play a bit closer to you, then other players are going to strip you.
"You're not going to beat him in a battle of strength, so you think you don't want to get involved in that. You don't want to get caught in a foot race with him."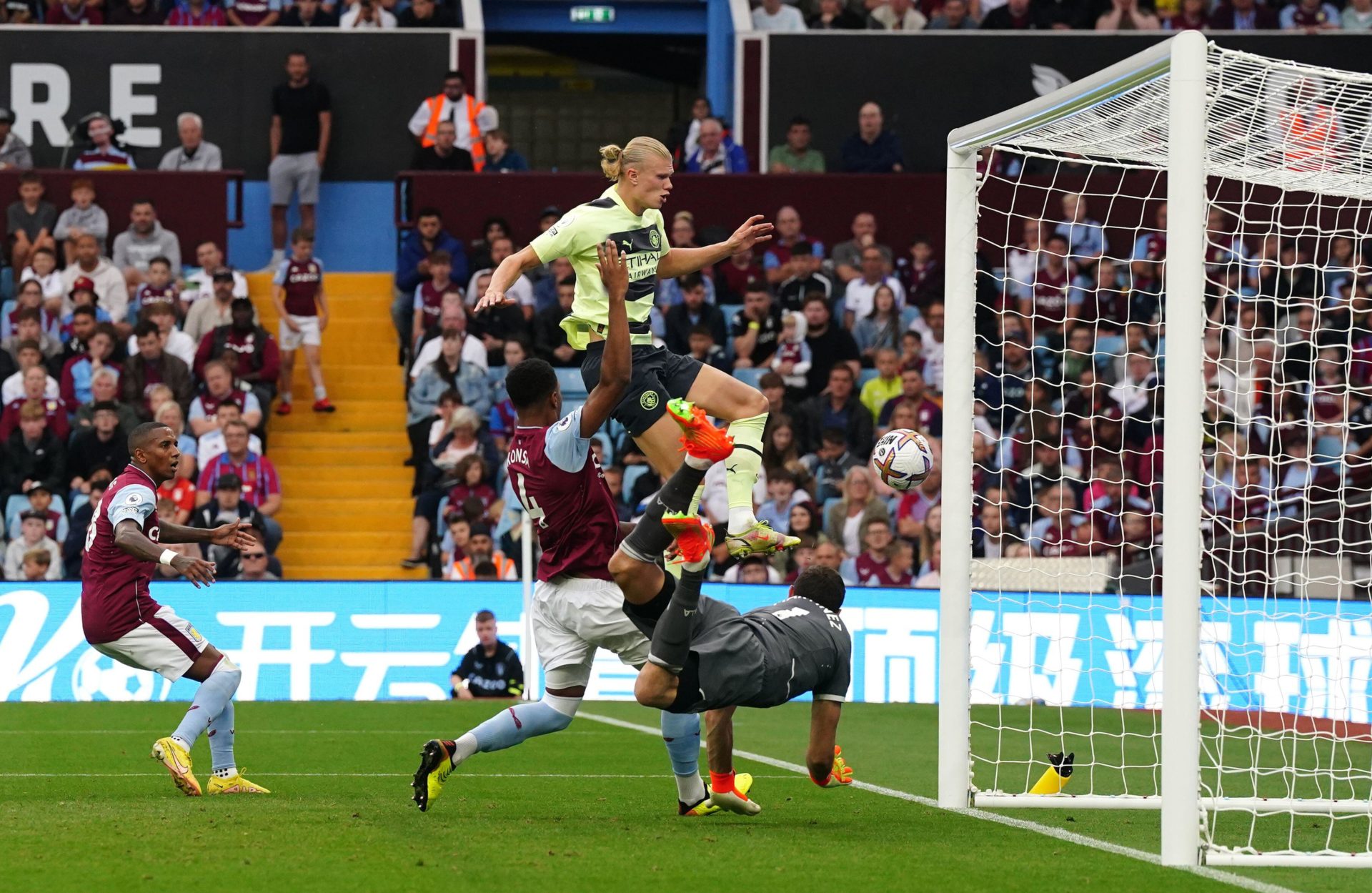 Standing at 6′4″ (1.94m), Haaland is one of the tallest up front in England. Added to his physical strength, Delaney feels that there is one battle in particular that he would hate to be in with Haaland.
"The worst one would be when crosses are coming into the box," Delaney said. "If you get caught underneath the ball, as a centre back I used to always be told, 'if they beat you, they beat you around the back of you, don't let him get across in front of you'.
"If it goes big, you might beat him, but sometimes it might be the perfect cross. With him, if it just got clipped in the box and you're just standing there, he's got got a two step run and you'll get absolutely annihilated!
"Even in situations like that when you are a sitting duck, you try and jump on an angle into the centre forward so he can't quite get at it either.
"I think if you did that with him, he'd just run right over the top of you. You'd bounce off him. So, I don't know really. Strength in numbers would be my self-preservation rule really."
ANTONY HAS TO PROVE HE HAS AN END PRODUCT | THE FOOTBALL SHOW
Football on Off The Ball brought to you by Sky. All the football you love in one place across Sky Sports, BT Sport & Premier Sports.
Download the brand new OffTheBall App in the Play Store & App Store right now! We've got you covered!
Subscribe to OffTheBall's YouTube channel for more videos, like us on Facebook or follow us on Twitter for the latest sporting news and content.