From the very outset, Daniel Harris has made his thoughts on Manchester United's recruitment of Harry Maguire clear: it did not address the team's main concern which remains an inadequacy in midfield. 
Recruited from Leicester City in the summer, United's decision to part with a reported fee of £80 million for the English defender has not yet proved all that beneficial for Ole Gunnar Solskjaer's side.
"The problem is obviously United's midfield," reiterated Daniel Harris on Tuesday's OTB AM, "but the problem is now also Manchester United's defence.
"In some ways that is more troubling because a lot of money has been spent on that defence and they cannot be relied upon to see out a lead.
"They lost the lead against Wolves, lost the lead against Southampton quite late on against 10-men, lost the lead in the last few minutes against Liverpool, lost the lead against Arsenal and they lost the lead the other day [against Sheffield United]."
In a mixed start to Solskjaer's first season in charge of Manchester United, the club find themselves sitting nine points shy of the Premier League's top 4 and Champions League qualification.
As they approach the mid-way point of the season, no sustained upturn in form appears forthcoming and another disappointing year may be in the offing.
The upgrade from Smalling to Maguire is not reflected in points and if you'd spent money on the midfield and kept Smalling, I'm certain United would have more points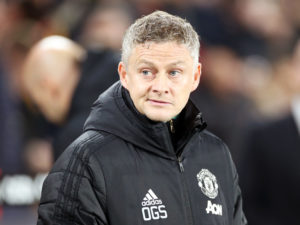 "Really, if you spend £80 million on a centre-back who is meant to be so good because he has these leadership and organisational qualities, and inspires those around him, Harry Maguire should be seeing out these games almost on his own," argued Harris. "That is repeatedly not happening.
"He's a good player, a decent player and has probably improved Manchester United in some ways, but Chris Smalling was a serviceable centre-back."
Loaned from United to Roma in the Serie A, Smalling has enjoyed a strong start to life in Italy.
"The upgrade from Smalling to Maguire is not especially reflected in points," estimated Harris, "and if you'd spent the money on the midfield and kept Smalling, I'm absolutely certain United would have more points than what they've got.
"For £80 million, a player should be able to come in and make a remarkable difference."
Without necessarily pinning the blame for Manchester United's shortcomings on the expensive summer arrival, it is more a case that Harry Maguire has been incapable of solving a problem that he wasn't ever signed to address.
You can watch back Daniel Harris' assessment of Manchester United in full here.  
Subscribe to Off The Ball's YouTube channel for more videos, like us on Facebook or follow us on Twitter for the latest sporting news and content.