From rubbing his Premier League medal in Roy Keane's face, to sharing a room with Dennis Bergkamp, Ian Wright is full of insight and stories from his legendary days at Arsenal FC.
Wright is one of the most well-loved pundits currently on television. However, prior to his success on Match of the Day and his appearances on coverage of the Premier League, Wright was one of Arsenal and Crystal Palace's most loved forwards.
With Arsenal he lifted the Premier League title, both the major domestic cup competitions, and the European Cup Winners Cup. However it was not until the end of his time at Highbury that Wright won the Premier League.
This struggle to win the League was not lost on his rival, and Irish legend, Roy Keane at the time, as Wright recalled that Keane would often criticise his medals as 'losers' medals' due to the fact that he had not yet won a Premier League medal.
Speaking at the OTB Cadbury FC Roadshow in Vicar Street, Wright recalled how he let Keane know the minute he won the Premier League.
"Obviously me and Keano are very tight mates now," Wright said. "He always used to f*cking slaughter me: 'Wrighty you've got a cabinet full of f*cking losers' medals!'
"So, there's a shot where the camera pans into you. I've got my kit and I'm going, 'Keano! Winners! Winners!'
"He goes: 'Wrighty, I didn't say that. Come on now Wrighty'."
That Premier League title meant more than just the actual victory to Wright. As it came near the end of his time with Arsenal, he was beginning to feel that it was 'now or never' for him in a Gunners' shirt.
"I started to realise that I'm not going to have much more of this," Wright said. "It was one of those where I was so pleased that I won the league with Arsenal.
"I couldn't have done any more in the way I was playing and what I wanted to do with respect to the goals, and I would have been devastated if we hadn't have won one.
"I didn't want [my time at Arsenal] to be bookended by not being a champion."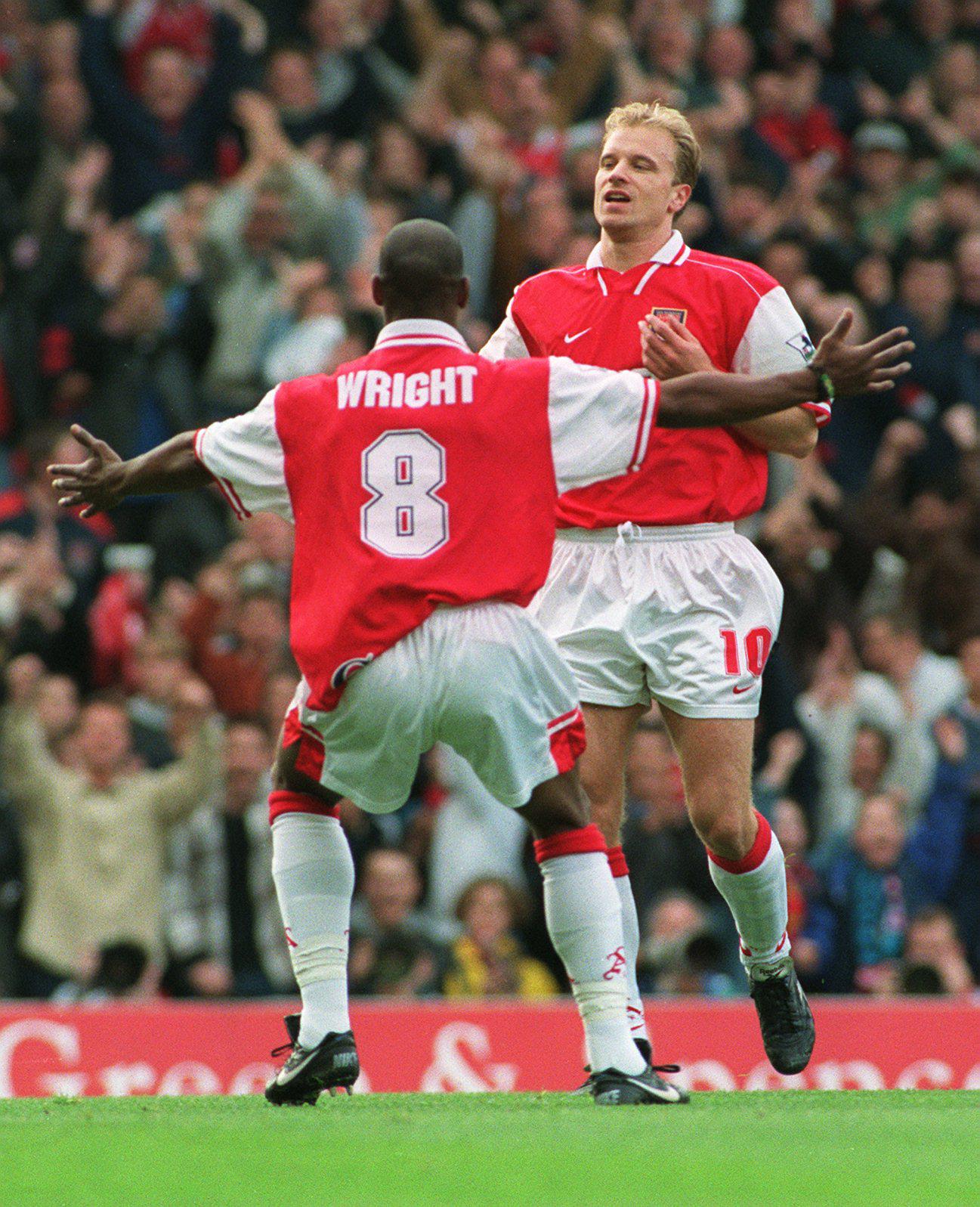 'Everything about Arsenal changed when Bergkamp signed'
Wright moved to Arsenal from Crystal Palace in 1991, while George Graham was still in charge of the Gunners.  However, it was not until the arrival of Dutch forward Dennis Bergkamp in 1996 that he saw the club change for the better.
"What I am always thankful for, I always had moments where I couldn't believe it was happening," Wright said. "It was the same with Dennis [Bergkamp].
"Playing with him, the way we played and the way we struck up a partnership so quickly because he was so good. I could run into space, he could create space for you.
"It was just made for me. It was one of those situations where I just wanted to play longer with him, because of how great he was."
While much of the change was due to the arrival of new manager, Arsene Wenger, that same year, Wright felt that it was Bergkamp's arrival at Highbury that was the catalyst for change.
"Everything about Arsenal changed when Dennis signed," Wright said. "It was like when Spiderman got bitten by that unbelievable spider, the DNA changed.
"The whole DNA at Arsenal changed when we signed Dennis. As soon as he put his pen to that paper, the DNA changed, we were going to be a different team.
"It is no coincidence, all the success we had at Arsenal, from '95/'96 when he got there, he was the main fulcrum of it. He was the main architect of it.
"This is why Thierry [Henry] and everybody who had played on that team say the best person they played with was Dennis."
'We must've had 70 pairs of pyjamas between us!'
However, it is not just his ability on the pitch that made Bergkamp one of Wright's favourite ever teammates. When Bergkamp arrived at Arsenal, he was assigned to be Wright's roommate, and the pair instantly formed a tight bond.
"I remember when we started sharing rooms, everything about Dennis was very calm and elegant and beautiful," Wright said.
"He went in the bathroom, and when he came out, he came out in full pyjamas and f*cking slippers! I was like, 'is he taking the p*ss?'
"I was sleeping in a vest and no underpants! He came out straight-faced, nothing. I was expecting him to [point at me and laugh], but he didn't.
"The next week, I went to a place called [Turnbull & Asser] in the West End, and I bought myself a pair of pyjamas and some slippers.
"What would start happening was we'd start seeing who comes out of the bathroom with the best pyjamas on! In the end, I'm not joking, we must have had between us 70 pairs of pyjamas!"
'George Graham wouldn't have signed Bergkamp'
It was a signing that almost never happened, however. While Graham was still the manager of Arsenal, a similar style player to Bergkamp, David Ginola, was hoping to move from Paris Saint Germain to Arsenal, however Graham stood in the way of the transfer.
Wright, who was excited at the prospect of playing alongside Ginola, believes that if Graham was still in charge of Arsenal when Bergkamp became available, the Dutch striker would have ended up elsewhere.
"If George Graham was the manager, he wouldn't have signed him," Wright said. "He was the type of player that he wouldn't have signed.
"We had a really good chance of getting David Ginola. If you speak to David Dean, we could have gotten David Ginola after we played them in the semi-finals of the UEFA Cup Winners' Cup, he was desperate to come.
"George Graham didn't want him. I was devastated with that because that's the type of player that would have been unbelievable at Arsenal."
In partnership with Cadbury FC with ticket sale proceeds going towards supporting Irish Women's grassroots football. T&Cs apply.
Download the brand new OffTheBall App in the Play Store & App Store right now! We've got you covered!
Subscribe to OffTheBall's YouTube channel for more videos, like us on Facebook or follow us on Twitter for the latest sporting news and content.